I am extremely excited to say that our Prediction Challenge is growing. A big thank you to our challengers for your recruitment efforts. Keep it up guys, the more the merrier and the quicker we can get some decent prizes up for grabs. A bit welcome to Jack, Matthew, Graeme, Nico, Adam & Rob who all joined the Prediction challenge this week. May I urge you all to spread the word and rope some of your friends and family in. Top effort gang.
Now for the prediction challenge itself. A set of midweek Premier League games threw up a few interesting results. The obvious one being Tottenham losing away to Leicester. Not that any game is easy in the Premier League, but Spurs have really gone off the boil in recent weeks. Honestly though, they are not United, City or Chelsea and it was inevitable at some point. They have been punching above their weight in recent years. Don't despair Spurs fans. Although the media likes to talk of crisis, there is nothing of the sort happening in North London.
Arsenal, Manchester United and Liverpool all had very good wins. Whilst Chelsea and City battled to get the three points. Big trouble in little West Ham though. David Moyes returned to Goodison park only to get a absolute WHOOOPIN at the hands of Everton. And it wasn't just the score, it was the performance. Dire. On the flip side, with new manager Sam Allardyce in the stands, Everton finally put on a performance that befits their £150 million summer spend. Oh and notorious pie eater, Wayne Rooney, got his first hat trick since 2011. Including a "worldie" from almost half way. Hope for Everton, despair for West Ham.
And now for the results. No beating around the bush here let's see how we all scored this week.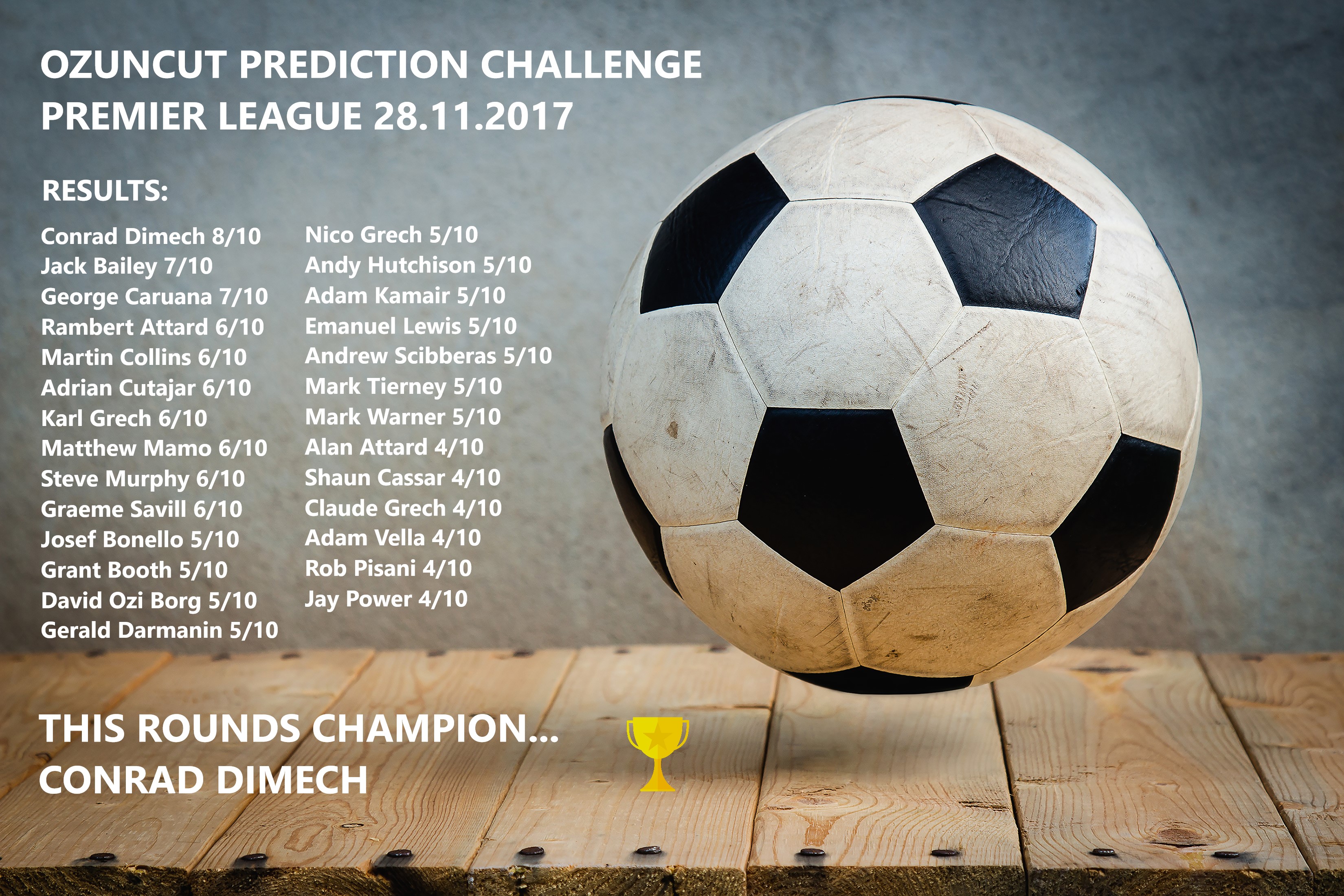 Well done to Conrad Dimech! Very impressive 8/10 gives you your 3rd PL trophy and you now lead the pack in terms of trophy wins. Top effort sir. I have to say your prediction skills are looking mightily impressive. But don't start stroking the "proverbial donkey" just yet. There is still a long way to go. A special mention should go to new comer Jack Bailey. At the first attempt, off to a great start with 7/10. George Caruana also had a pretty solid round also with 7/10. The average score this week was ok at best, 5.3/10.
***UPDATE***
Being the obvious human that I am I had made a small error when input the predictions. Mr. Mark Teirney actually achieved a weekly score of 6/10 and now has an accumulative score of 46.00. Sorry about that pal. Even more motivation for me to get the automated system up and running. But again I urge for patience. 
Onto our leaderboard now. This is the accumulative scores from round to round. A word of caution, you should only compare yourselves to people who have competed for the same number of rounds. This is indicated in brackets besides each score.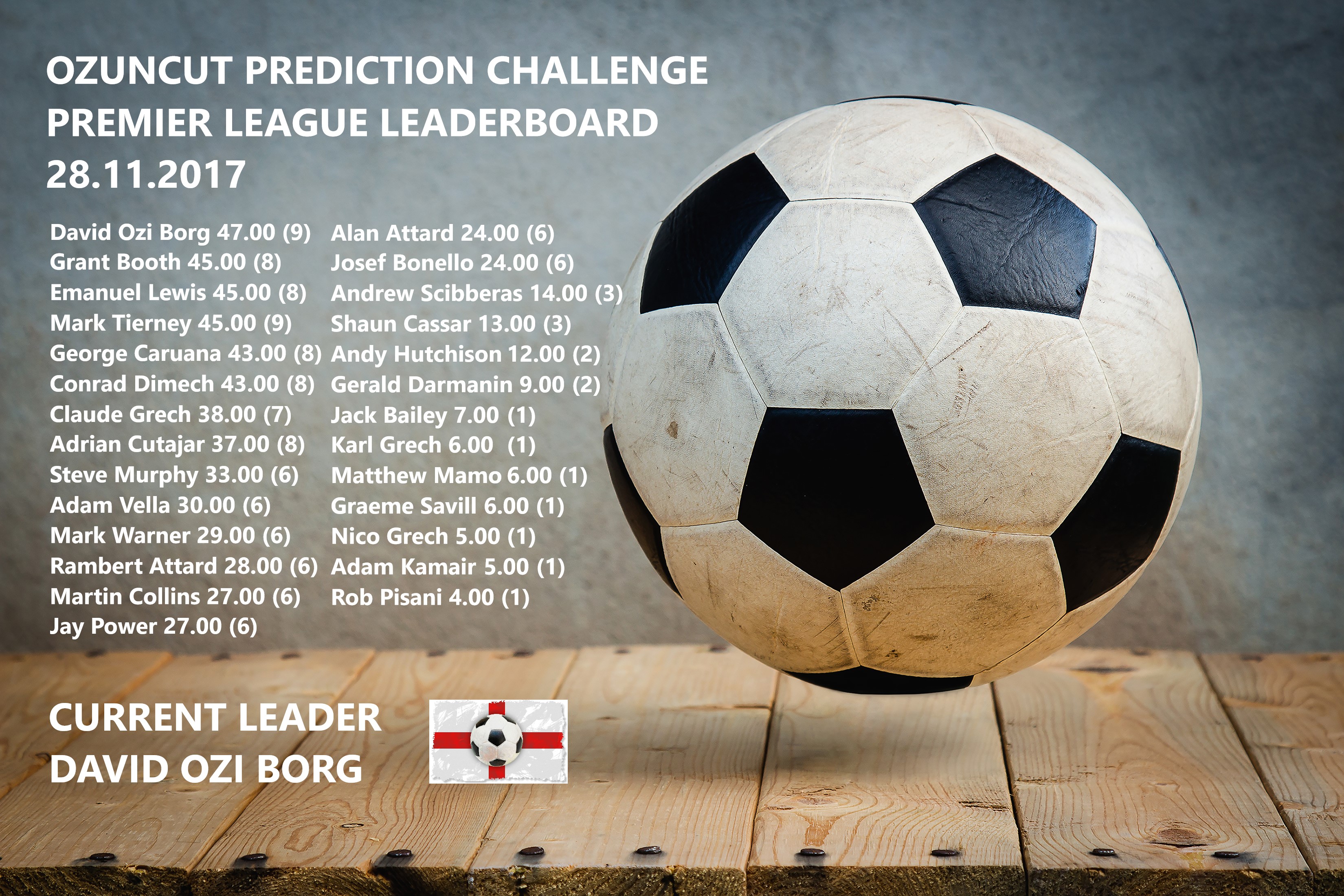 From next week I will be transforming from the keeping a competative leaderboard to ranking competitors by an average weekly score. In the short term this is a more accurate method to use until we have a platform in place that will do all automatically. Its coming folks, just have a little patience.
Finally, my accumulator was a sad loser again this week. I am feeling touchy and I don't want to talk about it. 🙂
They great thing about football is that at this time of year the rounds come thick and fast. So look out for another prediction challenge tomorrow heading into the weekend. Enjoy your day Predictors.