Well, off the back of an FA Cup weekend as usual it has not taken long to return to league action. A full, mid week round of games will take place on Tuesday and Wednesday which gives us another opportunity. An opportunity to beat our mates and make our way up the rankings. So here it is, a midweek special of the OzUncut Prediction Challenge.
Just in case you are reading this for the first time and are a newcomer to the prediction challenge the rules are pretty simple. Once you have read my insightful and well researched analysis on the round of games, you head down to the bottom of this article. There is a discussion box, you put in your details and predictions and bingo. Your in the challenge. Just in case you didn't get that see below: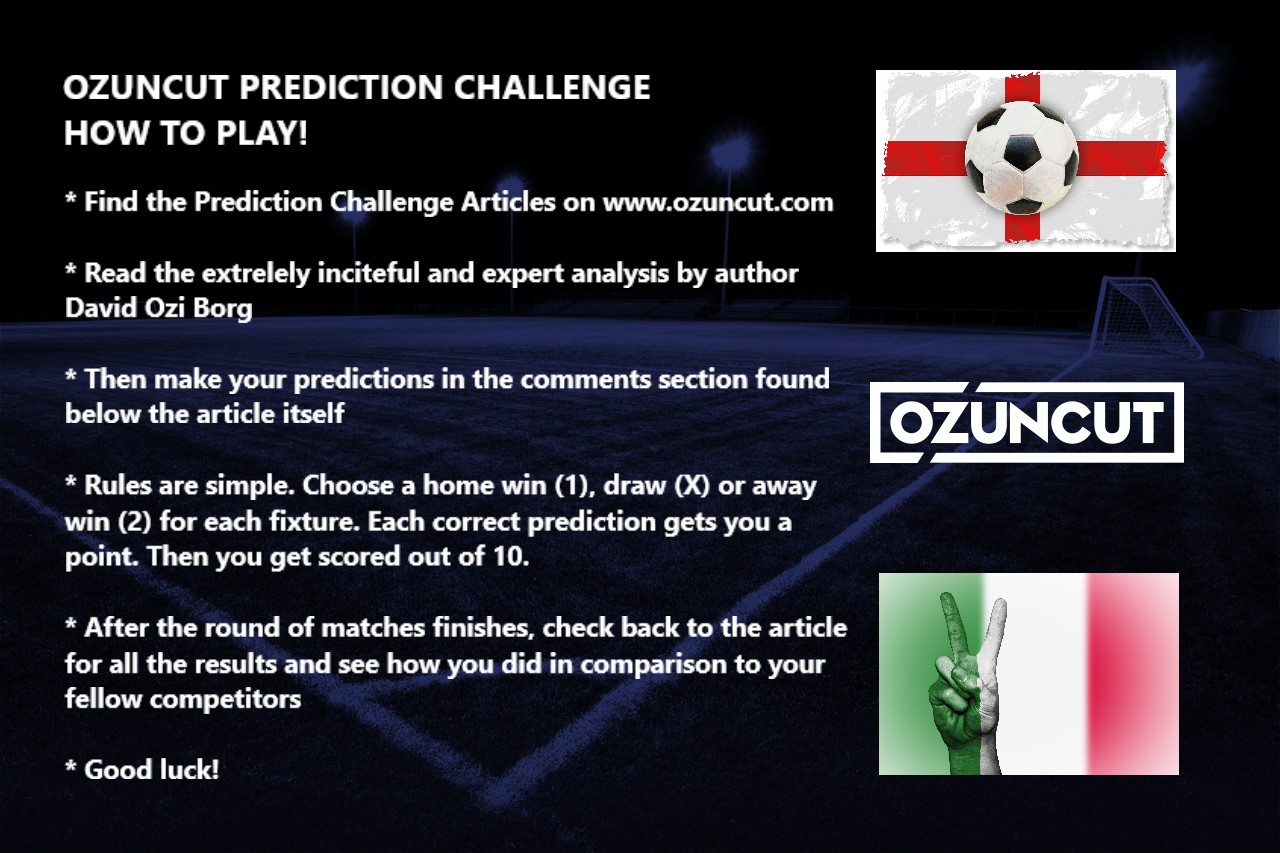 So the rules are simple enough, now let's get to this rounds games.
It all starts as Arsenal travel to Wales to play Swansea. Arsenal were going through a bit of a rough patch, but bounced back last week with the hammering of Crystal Palace. A good result.  I think the weight should be lifted off the Gunners shoulders after the departure, finally, of Alexis Sanchez. There should be a much improved feeling within the squad. They look like they could return to league form.
In saying that, Swansea proved last time round that under their new manager they are going to be difficult to beat. An unlikely win and spirited performance against Liverpool saw them pick up a much deserved and needed 3 points. So you would think confidence will be high. All that said, my ample gut tells me the Arsenal should win this one.
Liverpool, oh my word Liverpool. Just when you think the have finally turned the corner they make sure to bring their emotional fans back to reality like a slap in the face from a wet fish. Let's not mince words here, in their last two fixtures Liverpool have been poor. I can't see them being that poor again I just can't. Even with the departure of Coutinho they still should have more than enough to beat Huddersfield. The newcomers, albeit spirited, are a little out of their league. It is a great experience for the club and they should have no pressure. Just to enjoy the ride. I can see this being a big bounce back win for Liverpool.
Chelsea are on a bit of a roller coaster ride at the moment. Lot's of draws, held by Norwich, knocked out of the EFL Cup followed by an easy win in the FA Cup. Crazy considering their consistency in last seasons title win. Eden Hazard looks back to form though and they are still a great team with a great manager. I think they will have little trouble getting past Bournemouth.
Finally, undoubtedly the massive game of the round. Wembley stadium under the lights as Tottenham take on Manchester United. Boy do the red devils piss me off. Just when you start to feel they may struggle in future, they only go and snatch Alexis Sanchez up. Fair play to them, a powerful club and they can attract the big names. Unfortunately, I think Alexis Sanchez is a game changer. Perhaps not this season, but next I expect them to have a good crack at the title. As for this game though, I am going for Tottenham. I just have a feeling they will click in this game and when they do, they are unbeatable. Especially if Kane, Erikson and Son are in the mood. Also, I still think Spurs have the best defence in the league. Home win.
Here is my full round of predictions.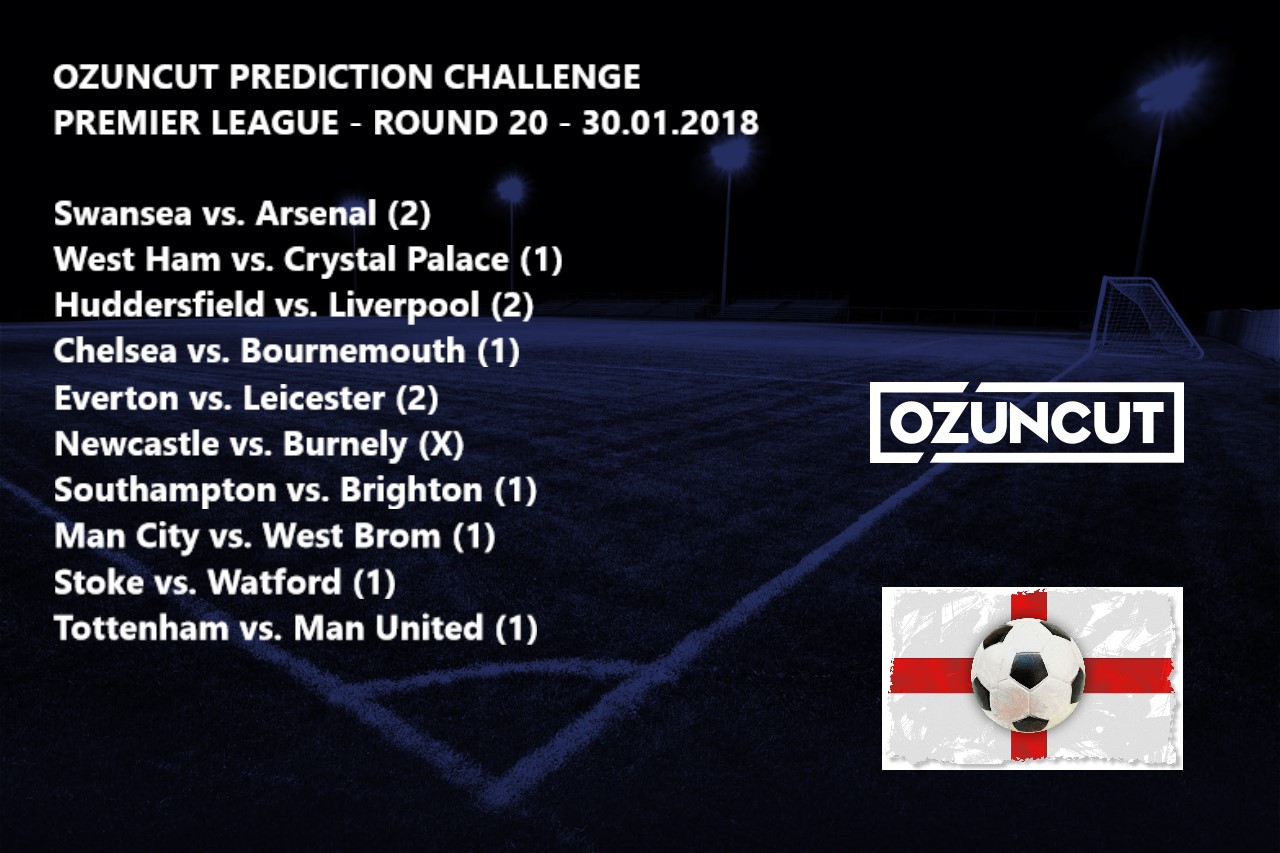 Right, that's about it then. Please don't forget. The round kicks off on Tuesday 30th January at 8.45pm CET. So make sure to get all your predictions in by then. Good luck.
UPDATE 01.02.2018
OZUNCUT PREDICTION CHALLENGE – 30.01.2018 – RESULTS
Results time.. But before we get to that I am happy to welcome two newcomers to the challenge. Patrick Mangion and Antoine "madman" Degiorgio thanks for joining the fun and we wish you the best of luck (well not that much really) with your predictions. Just a reminder to you two newbies, you will only show up on the Ranking by Average tables once you have completed 5 rounds.
Now to this rounds results. No more wasting time, you can see them all below.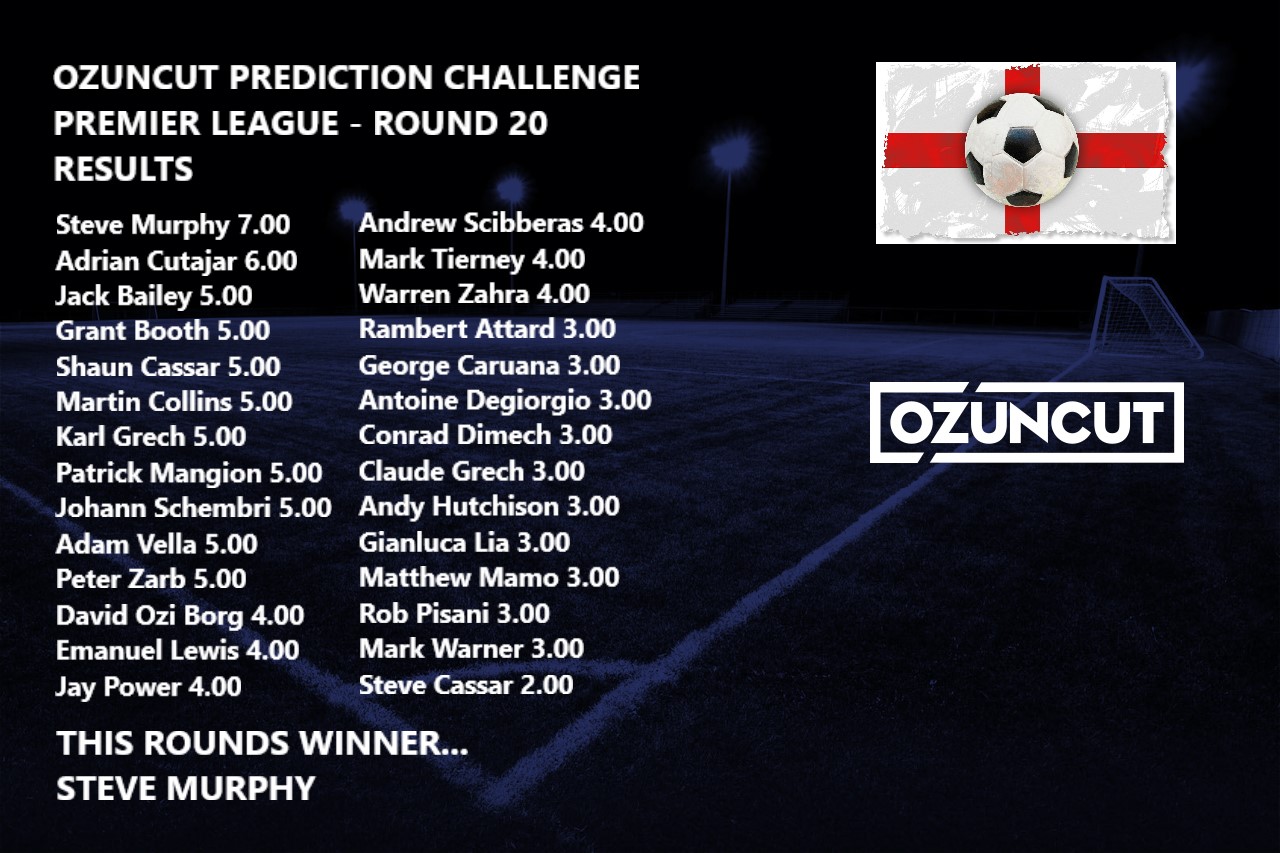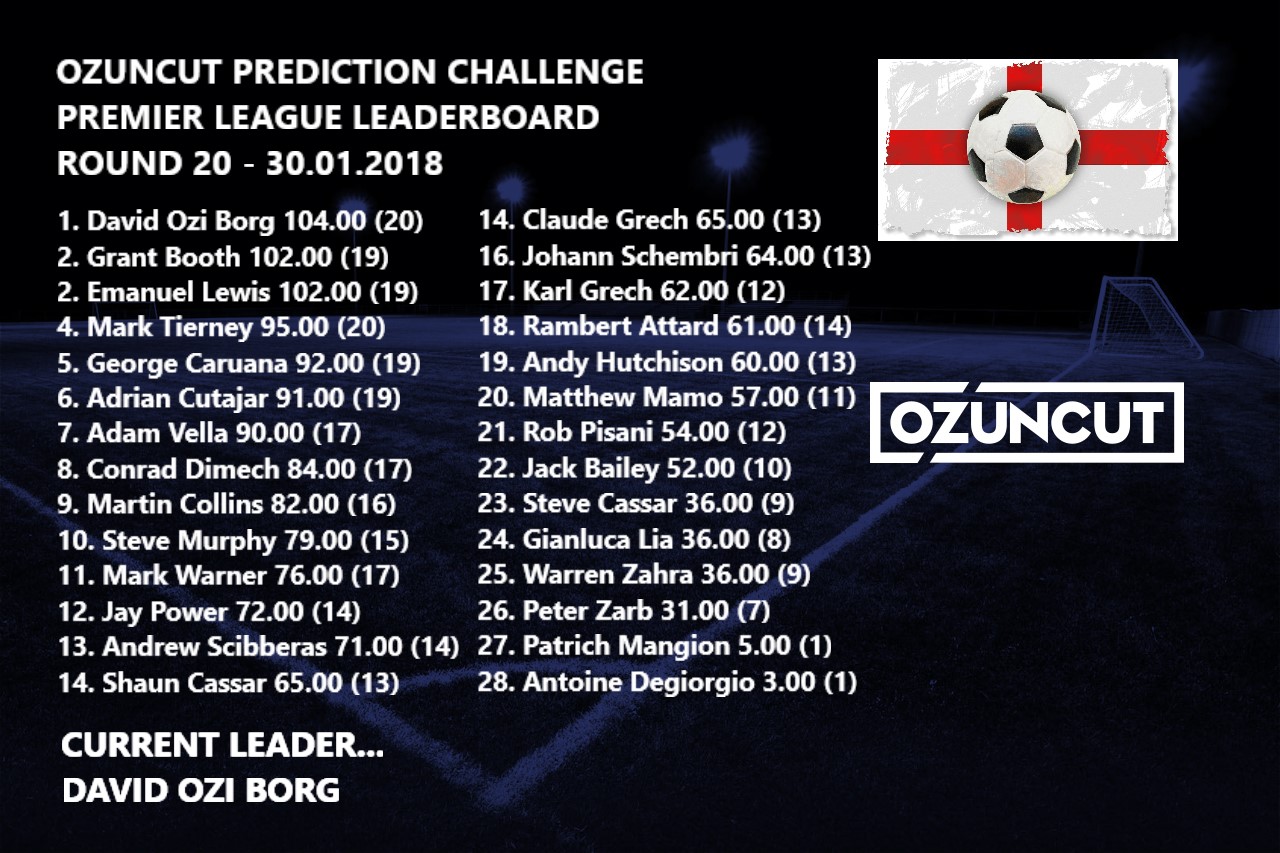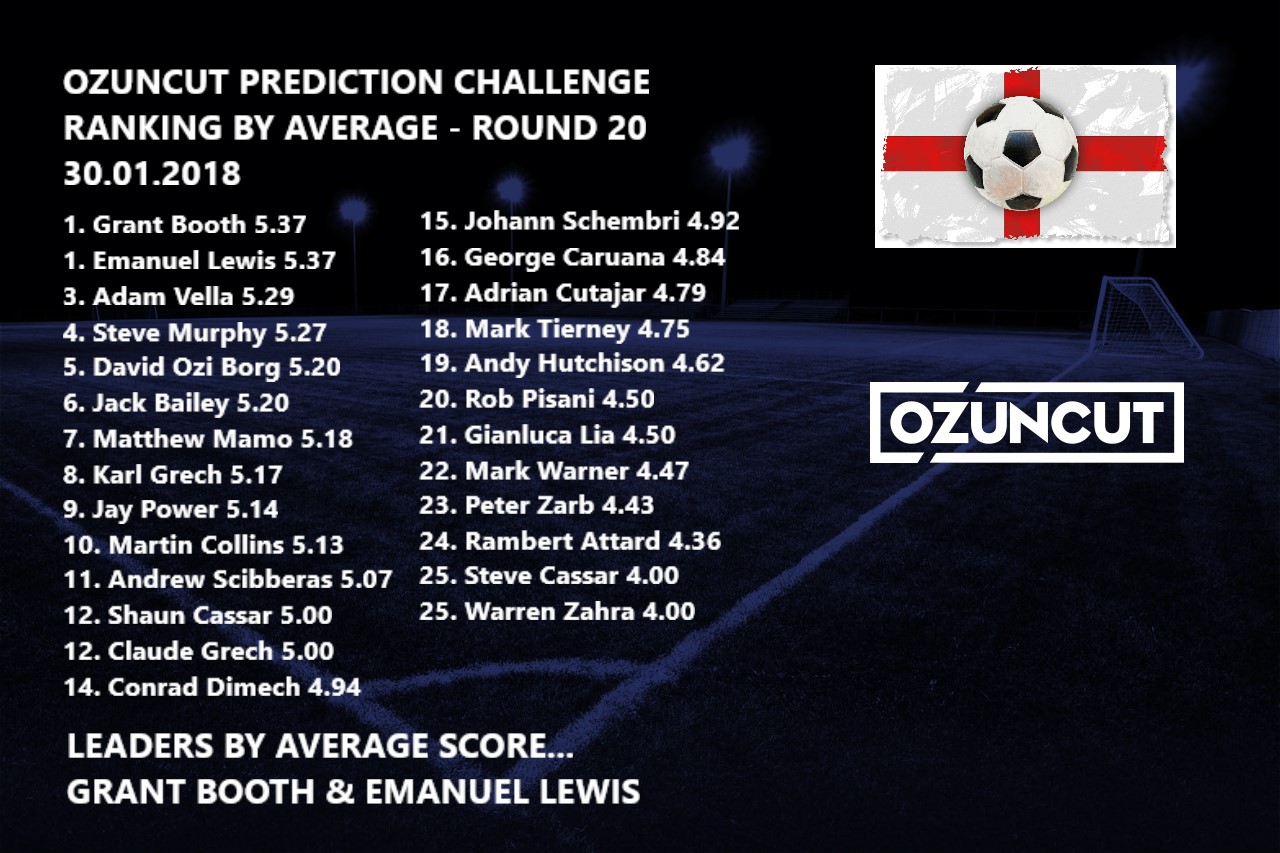 Well done to Steve Murphy, the stand out performer in this round of the Premier League prediction challenge. A pretty solid effort considering most of us fluffed it a little and with the average score for the round being 4.07. Should give a special mention to Adrian Cutajar who was unlucky to finish just a point behind. Still a solid effort though.
When it comes to the leaderboard, I am still in the lead. But it's important really on this table to only compare yourself to competitors who have predicted the same amount of rounds as you which you can see in brackets. A more accurate reflection of everyone's performance can be found in our ranking's by average table. Grant Booth and Emanuel Lewis both lead with an average weekly score of 5.37. Pretty close across the board though and with a few good rounds you can easy climb to loftier heights.
Well done to all and keep up the good work. We have another round of games in both England and Italy this coming weekend. So look out for our next Blog post which will be published some time on Friday.
PEACE.