In the words of the great Jim Morrison, "this is the end, my beautiful friends". We have finally reached the end of the footballing season in Italy. And this weeks round 33 of the OzUncut Serie A Prediction Challenge, brings a long, hard season to a close.
Its still all to play for as well. The leaderboard race is close, Mark Tierney 2 points ahead of myself with Martin Collins a further 4 points adrift. Christ, I am surrounded by SCOTS. When it comes to Average Score Rankings, well I would be surprised if Martin Collins throws this one away. He would have to have a terrible week and others a perfect week for him to lose it from here. But, hey, we should always retain hope. Again still all to play for in this weeks prediction challenge.
As for the footballing side, well we know that Juventus have now won there 1373rd Italian title. With a very impressive 63 in a row. Those numbers might be slightly exaggerated, but I think you get my point. Congratulations to all the Juve fans in our group on another highly successful season. I think there will be a great buzz at the Allianz Stadium this Saturday and I see nothing but a Juve home win. They will wish to put in a perfect performance also for the departing legend Gigi Buffon.
Napoli and Roma have also confirmed their places in next years Champions League. And I do expect both of those to have relatively straight forward victories against Crotone and Sassuolo respectively. But who will take the last Champions League place. Lazio and Inter face off in Rome Sunday night in a winner takes all battle. Well sort of. Lazio only need a point to confirm a place in the top 4. Where as if Inter win they will take the coveted 4th spot based on their head to head record this season.
That makes it a tough one to call. It is a massive game for both clubs and could really go either way. However, Lazio are at home. And even though their home record has not been that great, Inter's away record is equally as unimpressive. I have gone for a Lazio win on gut feeling, but I think they will at least get the point they need to qualify themselves for next seasons Champions League. This is a massive pay day for the winner with a minimum €12 million in revenue coming next year in the tournament.
As for the relegation battle, well Benevento and Verona are gone and will be in Serie B next season. But the final drop spot could go one of five ways. Crotone, SPAL, Cagliari, Udinese and Chievo could all mathematically go down this weekend. But my guess is that it will be Crotone. They currently sit in 18th and travel to Napoli this weekend. I just can't see them getting anything out of that match. But hey its football, and stranger things have happened.
The following are all my predictions for the final round.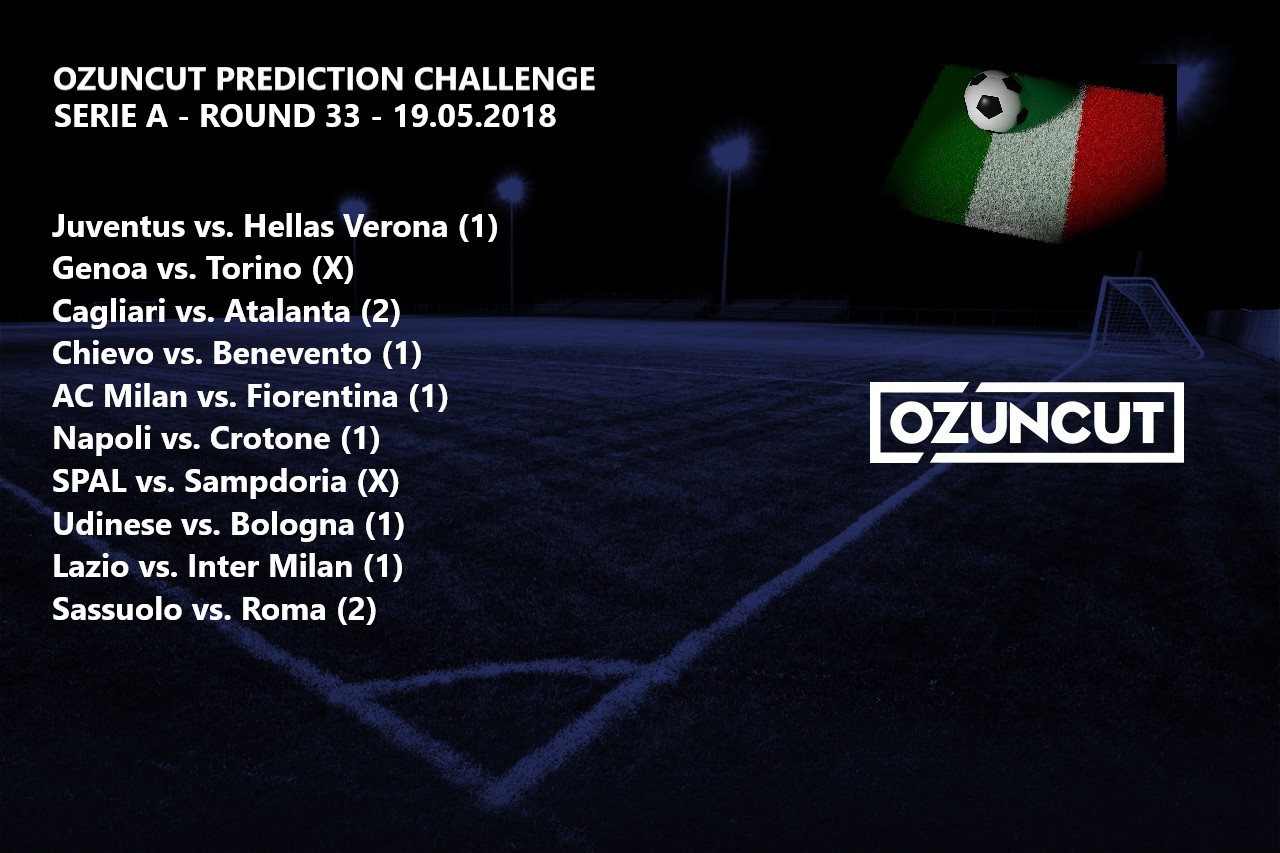 Well that is it guys. Your predictions need to be in by Saturday at 3pm and I wish you the best of luck. It has been a fantastic competition this past 9 months and I would like to thank you all for your participation and support. It has been loads of fun and I, personally, and looking forward to many great challenges to come.
For one final time this season… OZ OUT!
UPDATE 21.05.2018 – SERIE A FINAL RESULTS 
Well, it's hard to actually believe that it is all over. With the passing of our final round of predictions in the Serie A we have no officially come to the end. And what a journey it has been. We have all encountered ups and downs, good weeks and bad weeks. And some great banter along the way. It's been a load of fun and once more I thank you all for your support and participation.
So now we can finally reveal all the scores from our final round, 33, and all the final tables from our Serie A competition.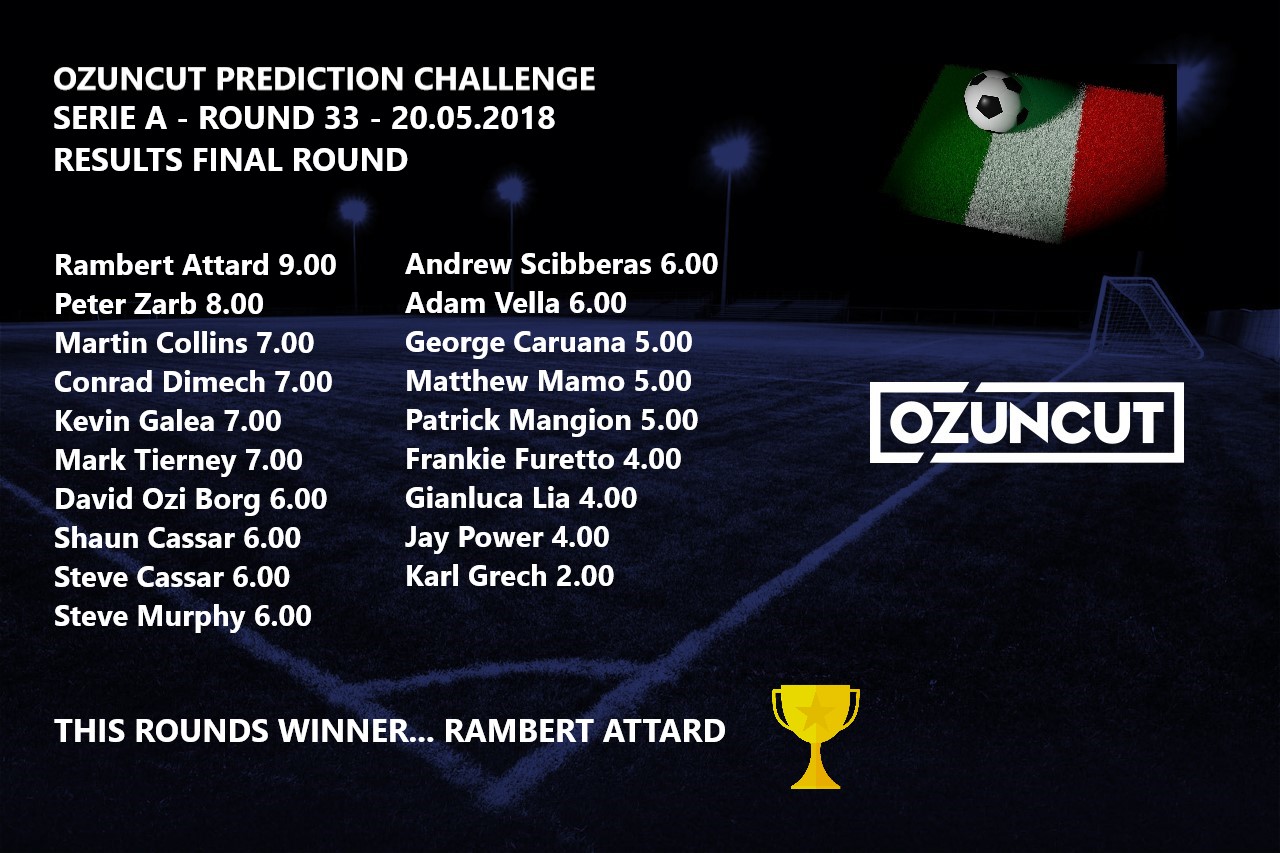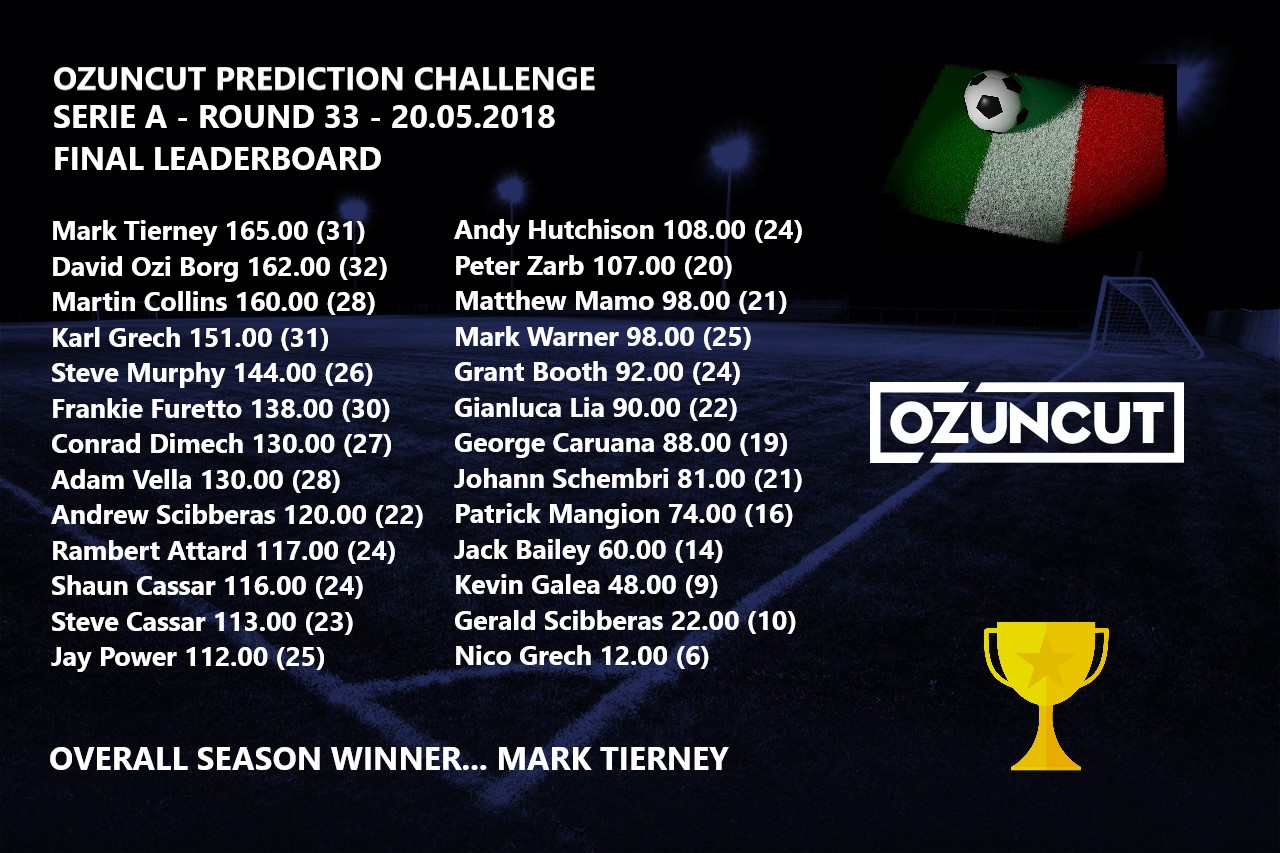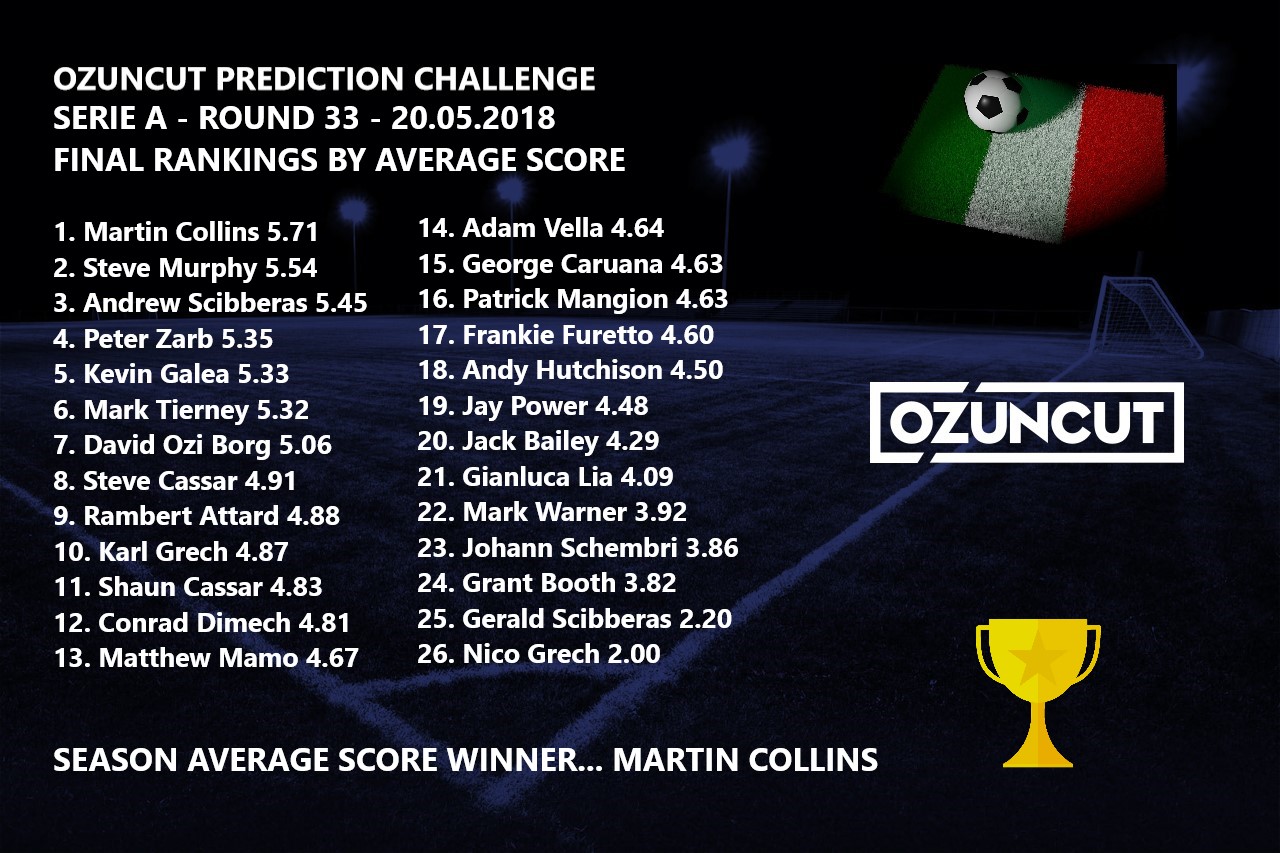 Firstly congratulations to Rambert Attard on winning our final round of the competition. An excellent score of 9/10 was just about enough this week and even shot him up a few places in the final classification for average scores. Well done mate. Also, well done Peter Zarb. 8/10 always worth a bit of a mention. But now to the exciting season ending stuff.
Well done Mark Tierney! You held on pal. A very solid last round means you end the season as our Leaderboard Champion with a total score of 165.00 from 31 rounds. And despite my best efforts and a couple of risks in the final weeks, I was unable to overhaul you. So well done mate.
Also a massive well done to Martin Collins who takes the title of best competitor when it comes to average score rankings. And I dare to say the competitions overall top competitor. Third in the Leaderboard with a few less rounds in the competition. Super impressive. Unfortunately for us we will now probably never hear the end of it. Well done mate. Steve Murphy pushed him all the way and finishes 2nd, while Andrew Scibberas ends in 3rd.
Well that's it. I really had a lot of fun (even though it was seriously time consuming) putting this competition together and once more I thank you all being involved. BUT, don't think you are going to get too much of a holiday. The world cup is less than a month away and we will all be at it again come mid July. So watch this space. Bigger and better, we will have a new automated system in its test phase which should make it easier and much more challenging.
Cheers Lads.