I wouldn't feel right about starting this weeks prediction challenge without giving a special mention to someone we lost this week. A legend of English football, and by all accounts a true gentlemen, Ray Wilkins passed away Wednesday. He had suffered a massive heart attack the weekend before. I have great memories in my early years as a football fan watching "Butch" do his thing, and he will be sorely missed. RIP my good man.
Sorry to start off on a bit of a downer, but for certain people you need to take the time to pay your respects. And Ray Wilkins was one of those people. Moving on though, on the pitch we had some juicy Champions League and Europa League fixtures mid week. Fans of Liverpool, Barca, Real, Bayern, Athletico, Lazio and even Arsenal should be quite happy with the job done. But the weekend is back, and it is a special derby weekend all across Europe. So without further a do, let us get into this weeks OzUncut Prediction Challenge.
In case your a virgin of the challenge the rules are pretty simple to follow. In case you have any problems you can always email your questions to [email protected]. But, if you follow the lead of our regular competitors, I doubt you will have any problems. The rules are as follows…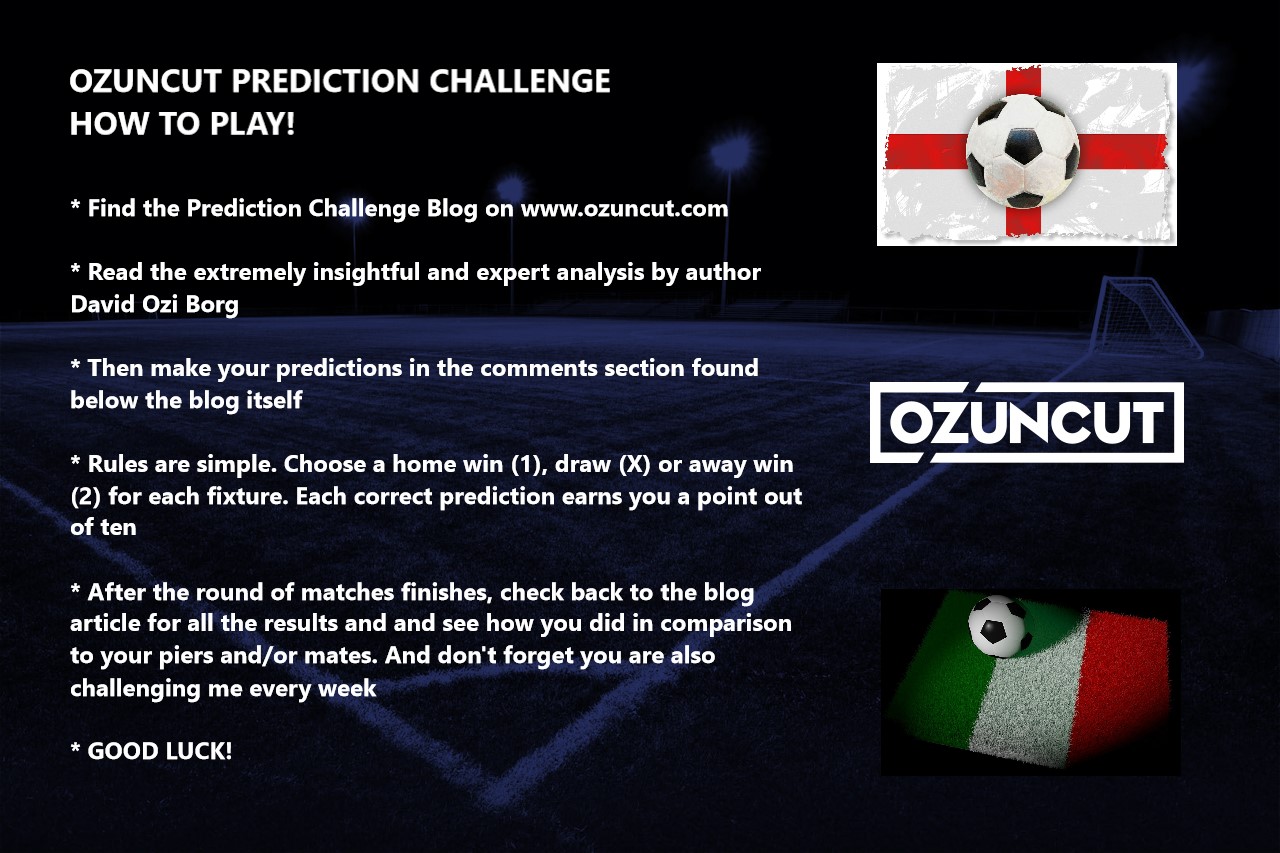 THE PREMIER LEAGUE – ROUND 28
Well if we are honest, this weekend in the Premier League is all about the two North Western derbies. Manchester City at home, one win away from the title and facing the club they have been in the shadows of for an eternity. Of course I mean Manchester United. Whilst some 30 odd miles away at Goodison park, the slightly less important matter of the Merseyside Derby.
The game at the Etihad late Saturday is a really tough one to predict as there is a number of unknown variables. Will Guardiola rest some of the key players for the all important Champions League quarter final second leg against Liverpool on Tuesday? Or will he just go for it? Will the City players be fired up to bounce back from their big defeat midweek, or will confidence have taken a hit. I would think the former makes more sense in both of those cases.
Then there is the probability of Jose Mourinho parking the bus, which in my opinion is almost an absolute certainty. He will under no circumstances want to let City win this game and the title on Saturday by defeating his United. And he would not want to lose to his old enemy Pep Guardiola. So would a draw be the right prediction? Not for me, I am still going for a City win. In terms of quality, and consistency, mid week blip aside, City have been a large step above the rest. I think they will be motivated, have too much quality and win the title this weekend. And it will be richly deserved.
I have the same sort of dilemma when it comes to the Merseyside derby. As with Liverpool also having the second leg of the Champions League quarter final just days after, will Klopp be looking to rotate? And if he does, we all know that Liverpool struggle when the rotate too much. Admittedly, it has not been as bad of late, but especially with the front three, rotation has been an issue.
I would expect Salah to sit this one out seeing as he picked up a niggle on Wednesday. Mane and Firmino might get the start seeing as they were both withdrawn early midweek. But I expect Klopp to hope for a decent lead around 60 minutes so he could withdraw both once again. Will be interesting to see how it pans out. Alternatively though, I have no faith at all that Everton can do a job. Whilst Big Sam did manage to get them out of trouble, in recent months they have been pretty woeful. In a derby game anything can happen, but I get the feeling Liverpool will edge this one.
For the rest of my Premier League predictions please see below.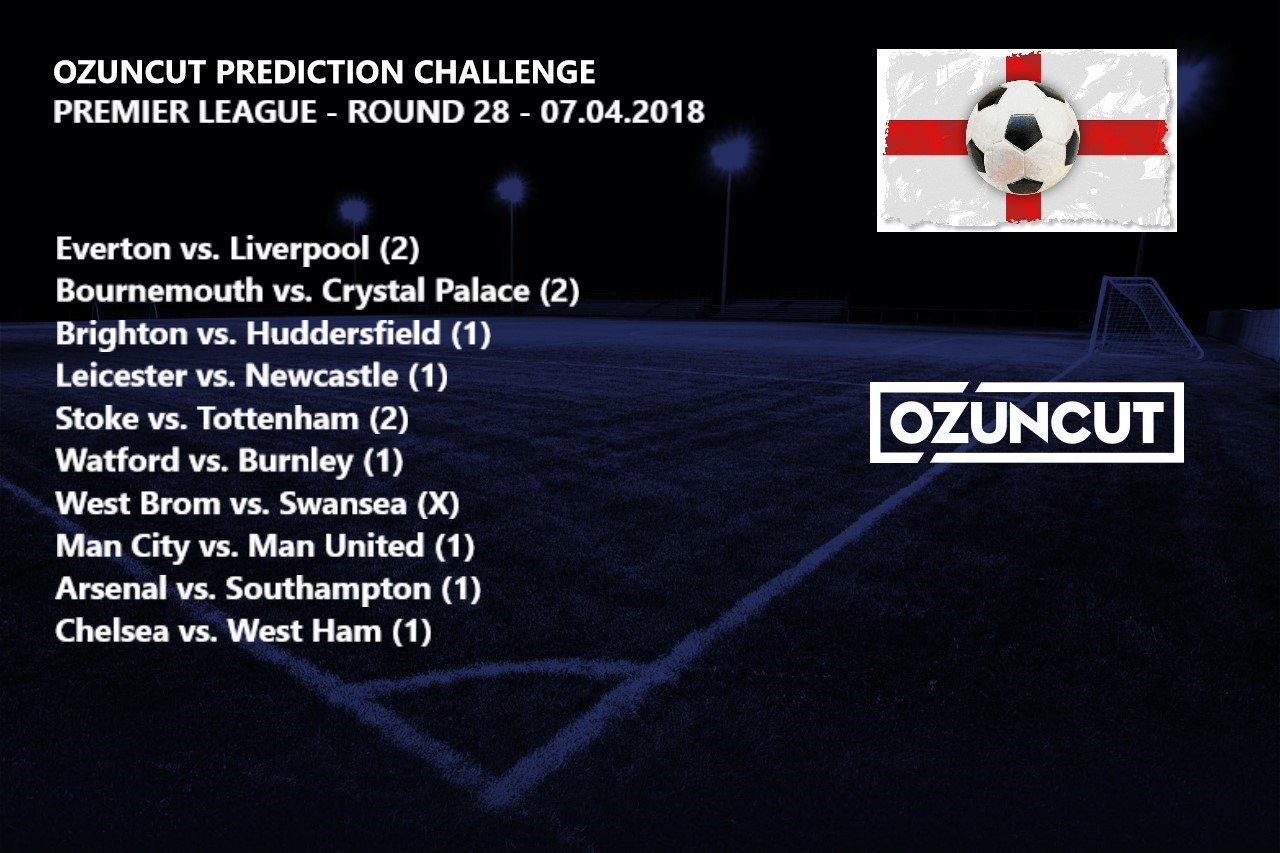 THE SERIE A – ROUND 25
It may not be one of the biggest derby matches in Europe, but Italy has its own little gem this weekend. In the North West of Italy, in the City of Genoa, there are two main teams. Sampdoria & Genoa. It's a pretty decent rivalry and they are facing off this weekend.
Coming straight out with it, I am going for a Sampdoria win. They have been outstanding in their home matches this season with 10 wins out of 15. In saying that, Genoa have been pretty decent on the road by lower table standards. But I still think Sampdoria will be too strong.
As for the title race, can anyone really see Juve slipping up at Benevento? I can't. Neither Napoli at home to Chievo. You would think this weekend should be a formality for both. While Lazio may struggle after their exertions in midweek. They travel to Udinese on Sunday. But I still feel Lazio have too much quality and more importantly, lots of goals. So unless they concede 3 or more, I just get the feeling Lazio will out gun their opponents.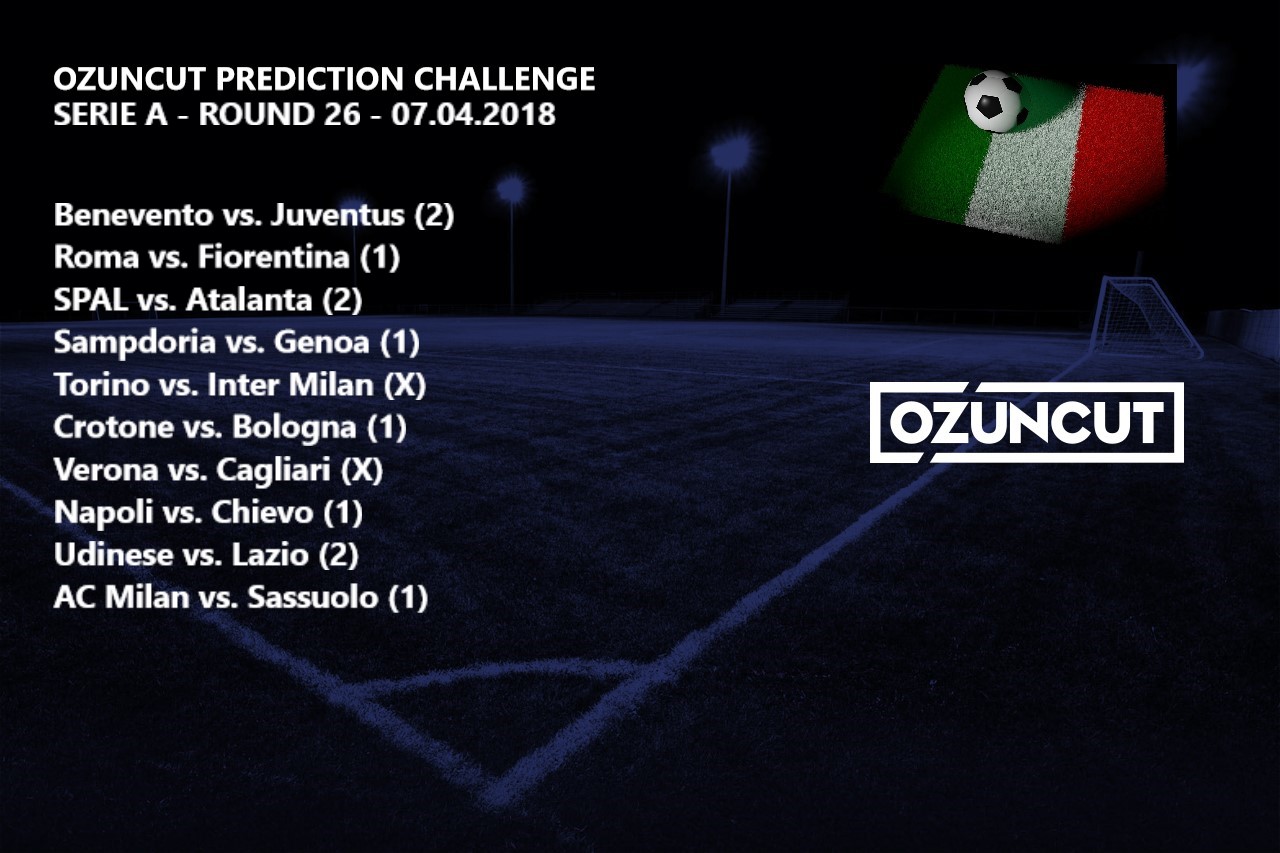 Finally, for you Serie A competitors, you maybe wondering what has happened to the rearranged round of games that took place in the middle of this past week? And what that means for our prediction challenge? Well you are going to have to wonder a little longer. We will release all the updated results and tables, including Round 22, on Monday.
Wish you all a great weekend and happy predicting.
UPDATE 09.04.2018
OZUNCUT PREDICTION CHALLENGE – 07.04.2018 – RESULTS
Judging by this weeks prediction results, most competitors found it a real challenge. The Liverpool, Brighton, Newcastle, Watford and Manchester derby games all had low prediction success in the Premier League Challenge, whilst in Serie A we seemed to struggle with Roma, Inter, , Crotone, Verona, AC Milan, well nearly all of them. It was a really tricky round. So I won't keep you in suspense any longer.
PREMIER LEAGUE RESULTS: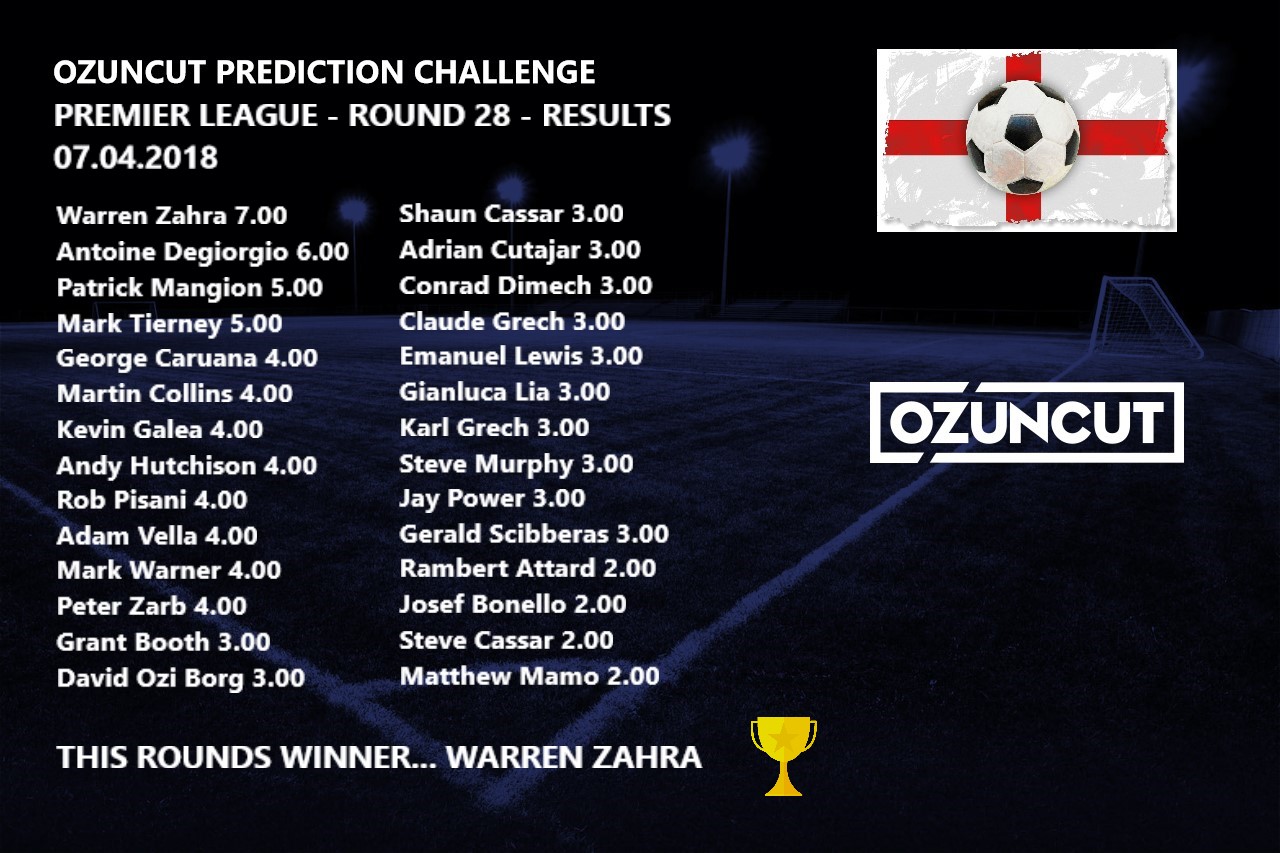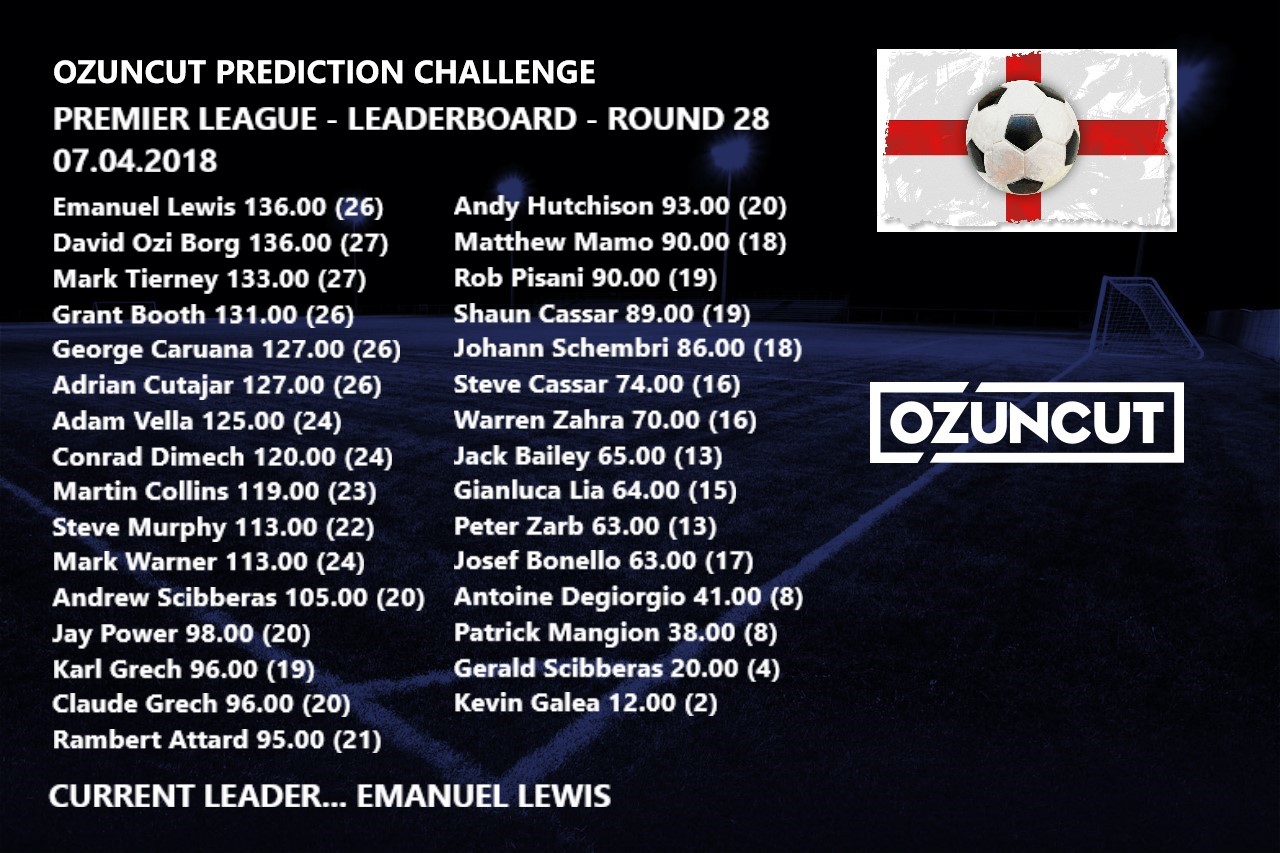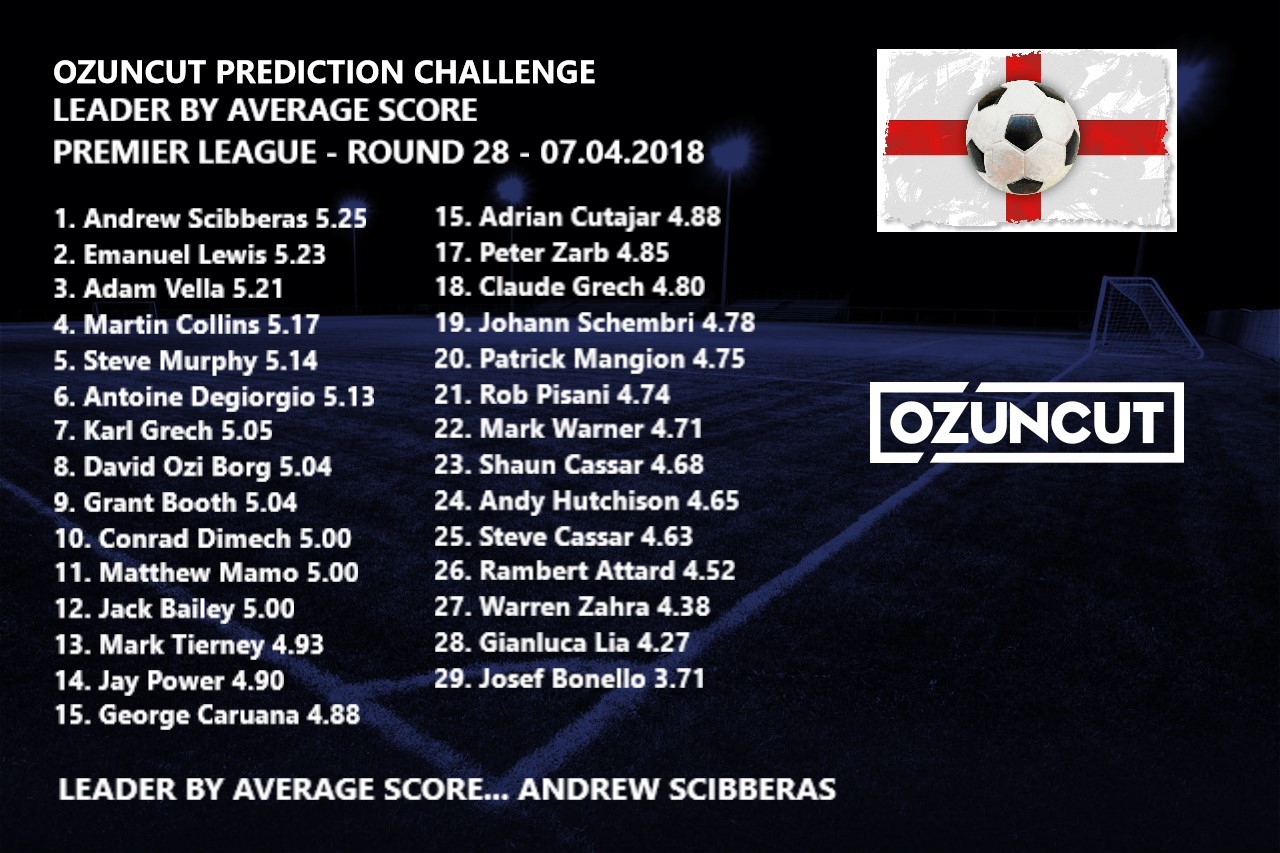 Well done Warren Zahra. Not too many times have I had the occasion to lay praise upon you, but this week is definitely one of those times. 7/10 was a great score considering the average this round was a disgusting 3.54. I think it fitting also to give a special mention to Antoine "Jose's lovechild" Degiorgio who also had a super week with 6/10.
It looks like myself and Emanuel Lewis are still neck and neck on the leaderboard, with Emanuel still on top with fewer rounds played. I am starting to get suspicious that he is just copying my predictions every week so he can stay on top. 🙂 Great stuff Lewis. As for the average score, we have a new leader by virtue of he didn't play this week and the rest of us sucked. Andrew Scibberas now tops the average score with 5.25. Lucky sod.
SERIE A RESULTS:
Your remember how we had some cancelled games due to the passing of Davide Astori? Well those games were made up in the past week and that is why you will see two set's of results below. Round 22 and Round 26. Both sets of results are then included in the leaderboard and average score rankings.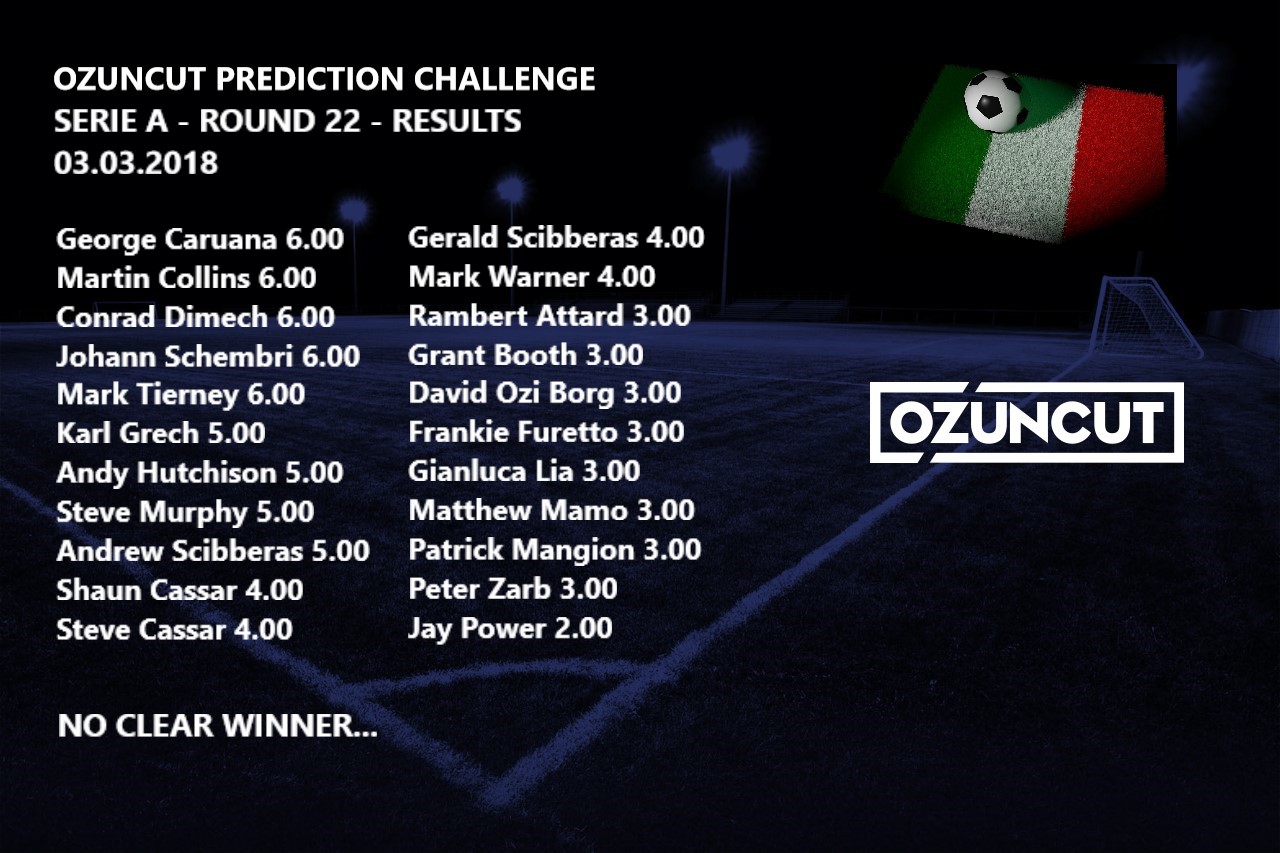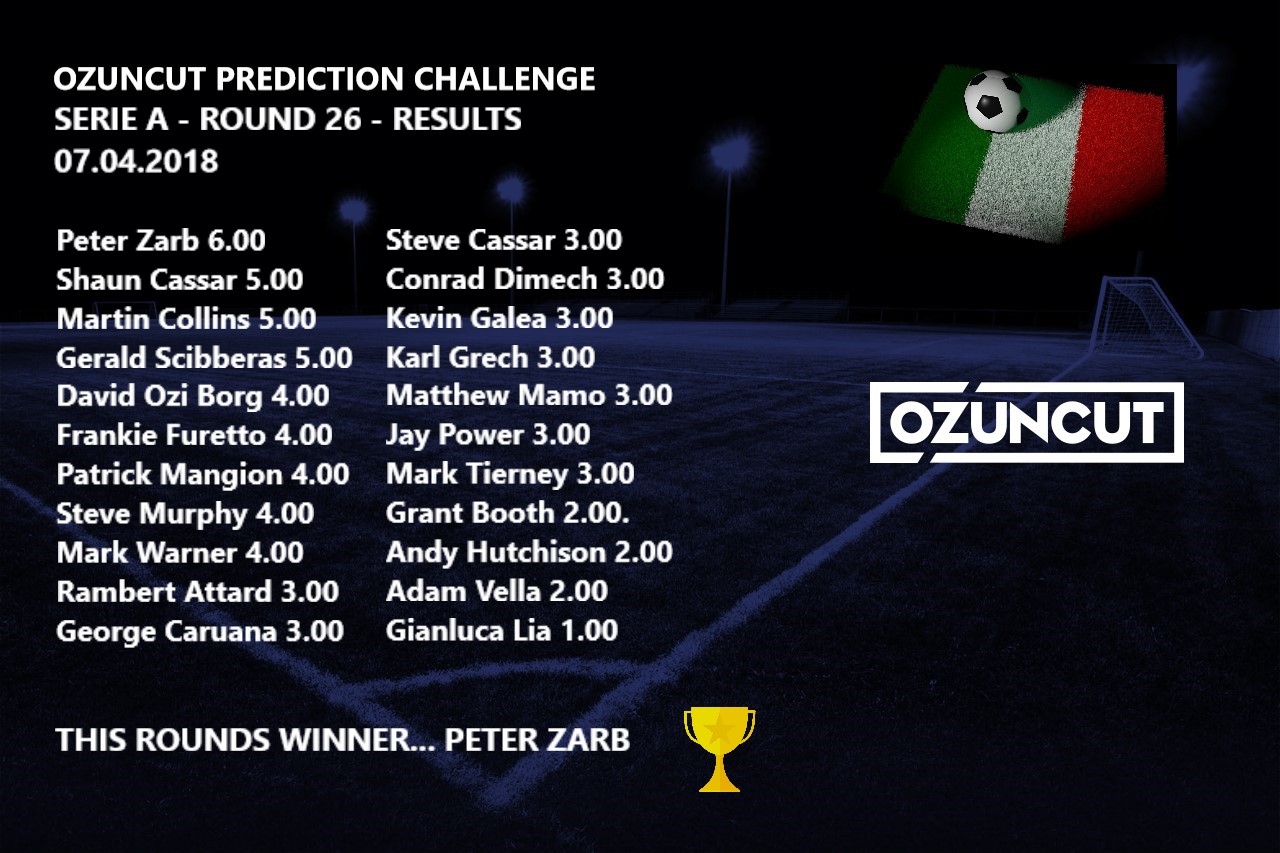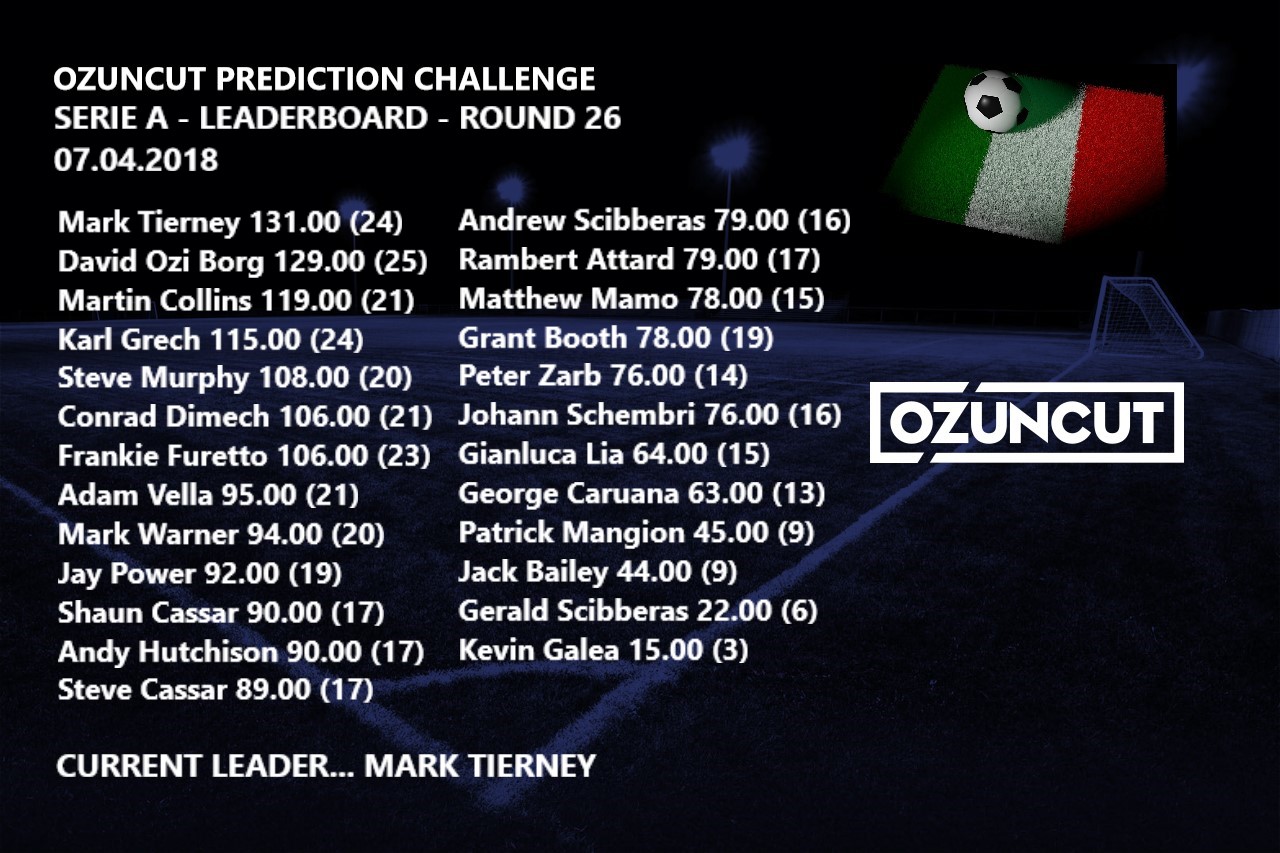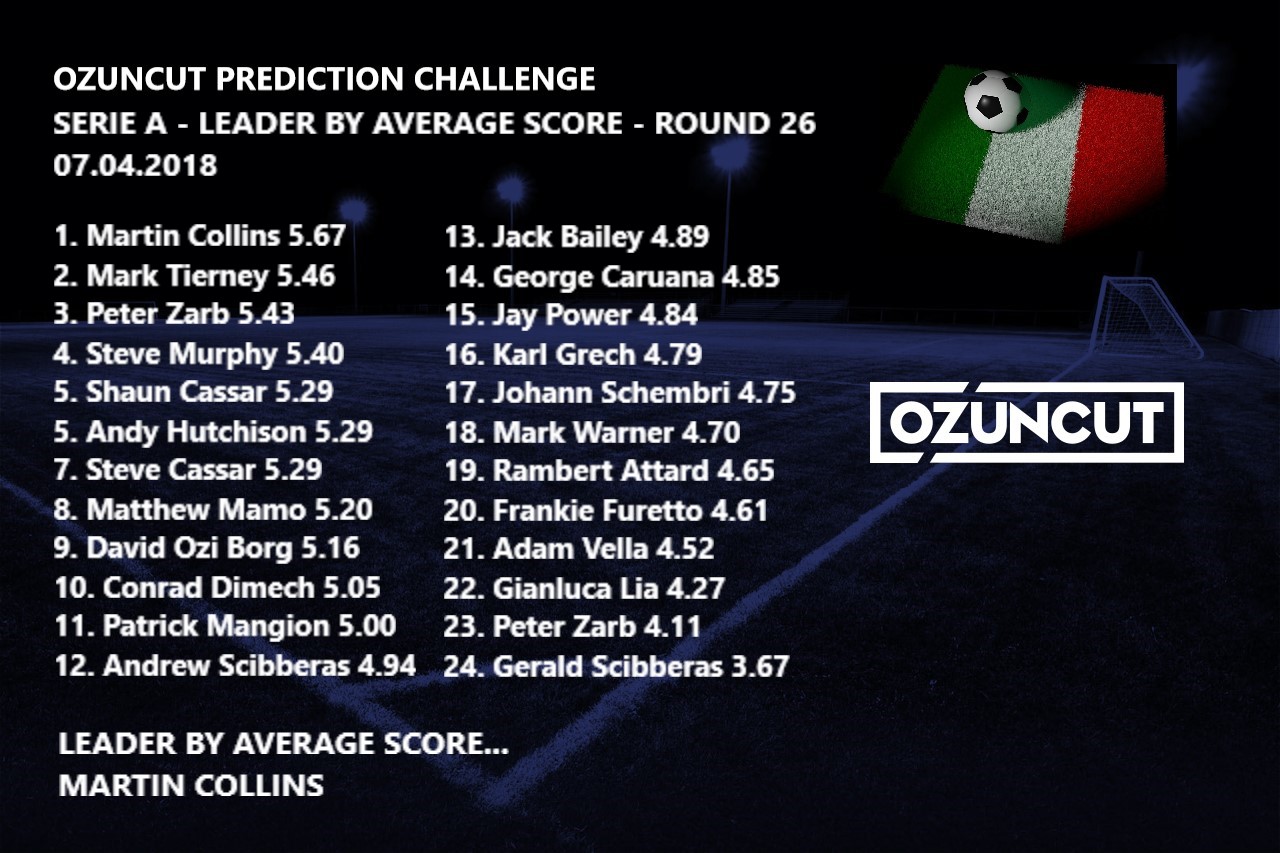 So in Round 22, we had no clear winner. A bunch of guys did pretty well with a score of 6/10, and then it was a mix and match of lower scores. Nothing really exciting. In Round 26 however we had a clear winner. Peter Zarb, well done my good man. 6/10 was just about enough to get you the bragging rights this week. The rounds average was again miserly at 3.41.
No changes to our leaderboard with Mark Tierney still on top. Same goes for the average score rankings with Martin Collins leading the way. It still confuses me how we have two SCOTSMAN leading the way in our Serie A challenge. LOL.
Right that is it for this round. Well done to all and we will catch up with you again at the end of the week.
https://ozuncut.com/football-prediction-challenge-31-03-2018/