Good afternoon all. Now we are really down to the business end of the season. Only three and a half rounds left of Premier League action and four left in the Serie A. Its the last push in the Prediction Challenge to make sure you finish as high as possible. So don't get lazy and drop the ball…
Before getting to this coming round, let's look back to the last round of our Prediction Challenge. I feel great shame that in my quest for a few minutes of free time I forgot to single out the extremely well knowledged, good looking and well hung JACK BAILEY for his outstanding performance last round. His 7/10 score in our last Serie A challenge was a supreme performance which earned him our adulation forever more. Well done Jack. :-p
Right now straight too it. I am not going to lay out any analysis today, loads of meetings to take and not enough hours in the day. I will spare you all marvelling at my football genius. Instead you can see all the fixtures and my personal predictions below: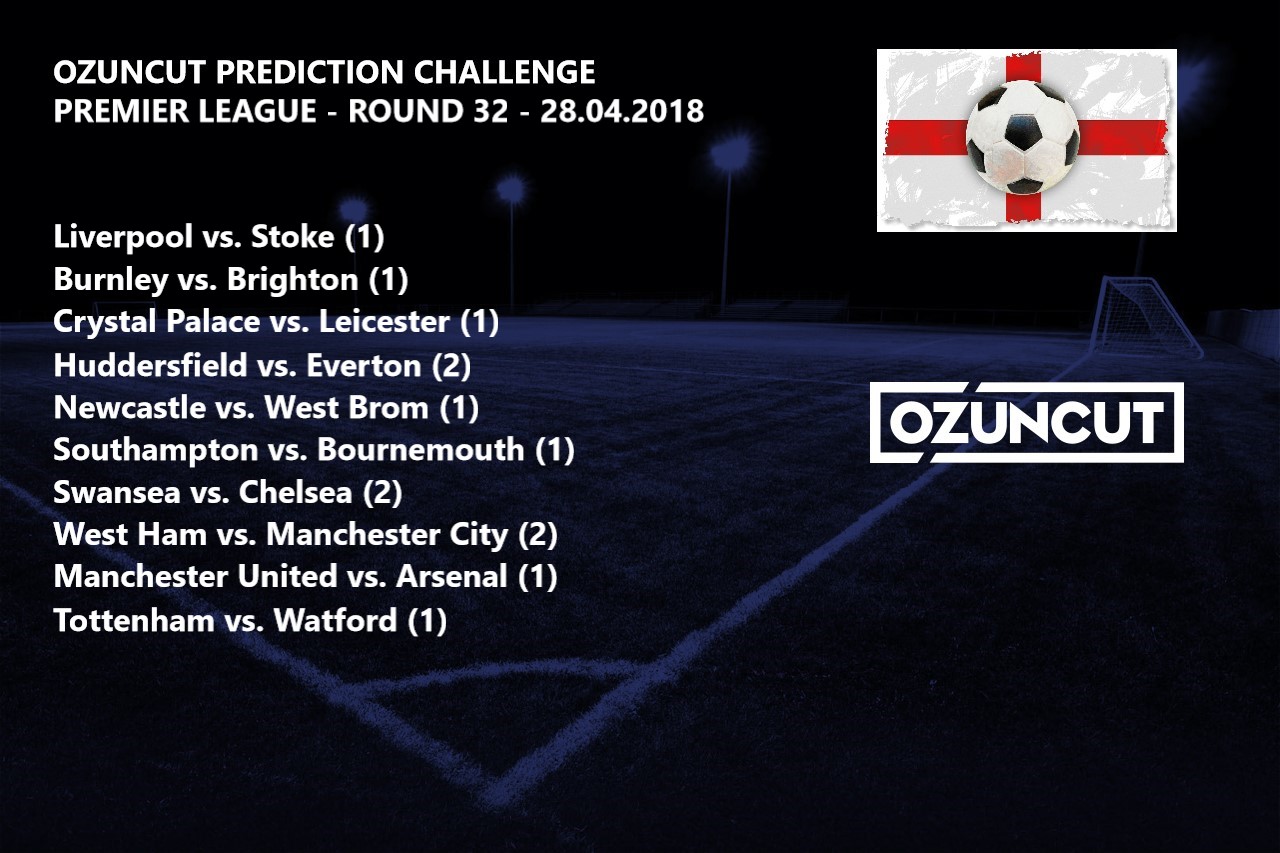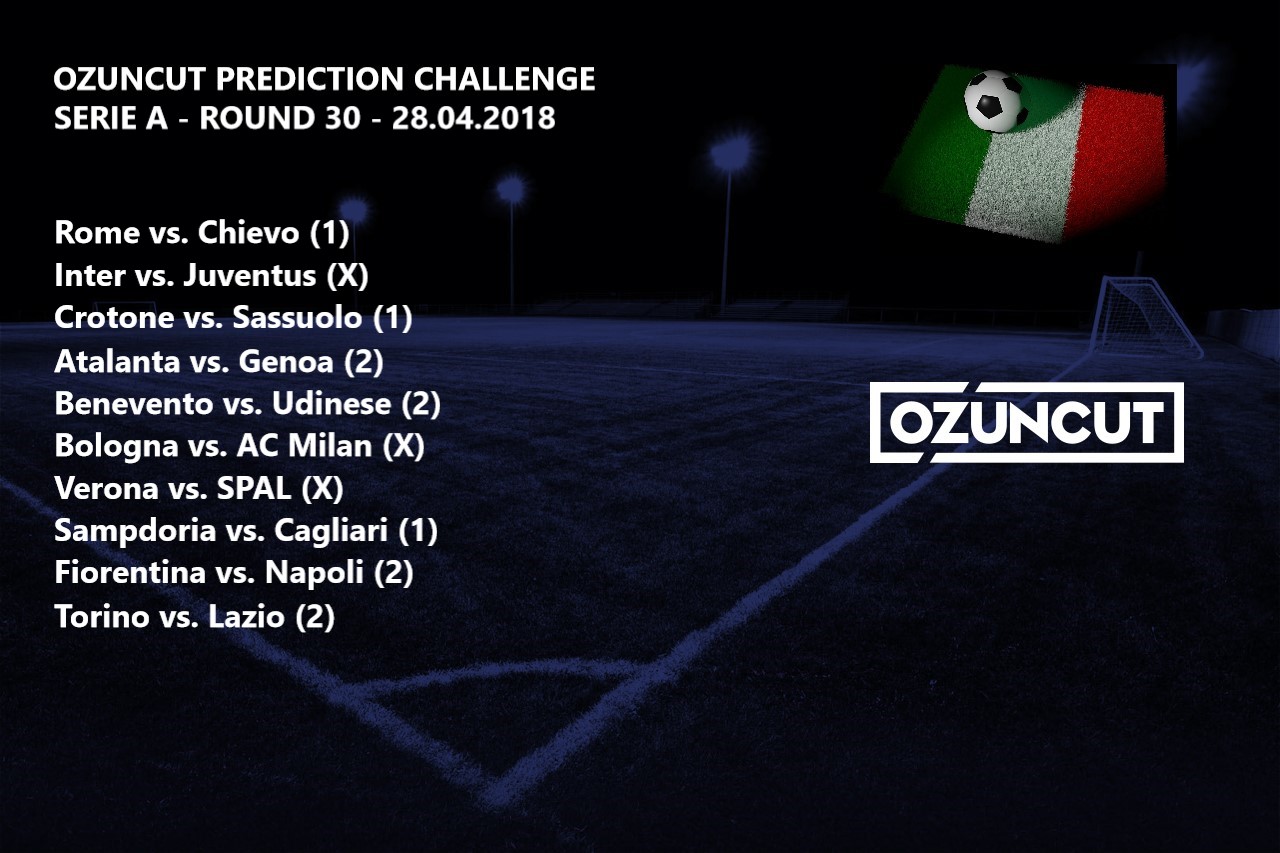 So let me giving you the timings. Early kick of in the Premier League Challenge, so your predictions need to be in by Saturday at 13.30 CET. As for Italy, you have a little more time. The Roma game kicks of at 18.00 CET. With just a few rounds remaining, now is not the time to forget, so set yourself a reminder and make sure to get those predictions in.
Finally in the interest of keeping you all updated, this afternoon I have a meeting with some developers to discuss how next season we can make this much more user friendly. Hopefully they will provide me with a solution which will not result in my children having to eat dog food.
Cheers all.
UPDATE 30.04.2018 – SERIE A RESULTS
Well, it was a nice and short Serie A weekend and the results are in. On the football side, it was seriously dramatic as the Italian footballing gods continue to shine on Juventus. In their match, Inter went down to 10 men after 15 minutes. And despite a gallant effort went on to lose to Juve 2-3.
In the other crunch match, Napoli went down to 10 men in less than 5 minutes. Ultimately, subjecting them to a heavy defeat and almost wiping out any chance they had to claim the Serie A title. Absolute shame that.  For the record, I think the Koulibaly sending off was really harsh. It looked more clumsy than anything else. I agree with the penalty decision but there was no need to send him off I believe.
Remaining on the record, I think Inters Vecino can have little complaint. He left his foot in when he really didn't need to. But what makes it worse is, his stupidity may have very well decided the title. Any way, enough jibber jabber, lets reveal the results for Round 30 in our Serie A Challenge: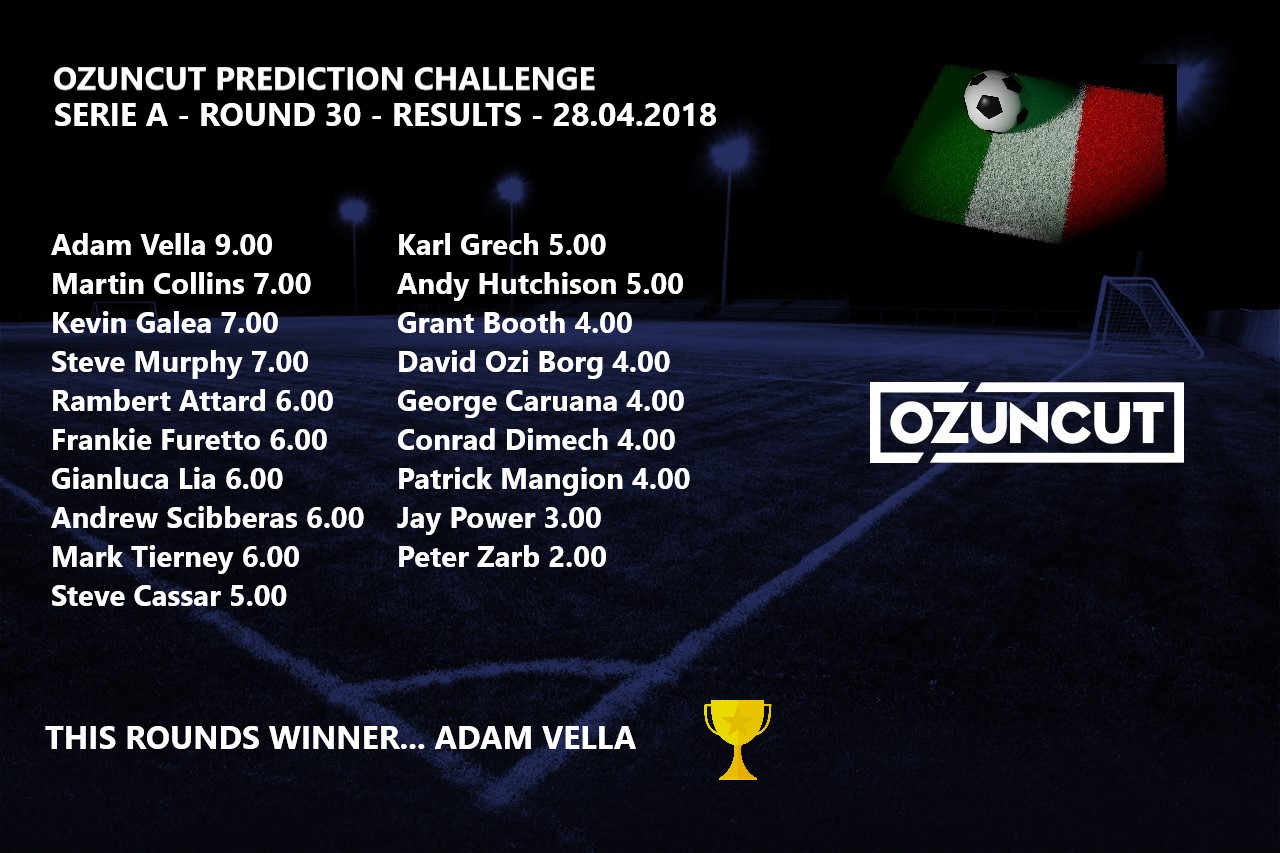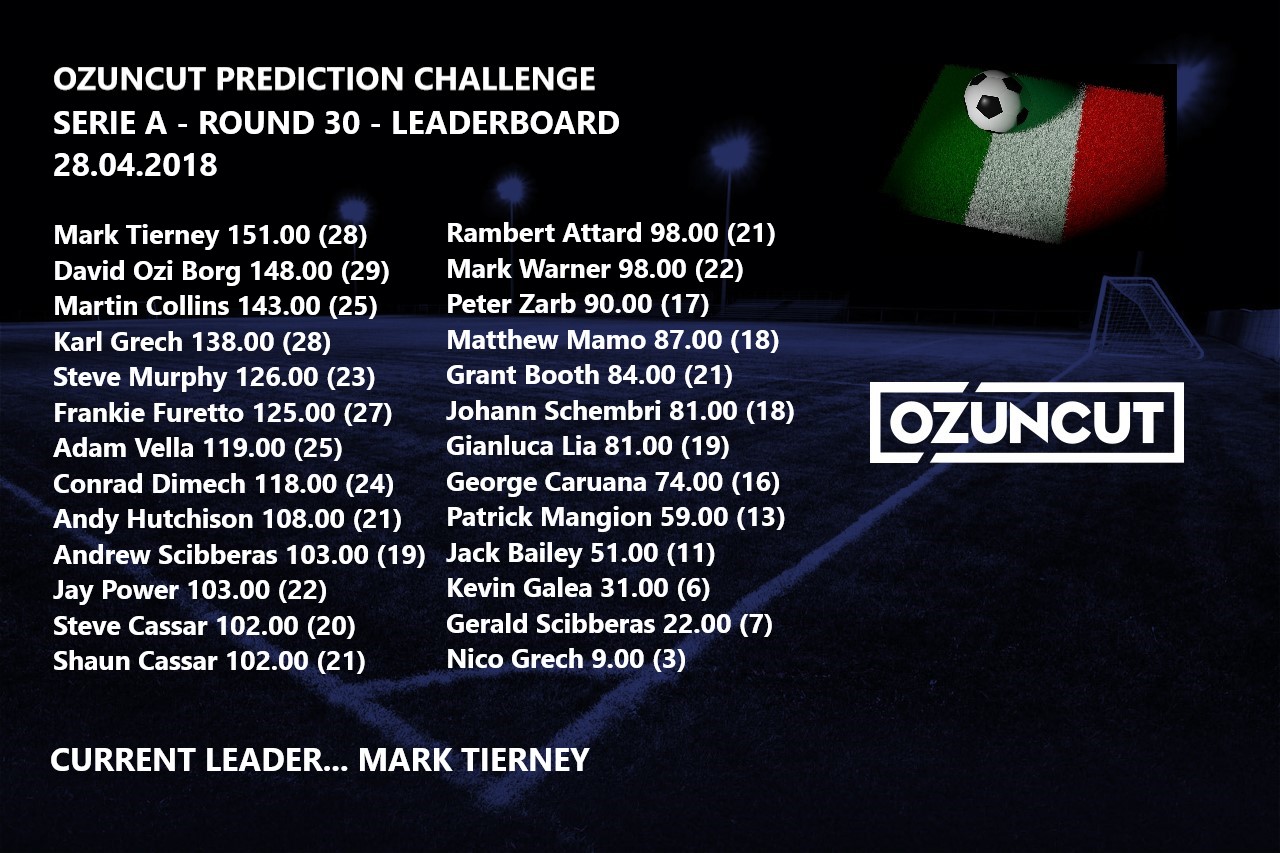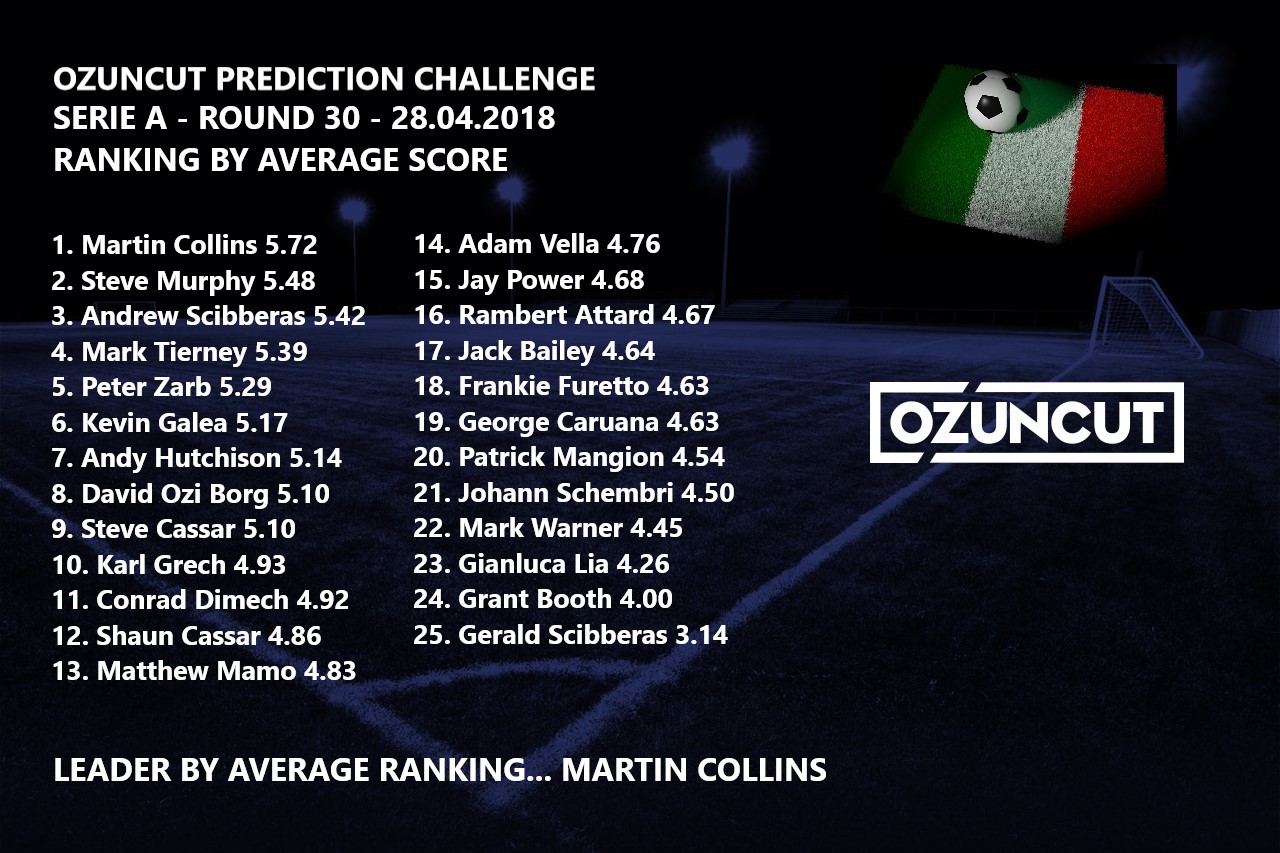 Congratulations Adam Vella for a very convincing round victory. 9/10 is not only impressive, but more often than not enough to guarantee you a victory. So well done my good man. As for the leaderboard, well Mark Tierney took a step closer to finishing top as he stretched his lead. But, I still harbour hope of being able to claw it back with only 3 points the difference.
As for the Rankings by Average Score, I am starting to get the feeling that Martin Collins may have wrapped this one up. Just a few rounds left and he has a pretty solid lead over Steve Murphy in second. But, a few miserable rounds from the portly Scot make give others hope. 🙂
That is it for now. Tomorrow we will give out the results for Round 32 of the Premier League. Until then, have a great day…
UPDATE 01.05.2018 – PREMIER LEAGUE RESULTS
Before we release the results for Round 32 of our Premier League challenge, I would like to reaffirm something. In the video I posted last week I explained that for every round now, you will be charged as if you participated in that round. So if you don't put in your predictions it will be like you scored zero for that round. This will affect your average score if you don't participate.
I thought this was the fairest way for all. It would be unfair should someone lose position for a round only because someone else didn't participate. So this will remain standard for the rest of this season and for all competitions in future. It will be up to you guys to remember to get in your predictions. But I will try to help with reminders where possible.
So, let us get to the results then. Firstly, welcome to James Busuttil who joined us for the first time in Round 32 of the Premier League Challenge. Better late than never and it will give you valuable experience heading into next season. So for the results…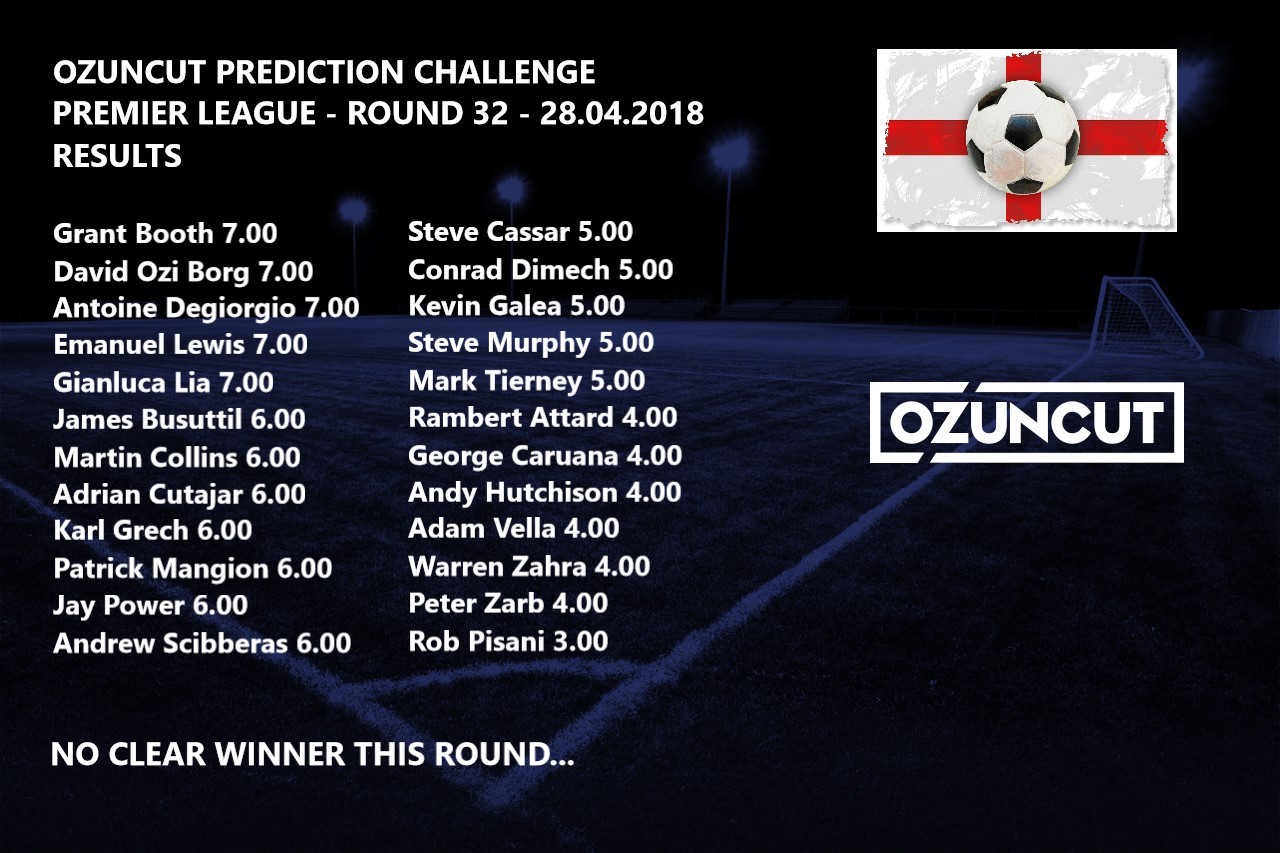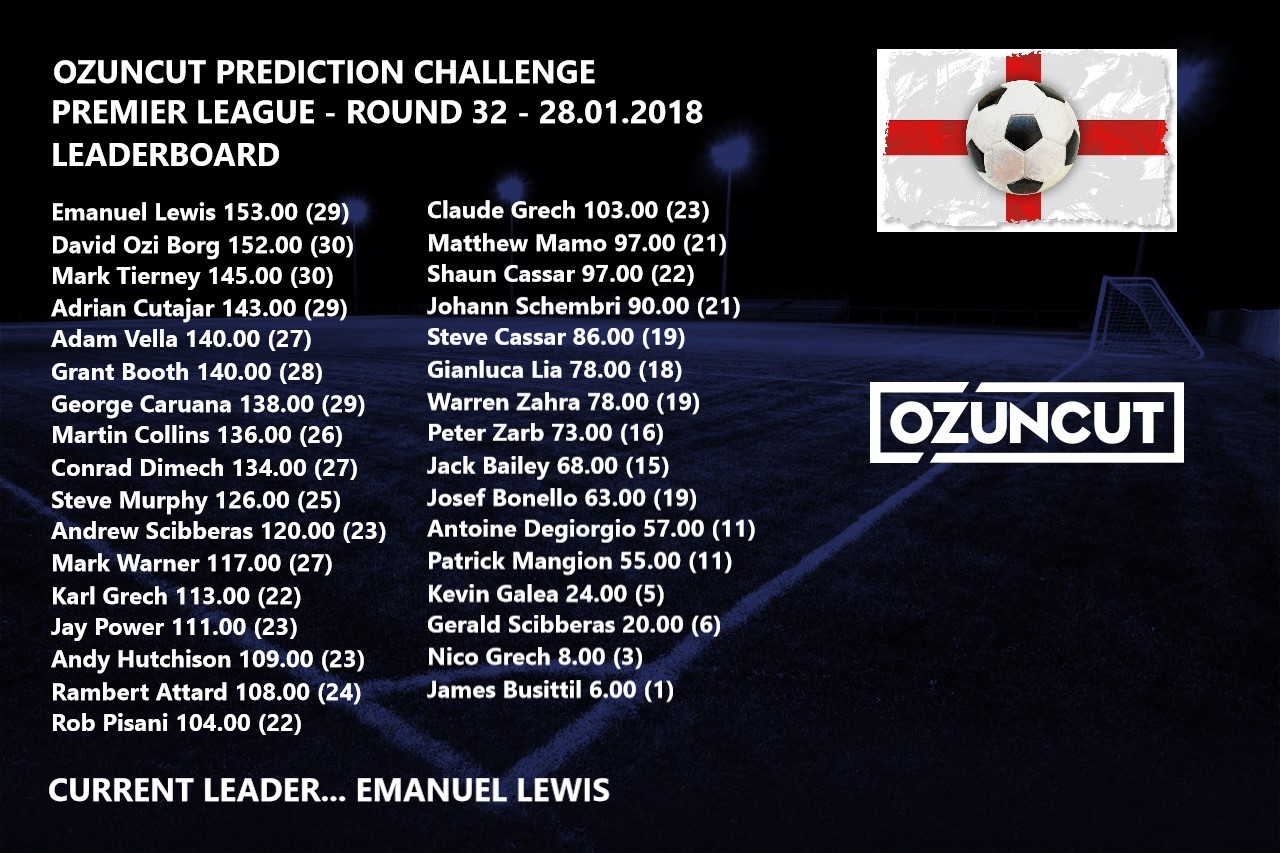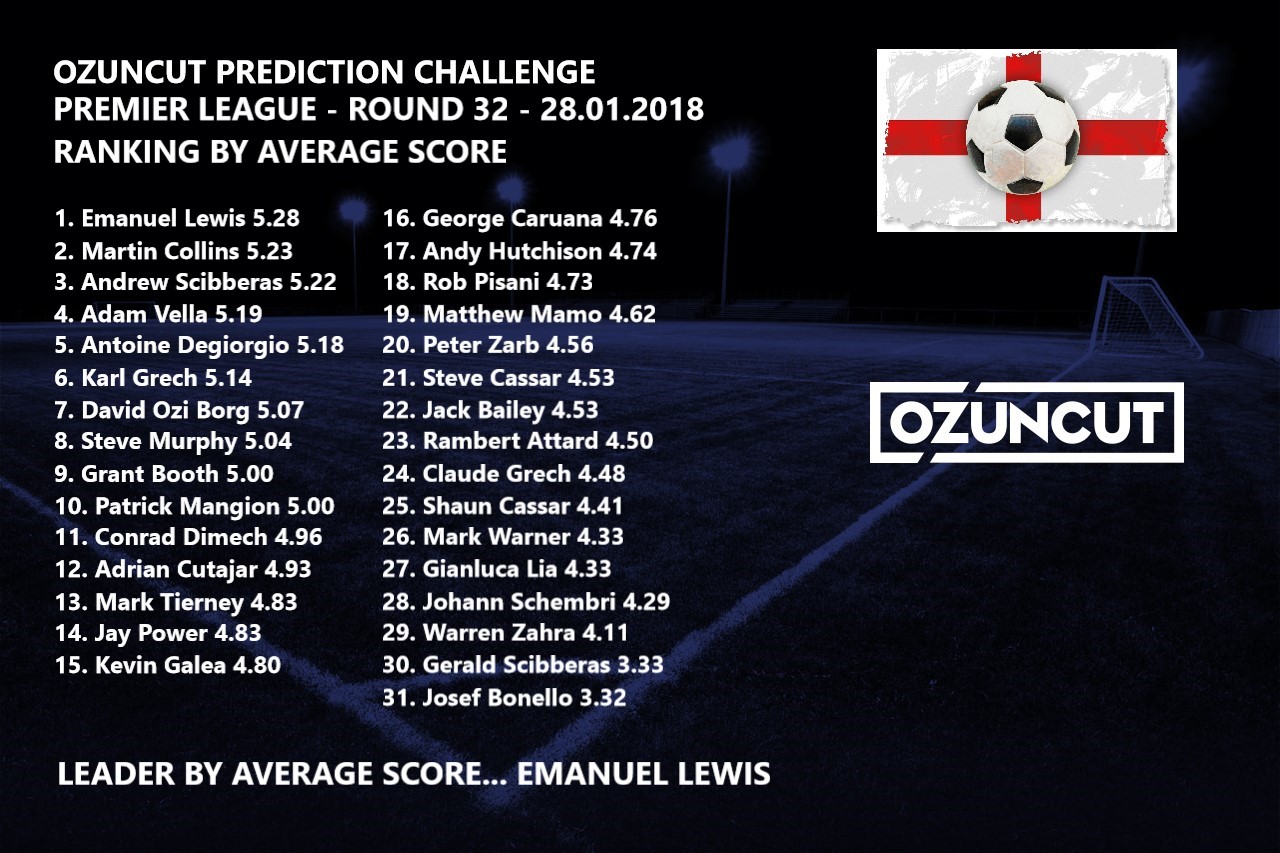 Well, no clear winner this week with a bunch of us getting 7/10. Every time I think I may gain some headway, I look to Mr. Lewis and he is right there with me. Frustrating, but a testament to Emanuel's continued strong performance in the competition. Quick special mention to the new boy James Busuttil who scored a cool 6/10 in his first attempt, not bad son.
As for the Leaderboard and Average score rankings, Emanuel Lewis is on top of both. But it's close. Very close. Anything could change from now until the end of the season, so still all to play for. Just a few rounds left and its going to be an exciting end to this seasons competition.
Have a great week lads, and look out Thursday or Friday for the next challenge blog.