Welcome back predictors. Well, I say that like its been a while which just isnt the case. Getting close to seasons end, which means the fixtures come thick, fast and in an erratic fashion. Difficult to keep up sometimes, but it seems that most of you are doing your best. Before we get into this weeks Prediction Challenge, we must first give out some results from mid week.
Over the past few days the Prediction Challenge had a full round in the Serie A as well as a few games to predict in the Premier League. Curious as to how you did. Here are the results:
PREMIER LEAGUE RESULTS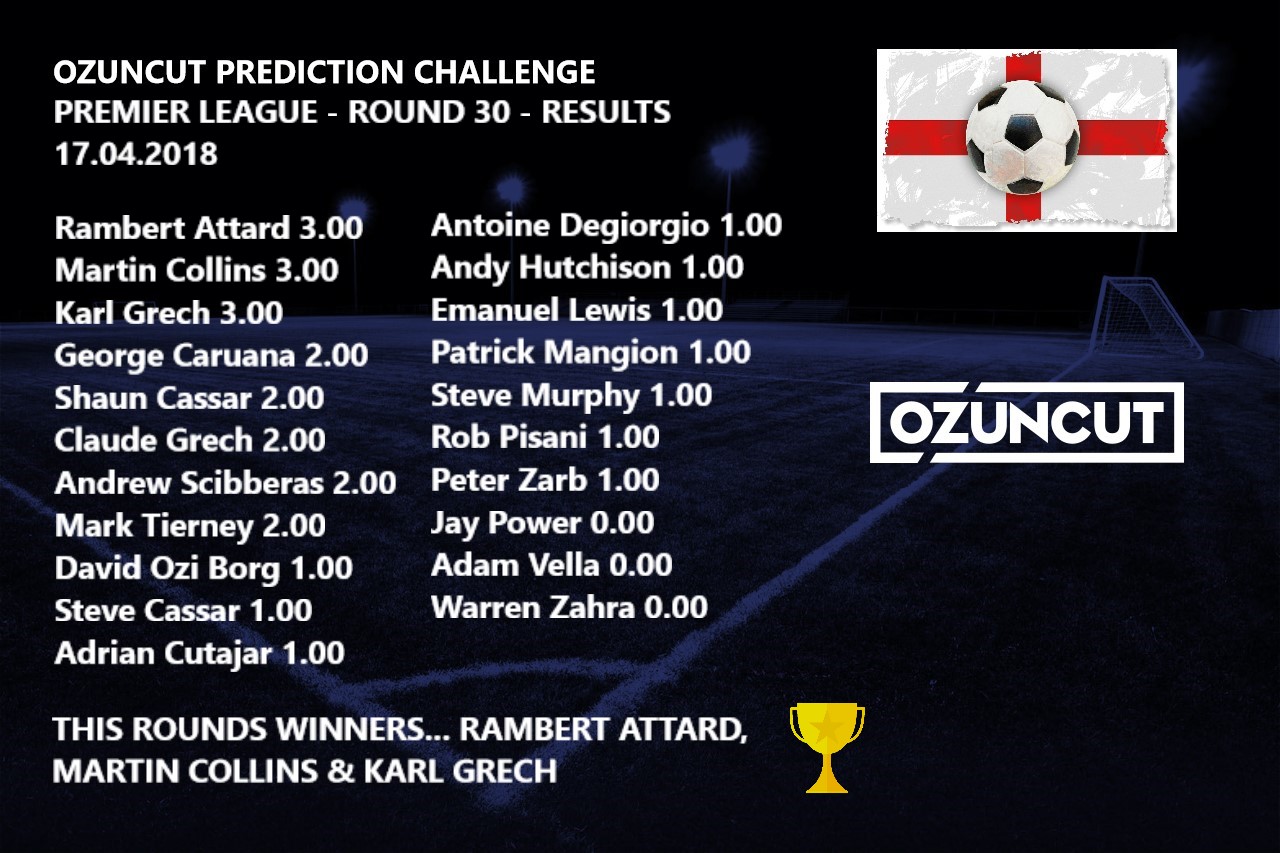 SERIE A RESULTS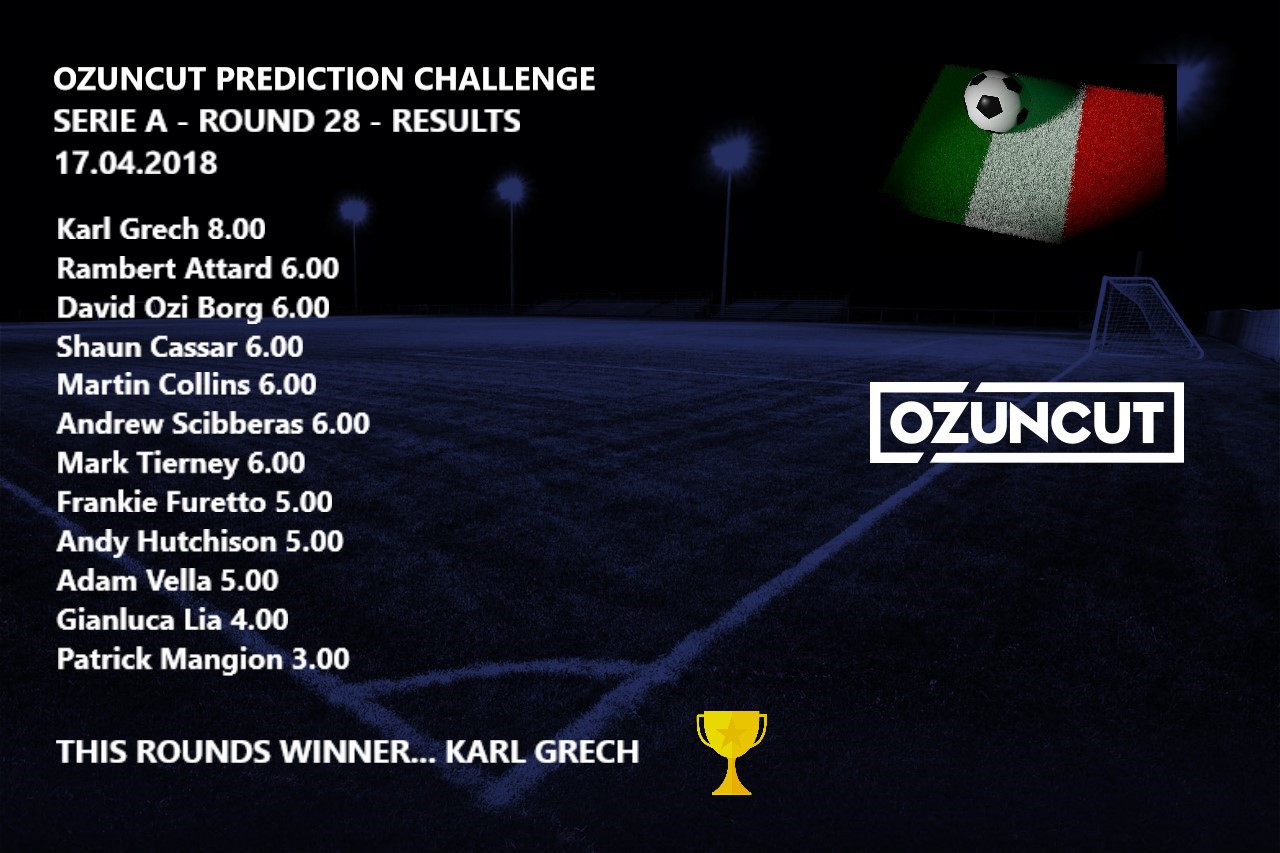 Keep in mind that there were only three games to predict in the Premier League, so your totals are out of 3. Looks like Karl Grech had a good mid week. Top of the pile in the Serie A challenge as well as a share of the spoils in the Premier League. A small consolation for a frustrated Inter fan. Should also give a shout out to Martin Collins, who quite frankly has become a pain in the arse. His consistency in the competition continues with a 3/3 score for the round. Rambert Attard also gets a mention here after a pretty solid midweek as well.
In the interest of not chaining myself to this desk, I will update all tables and rankings after this coming weekends rounds. And now to our new challenge…
Another weekend brings us another chance to pick up points. And again we face a full round in the Serie A, but only a half round in the Premier League due to the FA Cup semi finals. We really are getting to the final few rounds now, so time to up your game for a final push to potential glory. Let's take a look at both leagues.
PREMIER LEAGUE – ROUND 31
The only real interest from a Premier League perspective now is the fight to stay in the league. City have been crowned champions and the top 4 is likely to stay as it is. It is not too dissimilar at the bottom either. West Brom you would think are gone. While Stoke and Southampton still have a glimmer of hope, but they will need an amazing end to the season. Not likely.
West Brom are at home to Liverpool Saturday lunchtime. Will Liverpool rest players in light of their forthcoming Champions League Semi Final? Will a change of manager at West Brom give them a little inspiration? Honestly, I don't think so. I can only see this going one way. West Brom have been miserable all season and I don't see them having a hope in hell of getting anything out of this weeks game.
As for Stoke, well they need a big result against Burnley to have any hope in hell. They are at home which will give them a boost, but Burnley have been fantastic this season and a real thorn in most teams side. In saying that, I have a feeling that Stoke will pull it off. With Swansea facing the daunting task of a celebrating Man City at the Etihad, Stoke will have the motivation that they can catch the Welsh side. And I can see that getting them the result.
Here is a look at all my Premier League predictions.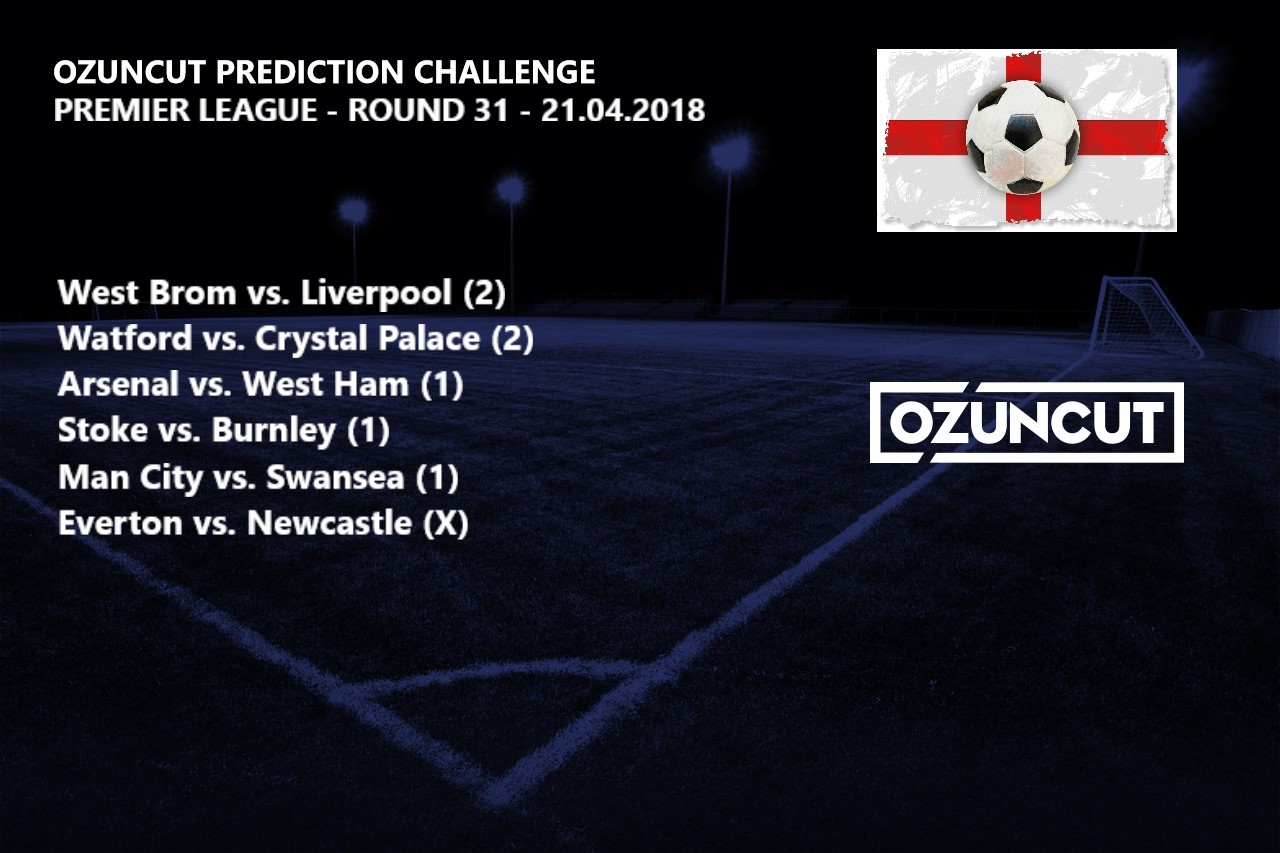 SERIE A – ROUND 29
I cannot under state how massive this weekend is in the Serie A. The game of the season is on the cards in Turin, and it has massive consequences for the Serie A title. Should Juventus win, you would have to think the title is theirs. However, should Napoli win it will be all to play for and a frantic and nervous dash to the finish line.
And I think Napoli can do it. Their form hasn't been that great of late, but this is do or die for them now. They just have to win all its all over and their motivation levels will be at an all time high. It will be an exciting game. Juventus have the experience in these situations, and will be the bookies favourite, especially at home. But I just fancy Napoli to do it and take the title right down to the wire. I have a feeling there will be some mixed predictions on this fixture from our competitors.
As for the Champions League battle, Roma, Lazio and Inter can no longer afford any slip ups. I can't see Roma having a problem with SPAL, nor Inter with Chievo. But Lazio face a tough test against Sampdoria. In saying that I still expect them to win. Sampdoria have been great at home this season, but not so hot on the road. And Lazio have been in good form again recently.
As for the relegation battle, Benevento are gone, as you would say are Hellas Verona. Crotone, SPAL, Chievo and maybe Cagliari all battling to stay away from that one last drop spot. I have a feeling SPAL will go down, but I hope not. Will be good to see the minnows stay in the league. Here are all my Italian Predictions for Round 29.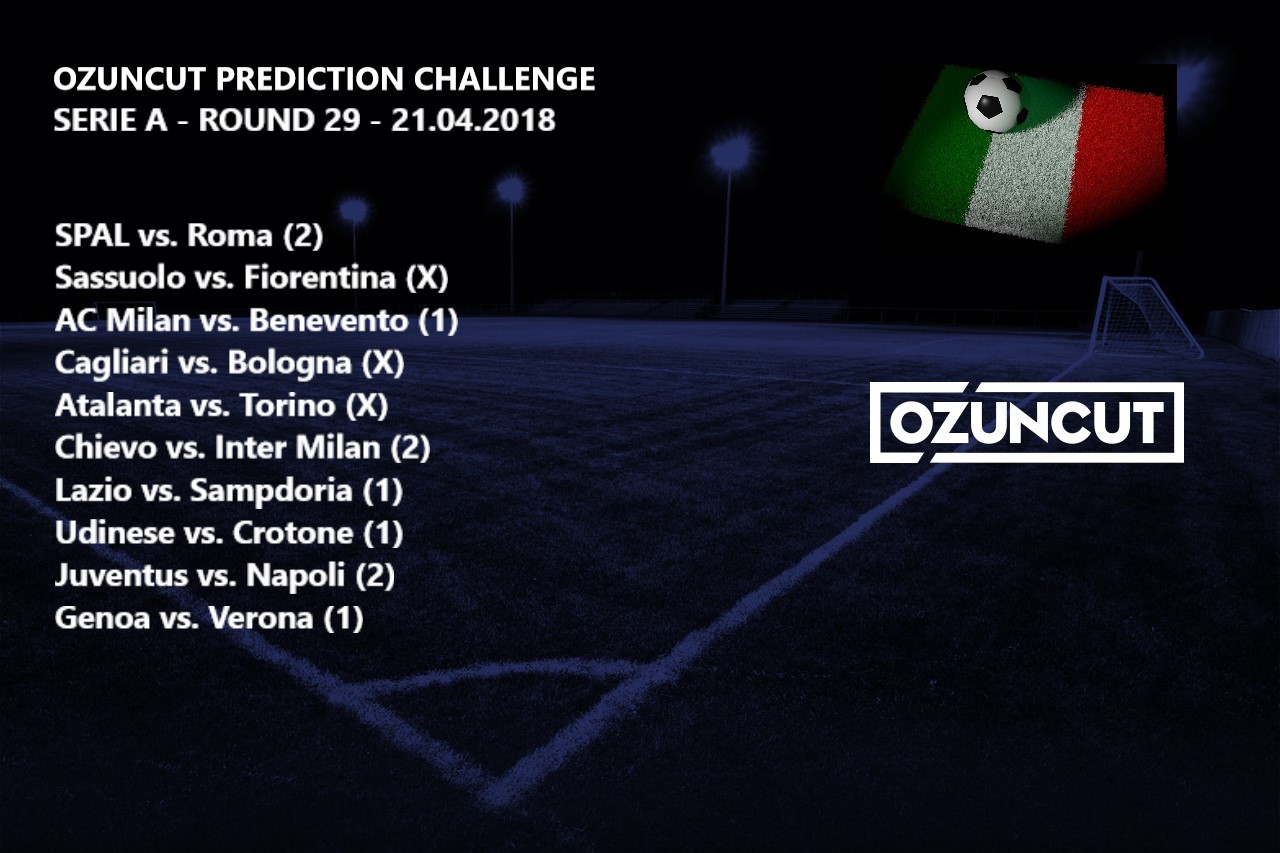 Alright, well that just about does it. Premier League kicks off Saturday at 13.30 CET, while in Italy the round gets under way Saturday at 15.00 CET. Good luck with all your predictions guys and remember all updated results and rankings will be available around Tuesday lunch time.
Happy weekend.
UPDATE 21.04.2018 – RESULTS
PREMIER LEAGUE: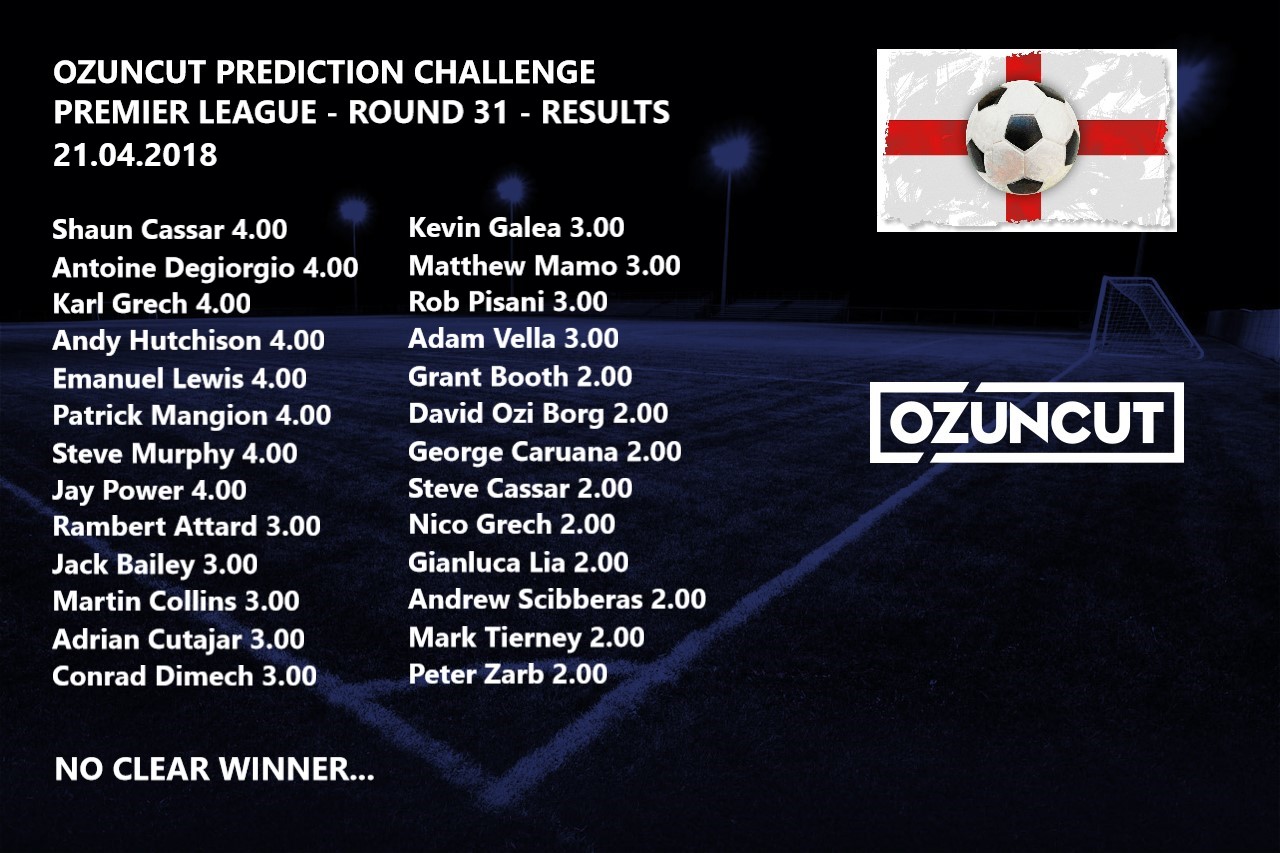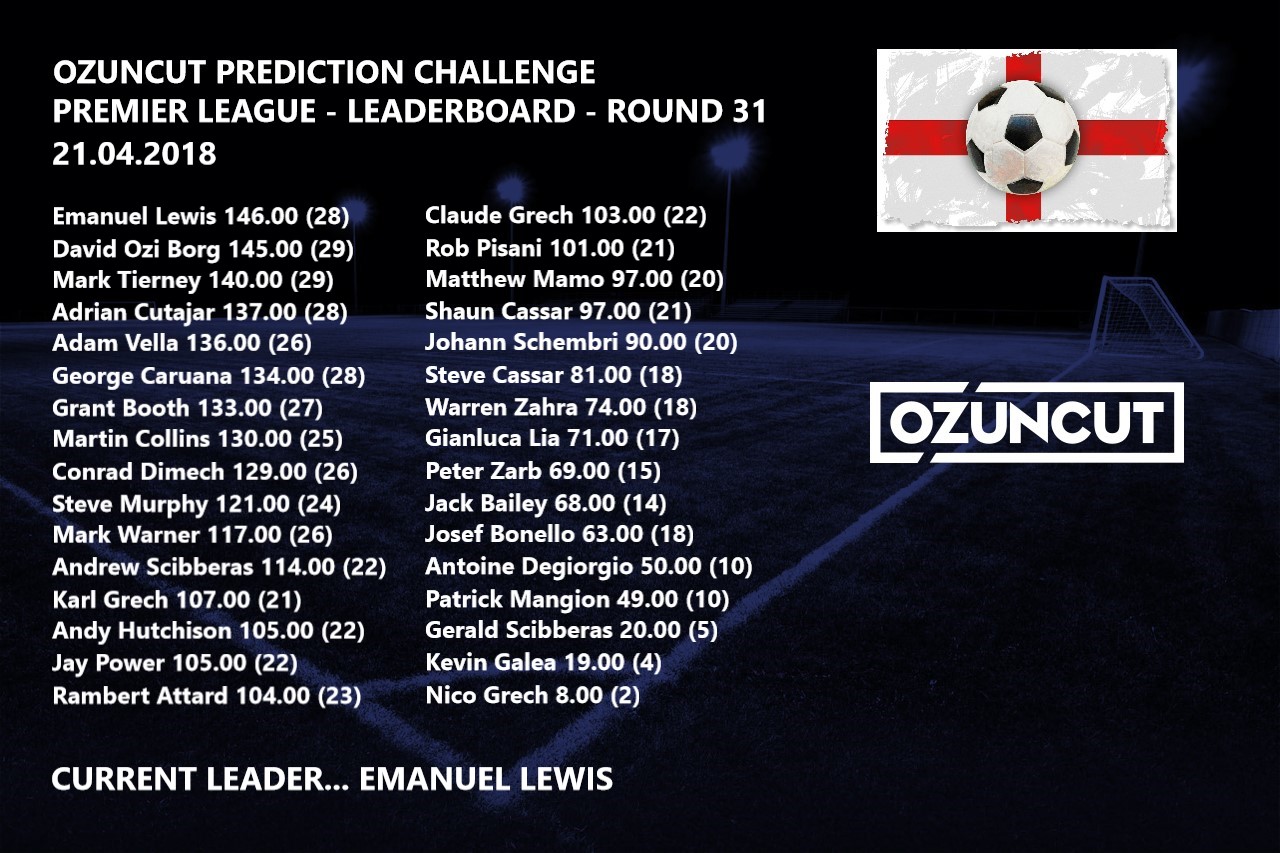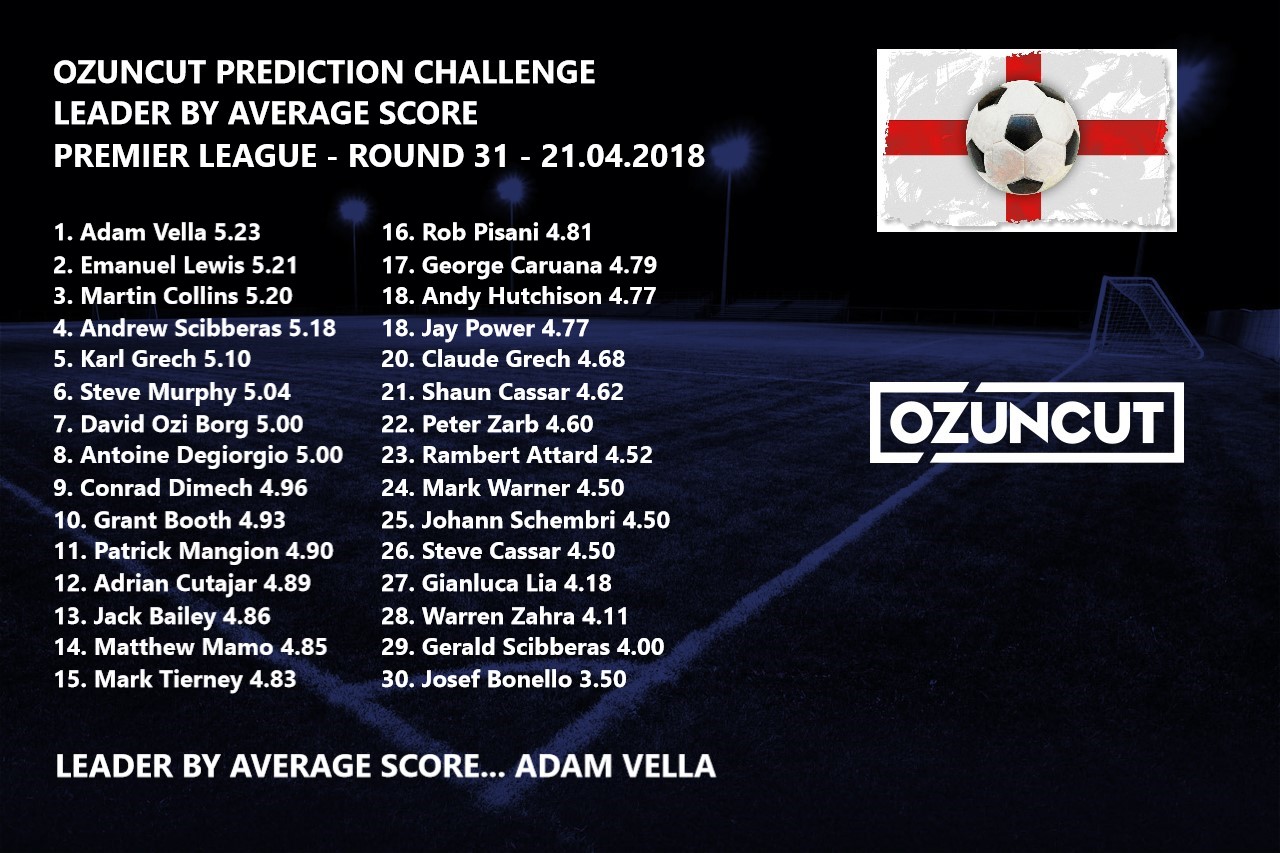 SERIE A RESULTS: