Our prediction challenge is forever evolving and welcoming new challengers. I hope you are all having as much fun as I am challenging both yourself and others. Testing how good your prediction skills are as well as how frikkin lucky you can be. As soon as we can build up the number of competitors the sooner I will have the ability to add weekly and seasonal prizes to our competition. So please get all your friends and family involved and spread the word.
Right, down to business. Last time round in our Premier League prediction challenge we all struggled a little to be honest. But some more so than others. It was a very low scoring round. Four competitors shared the honours with a score of 5/10. They were Adam Vella, Emanuel Lewis, Mark Tierney and Alan Attard. The round average was an extremely PATHETIC 3.7/10.
PREMIER LEAGUE
Ok now to the moment of truth. Do we have a standout champion this week? Let's take a look the OzUncut Premier League Prediction Challenge Results.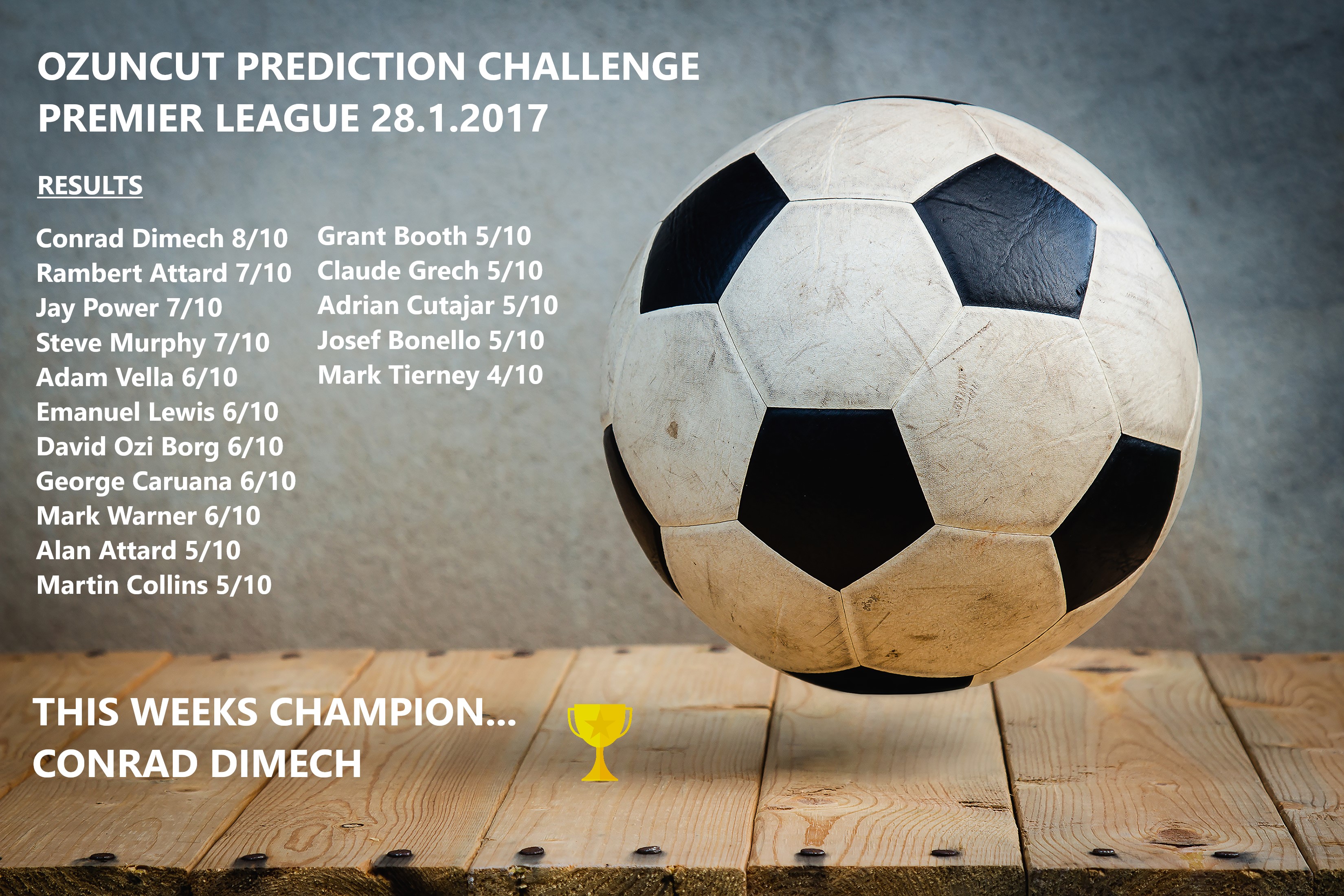 A new champion is crowned. Well done Conrad Dimech, this weeks outstanding performer with an impressive score of 8/10. I must admit I am slightly jealous and my first impulse is to say one or two slightly sarcastic things. However that would be unsporting of me. So Conrad enjoy your victory. As for the rest of us, Rambert Attard, Jay Power & Steve Murphy had very solid results so deserve a quick shout out, well done chaps. This round had an improved average score of 5.6/10.
I will also take some small amount of pleasure in announcing that Mark Tierney was S*** HOUSE this week. Sub standard to say the least. 🙂 Man that felt good to say. Sorry Mark, but you had it coming.
In the interest of continuing evolution of our challenge I am also adding a leader board so you can follow your progress and score throughout the season. Obviously some have joined our challenge later than others and that is reflected in the scoring. But as the weeks go along you can see how you develop next to other competitors.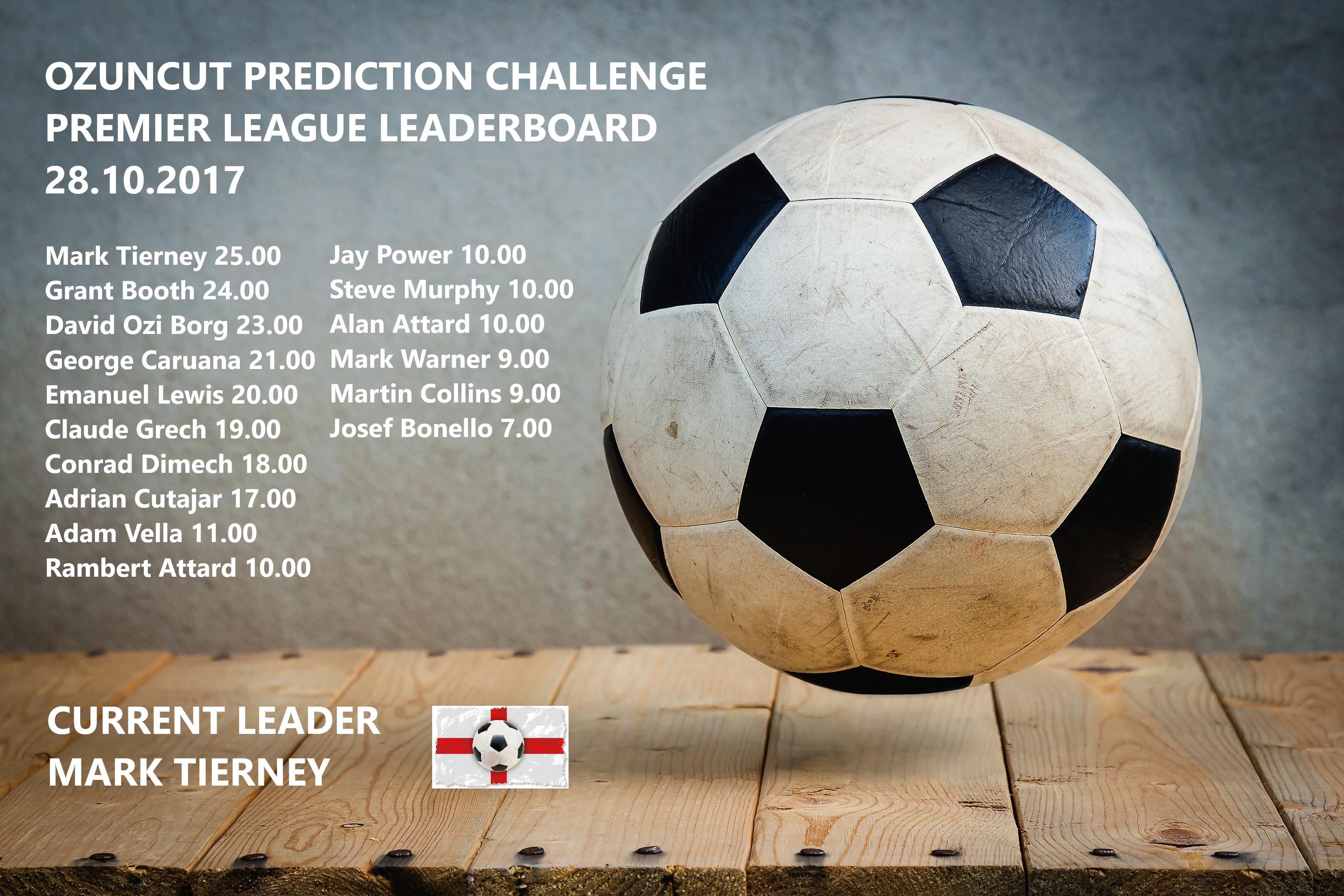 Mark Tierney I have nothing further to say at this time.
SERIE A
This past week we had a mid week round of games in Italy which meant a mid week prediction challenge. Mark "Kickin Yo Ass" Tierney was out of this world with a perfect 10/10 round. Whilst I am sure all us "other competitors" looked in awe at his greatness, I am quite certain a few of us may also be plotting some kind of sinister revenge. It was a pretty good round for all by the way with the average score being 7.5/10.
So what happened this week? Well I am not champion, that's for f***ing sure. Sorry, I am ultra competative you know. Let's look at this rounds OzUncut Serie A Prediction Challenge results.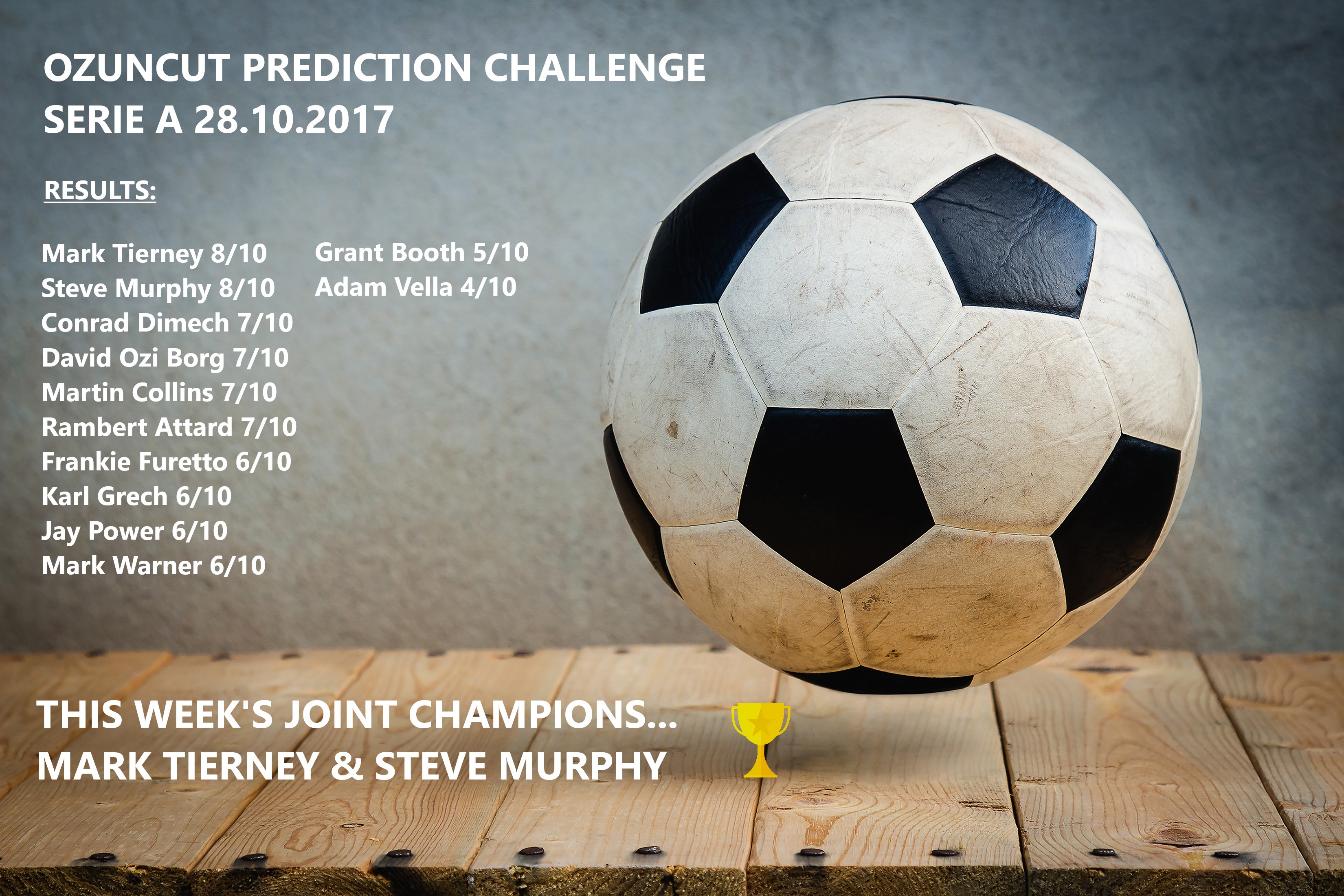 God damn that Mark Tierney. I have to mention him again. At least I also get to mention a fresh name to the mix of champions. Steve Murphy & Mark Tierney both take the honours this week with 8/10. Congratulations boys, a very good score. Most of us had a decent round in fact with an average round score of 6.4/10.
But a couple of us DID NOT do so well. Grant Booth had a bit of a shocker with a 5/10 score. After a couple of good early rounds the young man has gone off the boil a bit. You watch him now pull ridiculous excuse like just recently becoming a father or something. 🙂
Oh and ADAM VELLA. My friend it was not your round for sure with a basement dwelling score of 4/10. Ouch. That must be hard to swallow. Only one thing could be worse than that is having to watch Jose Mourinho football.
Let's have a look at our Serie A Table.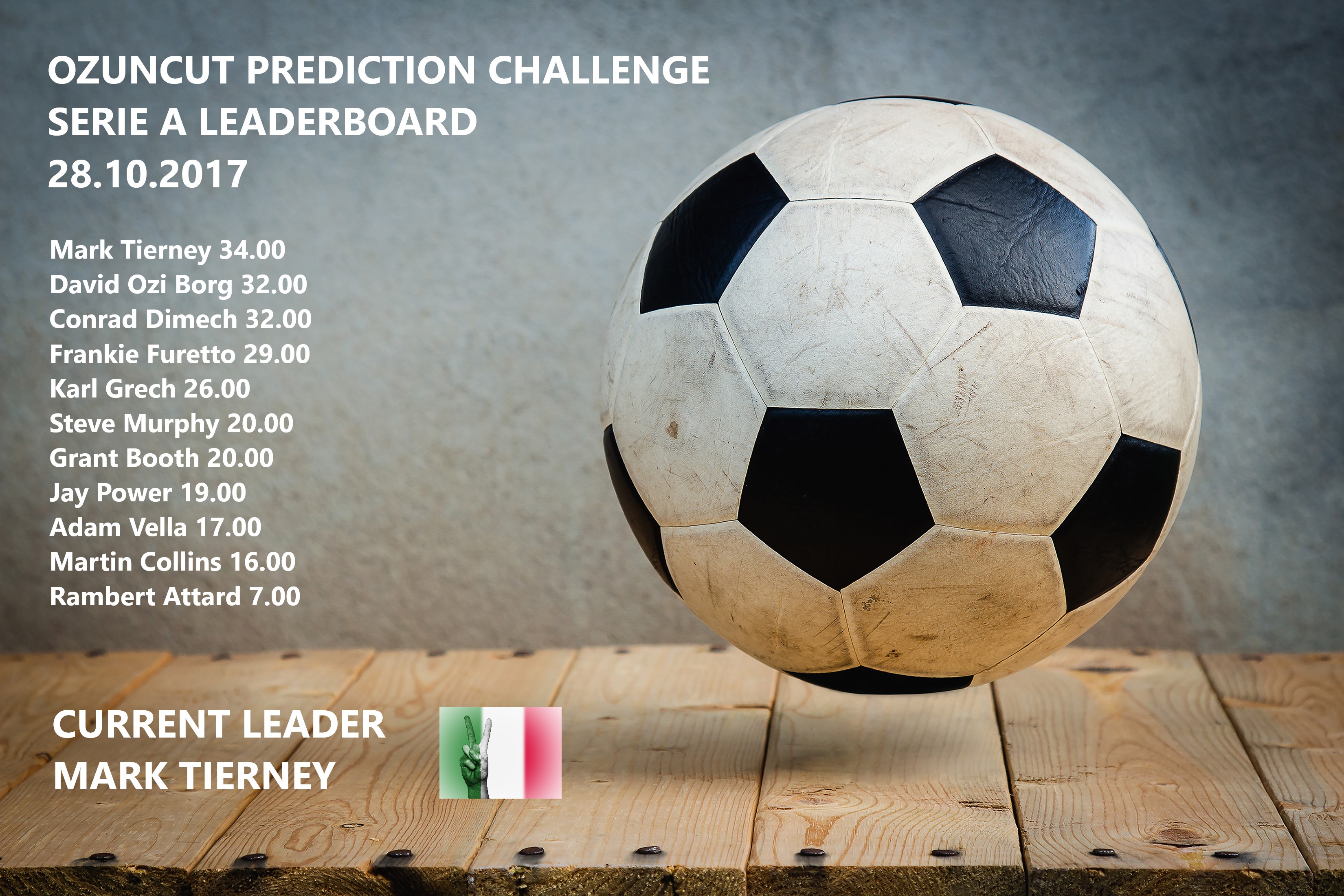 THE OZUNCUT ACCUMULATOR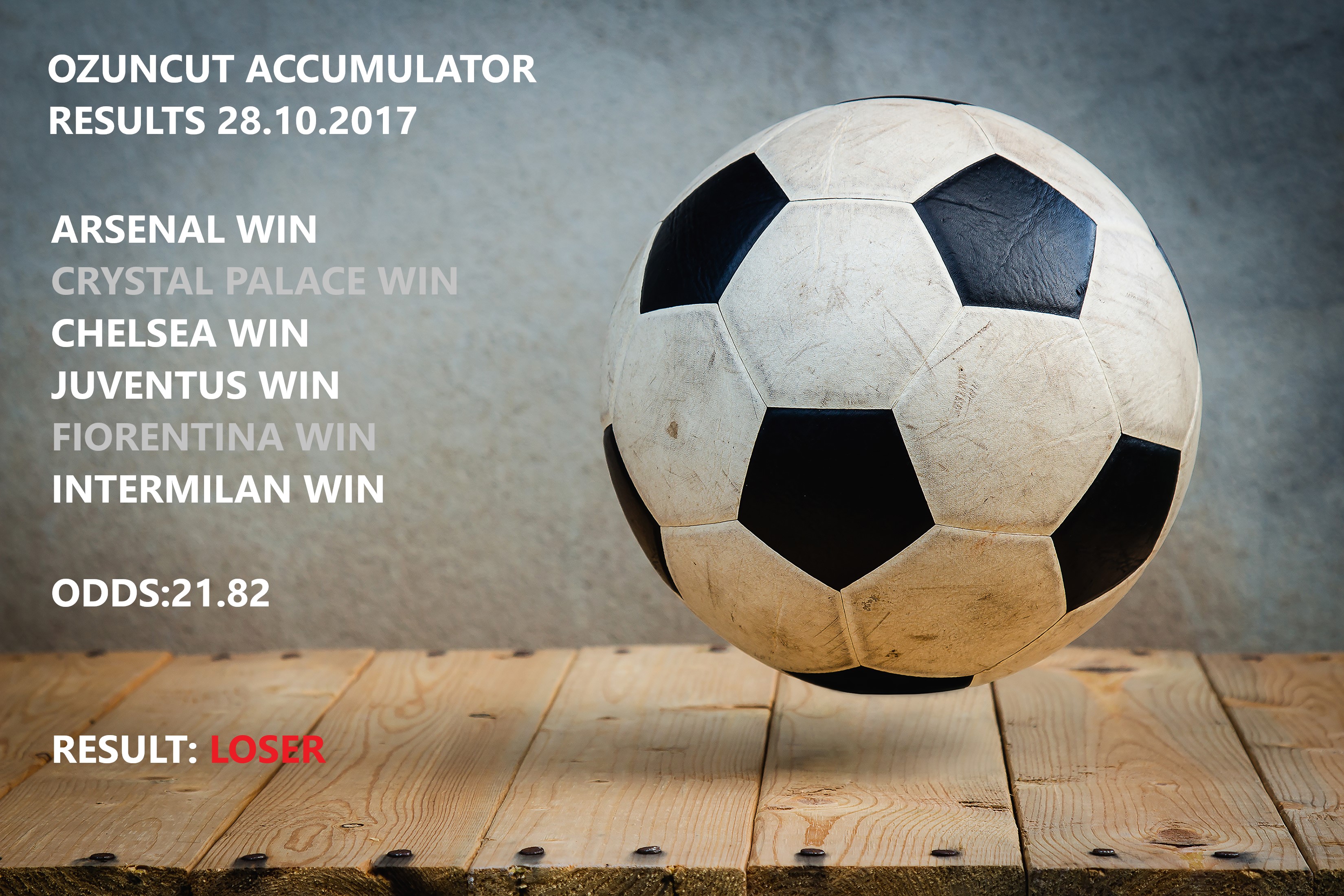 FFS. I knew that Crystal Palace was a bit of a risk so can accept that. But Fiorentina losing was a big kick to the under carriage. I thought I would be pretty close to a winner this week, but ultimately no cigar. The record currently stands at 1 winner and 4 losers. I look forward to another shot next weekend.
That is it for now. I wish you all a fabulous week and if your team is in European action good luck. Don't forget to look out for another round of our Prediction Challenge this Friday around lunchtime.
Sayonara comrades.