I truly love this time of year when the football fixtures come thick and fast. In the run up to the new year football goes mad and we have the pleasure of being glued to our televisions nearly every day of the week. Bring it on I say, bring it on. Another weekend has passed which means another round of the Prediction Challenge is done. Time for us to see who are the prediction kings and who perhaps should turn their attention to CURLING.
Right, Prediction challenge results. Let's get to them.
PREMIER LEAGUE
I don't think you could say there were too many surprise results in the Premier League the weekend past. Obviously Spurs not managing to beat West Brom in London was a loser for most. Also Watford's thumping of Newcastle at St. James Park seemed to trip up competitors. Having said that it was a pretty average week for most. Going into this round Emanuel Lewis's previous round perfect score had him firmly grasping the title, but that is no longer. And I am afraid he must pass it on. Drum roll please…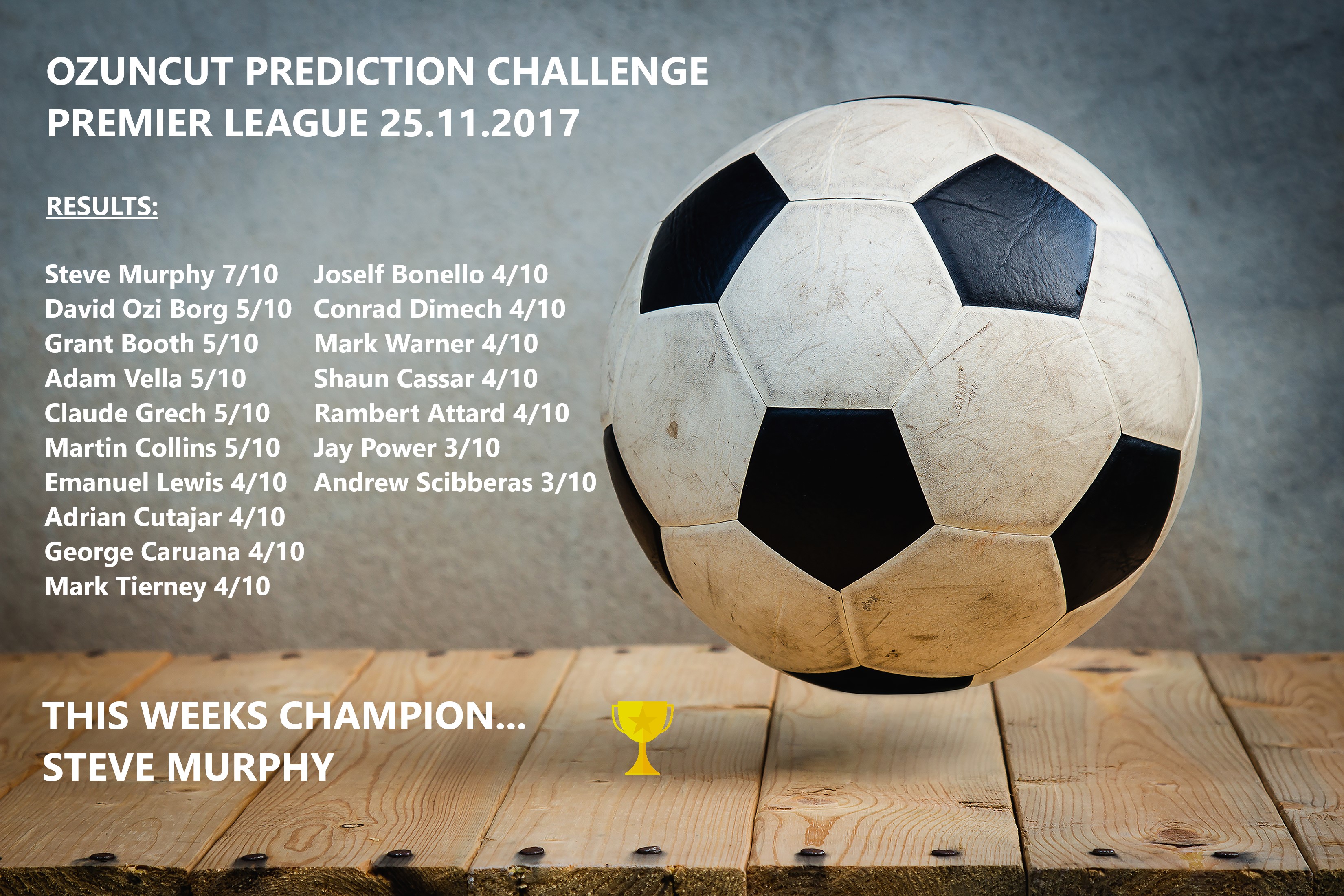 Congratulations Steve Murphy! Normally I would be champing at the bit to let everyone know how much I hate you for your victory. However seeing as you were clearly the best predictor of the round and are a first time winner I will keep my usually unstable emotions in check. Very good score of 7/10 on which proved to be a tough round for competitors.
We must also give a quick mention to our basement dwellers. Jay Power & Andrew Scibberas scored a measly 3/10. Might be time to consider a change of strategy for next round fellas. 🙂 This weeks average prediction rating was an extremely poor 4.4/10.
So how is the leaderboard looking? Well if your me it looks f***ing great. On face value at least. I am currently in the overall lead, but it is not as simple as that as not all have competed from the get go. To make it easier to see where competitors stand overall I have taken the liberty of putting in brackets the amount of rounds each has played.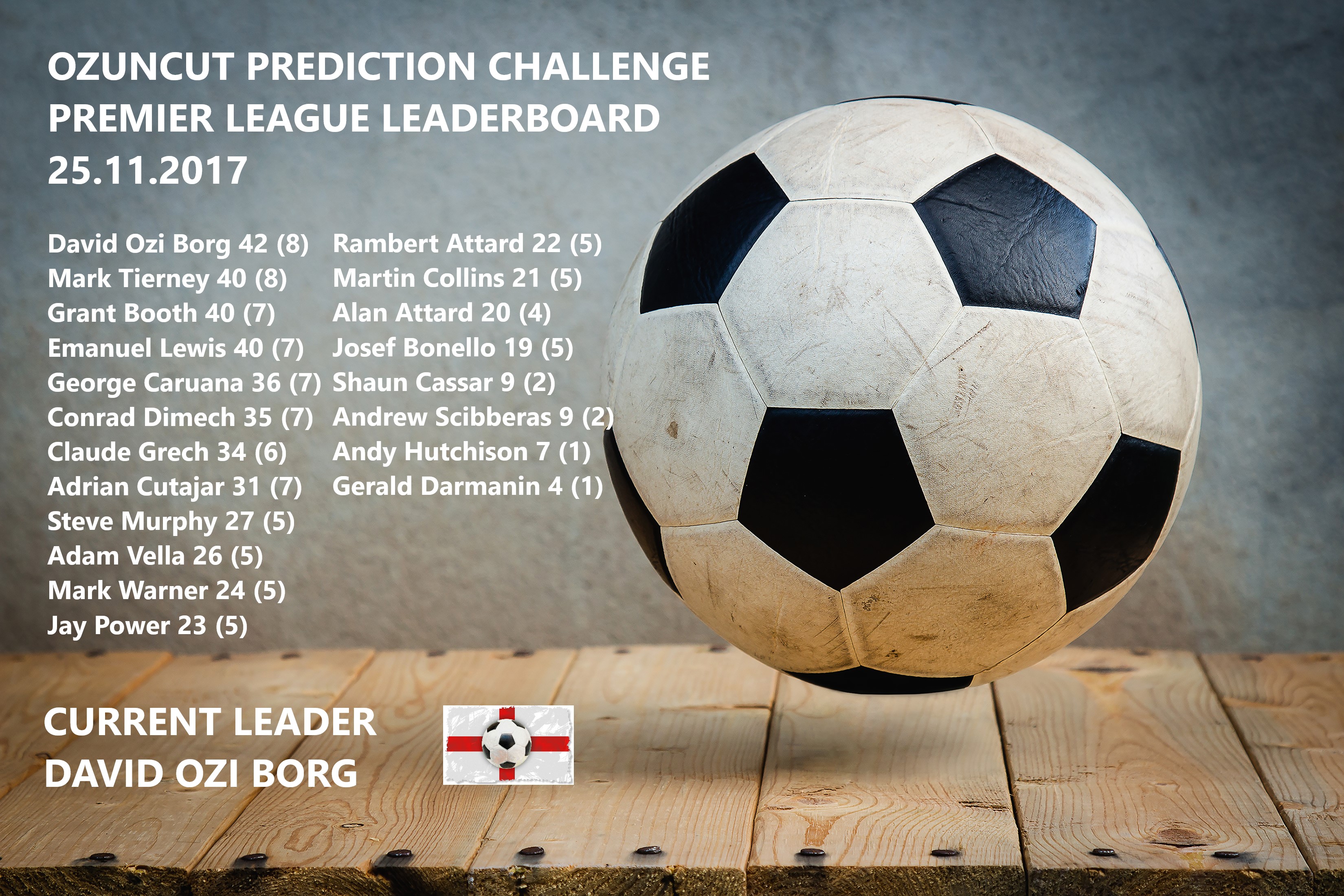 My god that looks sexy!
SERIE A
There were few shock results as such in the Serie A this round. Apart that is from Bologna spanking Sampdoria and perhaps AC Milan failing to beat Torino at home signalling the end for Vincenzo Montella. Still in saying that, on average it wasn't the most impressive round. One challenger did however do better than all before him, and he is a relative newbie as well. Well done to…..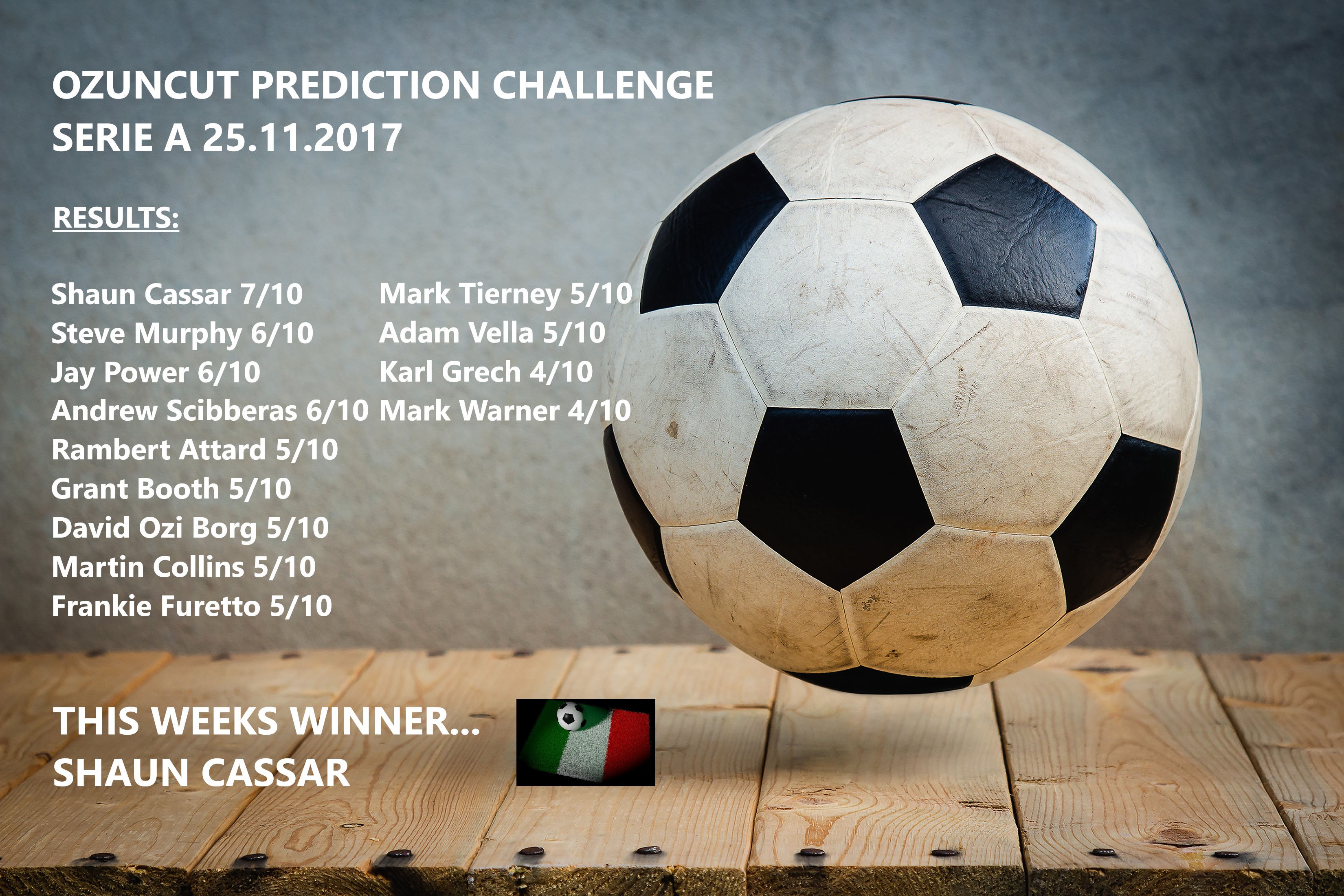 SHAUN CASSAR. Normally my competitive nature would urge me towards some kind of sarcastic inappropriate commentary, but seeing as its your first victory I will leave you enjoy it. Well done champ. 7/10 was enough to take the title and bragging rights for this week. Enjoy. For the rest of us, certainly we need to up our game.
I think we should give a special mention once more to our basement dwellers for the round Karl Grech and Mark Warner. Not a disaster per se, but a level below the rest. Time to up your game boys. The average for this round in the Serie A was 5.2/10.
And now to our leaderboard. Again I have added, in brackets, the amount of rounds each competitor has been involved to add a further level of perspective.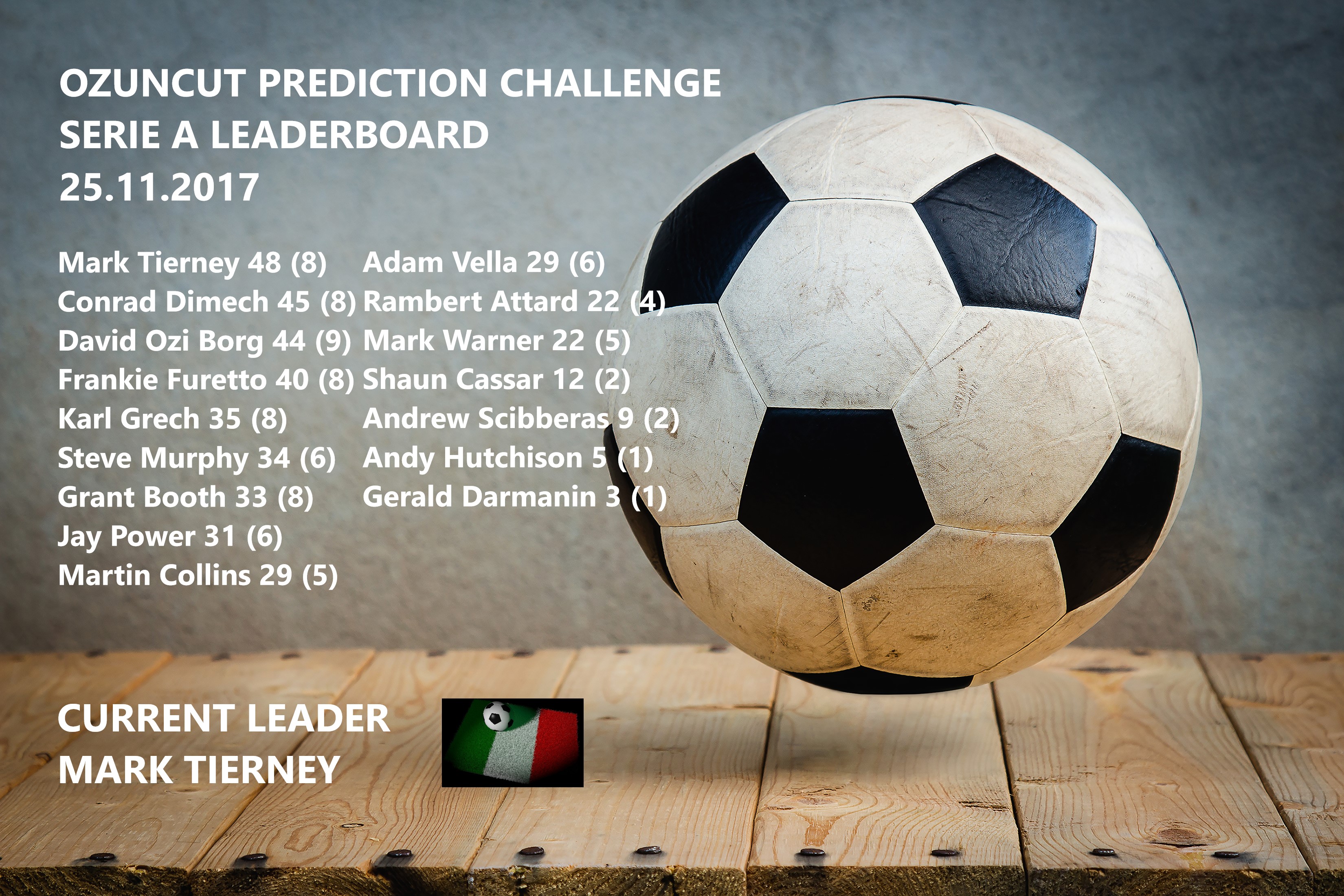 Mark Tierney in the lead, on the rest of us to bridge the gap.
OZUNCUT ACCUMULATOR
I tell you what, the accumulator betting gods have not been with me lately. Draws from both Spurs and AC Milan turned what would have been a winning week into another "hard to take" loser. The record now stands at 1 and 7. Thankfully, on a private note and on the recommendation of one of our competitors I dropped some coin on Mo Salah to score at 2.5 and more than covered my weeks losses. Cheers George.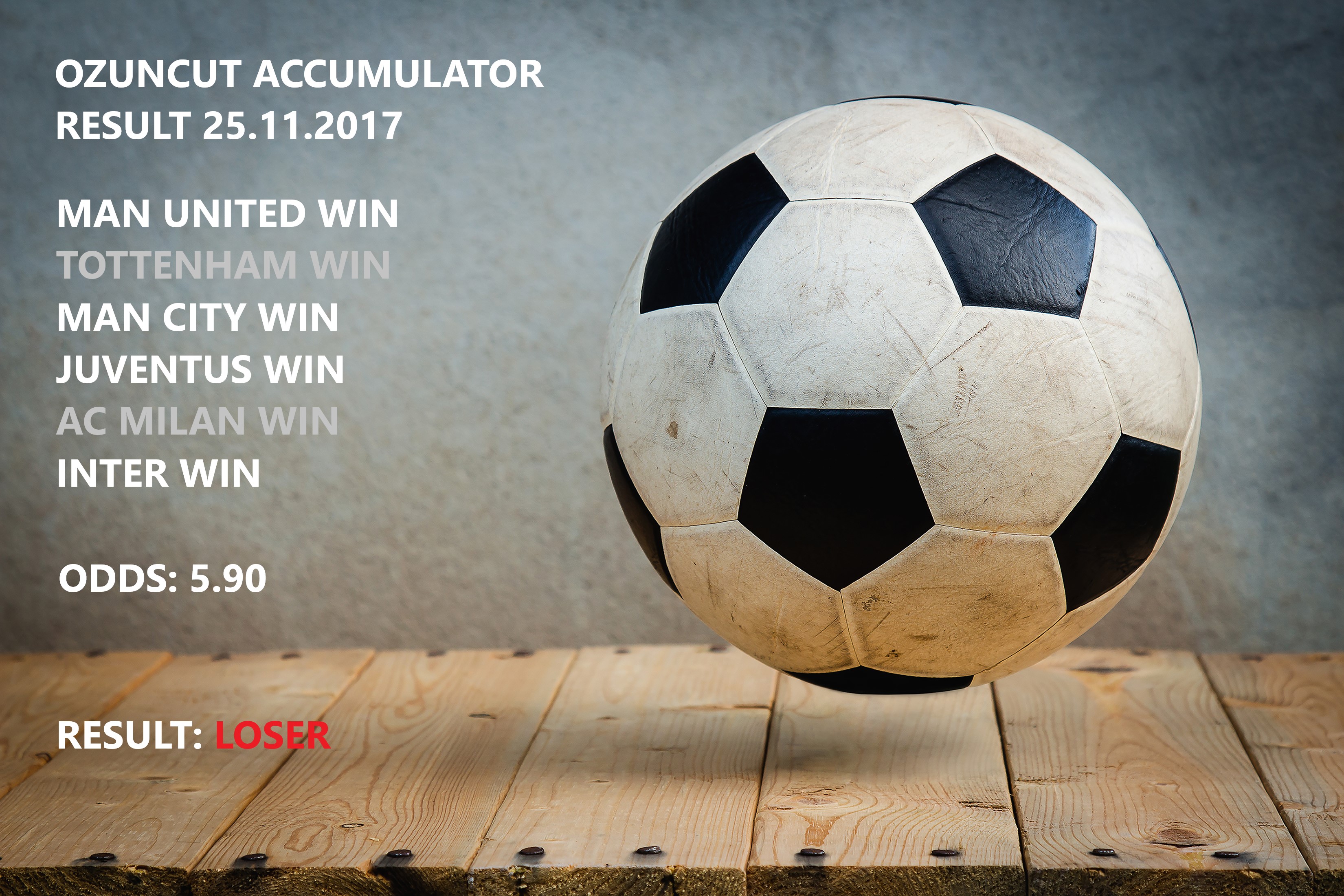 Midweek games in the Premier League this week so make sure to look out for the next challenge. Also be sure to get your predictions in by Tuesday evening.
***UPDATE***
So I have decided that come the end of the season I will be giving a prize out to all weekly winners through out the season. What that prize will be and whether it will be sponsored or comes out of my pocket is still to be decided. But to be honest your support has been great and you w***ers deserve it. In saying that we still need to keep harassing people to get involved. Seeing as I have limited resources for marketing on this so far (or just maybe am a huge tight arse), I need to really on word of mouth (or social media) and for you guys to continue trying to get your mates and family members involved. The more people we have, the more chances I can get some decent prizes together. Plus is just a good load of fun and banter after all.
Also I am working hard on finding a platform to make it more user friendly and easy to keep track of your progress. Testing is ongoing, I will keep you updated.
PEACE OUT.