Here we go again. Another round of the Prediction challenge has passed and we have another set of results to dish out. Two new challengers to welcome this week. Andy Hutchinson and Shaun Cassar welcome to the madness. Its pretty competative in here but loads of fun. Again my good people please continue to spread the word so we can up the challenge numbers.
Oki Dokey. Without wasting any more of your precious time let's get to this weeks Prediction Challenge results.
PREMIER LEAGUE
Right, I am not going to try and hide it, I am super pissed. Finally I had myself a winning score only to be pipped to the title by another f***ing perfect score. Bastards the lot of you. Going into the international break Conrad Dimech held the title, but thankfully someone (not me) managed to knock him off after two consecutive weeks at the top. Wondering who this weeks new champion is…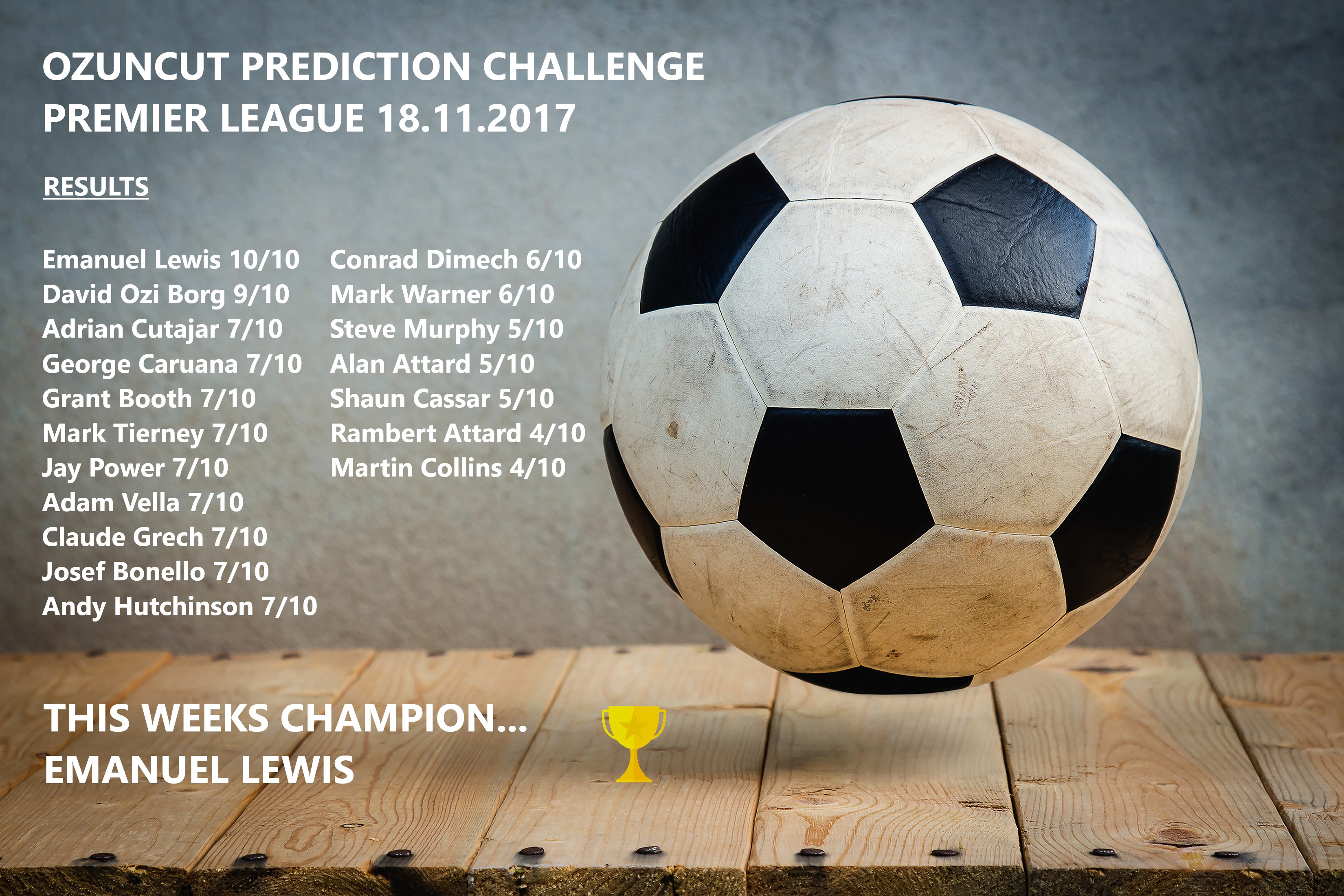 Emanuel Lewis, you and I are gonna have words my friend. Though my rage demons threaten to get the better of me, I must say congratulations. A perfect 10/10 score is always deserved of both title and bragging rights and this week it goes to you. Of course I am only bitter out of jealousy because my very super amazing impressive 9/10 was only good enough for 2nd place. I will just have to live with it.
In general all had a pretty good week. A lot of 7/10 scores makes for a good average of 6.5/10 for the round. However Rambert Attard and Martin "The Log Tosser" Collins must get a special mention for the sub par score of 4/10. I shall say no more.
And now to the leaderboard. Each week I am accumulating your scores so you can see where you rate in comparison to others. I must warn you not to take it too seriously as obviously some have been involved for more rounds than others. But its just a bit of fun to see where you are at, especially if you are competing against friends. I am very happy to say that we have a new leader. 😉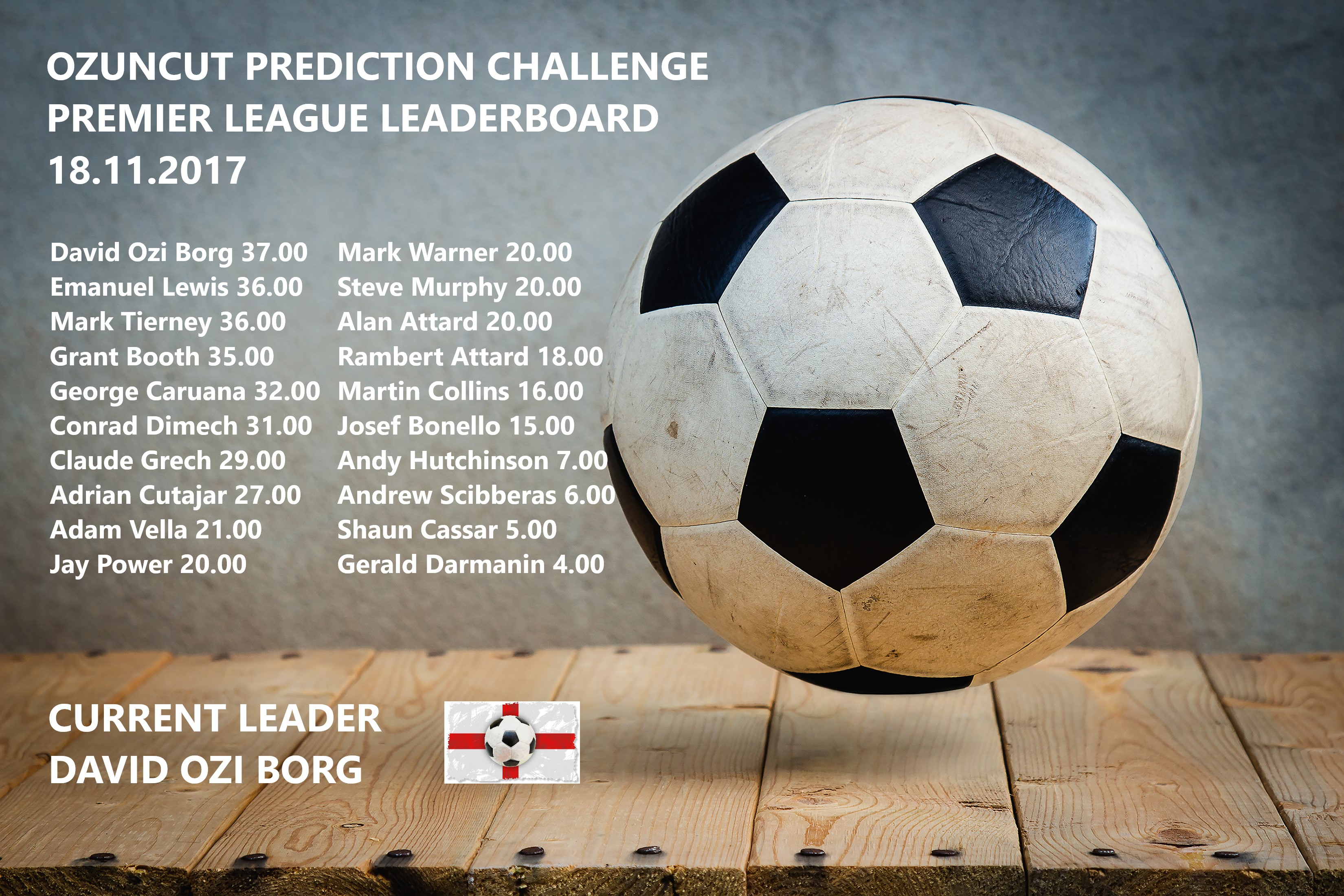 SERIE A
I tell you what, the Serie A Prediction Challenge has become just that. A huge Challenge. The past couple of rounds have been really tough with a lot of surprise results and some pretty low prediction scores. In the last round "That Guy" Tierney took the title for the second consecutive week. But I am happy to say he is not making it a hat-trick…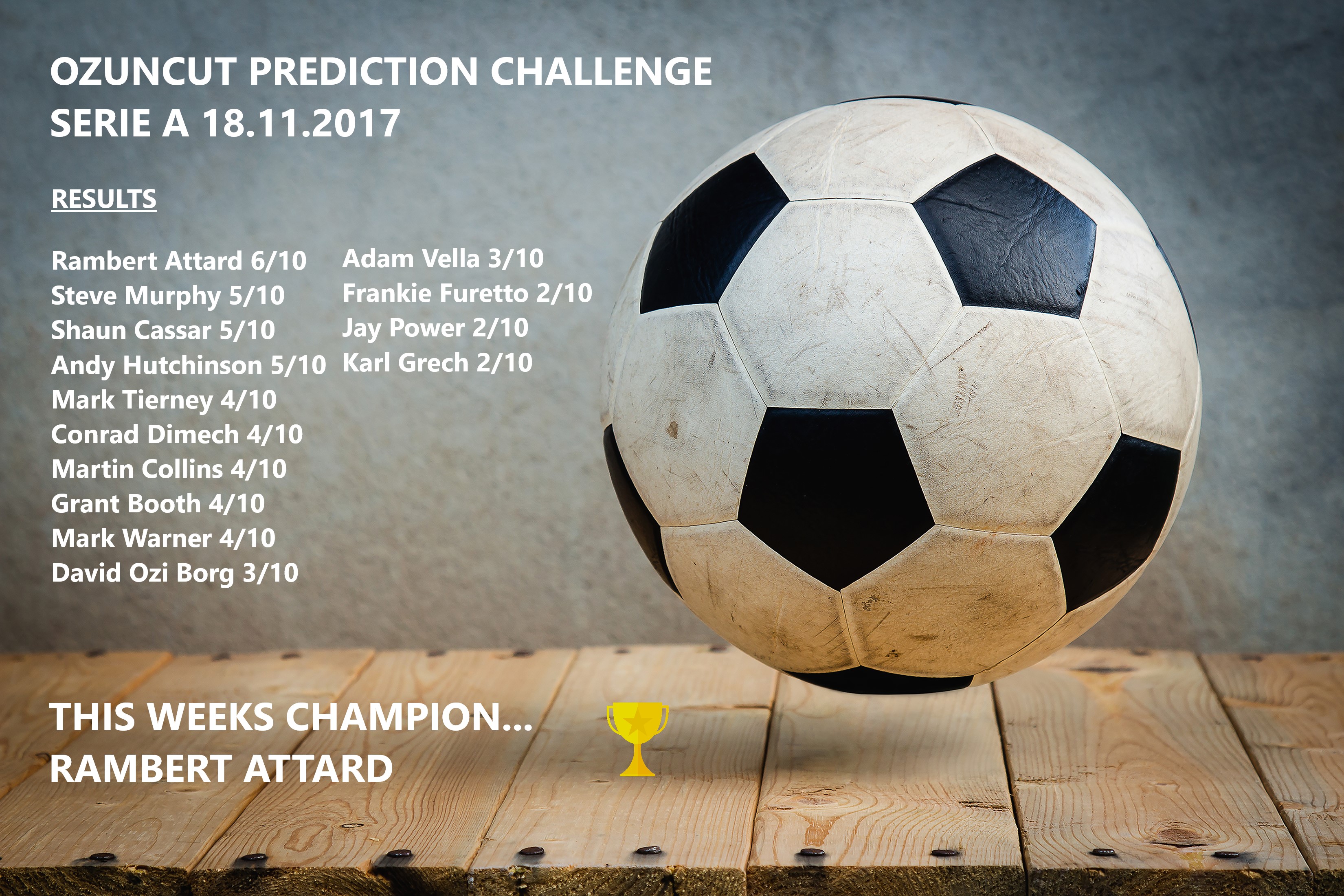 Well done Rambert Attard for taking this weeks bragging rights with a score of 6/10. Well deserved I think in what was a really tricky round. Juventus losing, Fiorentina and Torino only managing to draw were in my eyes at least surprise results. In fairness most of us had a tough round, but none so much as Frankie, Jay and Karl who had a bit of a shocker. Better luck next time losers.
And to our leaderboard for Serie A. Mr. Tierney has been doing very well and was our leader heading into this past weekend of the challenge. The question is did he manage to stay on top?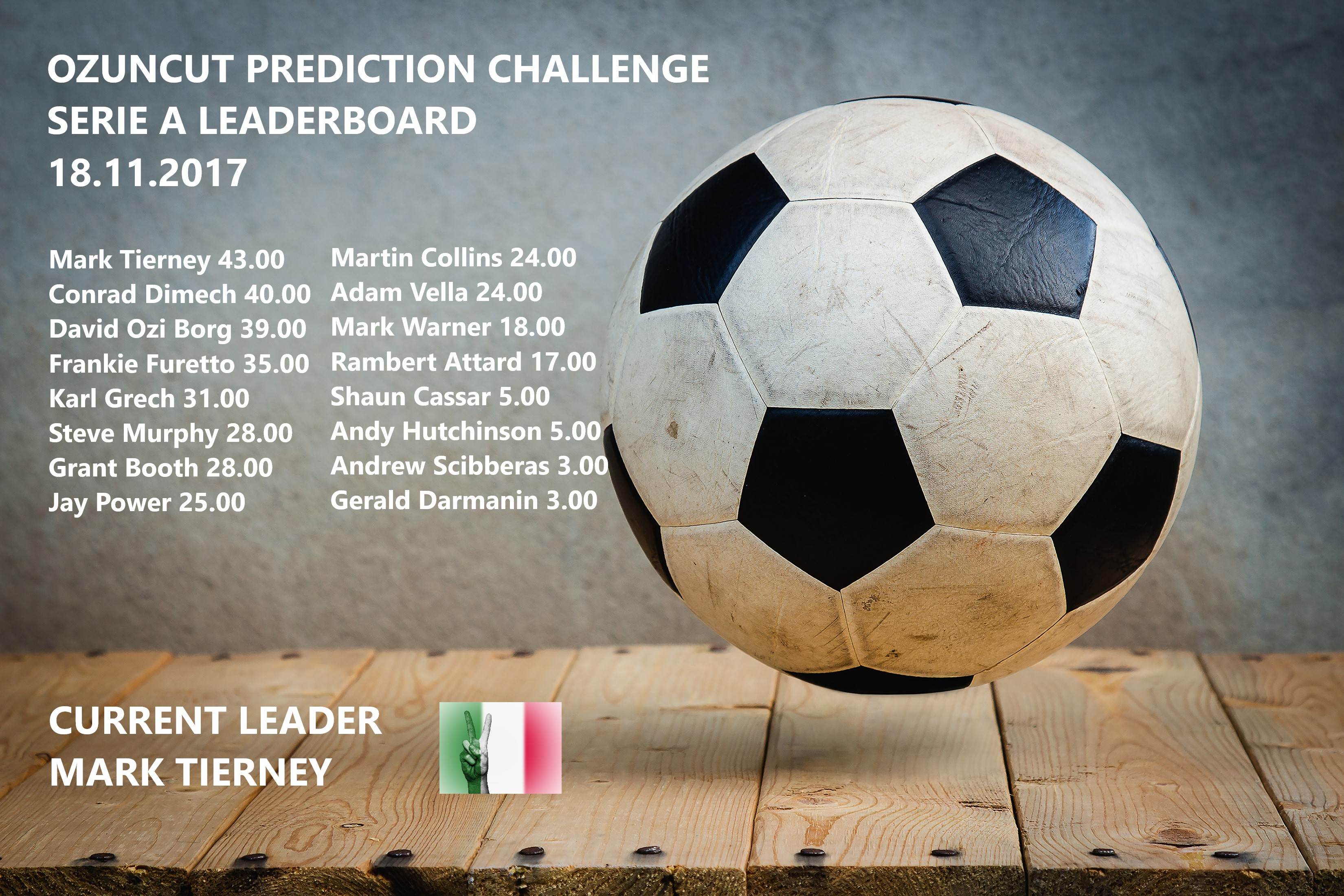 The answer to that is yes he did. And he still holds a 3 point gap a the top. Still a long long way to go in the season and many many more points to play for so keep the faith competitors. Next round is the next chance for you to bridge the gap.
THE OZUNCUT ACCUMULATOR

Well it was another case of so close, but yet so far in this weeks accumulator. Fiorentina and Torino failing to win ultimately ravaged my rear. But hey there is always next week and I am looking forward to taking the next shot. Currently my Accumulator record reads as a miserable 1 win 6 losses.
Lots of Champions League football this week to keep us entertained until the next round of league games. If your team is playing I wish you the best of luck. In the meantime two things. First don't forget to keep challenging your friends and family to join the fun. The more the merrier. Secondly don't forget to look out Friday lunch time for the next challenge.
Have a good week.