Well I hope you all had a fantastic weekend and not too depressed that it is Monday and your back to the GRIND. I would like to personally welcome two newbies to our prediction challenge this week. Andrew Scibberas and Gerald Darmanin, we as a community welcome you both with open arms and wish you rotten luck. May you have great fun with your predictions but terrible results. 🙂
Remember people, the bigger we grow the sooner we can make this challenge for prizes as well as bragging rights. So I would appreciate you continuing to spread the word and dragging your mates in. Don't make me beg god damn it. Ok, no more stalling and self promoting. Let's get to this weeks prediction challenge results.
PREMIER LEAGUE:
Our defending champion going into this past weekends round was Conrad Dimech. His impressive 8/10 prediction week took the title last round. But the question is did he manage to retain his status as predicto supremo or do we announce a new football psychic? Let's take a look at this weeks OzUncut Premier League Prediction Challenge results.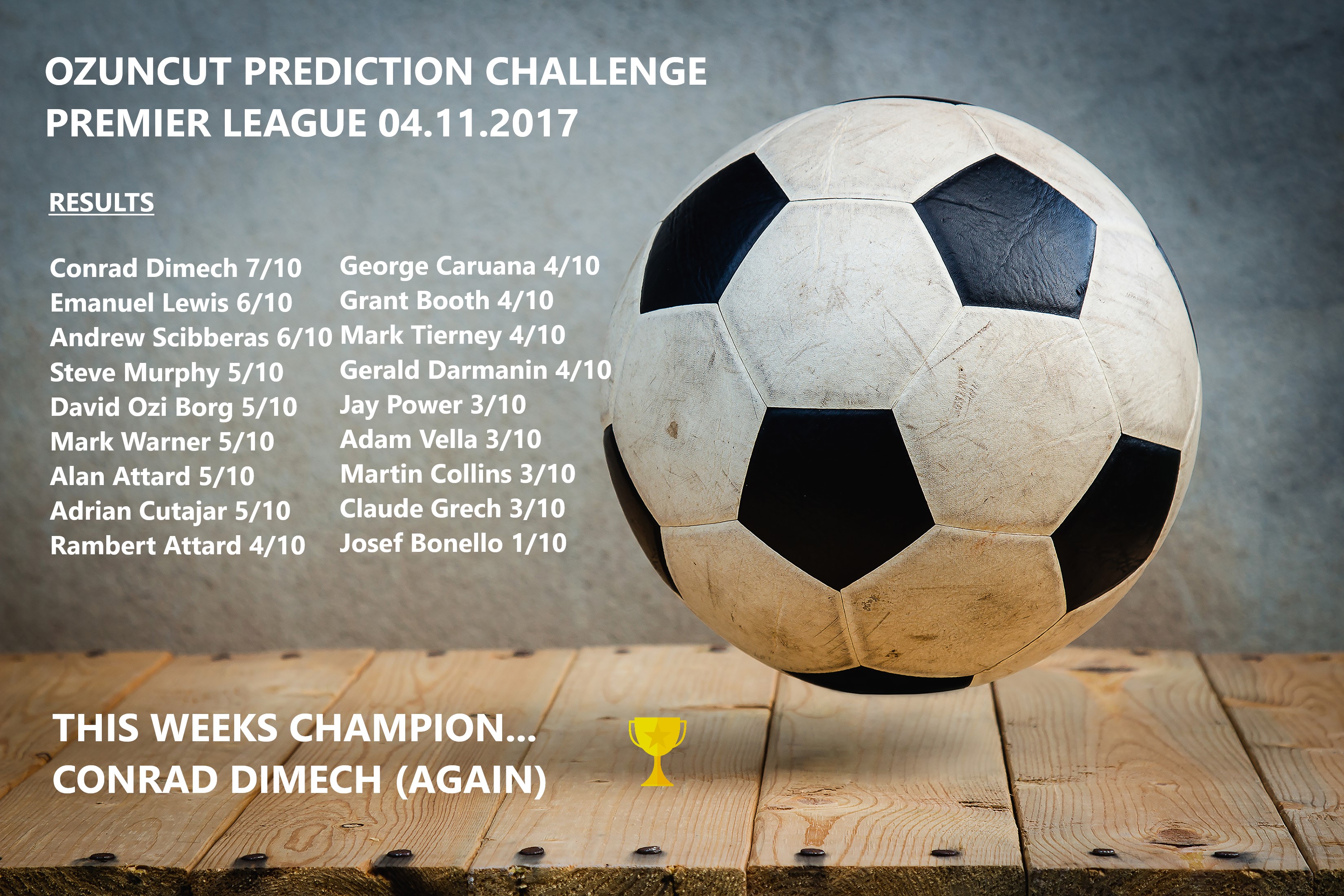 Yep. That S.O.B. did it again. Well done Conrad Dimech, a 7/10 score enough for you to retain your gold trophy status. Let's be honest only few had a decent round. Emanuel Lewis and newcomer Andrew Scibberas get a special mention both scoring 6/10. But for the rest of us 5's and below a pretty crappy performance. Much work to be done. We must also give special praise to Josef Bonello who now has achieved the "LOWEST" score ever in our prediction challenge. His score of 1/10 was the pits. As low record scores go, this one will be very difficult to beat, EVER. I suspect Mr. Bonello will be the proud owner of that accolade for quite some time.
The average score for this round in the Premier League Challenge was 4.4/10. YUUUUUUK.
As you know I have secretly been tabulating everyone's scores and last round began getting out a leader-board so you could follow your overall performance in relation to others (especially me). I remind you that some have been competing for longer than others so take it with a pinch of salt. But for those of you who know when you joined or are competing in groups you can see your mini tables. Mark Tierney was leader and… well.. still is.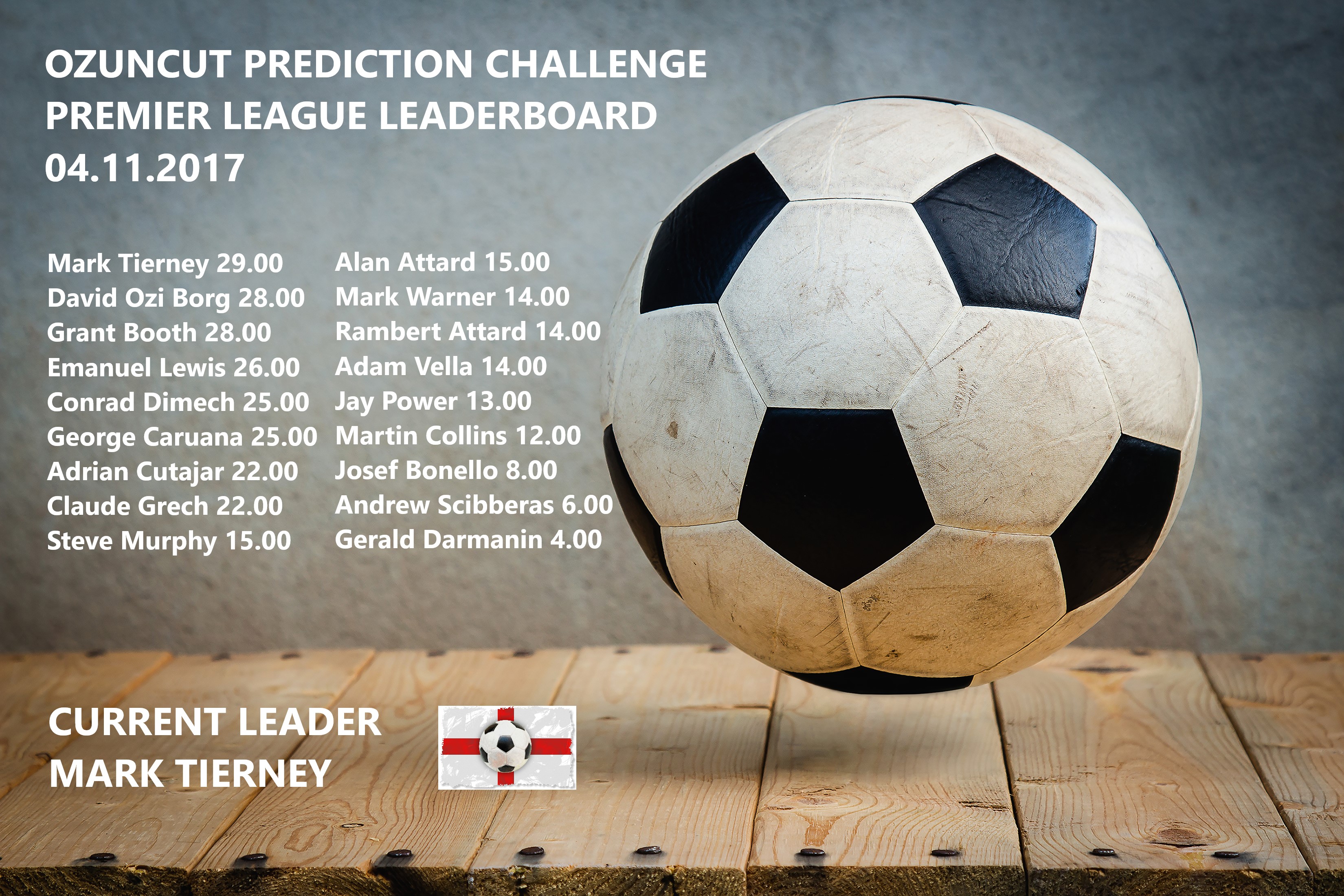 Guys we all have to do our homework so we can knock this Teirney guy off the top. I am highly motivated.
SERIE A
Traditionally the Serie A has been much easier to predict that the Premier League. However this round proved that will not always be the case. Some tricky results tripping us up, like both Inter and Napoli only managing to draw. So overall the round was poor. Last round Mark "this is getting boring" Tierney & Steve "Oh Look I won" Murphy were champs both scoring 8/10. Now personally I have been praying to every f***ing celestial being I can think of for me to win this round. Or at least for some one to knock Mark Tierney off the the top. But…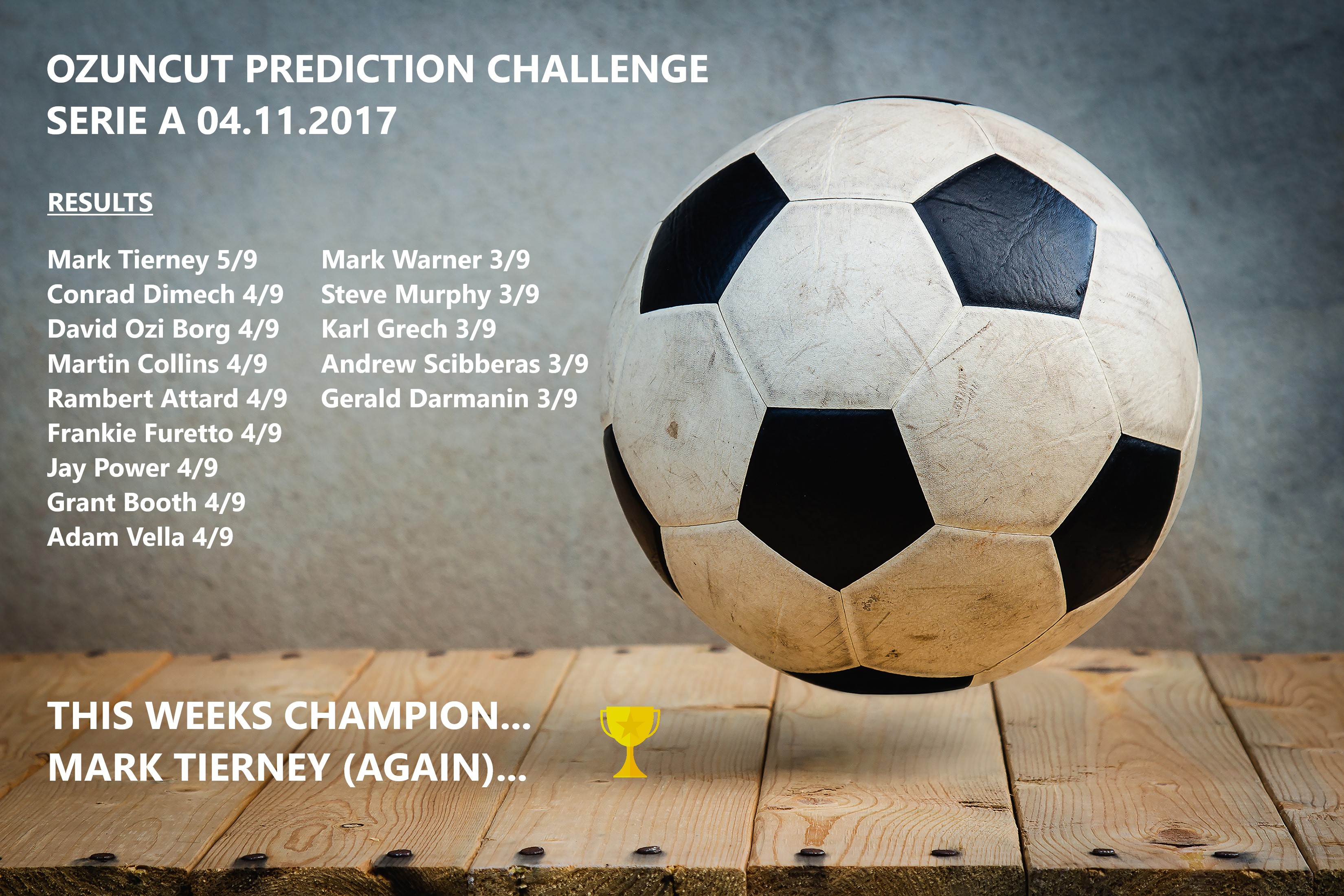 You have to give credit where credit is due. Mark Tierney has been doing very well and more often then not scoring good points. Consistency is key in this game and so far he has nailed it. So well done again sir. (Geez that was hard for me to say). It was a pretty low scoring round for all to be fair. You will notice that this week we only scored on 9 matches, this was due to the Lazio game being cancelled. Tierney got 5/9 whilst a bunch of us got 4/9 and another bunch 3/9. Tricky round, poor results.
The average score in the Serie A Prediction Challenge was 3.7/10. Need I say more? Let's get to the leader-board now and to be honest I don't have the stomach to name "HIM" again.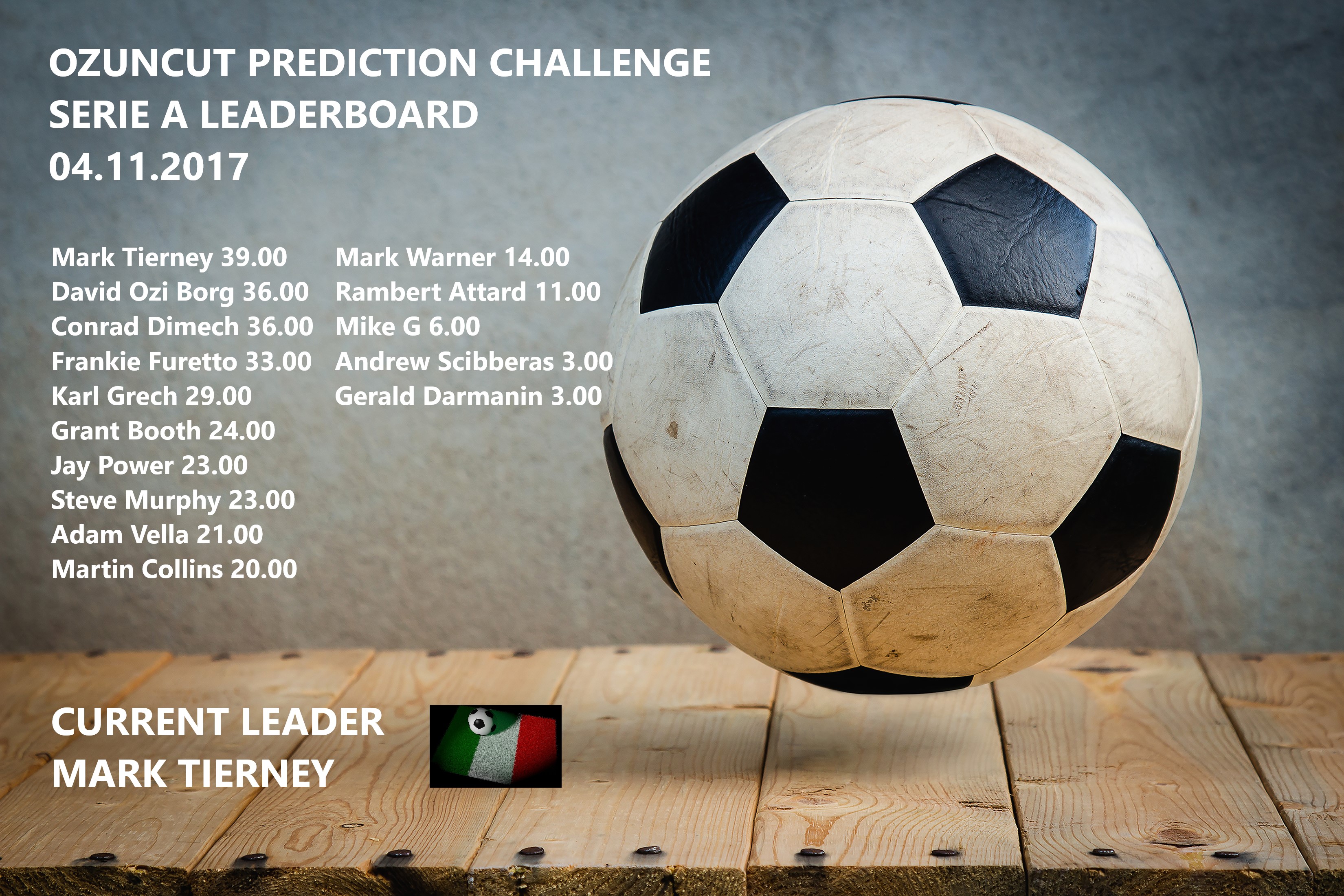 THE OZUNCUT ACCUMULATOR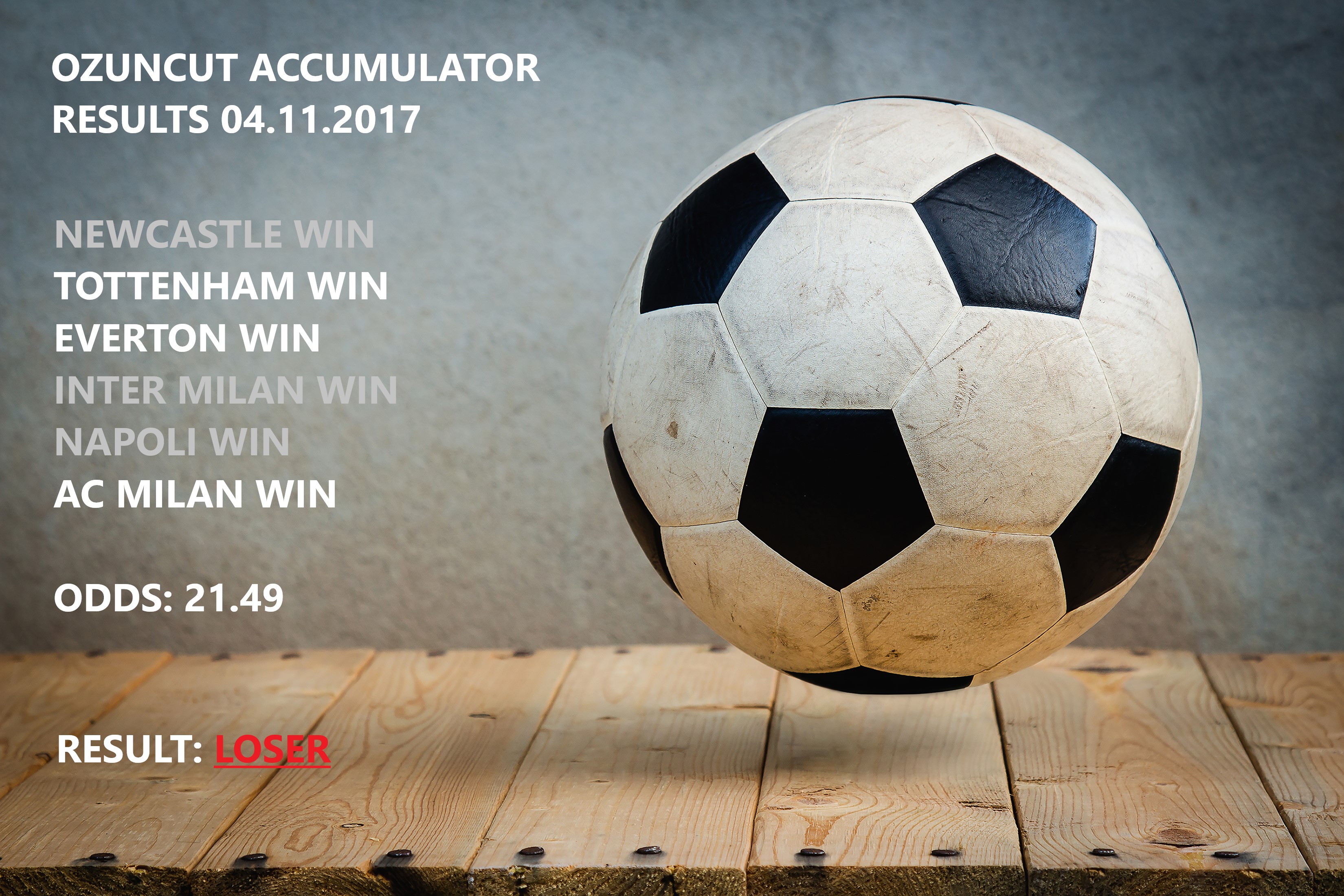 I really screwed the pooch this week on my accumulator. Or maybe the pooch screwed me? I am not sure. Newcastle, Inter and Napoli failed me, meaning another loser. But I tell you I am determined to make things right. So next time round I may be a little conservative because I desperately need a f***ing winner. My ACCA'S record currently stands at 1 and 5.
Right children. We have another boring ass international break upon us, which means two weeks until the next round. Use this time to reflect, calm yourself, do some research and get pumped up. I know that I will be exercising my football brain in the hope of better results next time.
Until we meet again remember, Donald Trump really is President, the earth is flat and Jose Mourinho likes buses.
Peace.