Perhaps it is exactly the right time for me to say this, so thank God it's Easter weekend. After a completely boring international break we are back to the meat and potatoes that is league football. Which also means we are back to the hustle and bustle of the OzUncut Prediction Challenge. Now, just to clarify, there were some interesting games during the international break. For example Spain whipping Argentina's rawhide 6-1. But, in general, I just find it all really dull. So I am thankful that the Premier League and Serie A are back.
Just to summarise, the things we learnt from the international break are as follows. Italy definitely won't win the World Cup. Spain have all the tools, but will likely bottle it when it get's to the business end of the tournament. And now that England had two semi decent results, their fans can now comically start believing they are going to win the whole thing. 🙂 Right, enough of that. Let's get down to the business of our prediction challenge.
First, the rules. Just in case your a new comer and have never done this before. It couldn't be any easier really, follow the below guidelines and you will all good. Should you have any problems just drop me a message at [email protected].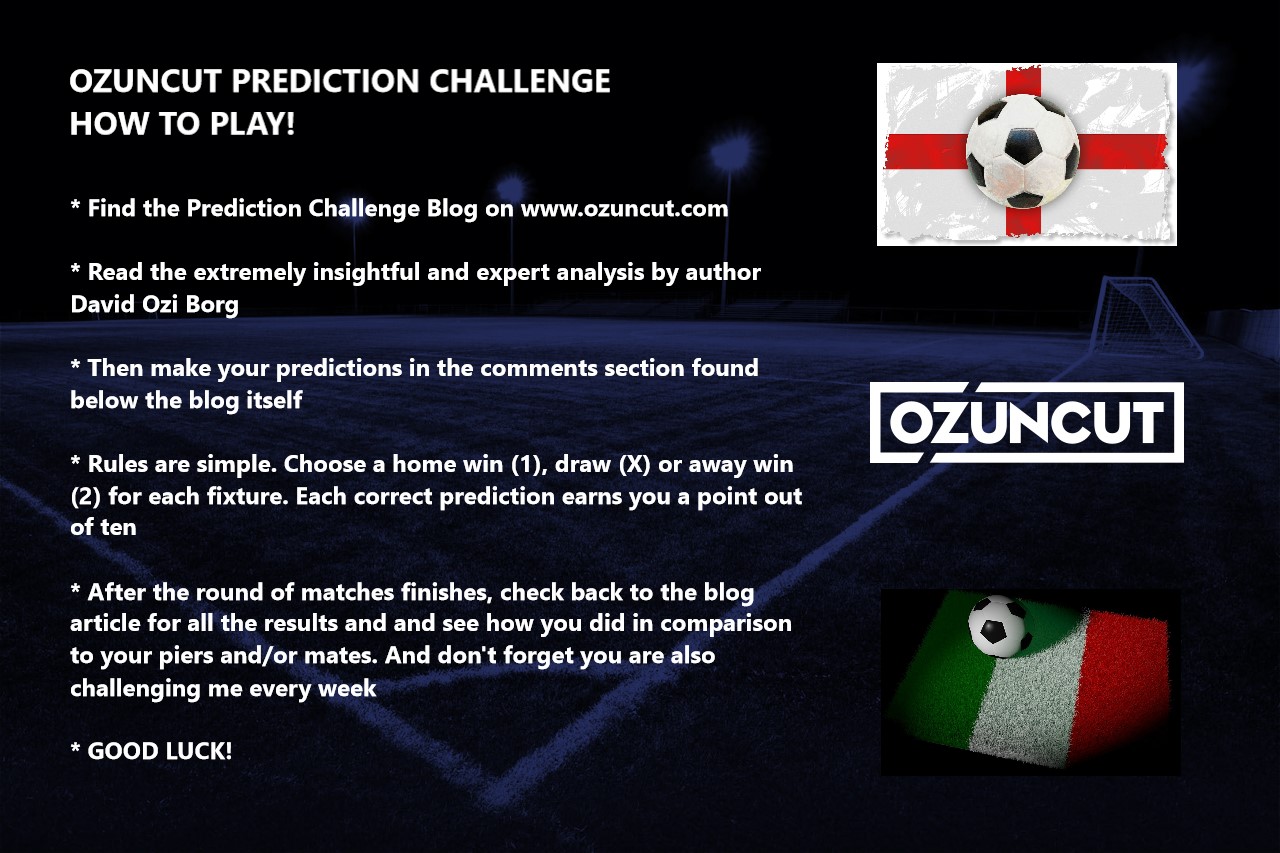 THE PREMIER LEAGUE
So, we are really getting down to the business end of the season now. And the battle for the top 4 and relegation is going to be hot. Apart from those in mid table obscurity, you would think most teams will be giving their absolute utmost to pick up as many points as they can. That should make for some pretty good viewing.
Liverpool travel to Crystal Palace Saturday lunch to take on Crystal Palace. This is a tricky game. Liverpool do not have a great record recently at Selhurst Park. And on their day, Palace can be very dangerous, especially in attack. I am hesitantly picking a Liverpool win. I think I would like to give them the benefit of the doubt that the development shown over the past few months has seen them turn the corner from their inconsistent past. But, as with most Liverpool fans, I fear the next embarrassing defeat could be just around the corner. Hopefully I am wrong, fingers crossed.
Equally, I think Man United's game against Swansea could be complicated. United's form has been quite patchy of late, and Swansea have been resurgent. It could really be a banana skin. However, at Old Trafford, I tend to think that United should have enough to get the three points. It could be a cagey game though.
And then there is Man City. Potentially two wins away from a well deserved Premier League title. And who would begrudge them the honour. They have been outstanding this season. They travel to Everton on Saturday, which by all accounts could be tricky, but they have shown little sign of weakness this season, nor dips in form. So I think it will be a pretty easy afternoon at Goodison.
And then, finally, the big game on Sunday. A massive London derby between soon to be deposed champions Chelsea and Harry Kane-less Tottenham. I have gone for a home win here for a few simple reasons. Chelsea are home, Chelsea desperately need to win and Spurs are without Kane. Simple as that. It should really spice up that fight for 4th place, should the blues get the three points.
As for the rest, please see all my Premier League predictions below.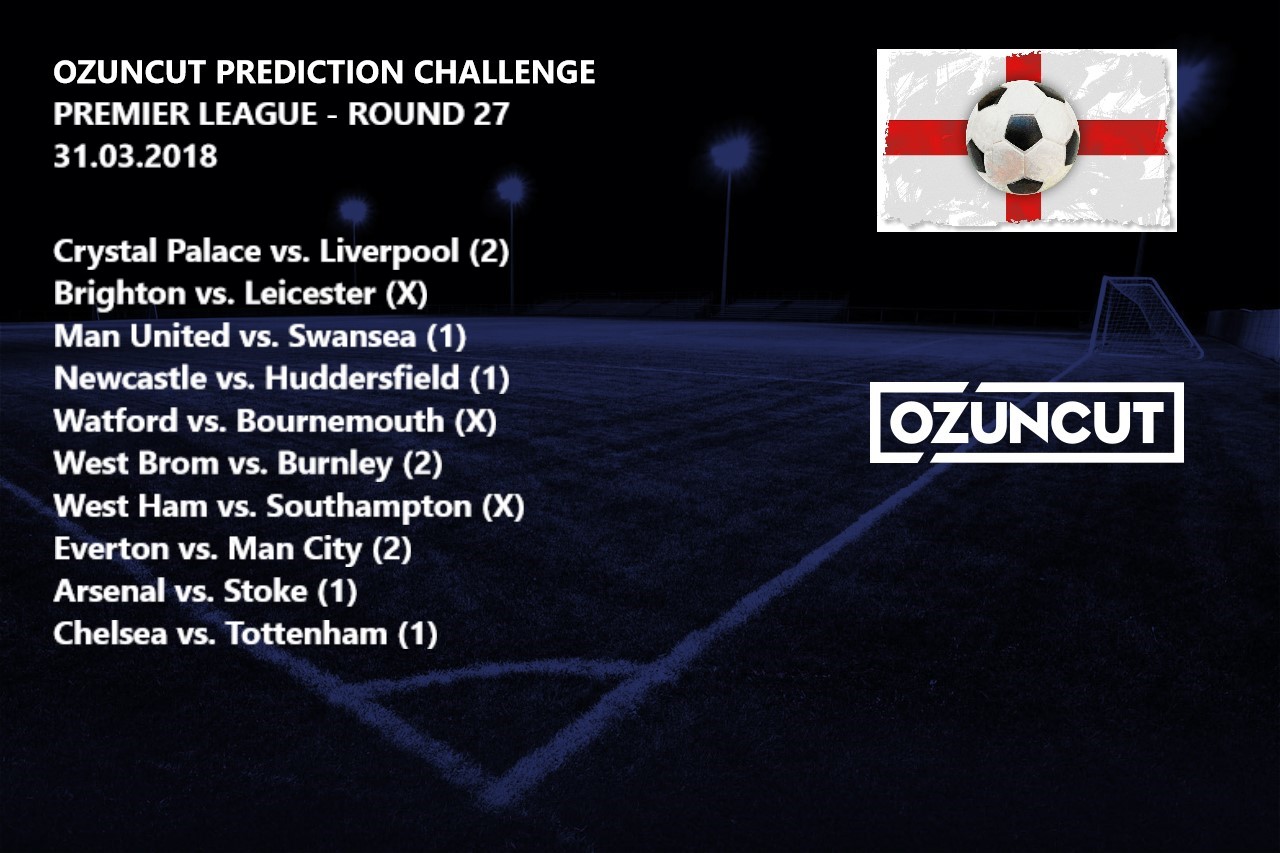 THE SERIE A
Isn't it a miracle. We are almost in April and Juventus haven't won the league yet. It's the small things in life they say. With 9 games to go it is neck and neck between Juve and Napoli. As it stands it could go either way. This Sunday could turn out be decisive. Juventus face a much improved AC Milan at the Allianz Stadium knowing they need a win keep the pressure on Napoli.
Unfortunately I predict that will get that win. I think it will be a tight game, but I bank on Juventus experience at winning titles and knowledge of what needs to be done. Adding to that the very experienced and tactically excellent Allegri facing off against the certainly passionate but relatively inexperienced Gattuso. I think in that death match there can only be one winner. And that is Allegri and his well oiled Juve side.
Napoli, you would think should have no problem picking up three points against a very poor Sassuolo side. Especially seeing as the home side have only won two games at home all season. And, if you are looking for a banker at the bookies this weekend, throw something on Lazio. Their opponents Benevento have lost all 14 games on the road this season and I would bet my left nut that it will read 15 after this weekend.
As for the rest, please see below.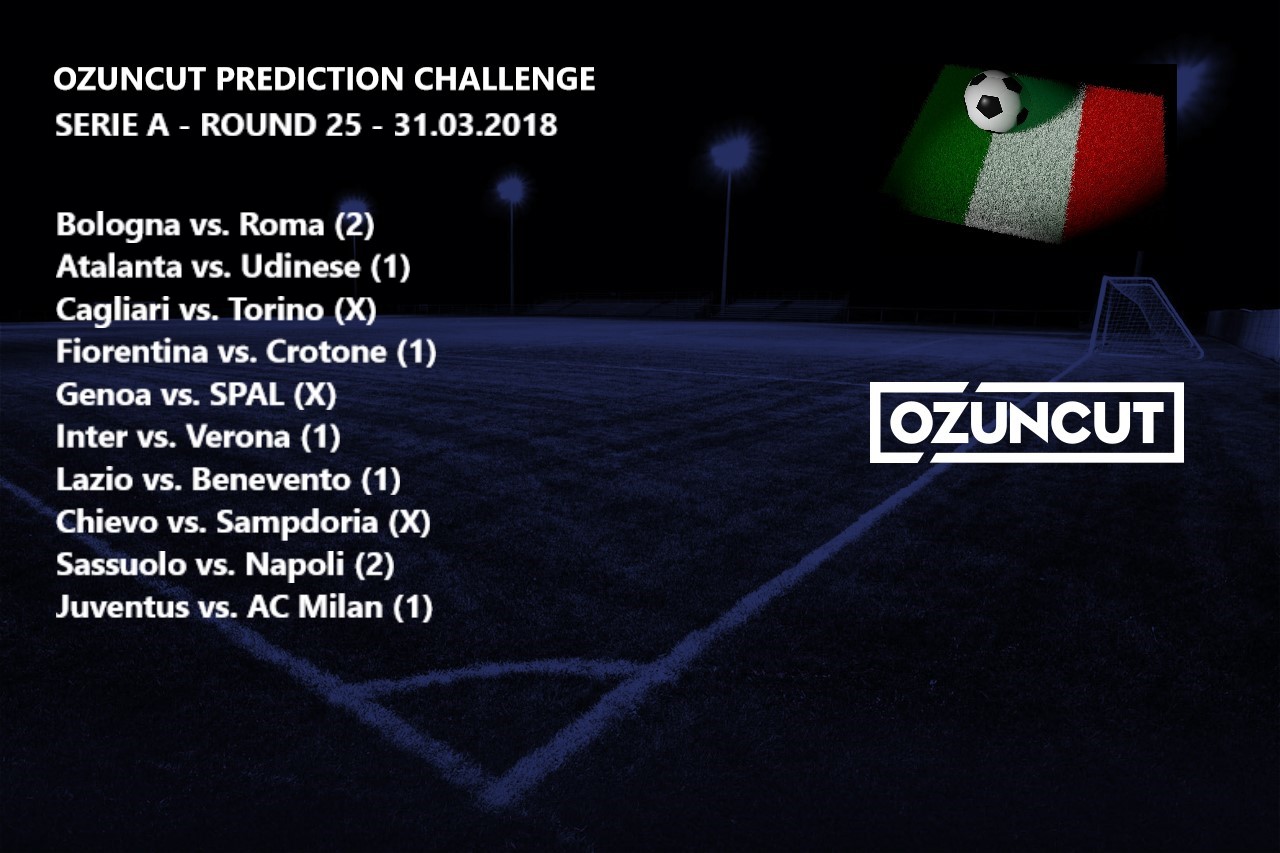 So just a reminder, due to the Easter weekend, all of the Serie A games will be played on Saturday. While with the Premier League only two games will take place on Easter Sunday. You will all need to get your predictions in by Saturday at 12.30pm. (Or 1.30pm if you only compete in the Premier League Challenge). And in case you don't remember where things stand from when we left off, click on the link below this blog to check how the leaderboard and rankings stand.
I would like to wish all our challengers the best of luck and a very happy and relaxed Easter.
UPDATE 31.03.2018
OZUNCUT PREDICTION CHALLENGE – 17.03.2018 – RESULTS
Well it was great to be back to normal business this past weekend in the OzUncut prediction challenge. And it seems that a lot of people did really well. Average scores were up quite significantly. Premier League Average was at 6.32 while the Serie A was at 5.20. Pretty solid effort by all. Let me not waste anymore of your precious time and get straight down to this rounds results.
PREMIER LEAGUE RESULTS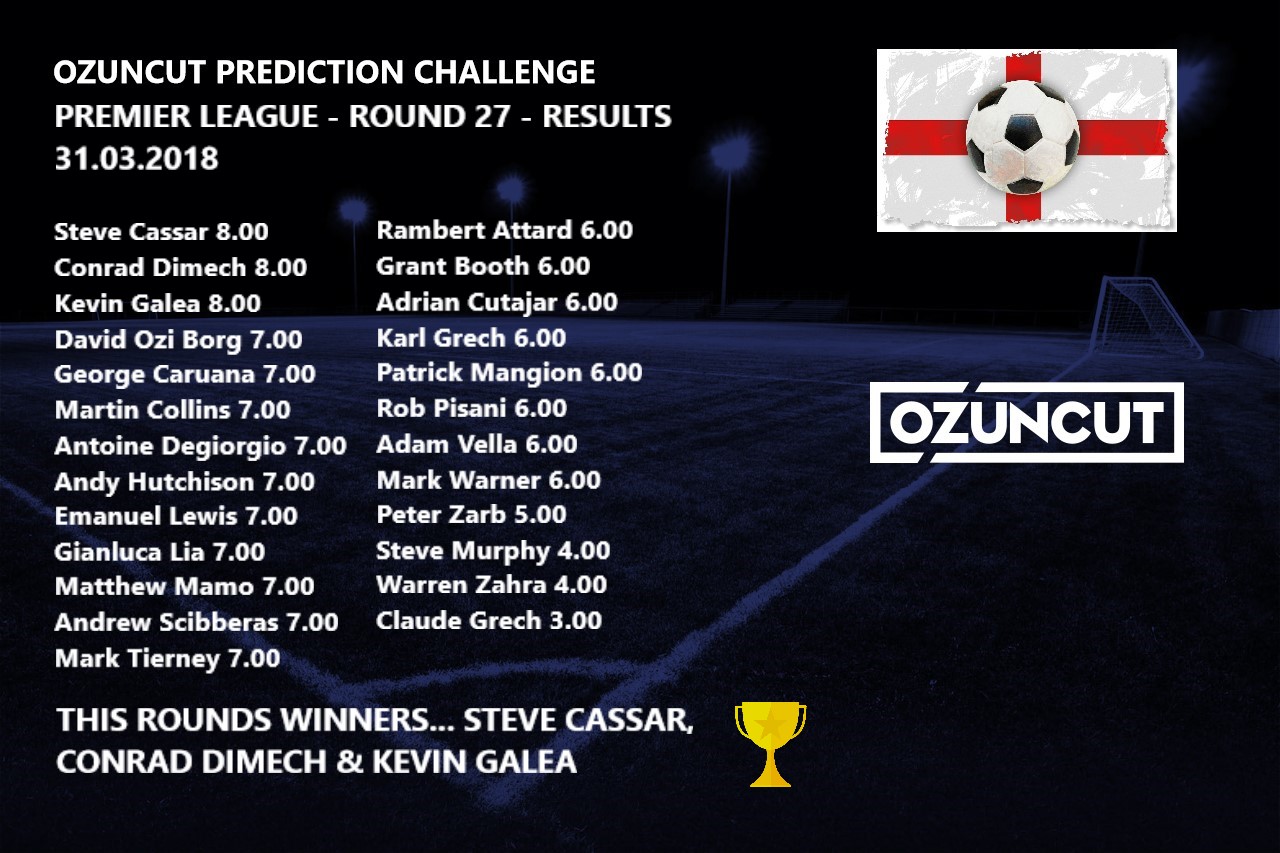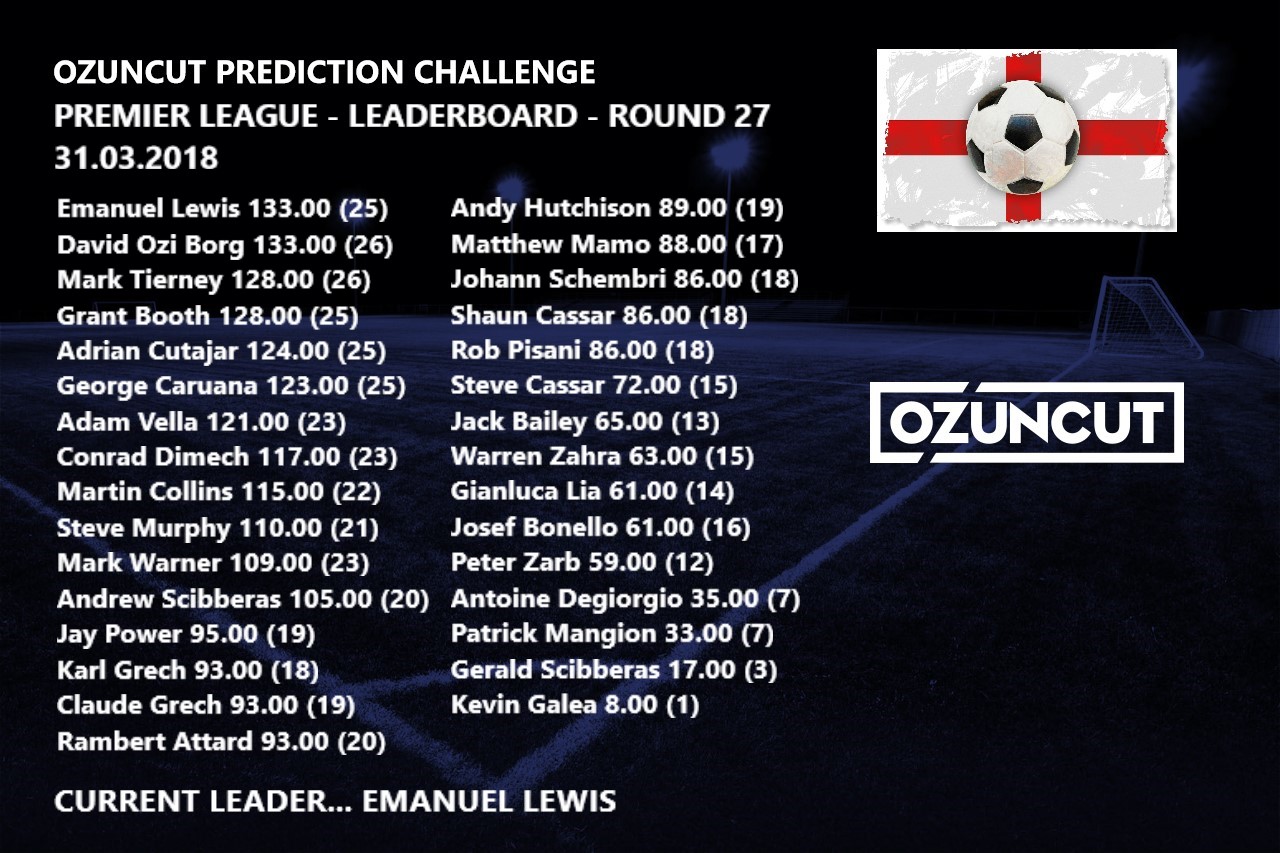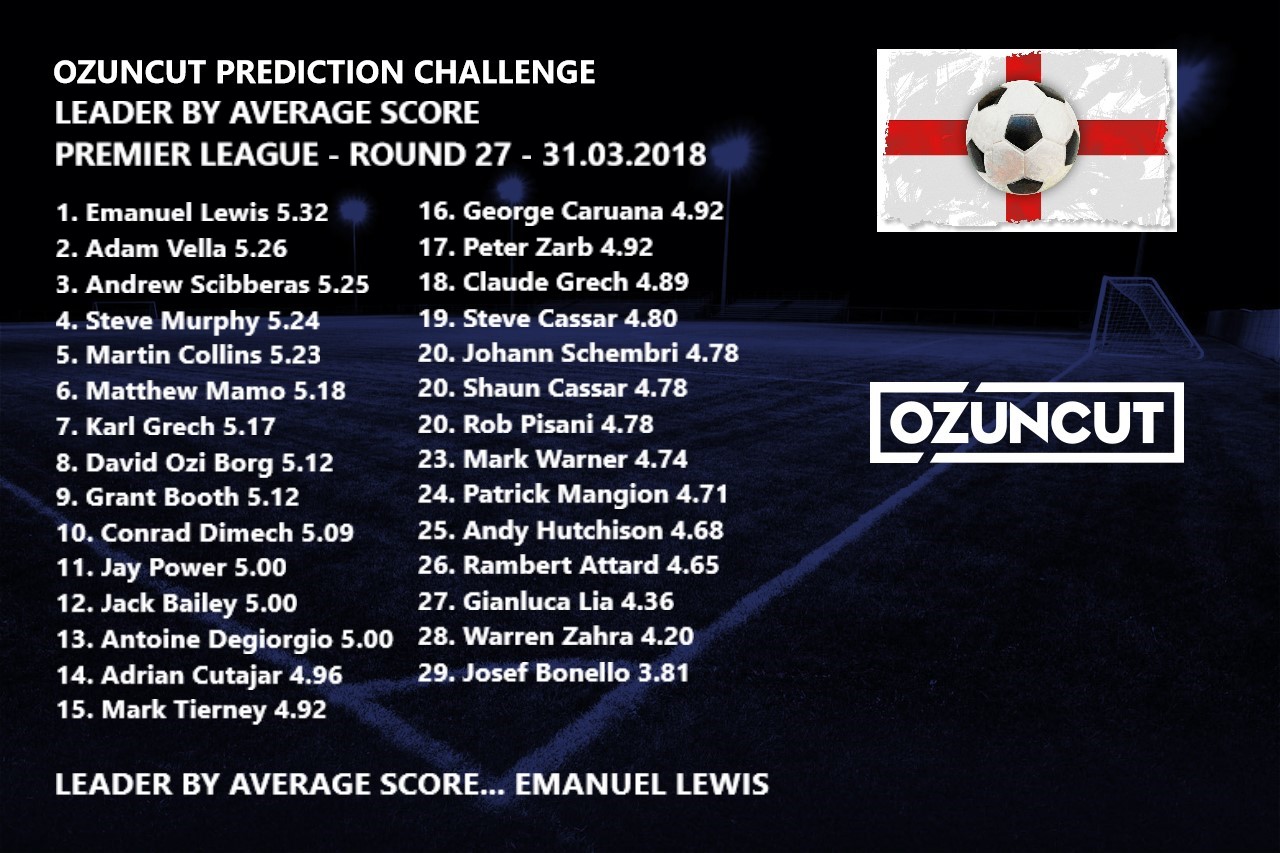 Three competitors had excellent rounds and deserve special praise. Steve Cassar, Conrad Dimech and Kevin Galea claim honours this week. All three scoring very well with 8/10. However there were many competitors just behind with 7/10. So it was a very good weekend for many of us. Which leads me to the one person who it wasn't a good round for. Claude Grech, with a miserable, measly 3/10. Was that just risk taking on your part to try and gain points or just a complete and utter flop? The rest of us are very curious. Better luck next week pal.
As for the rest, well Emanuel Lewis still tops both the leaderboard and average score tables. And by the looks of it it may be difficult to catch him. To be honest I am have been looking for him to fail every week, but so far no luck. Some of us will need a few special rounds to catch him up. Well done Mr. Lewis, some seriously consistent predicting so far.
SERIE A RESULTS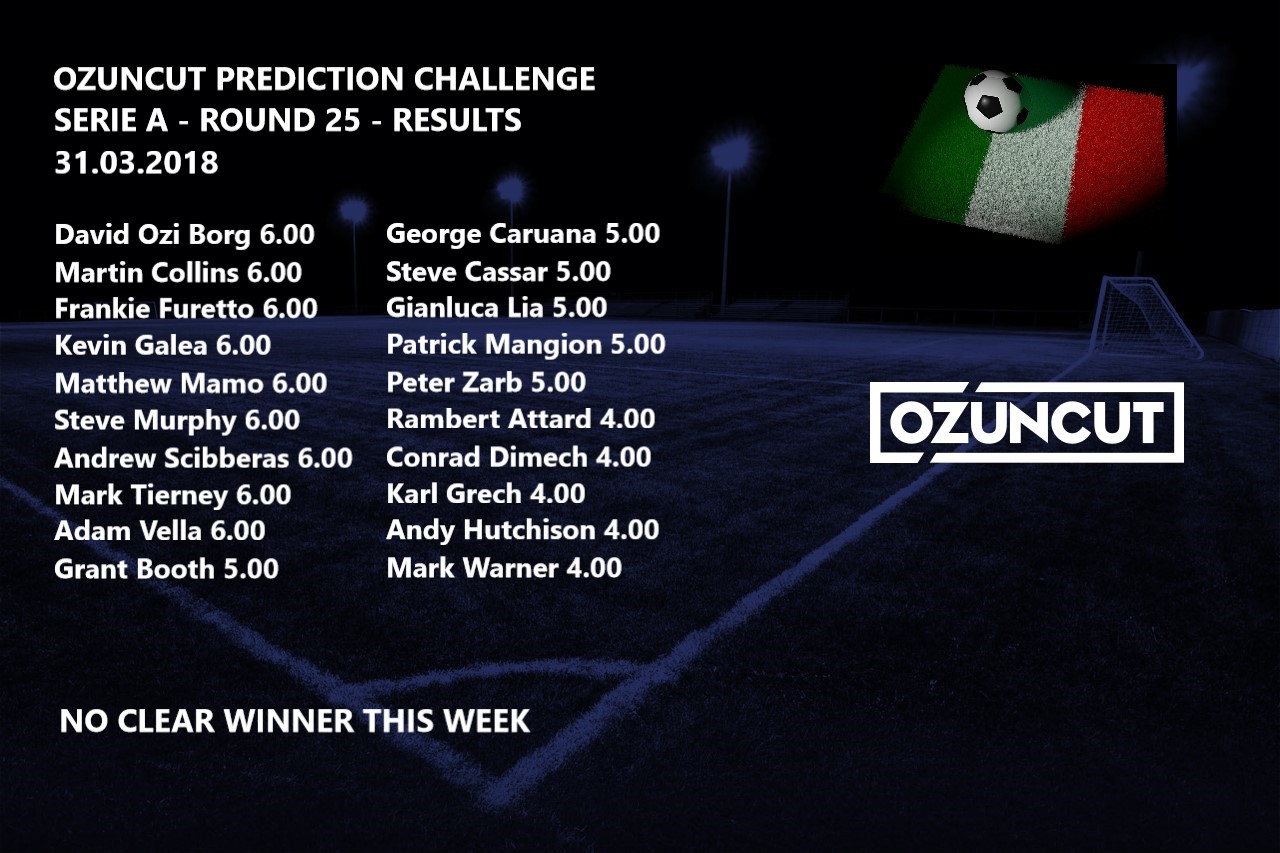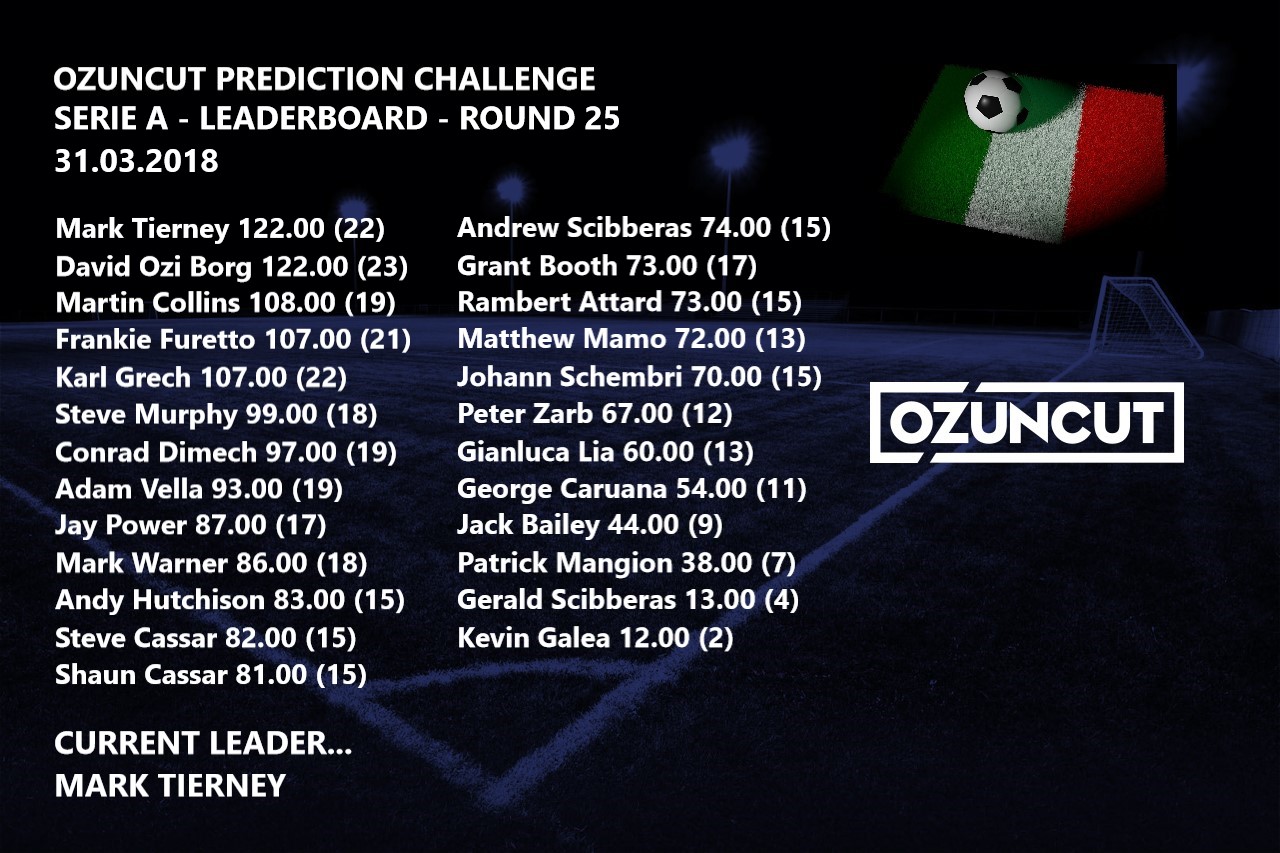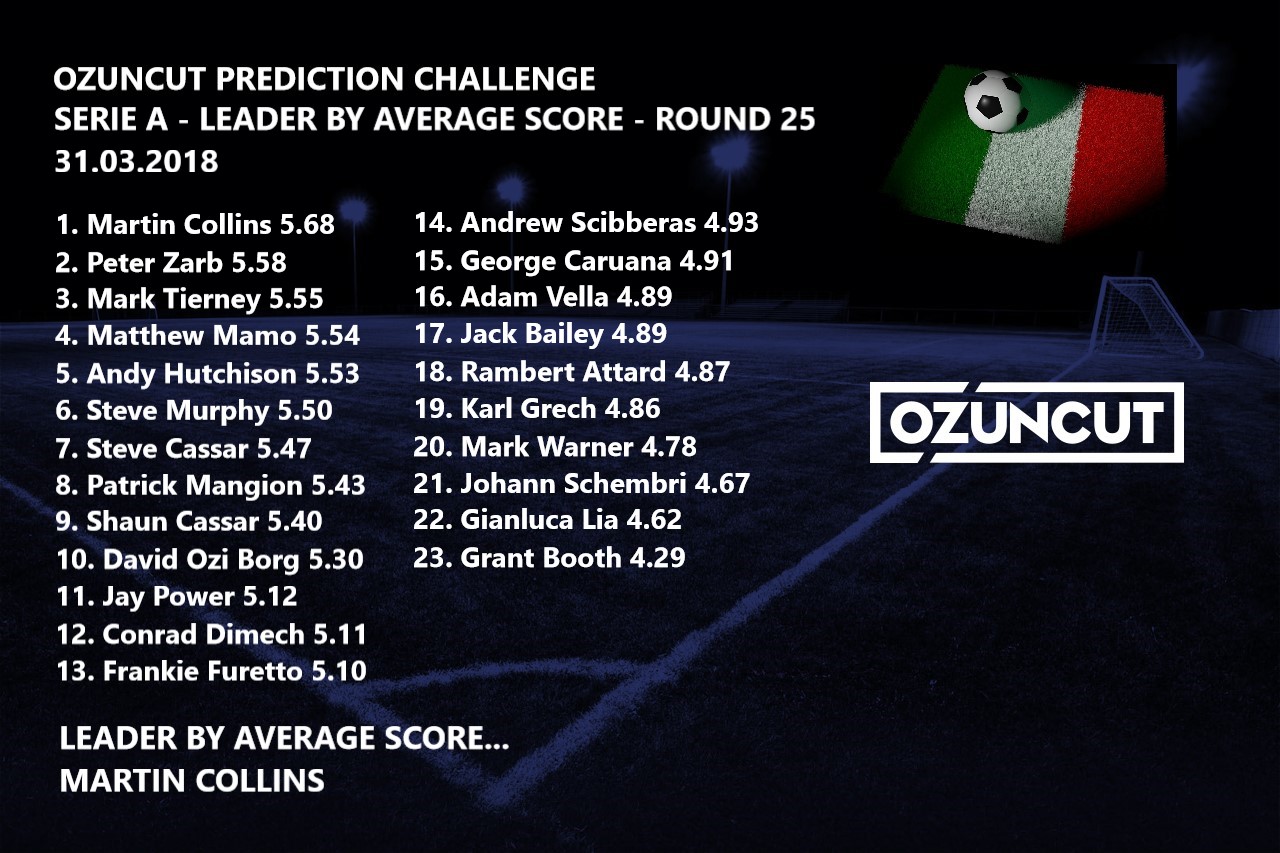 Well, unfortunately we could get no clear winner this week in our Serie A challenge. A large bunch of us getting a respectable 6/10, which is good for the averages. But no one managed to top the lot. Some 5's, some 4's, not that much of an exciting week in the challenge. With only 7 rounds to go, will we start to see some risk taking for glory? Could be interesting.
As for the leaderboard, Mark Tierney leads by virtue of less rounds over myself. And with the Average Scores Martin Collins is still ahead with a 0.1 lead. That is a substantial gap at this stage of the season. The question is, will anyone be able to catch him up before the end of the season?
The rounds will come thick and fast from now until the end of the season, so keep on the ball and good luck for all. Also you can start looking ahead to the OzUncut Prediction Challenge awards ceremony which will be happening at the end of the season. Watch this space for more info. Have a good week lads.