Wow. Madness is what the fixture list is at the moment. Crazy but beautiful. The games keep coming quick and fast as we head into 2018. Which means we have no time to breathe as we head into the next round of our Prediction Challenge. As of this evening, one round in the Serie A and two quick fire rounds in the Premier League.
No time for a lot of rhetoric this time people. It's the festive season after all and there is lots happening. So what I will do today is get straight to the fixture list for the next Prediction Challenge. Just a reminder, the Serie A kicks off this evening so make sure to get your predictions in as soon as possible. In case you are a newbie here. Its simple. Have a look at my predictions below and make your own predictions in the discussion box below this article. Good luck.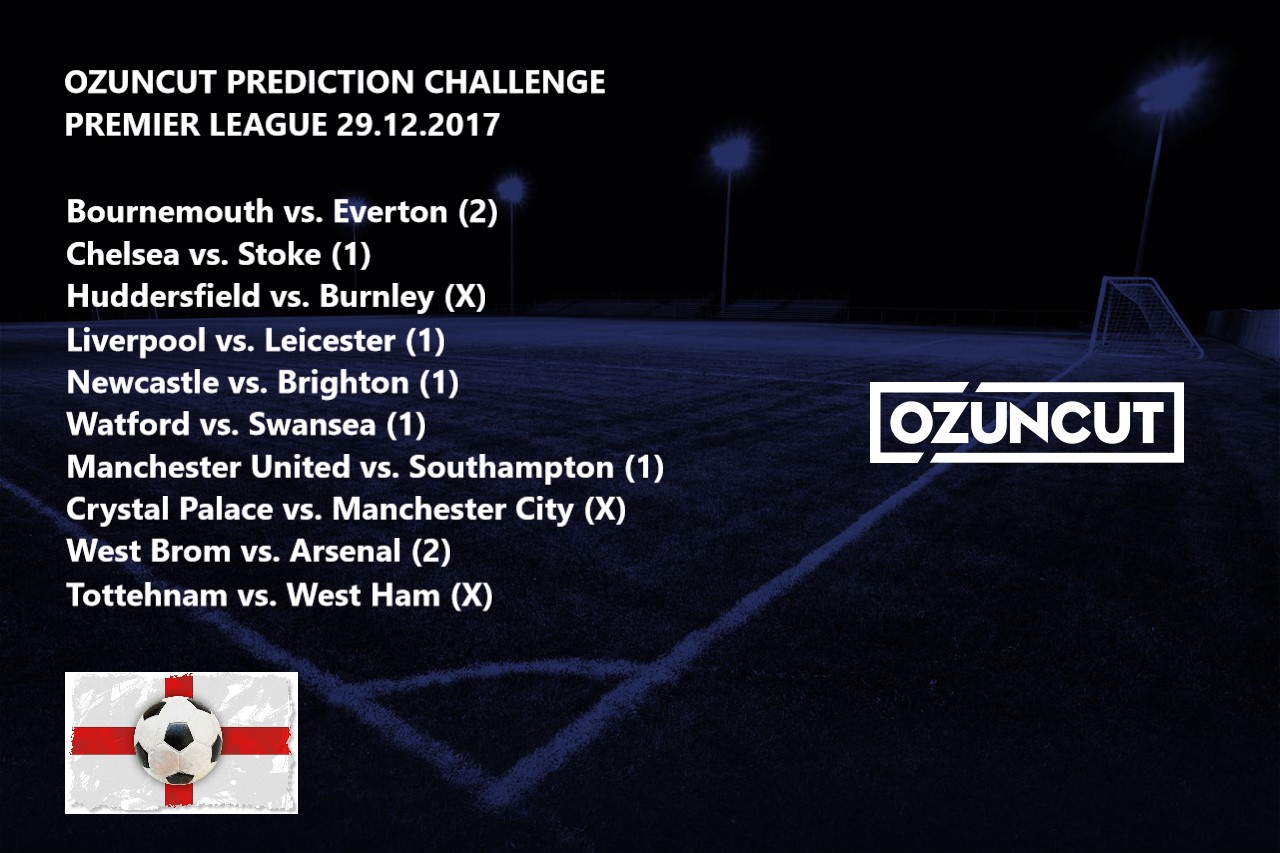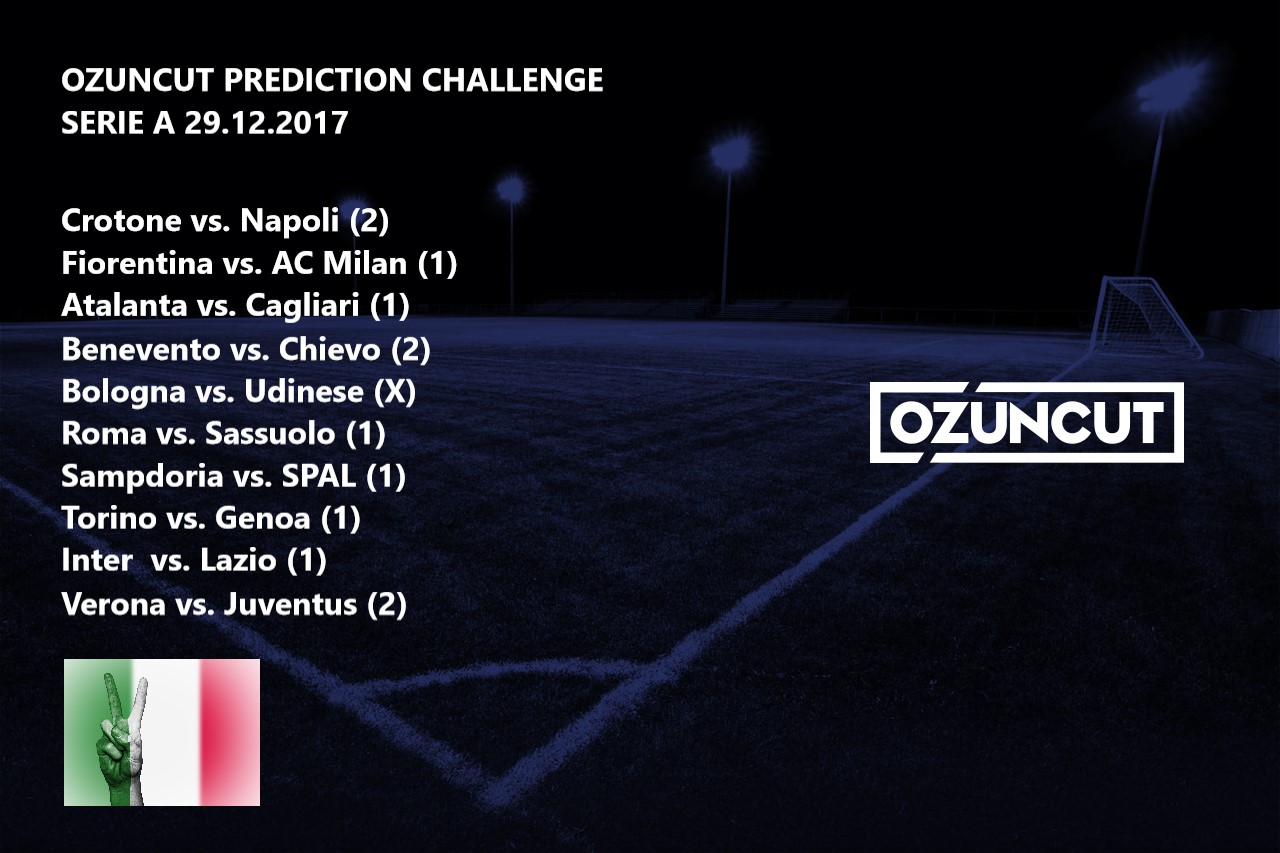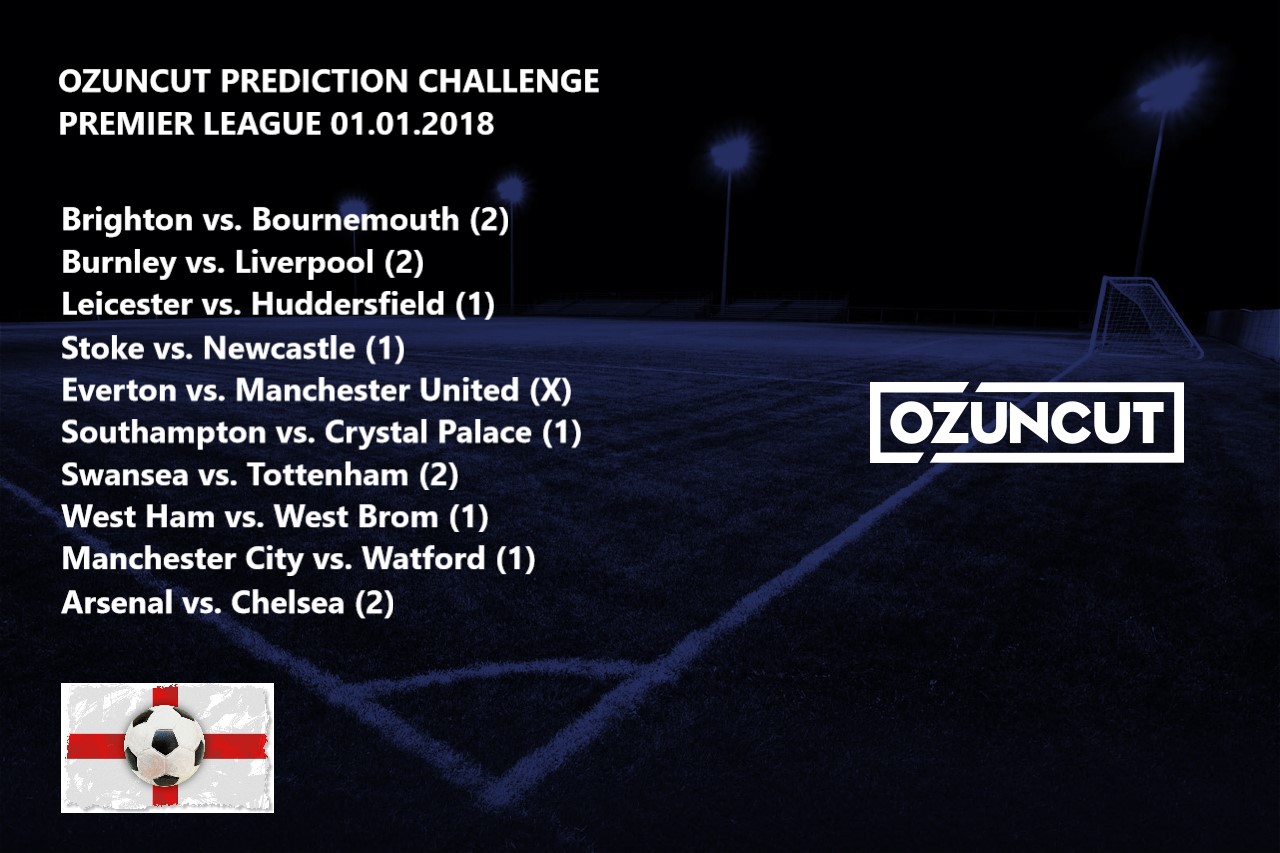 As you can see my excellent predictions can be found above. I expect it to be a tough round for all. As with so many games, teams start to get fatigue and experience loss of form. Let us all see how it unfolds.
In case you have actually made it to this point of reading in the article, I would like to ask you all for a favour once more. Can you please keep trying to recruit more people into the challenge. I am going to be investing some moolah, green, dinero into this in the next couple of weeks which will make this challenge more fun as well as more user friendly. But of course the aim is always to keep increasing the numbers. So if you can all try to rope one more person in it would be great.
As a final note, it has been really great getting this challenge up and running in 2017. And I personally would like to thank every last one of you for being involved. I would like to wish you and your families all a Happy New Year and all the best for 2018.
Oz.
UPDATE 29.12.2017
OZUNCUT PREDICTION CHALLENGE NEW YEAR SPECIAL
Hello all. First and foremost HAPPY NEW YEAR!! And welcome to 2018. A year which will see the OzUncut Prediction Challenge move to the next level with a better platform and prizes… Watch this space. As for the last round of games, well we had two in the Premier League and one in the Serie A over the New Year period. And I am sure you have all been waiting patiently to see your results. Well here we go. We'll start with round 16 of our Premier League challenge.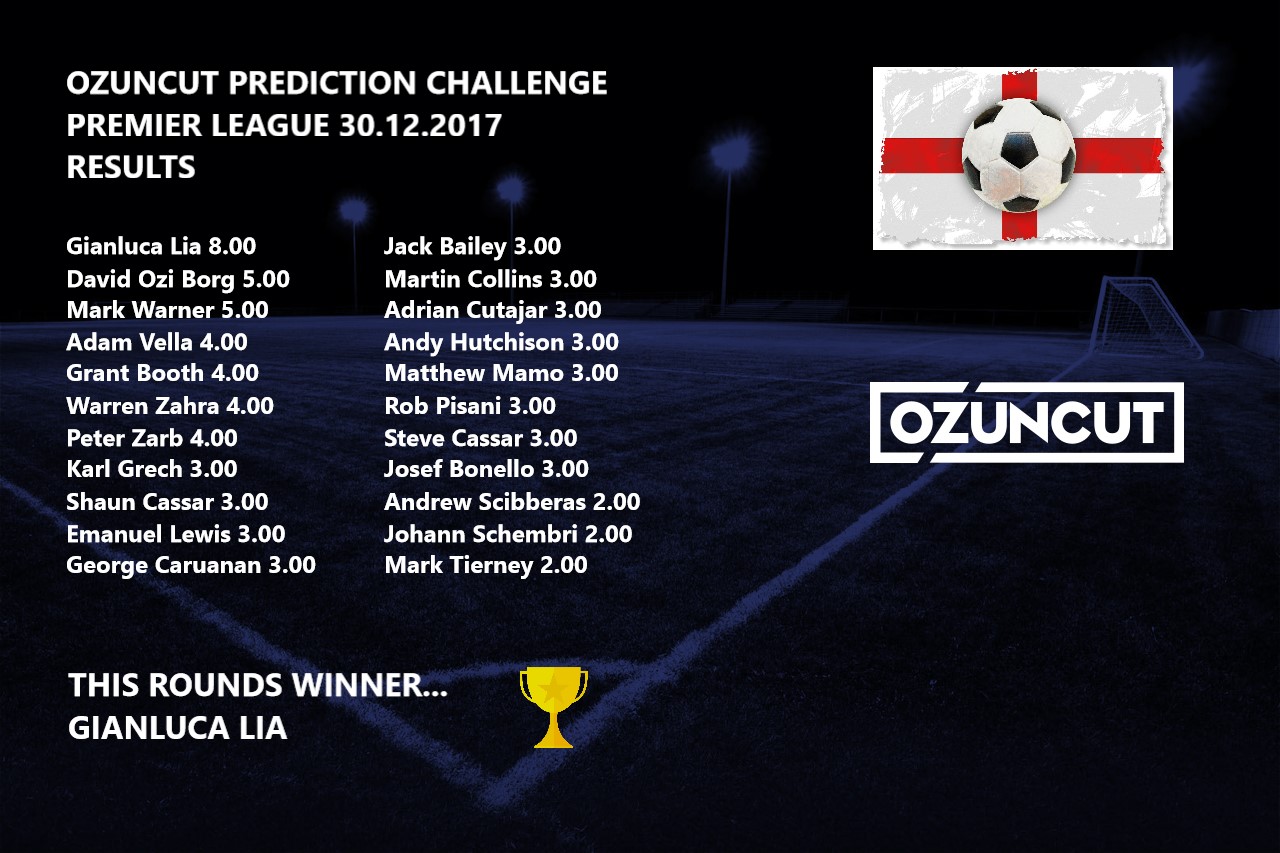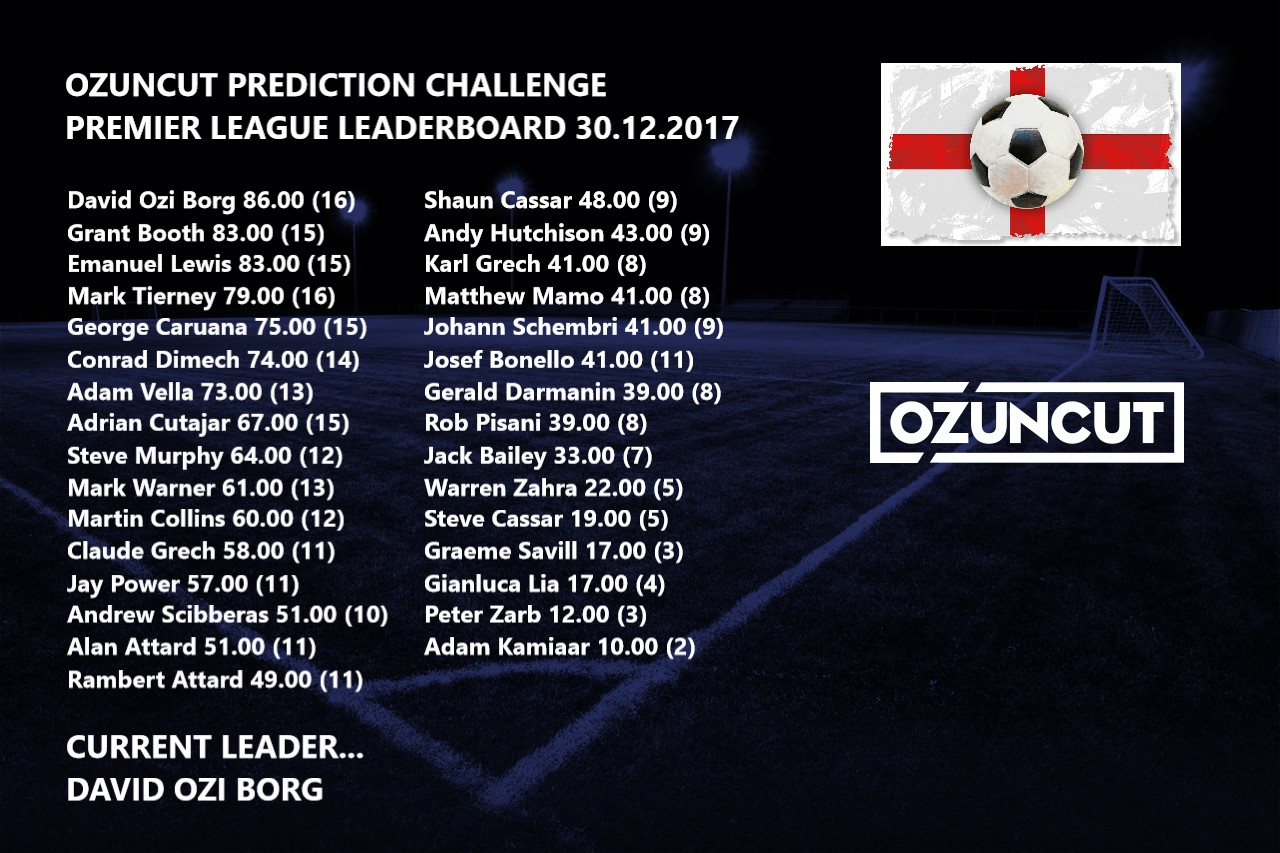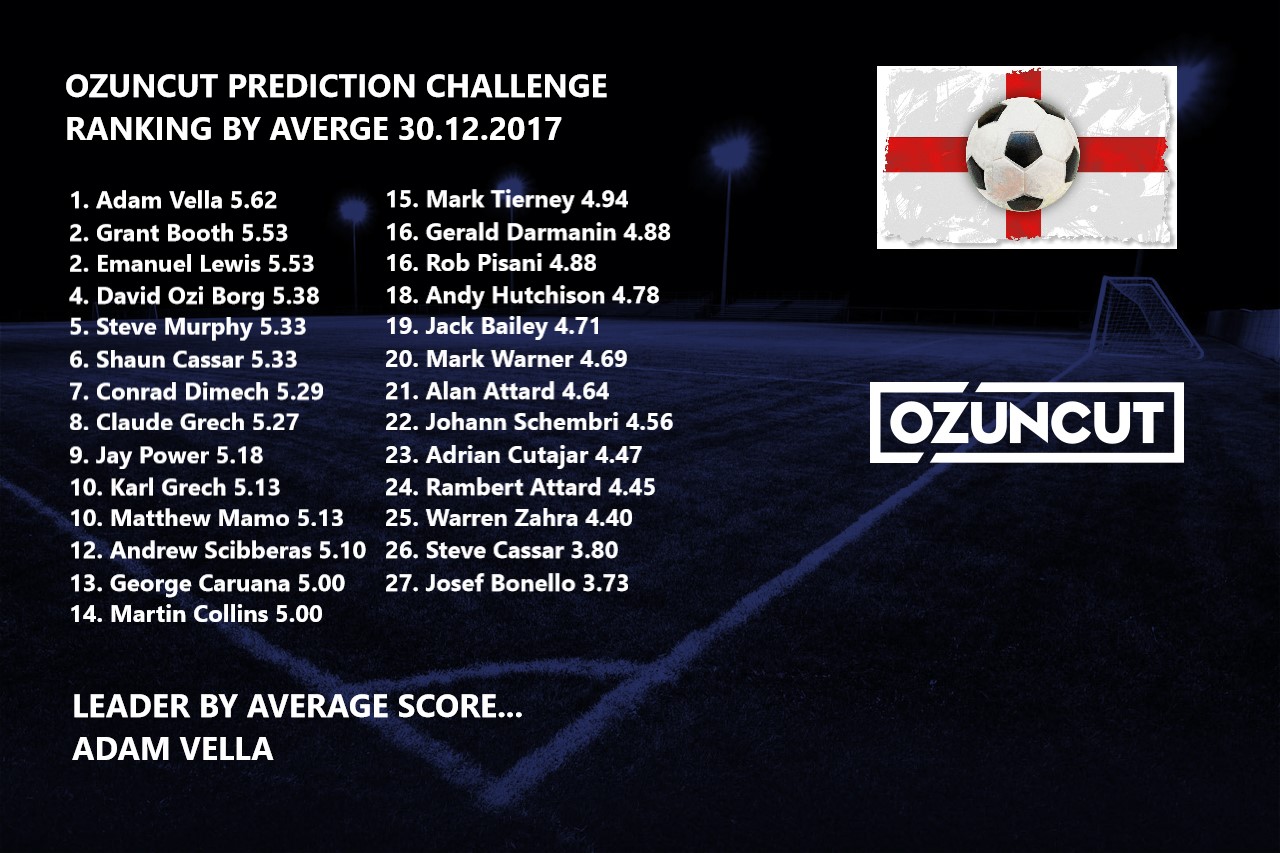 Well done Gianluca Lia. Since your arrival in the competition, some have claimed that you were some kind of guru at predictions and FINALLY you have proved it. Only took you a few rounds. 🙂 In all serious though, you were far better than anyone else in this round with a score of 8/10. Below that only a couple of us got 5's and the rest were below. Pretty average week for all, with the average score at 3.45/10.
As for the Leaderboard and Ranking by Average Score, well little change there. I am still hanging on by my foreskin to the top of the leaderboard. But its still pretty close and a few good rounds could see a change there. In terms of the Rankings, Adam Vella still stays at the top for this round, but the gap is pretty small. So anything could happen.
So now let's look at the latest, round 17 of the OzUncut Prediction Challenge for the Premier League.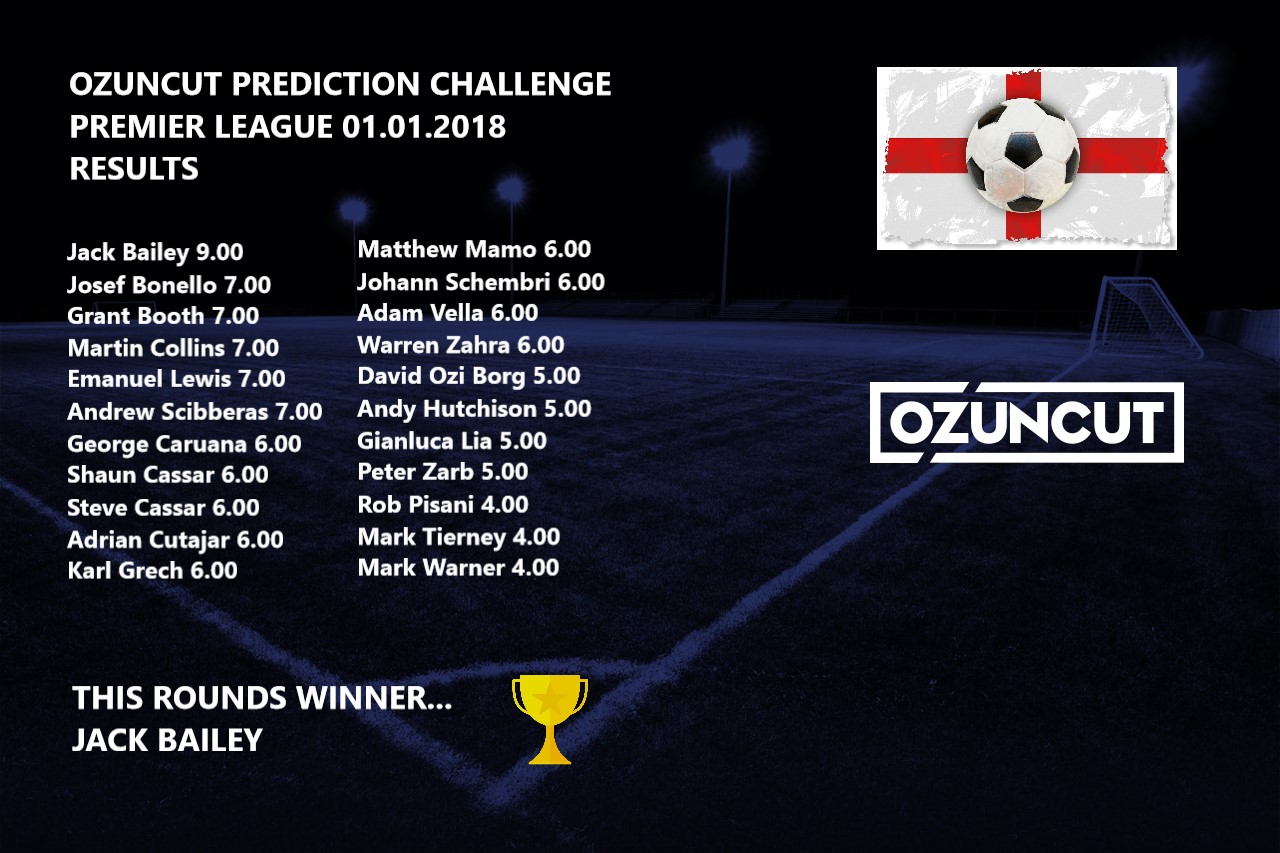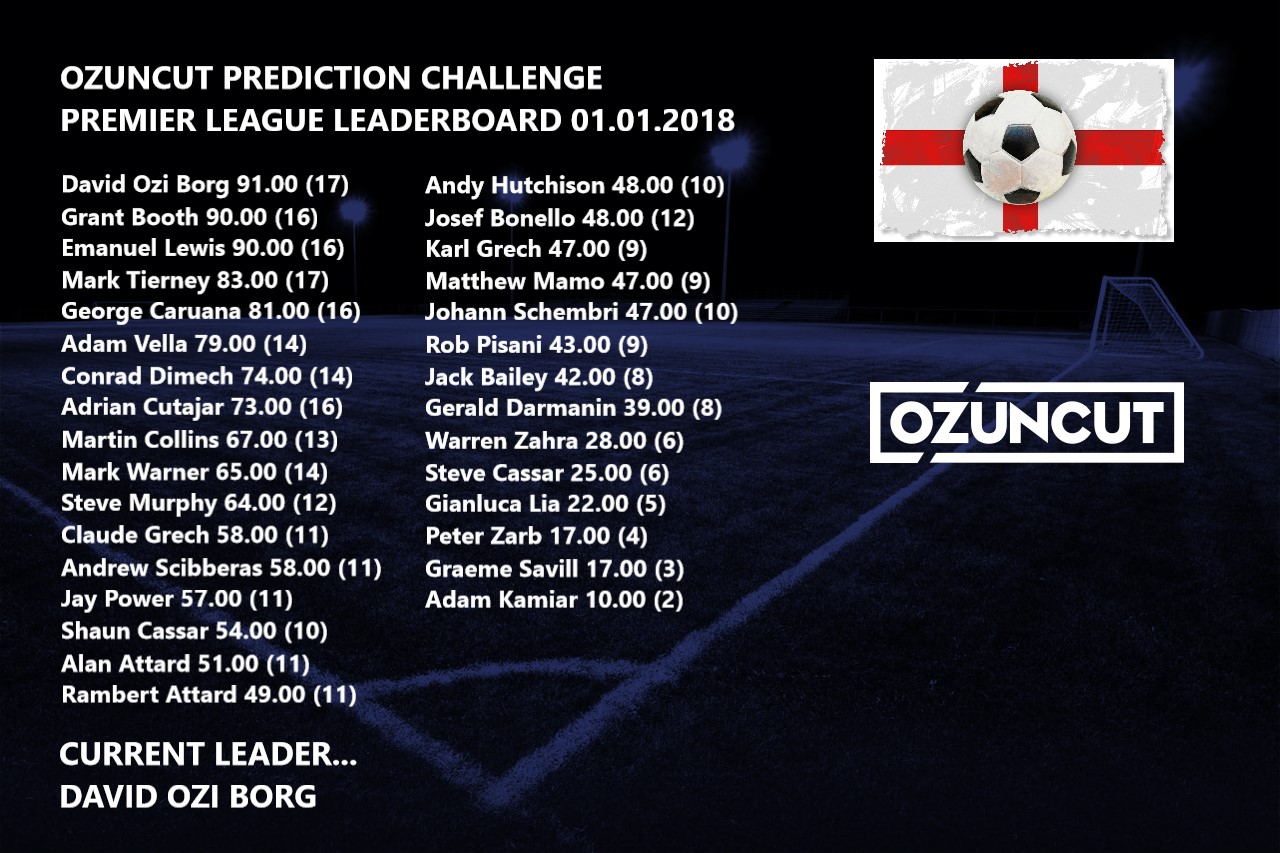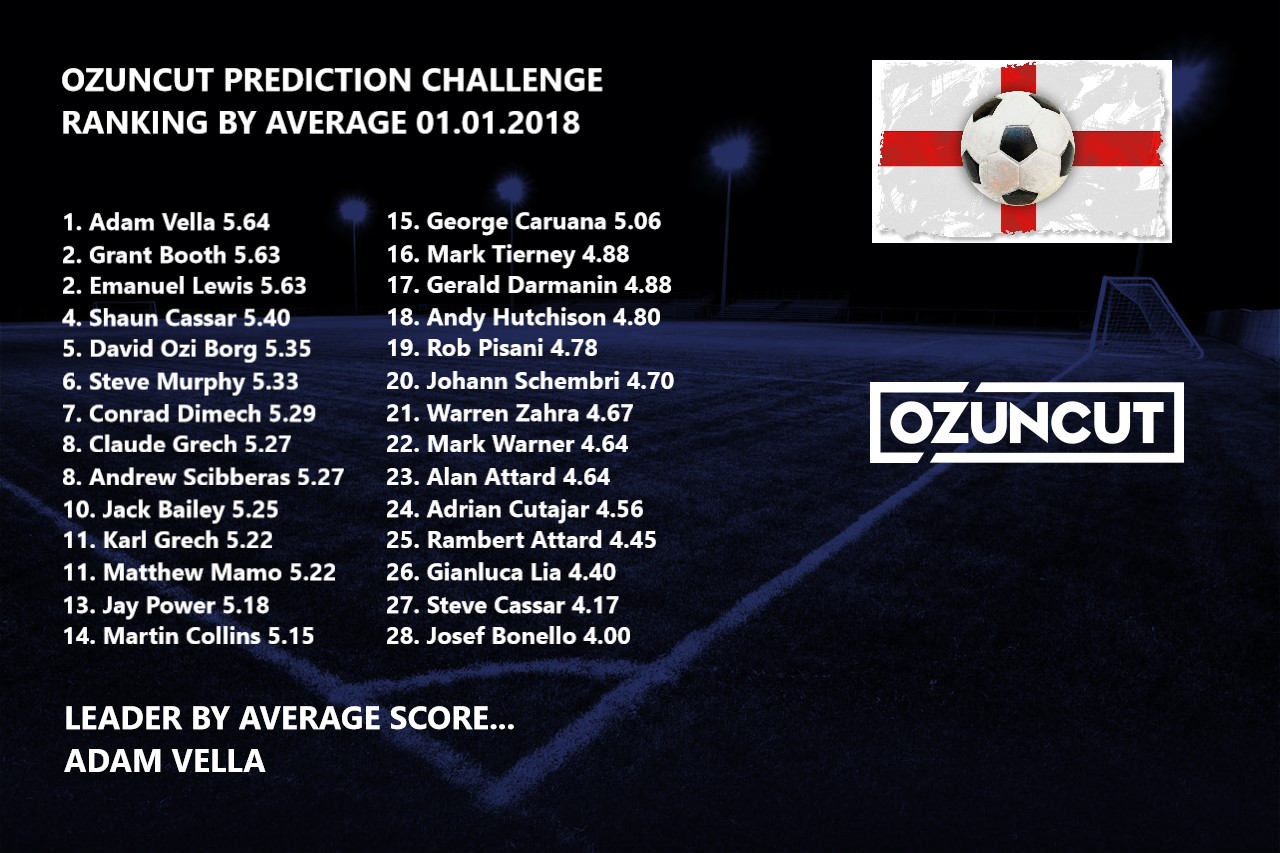 Well done to Mr. Jack Bailey who nailed it in round 17. 9/10 score is a super effort and deserved of the bragging rights. Well done good sir. As for the rest, well it was a pretty decent round with the average across the board being 5.91. Good effort by all.
The leaderboard stays the same at the top but god if I was hanging on by my foreskin before I have no description for the situation now. Leading by just one point with the chasing pack closing in. There could be a change in the next couple of weeks unless I pull up my socks. Adam Vella again just about retains the lead in the Rankings by average. JUST. Again the wolves are hunting him down and there very well could be a change very soon.
And now to the Serie A, and round 13 of our challenge.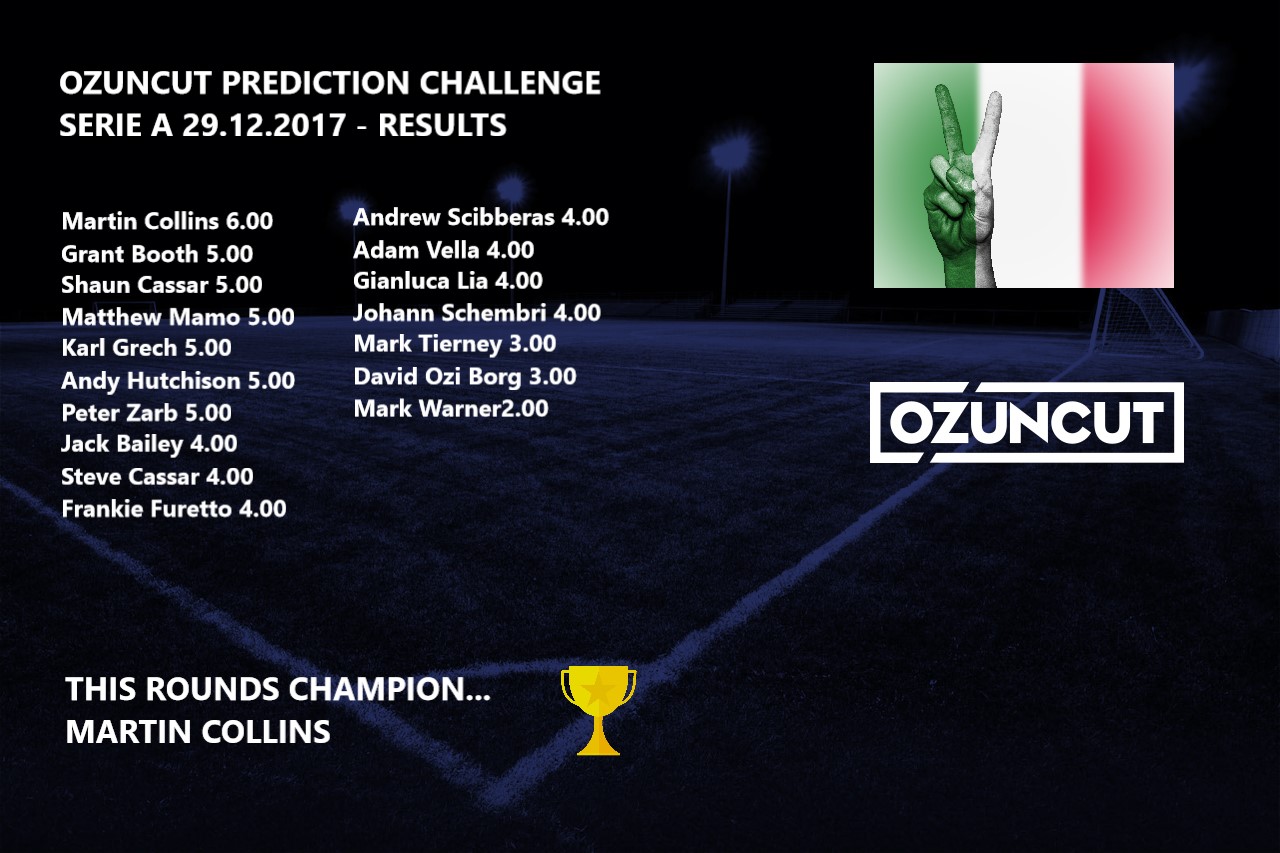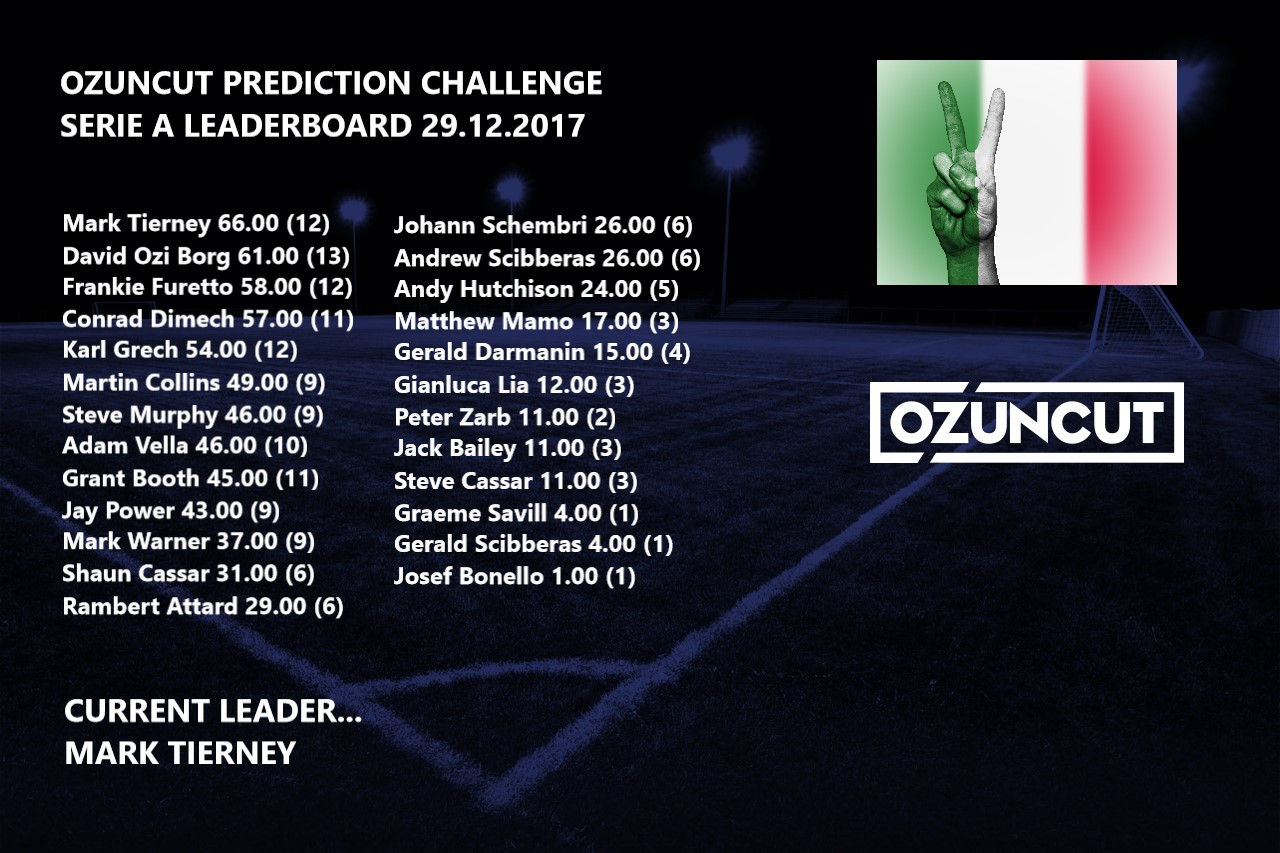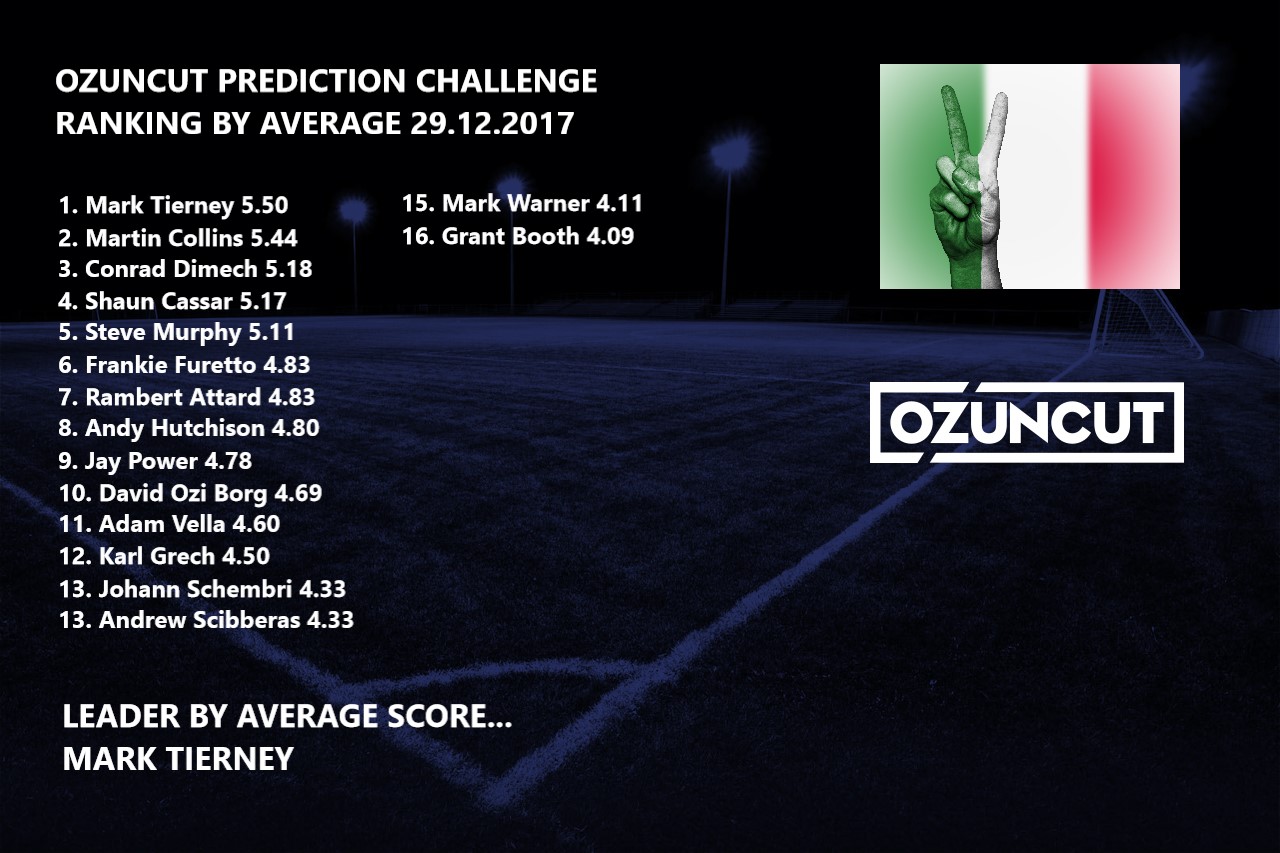 I can't believe I am saying this, but well done Martin Collins. I think this is actually the first time you have taken a solo round victory. Well done good sir. 6/10 was just about enough to get you the bragging rights. Enjoy it for the brief time you have, as another round is upon us. The average for this round was 4.24/10. Not great guys.
That guy, Mark Tierney, who I believe is a SCOT is convincingly leading our Italian Challenge. Well ahead in both the leaderboard and also relatively comfortable on top of the average score rankings. What the hell has happened to all you hard core Italian fans? Time to up your game me thinks.
As a final note, I noticed due to the holidays the "attendance" in the competition was down. I know its hard sometimes as we all have busy lifestyles and sometimes we can forget also. But in saying that I am always sending reminders, so no excuses. Get back on the ball. It would be a shame to see yourself slipping down. I don't know about you, but that would bother me greatly.
Next round is just the Serie A and it will be out shortly. Cheers gang.