Normally I spend the week in a state of utter boredom waiting for the weekends football. Thankfully there were some pretty tasty Champions League matches midweek. Including an easy win for Liverpool, so this kind of cushioned the blow. In saying that, I am excited once more for the weekend to be finally upon us. And for the opportunity once more to take the Football Prediction Challenge.
Conrad Dimech is our reigning champion from last week in the Premier League. Whilst "THAT GUY" Mark Tierney & Steve Murphy took the plaudits in the Serie A Prediction Challenge. The responsibility is on all of us to knock these guys off the top. So let's get this shindig started.
PREMIER LEAGUE
The two massive games in the Premier League this weekend are undoubtedly City vs. Arsenal and Chelsea vs. Man United. Both taking place on Sunday. I see a tricky game unfolding at the Etihad. City had a massive win in Naples on Wednesday in a very hard fought game. While Arsenal were in action Thursday in the Europa League. I can see the old "European Hangover" affecting this one. Most people will have City as favourites with the form they are in. But I get the feeling this will be a draw.
Chelsea hosting Manchester United is another very tricky game to predict. And once again I expect Jose Mourinho to head to Stamford Bridge with the sole purpose being to contain the opposition. But I am going for a Chelsea win here and I'll tell you why. Chelsea need a reaction. They have not been in good form at all of late and their performance in Rome was way below par. They need a big result to lift the whole club and this will be the opportunity. That is why I think they will beat United come Sunday.
I had real trouble making a prediction for Liverpool's trip to West Ham. Knowing Liverpool as I do this is the type of game that has "screw up" written all over it. BUT, with West Ham in a total shambles at the moment and Slavan Bilic seemingly ready for the axe I get the feeling that the s**t is going to hit the fan on Saturday. Liverpool to win for me.
You would think that there should be an easy win for Spurs against Palace. Spurs are currently on FIRE. I get the feeling Everton will finally get to winning ways this weekend against Watford and Rafa's Newcastle to get the points at home against Bournemouth.
I have a warm fuzzy feeling that I am gonna take the PL crown this weekend with these monumentally astute predictions.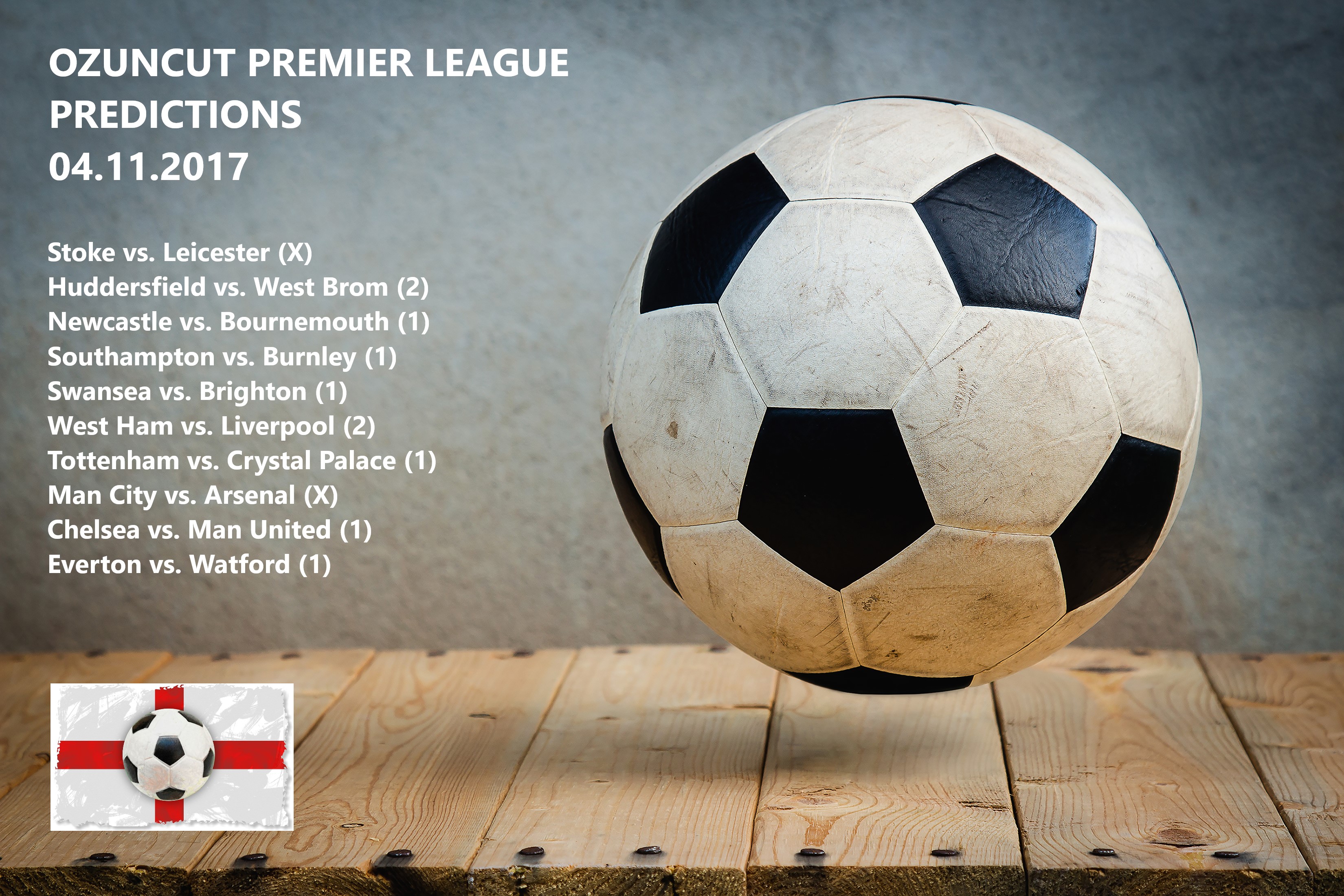 SERIE A
My pick of the games this week in Italy is Fiorentina vs. Roma. I think that this one is going to be a cracker. Both teams have been in good form and will be high on confidence. Even though Roma are the away side, I think with the confidence of spanking Chelsea midweek they will be too strong for La Viola.
I can see easy wins for Inter, Napoli and Juventus. They will be too strong for the likes of Torino, Chievo and Benevento respectively. The Lazio vs. Udinese game could be an interesting one. Ciro Immobile seems to be scoring for fun at the moment and Lazio have looked very good so far. To add to that the fact that Udinese have actually travelled pretty poorly so far this season there should be good value for a Roma win.
And finally AC Milan. Surely they cannot screw it up this weekend against Sassuolo? The way Milan have performed so far this season you wouldn't bet against it. But inevitably I think they will be to strong for Sassuolo and in the end will probably win comfortably.
Here is a look at all my predictions for the round in Serie A this weekend.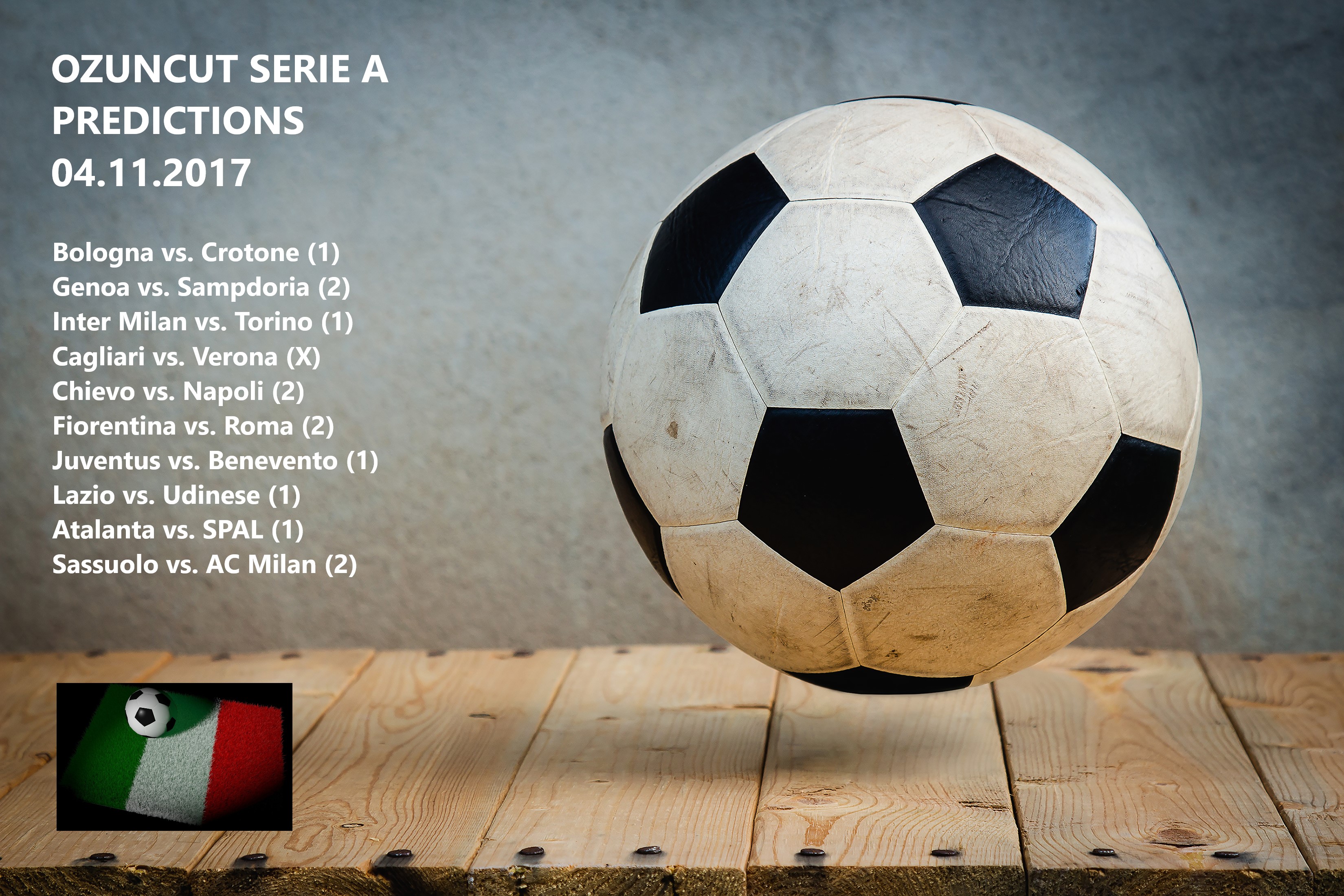 THE OZUNCUT ACCUMULATOR
The accumulator was a loser last week. I took a risk on Crystal Palace that didn't pay off, whilst Fiorentina let me down. I have been rubbing the rabbits foot all week (and no that is not a euphemism for anything) and I am feeling lucky. My usual €1 bet is on, now show me the money.
So far I am 1 and 5 but looking to add to my wins column this weekend.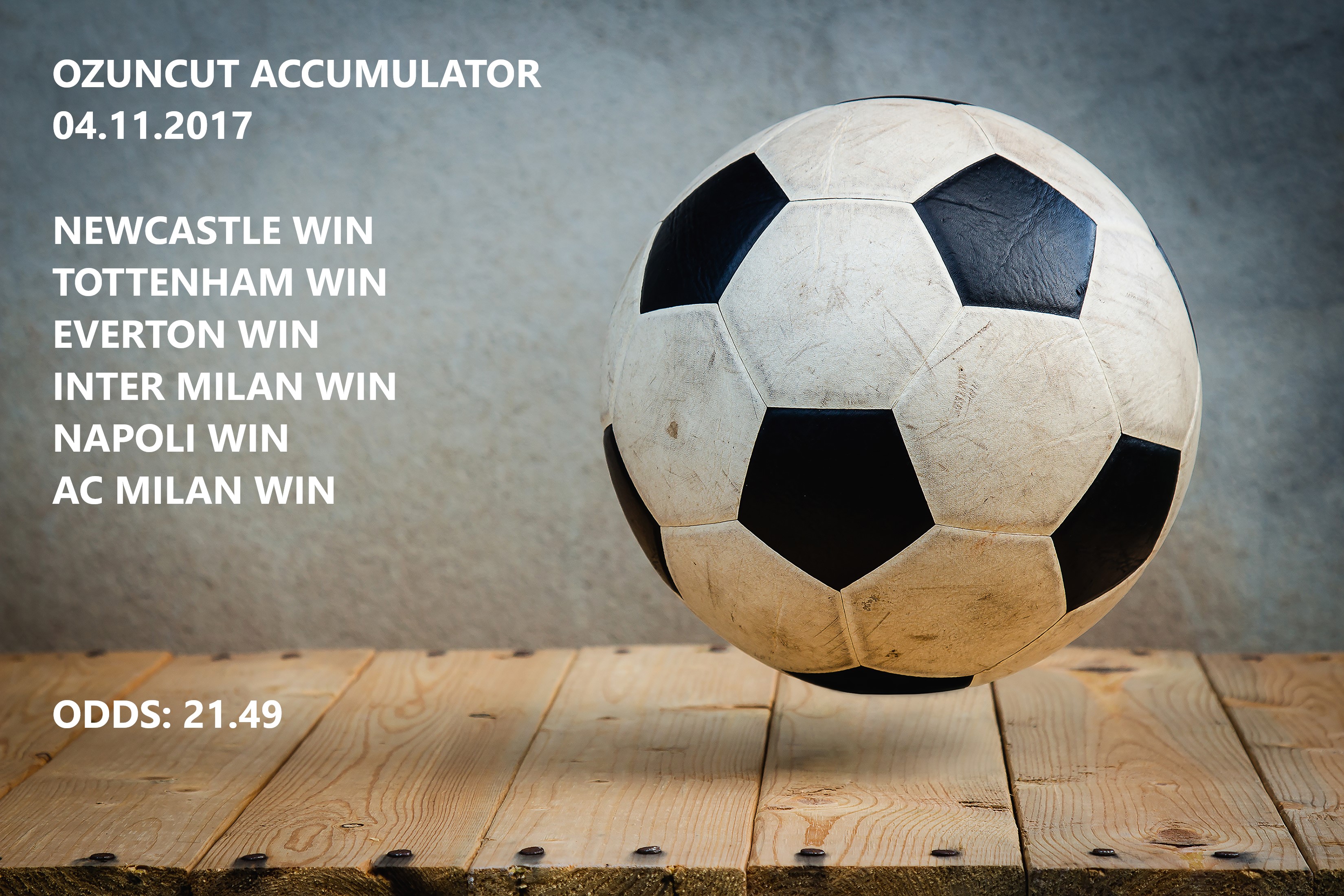 Now a few things to finish off. Firstly please spread the word with all your football friend and family. I am hoping to have weekly and season ending prizes to have in the future, but this will depend on the growth of the competition. So help a brother out and try and get at least one more person involved each this coming weekend.
Secondly, don't forget as always to put in your predictions in the discussion/comments section at the bottom of the post. And finally don't forget to get your predictions in by Saturday at 12.30UK/13.30CET.
Good luck predictors.