The games are coming thick and fast just as we love it. Because let us be honest with ourselves, life is just boring without our beloved football. For me there are 3 important things in life, family, health and football. And for me at least, more specifically Liverpool, of course. I mean I do have the tattoos to prove it. I am sure for the rest of you its similar story. The love for a football club is special and its a bond that should never been broken. Hell, I would rather give up sex than football. Hopefully I will never be made to choose between the two. 🙂
Alright, lets do this. It's Friday, the weekend is upon us and we have another exciting round of our Football Prediction Challenge.
Our reigning prediction champion from the Serie A is Mark Tierney who smashed it mid week with a perfect 10/10 score. All of us were probably thinking what a great round we had. And then that b**tard crushed our dreams. Fair play to him. Let us see if one of us can take his place this week. On the Premier League side we had a four way tie at the top with Adam Vella, Emanuel Lewis, "That Guy Tierney" & Alan Attard all predicting 5/10. In all fairness it was a poor prediction round. We all need to do better this week competitors.
So now time to get to this weeks challenge.
PREMIER LEAGUE
I am not going to bore you with a whole lot of kerfuffle regarding this weeks games. Instead in my own "somewhat unique" style, I will give you just a couple of sentences on the more important games of the weekend. We can start with Man United vs. Tottenham. You would think it would be a cracker? Hmm. I suspect Jose's tactical genius will spoil any chance of that. I don't see Mourinho changing style and I would expect a defensive performance from United. Spurs might be without Harry Kane. If he doesn't play I reckon it will be a draw for sure.
Arsenal have picked up form lately. But the general feeling around the club is still pretty sh**ty. Apparently their annual AGM this week was surrounded by extreme negativity. In saying that, in footballing terms they should still have too much for a very average visiting Swansea on Saturday.
Crystal Palace vs. West Ham? Who f***ing knows. Both teams are all over the place. One has a sweet, but irrelevant Roy Hodgson and the other a heavily under pressure Slavan Bilic. Not even the late great Paul the Octopus could have predicted this one with any certainty. But I am going for a home win just for the f*** of it.
I will say few words regarding the shambolic defensive performances of Liverpool so far this season. Quite simply because its already all been said. Absolutely pathetic. However, I would still expect them to win rather easily against Huddersfield. No disrespect intended, Huddersfield took down United last weekend. But I think at Anfield it will be a different story altogether.
And finally, I expect City to have a tough game away to West Brom but still win and the same for Chelsea at Bournemouth.
I have made my predictions and I will stick with them semi confidently. Please see below. Good luck to all.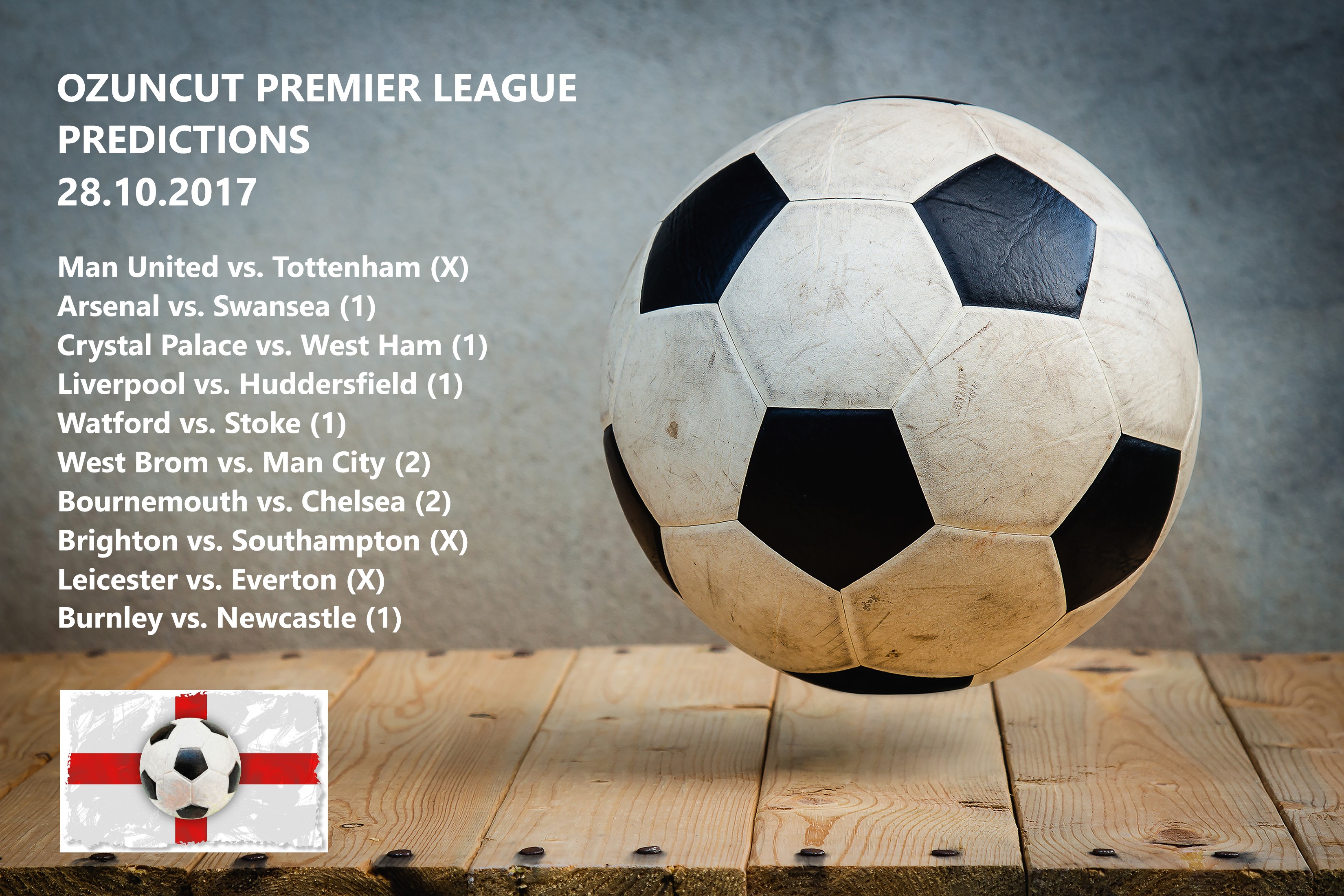 SERIE A:
You know I never thought I would say this, but I am truly enjoying watching Italian Football this season. It has been quite a while since it was this diverse and exciting. At this early stage it seems anyone of four teams could win the league and overall that is just good for Italian football in general. Juventus past dominance has made it, well, f***ing boring. But this year it is open and their are lots of goals being scored. I LIKE IT.
The big game of the round is no doubt AC Milan vs Juventus. Milan have had a mixed start to the season. But got a good win midweek and are looking stronger as the weeks roll on. Juventus so far have also been a bit mixed, but lets be honest. They are JUVENTUS and have the strongest squad in the league by far. Should be a really good match. Unfortunately I just can see Milan having enough for the win and actually think that Juve will take all three points.
Roma take on Bologna. On paper it looks like an easy win for home side, but Bologna have been ok so far. I think Roma will shade it though. Too much quality in their ranks. The "other Romans" Lazio I would think should have a pretty easy Sunday stroll against Benevento. Can't imagine anything but a Lazio win there. Same goes for Fiorentina, Napoli & Inter. I don't see any of the big boys having any problem this weekend.
My Serie A predictions below. Read em and weep.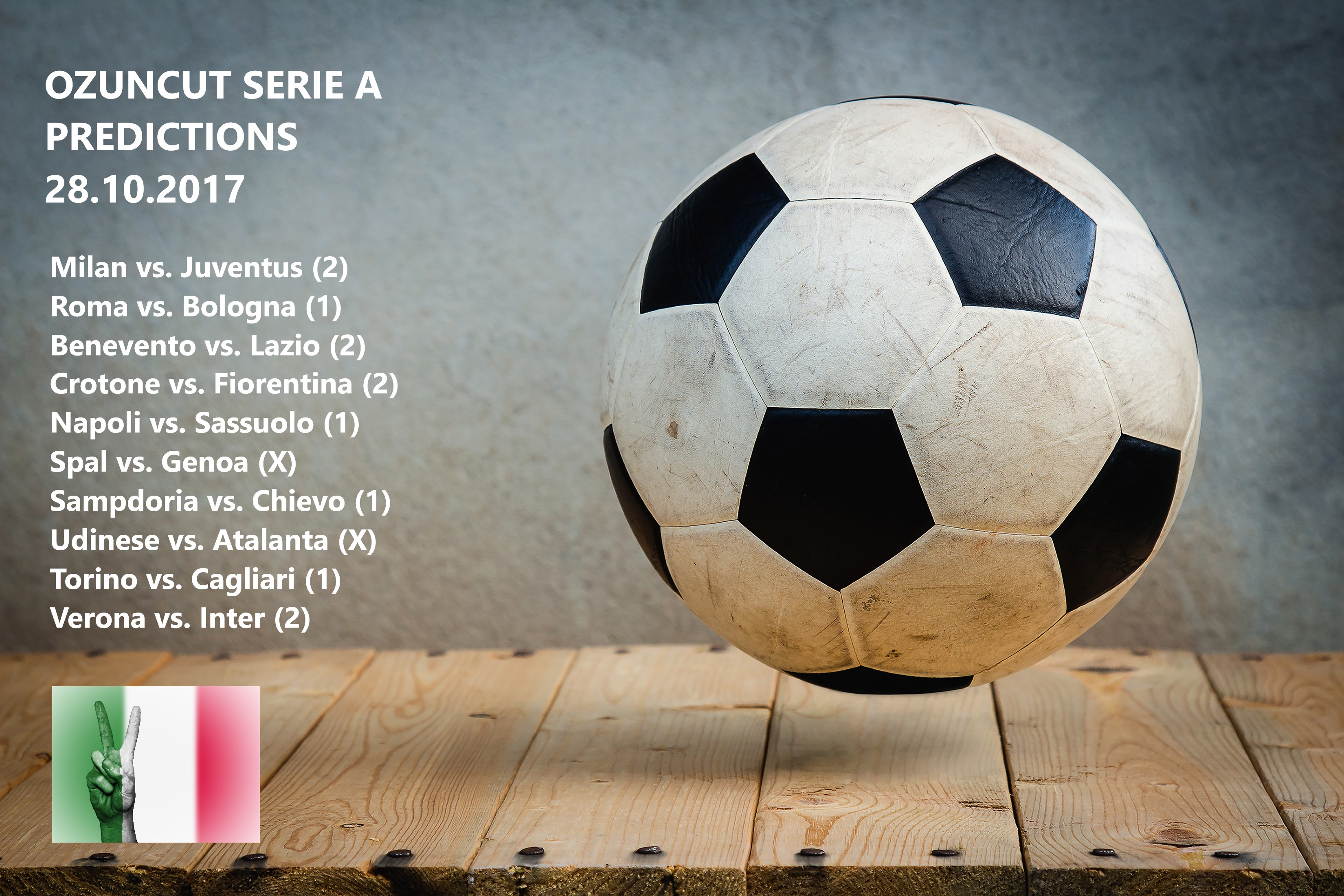 OZUNCUT ACCUMULATOR
Once again my accumulator went bust last week. At least I get to blame MANCHESTER UNITED for it which gives me a little satisfaction. United losing and Napoli failing to beat Inter were the kinks in my accumulator armour, but I am if anything persistent. This week is my week. I feel it in my rather large bones.
In 5 straight weeks of accumulator bets I have 1 victory and 4 losses, but I am looking to narrow the deficit this weekend. Its a little risky, but this is what I have gone for.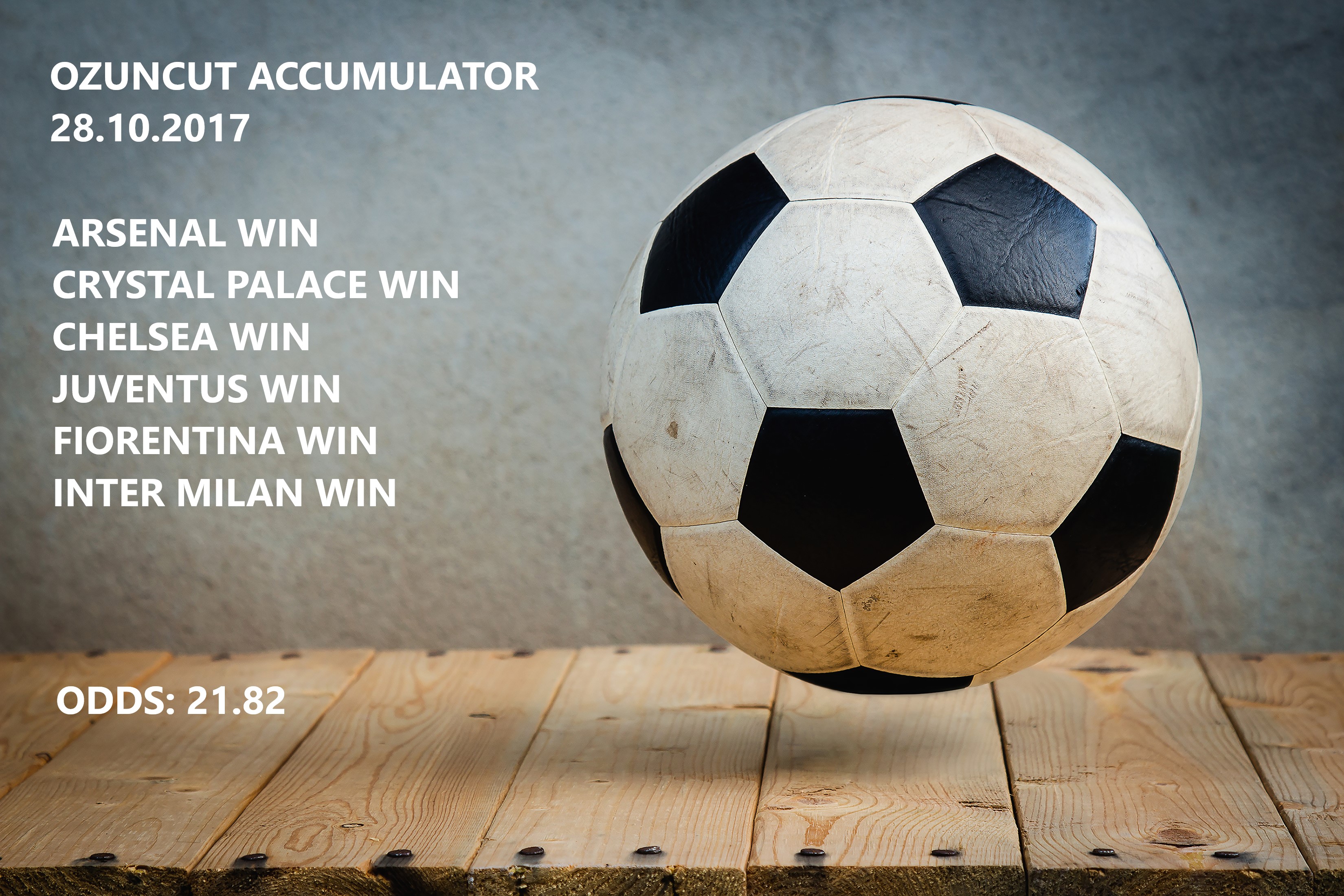 Join in with me and ride the money train… LOL. Or not…
Wishing you all a fabulous and successful prediction weekend.
DON'T FORGET. REGISTER YOUR PREDICTIONS IN THE DISCUSSION FORUM BELOW…