Wouldn't you just know it. It was only days ago that Frankie "Italian Stallion" Furetto impressed us all with an amazing 9/10 score. I remember thinking to myself "it will be a long time before anyone beats a score like that, if ever". Trust me to be so f***ing wrong. It took a grand total of THREE DAYS for some uber footballing nerd to only go and get a frikkin 10/10 in our prediction challenge.
A mid week round of games in the Serie A brought another round of our prediction challenge. And their is no doubting who our champion is this week. Mr. Mark Tierney. King of Kings. Nerd of Nerds. An Italian prediction guru with a British surname. Go figure. A perfect score of 10/10 is an extremely impressive achievement (albeit with a modicum of luck). Credit where credit is due…. We bow down to you wise one.
The slightly frustrating part for the rest of us is that the majority had a pretty good round. An average score of 7.5 is extremely high by our very mid level standards. So I think we should all give ourselves a pat on the back (for those of us who can still reach). Well done to all.
So lets reveal the full round of results: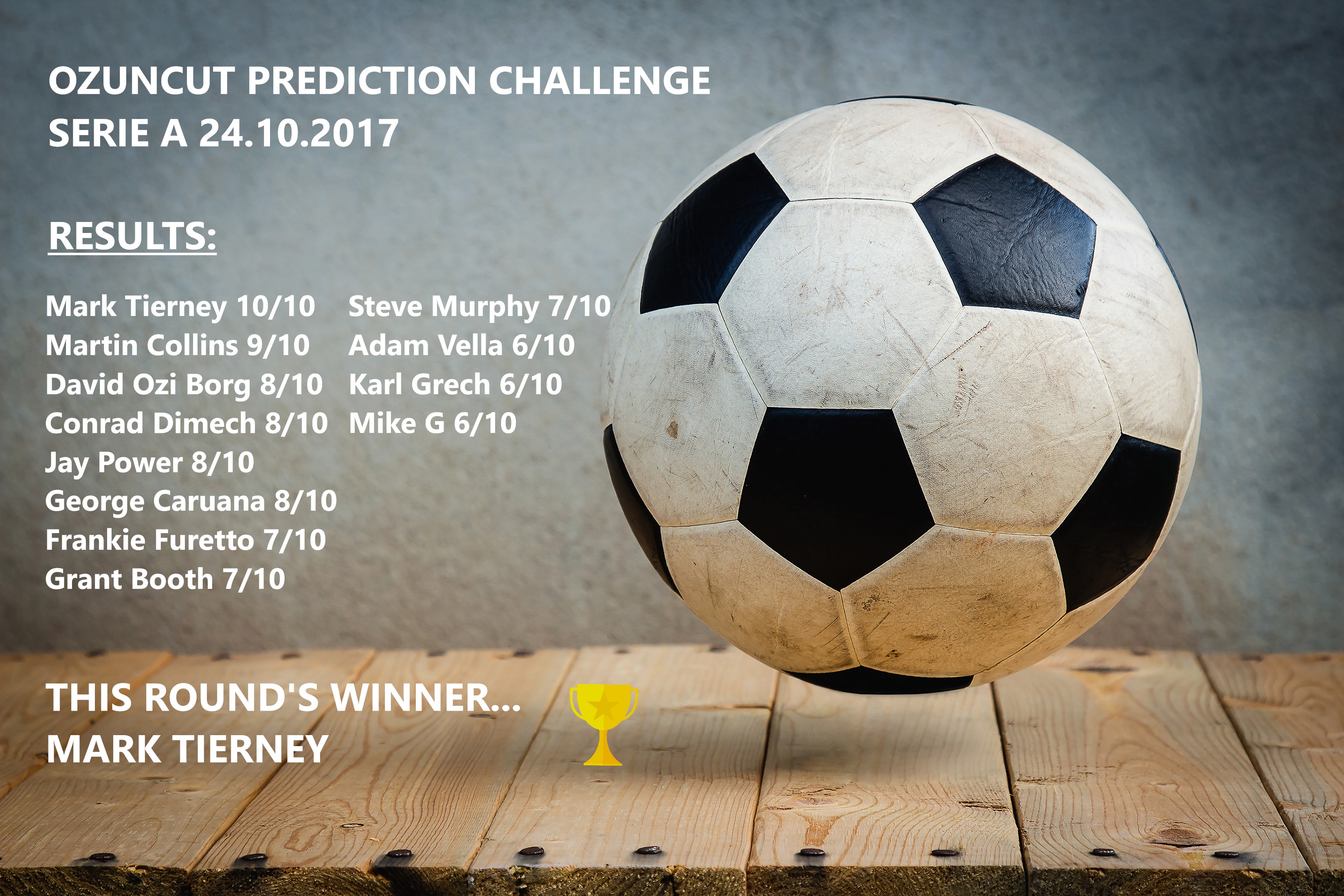 The great thing about football is that you don't have to wait long to have another crack at the title. In fact tomorrow I will be getting out the next round of fixtures for prediction in our challenge. So look out for that Friday lunchtime.
As a final note, thank you to all of you for your participation. Its turning out to be a lot of fun so far. In the very near future the whole competition will become bigger and more user friendly. We will be putting together a platform which should make it much easier for us all in our busy lives. Watch this space.
I don't have time for hobbies. At the end of the day, I treat my job as a hobby. It's something I love doing. – David Beckham