Twas just days before Christmas and all through the land, the anticipation of a turd load of football was most certainly at hand. It as arrived my fellow predictors. Without doubt the busiest part of the football calendar, CHRISTMAS. And I for one am extremely thankful that in England and Italy they do not have a winter break. So let's get down to it, our football prediction challenge Christmas special.
In the Premier League our Prediction Challenge has two rounds in one, seeing as each club will have two games in the space of a few days. And in Italy another jammed packed weekend.
PREMIER LEAGUE
Big, big game on Friday night in the Premier League. Arsenal will be "Gunning" for revenge after their thrashing earlier in the season at Anfield. The home sides form has been good of late and no doubt they will dominate possession. BUT, it has been proven that the majority of teams who try to play football against Liverpool get murdered on the counter attack. Wide men Mane and Salah are fast and furious on the break and with Coutinho and Firmino they can score a bucket load of goals. That is the only reason why I have gone for a Liverpool win. Arsenal will come out and play, eventually leave gaps and Liverpool will break with purpose. I think it will be a high scoring game too.
Everton vs. Chelsea is also an interesting one. I normally would have gone for a Chelsea win in a match like this. But Sam Allardyce has impressively sorted out Everton's defence. To add to that Chelsea will be without the suspended Alvaro Morata. And this for me is key. When he or Hazard are not playing they just do not look the same. So I am predicting a low scoring draw in this one.
City should cruise to another win, I fancy Watford to get back to winning ways after a poor spell and fancy West Ham to continue their good form. I have also gone for a Leicester win over Man United. Before you Red Devils get your knickers in a twist this is purely for footballing reasons only. United in my opinion are still under performing considering the squad they have. And the midweek shock loss to Bristol City in the cup will not of helped confidence. Jose Mourinho was also highly critical of the team after that game, so the question is how will they react? Leicester have been very good of late besides the odd slip. And are also very quick on the counter attack. Should be an intriguing tactical battle, but I fancy a home win.
Below you can find my predictions for Round 14 & Round 15 of the Premier League Prediction Challenge. Don't forget to get your predictions in by Friday evening for Round 14 and 26th December at 1330 CET for Round 15. Good luck to all.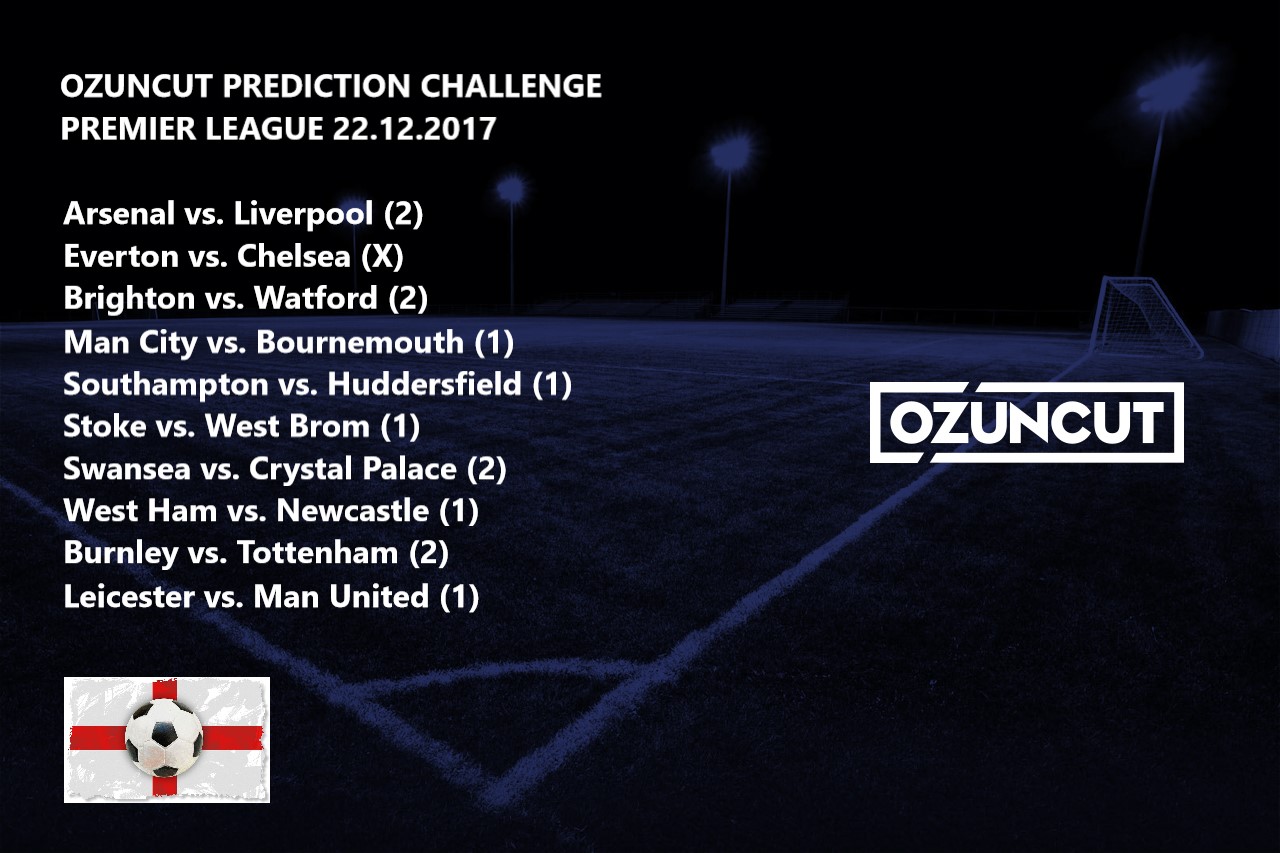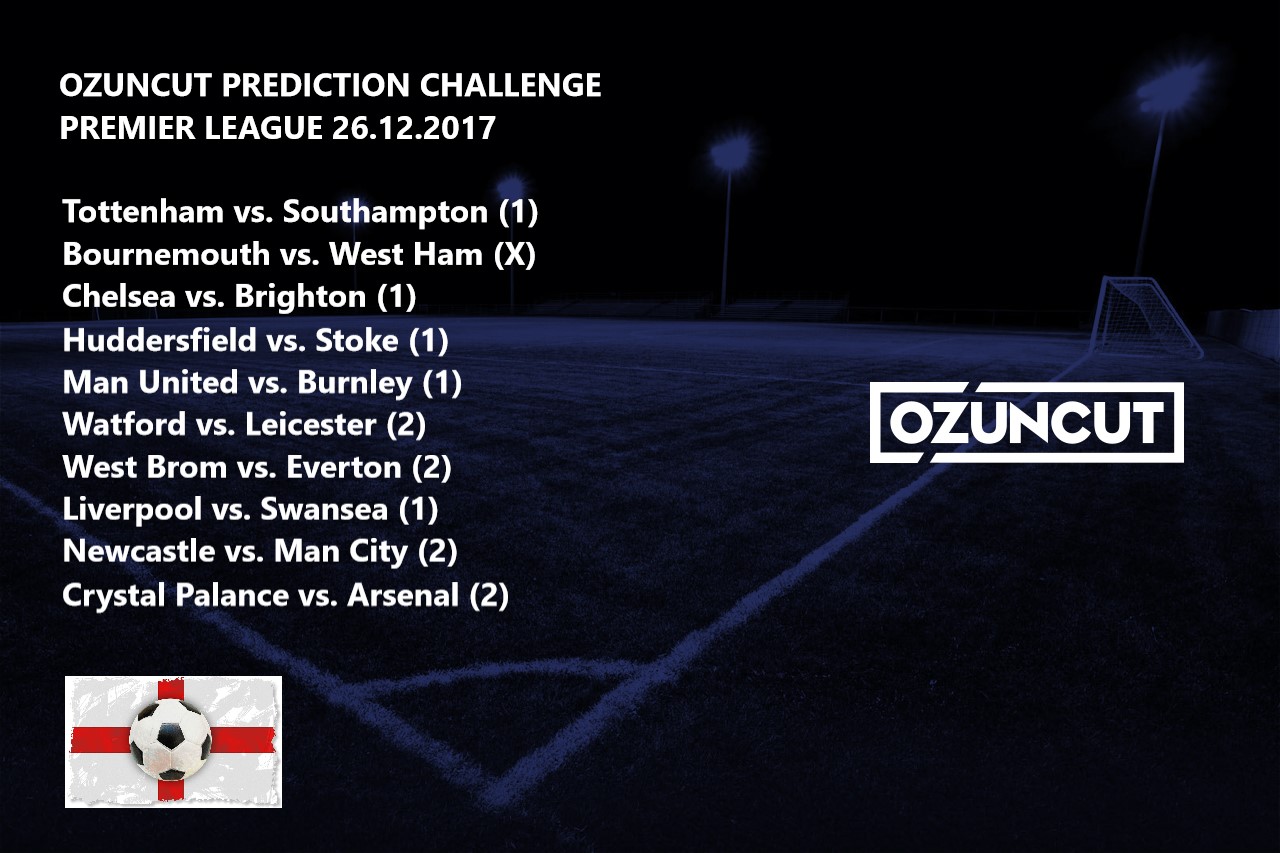 SERIE A
Some very juicy pre Christmas fixtures in the Serie A this weekend. Top of the table Napoli take on Sampdoria in Naples. Samp had a great start to the season, but have gone off the boil recently with a tough run of fixtures. They have only one win in their last five matches. I expect there tough run to continue this weekend as I just cannot see anything other than a Napoli win.
Lazio is another team that had a great start to the season. In fact it almost looked as if they would mount a title challenge. But in recent weeks they have come crashing back down to earth. Another team with only one win in their past five matches. Ciro Immobile, who was scoring goals for fun previously has lost his touch of late. In saying all this you would think they would have little problem get three points in Rome against Crotone who have only managed one win away from home.
The two last games of the round are the most interesting in my opinion. AC Milan, who are still trying to find their feet under new manager Gennaro Gattuso, take on a very decent Atalanta. Both sides find themselves on 24 points in Serie A, but Atalanta go into this one in better form. It could be a good opportunity for Milan to get the three points at the San Siro, but my gut feeling is that they will screw it up. The team seems to be disjointed at the moment and Gattuso has a lot of work to do to turn things around. I am going for a draw.
And finally the big one, Juventus vs. Roma. This should be a cracker. Both sides in relatively good form. It really is a tough one to predict. But I just have to fancy Juve at home. They have a stronger squad and should be just about too strong for Roma. But make no mistake, they will be facing a very good Roma side. Will be a good one for the neutrals I think.
All my Serie A predictions can be found below. Don't forget there is also Friday night football in Italy, so get them in by Friday 1800 CET.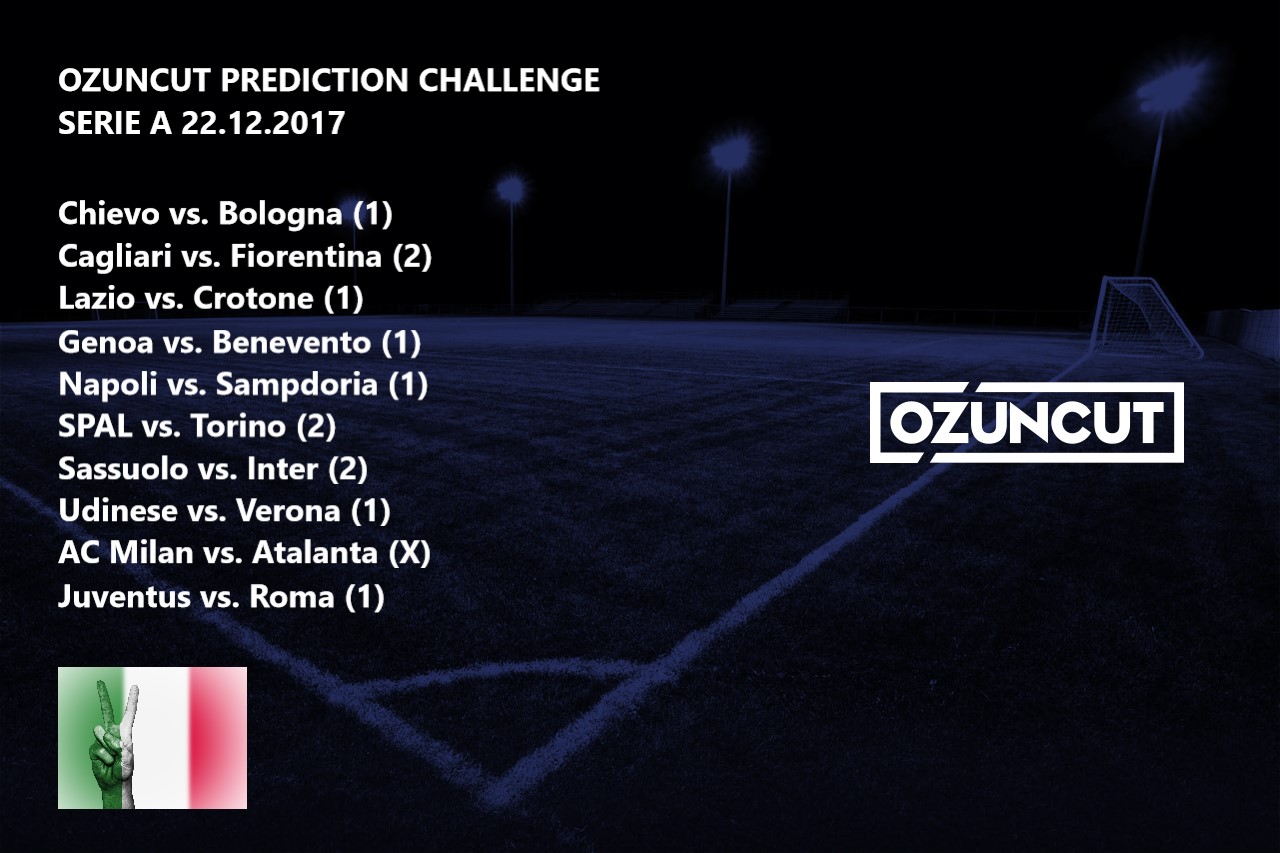 Well that is about it. In case you are knew to this game, all you have to do is post your predictions in the discussion box found below this article. Once you have registered you will also be added to the mailing list so will then receive email notifications in future.
Update: I have had a couple of important meetings of late and I think within the next 4 weeks we should be able to make this competition automated and more professional. Their will also be some slight changes to make it EVEN MORE CHALLENGING. Fingers crossed. #
Finally, as always, please continue to spread the word. Hassle footballing friends and work colleagues. The more people we get involved the better. I wish you all good luck with your predictions and a Merry Christmas to all of you and your families.
UPDATE 24.12.2017
OZUNCUT PREDICTION CHALLENGE XMAS SPECIAL RESULTS PART 1
Firstly I would like to welcome a couple of newcomers to our prediction challenge. Welcome aboard Peter Zarb and Gerald Scibberas. I hope you find the competition as fun as the rest of us. So instead of starting a new blog post for results, I have decided the best way forward is to reveal the results in the original post. Simple and easier. So here we go. Another round has passed in the Premier League and Serie A and some interesting results. Liverpool committed football suicide once more and blew a sure thing against Arsenal. Man City keep on cruising. And Chelsea and United were both held to draws.
In the Serie A both Inter and AC Milan had very disappointing defeats. Don't know what happened to Inter. Great start to the season, but the last couple of rounds have been an absolute disaster. In terms of AC Milan, well the Gattuso effect has not materialized. And their form is horrible.
So now to the results. Let's start with the Premier League.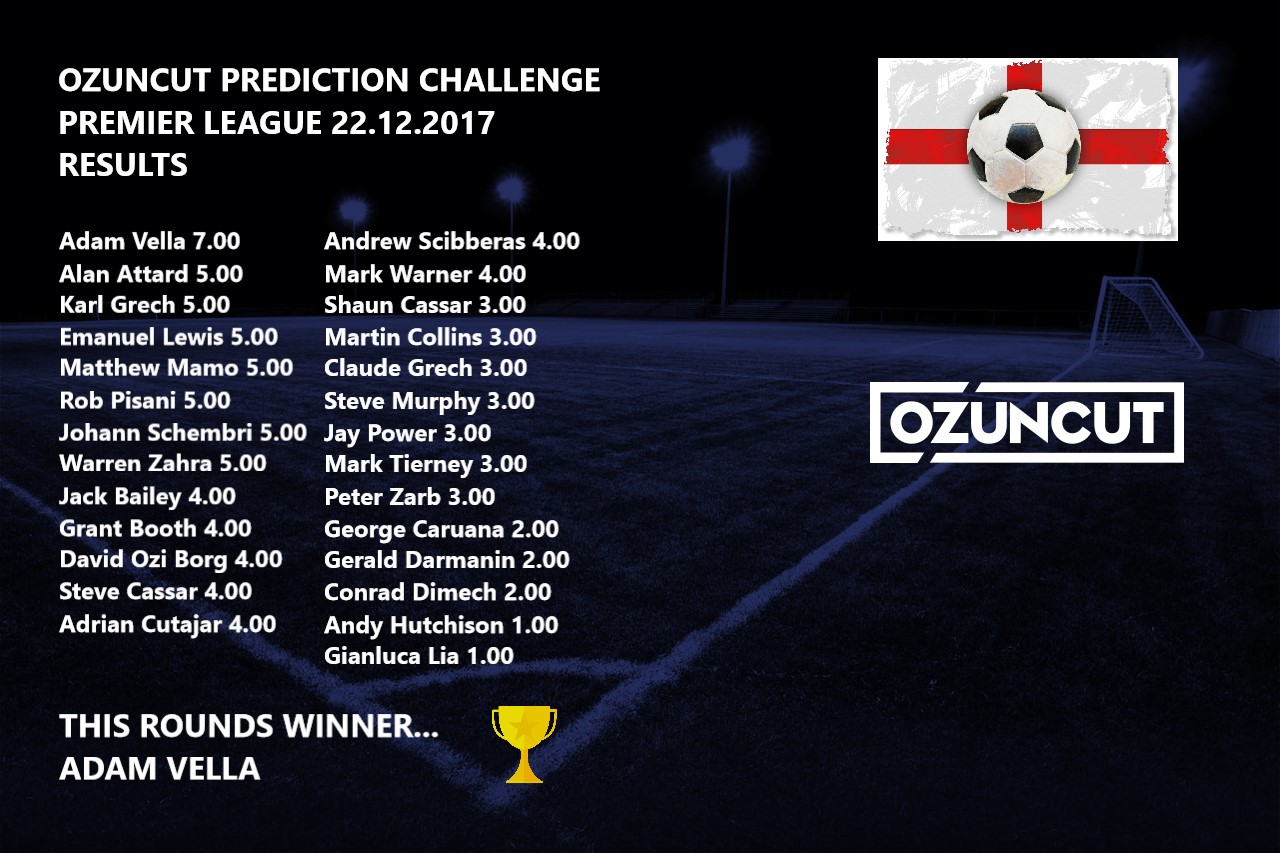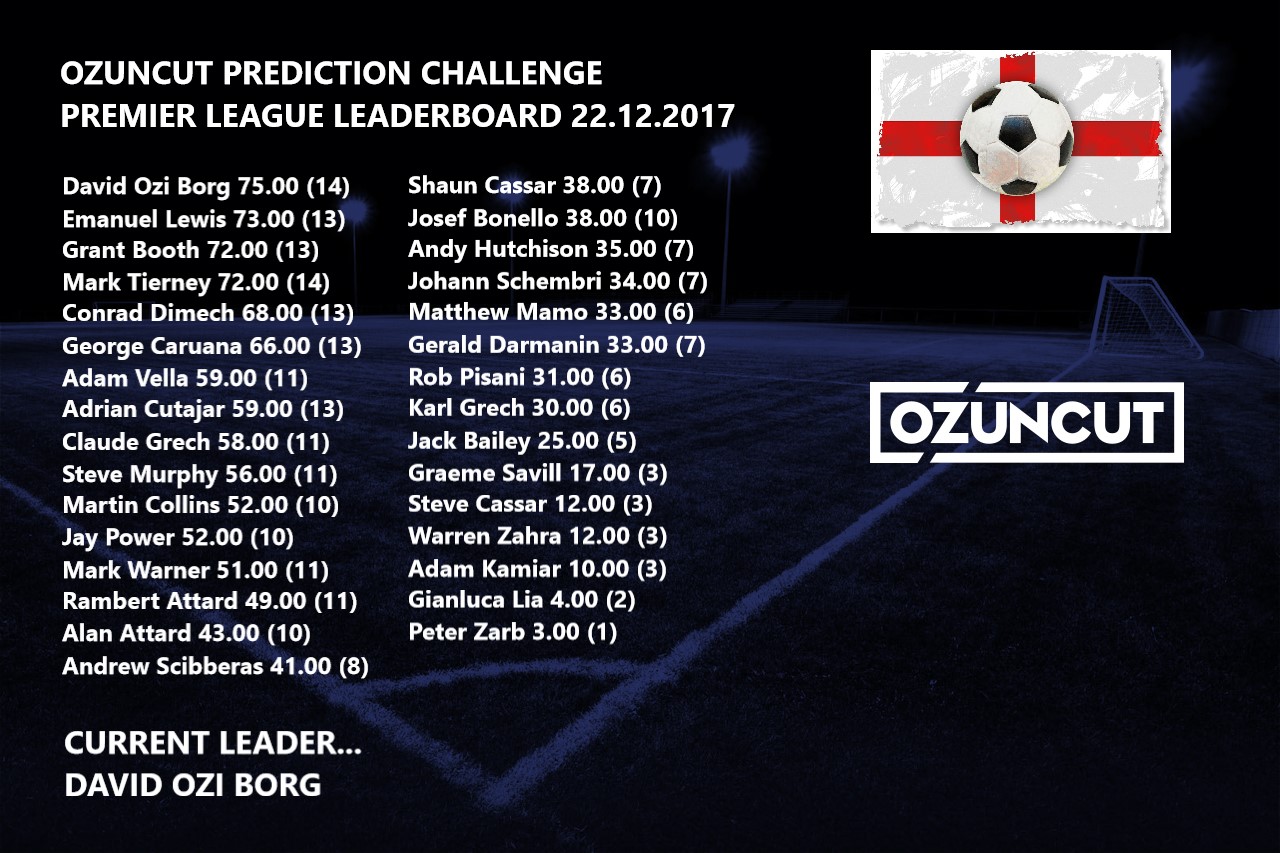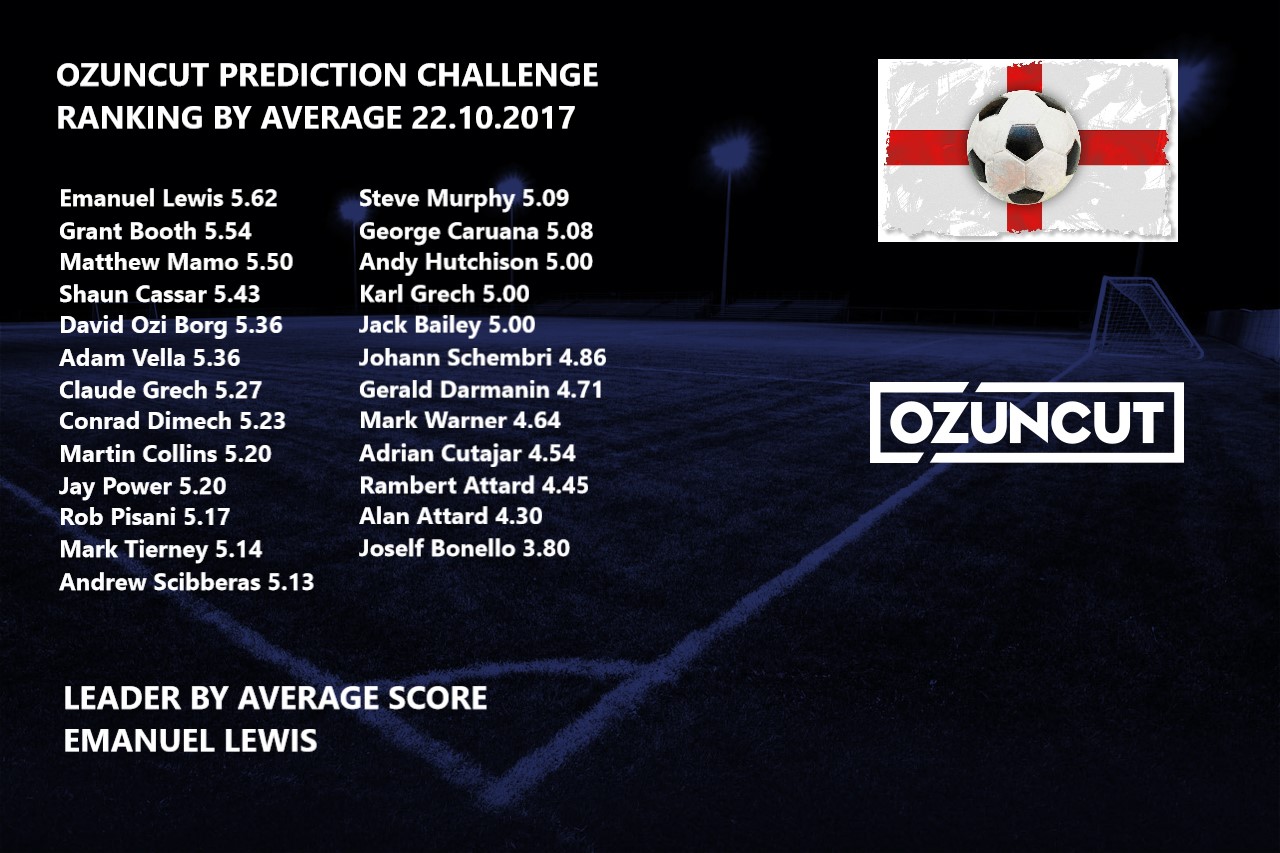 Well done to Adam Vella who was a class above the rest with a very good round score of 7.00. Well done sir. Nobody even came close. And to be honest, half of the field had a really poor round. It makes Adam's achievement even more impressive. David Ozi Borg (THAT'S ME) is still atop of the leaderboard, just. But as the weeks go by the competition at the top heats up. Don't forget in brackets there are the number of rounds competed so you can get an idea as to how your ranking up against your piers.
In terms of our Rankings by Average, we've had a change at the top. Well done Emanuel Lewis who jumped up two places to lead the rankings. I think this is the most accurate indicator of ranking across the board, so keep an eye on where your ranking. Of course the more rounds you have under your belt, the more difficult it becomes to keep a good ranking. Which is even more impressive for Emanuel as hes been involved for a number of rounds. Good job son.
Average for this round was a pretty shabby 3.67.
And now to our Round 12 Serie A results.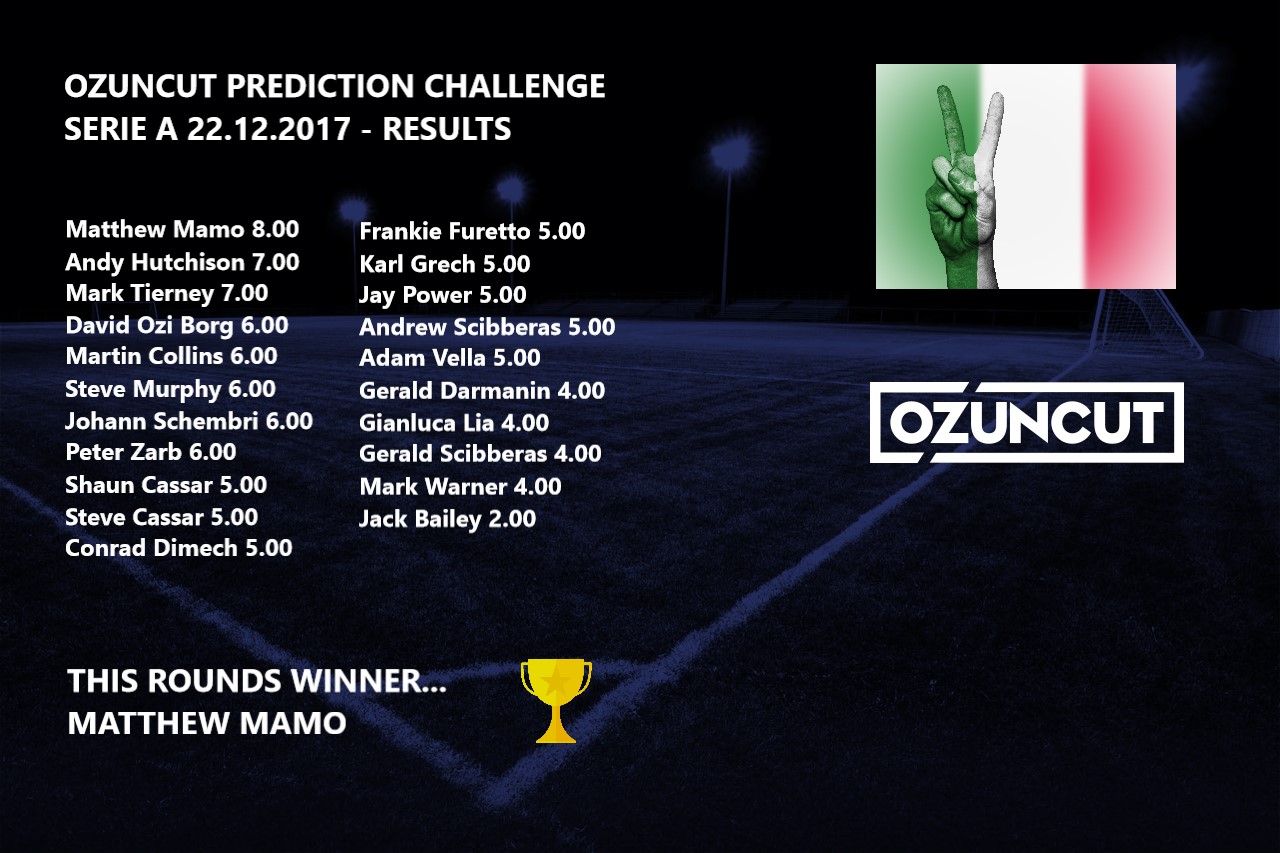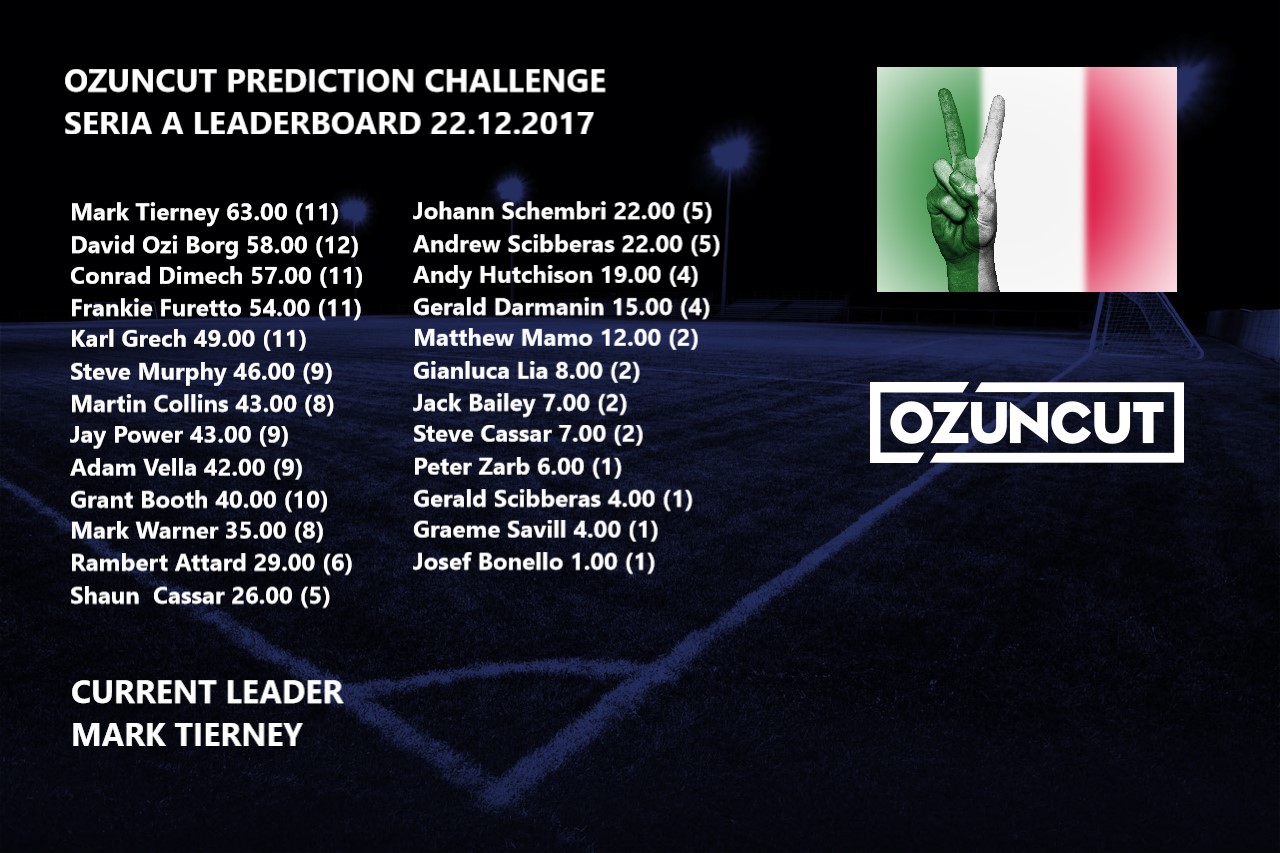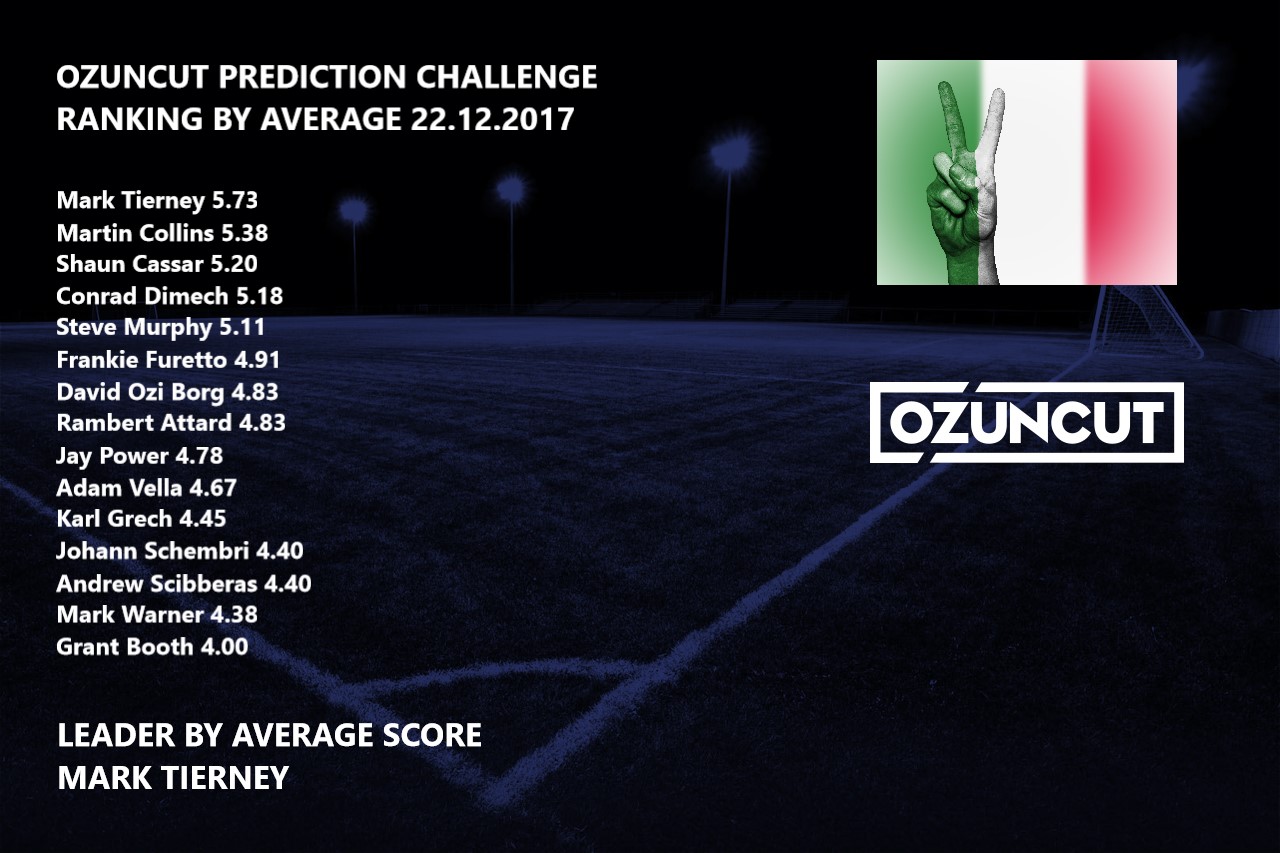 Another clear winner this round in our Serie A prediction challenge. Well done Matthew Mamo who put together an impressive score of 8.00. Bit of a mixed round from the rest of us. Some decent and other poor scores made the average score for the round 5.24, which I guess is OK. I think the most of us could be doing a little better though.
Mark Tierney is basically impressively leading the way in our other categories. He is way in front in our leaderboard with a 5 point lead at the top. As well as having a very decent lead at the top of the rankings by average table. Considering he has been in since the beginning of the challenge, you'd have to say that's pretty impressive. Well done matey.
Right that's it. I can finally go and enjoy Christmas Eve. Don't forget if you haven't got in your PL predictions for Boxing day, there is still time. But don't forget. There will be a lot of BOOZE AND FOOD being ingested in the next couple of days which can effect the brains functions. I suggest you try and get them in today.
Now go and have a GREAT CHRISTMAS YOU RAGGEDY BASTARDS!!!
UPDATE 29.12.2017
OZUNCUT PREDICTION CHALLENGE XMAS SPECIAL RESULTS PART 2
Well, finally this massive Xmas special round is done and dusted. Geez there was a lot of football and calculations to be made. In terms of the results, not too many shocks I think. In fact I would go as far as to say that Manchester United failing to win at Old Trafford against Burnley was probably the only real surprise of the round. That meant an average round score for this last set of results was an improved 6.04. And now to the results…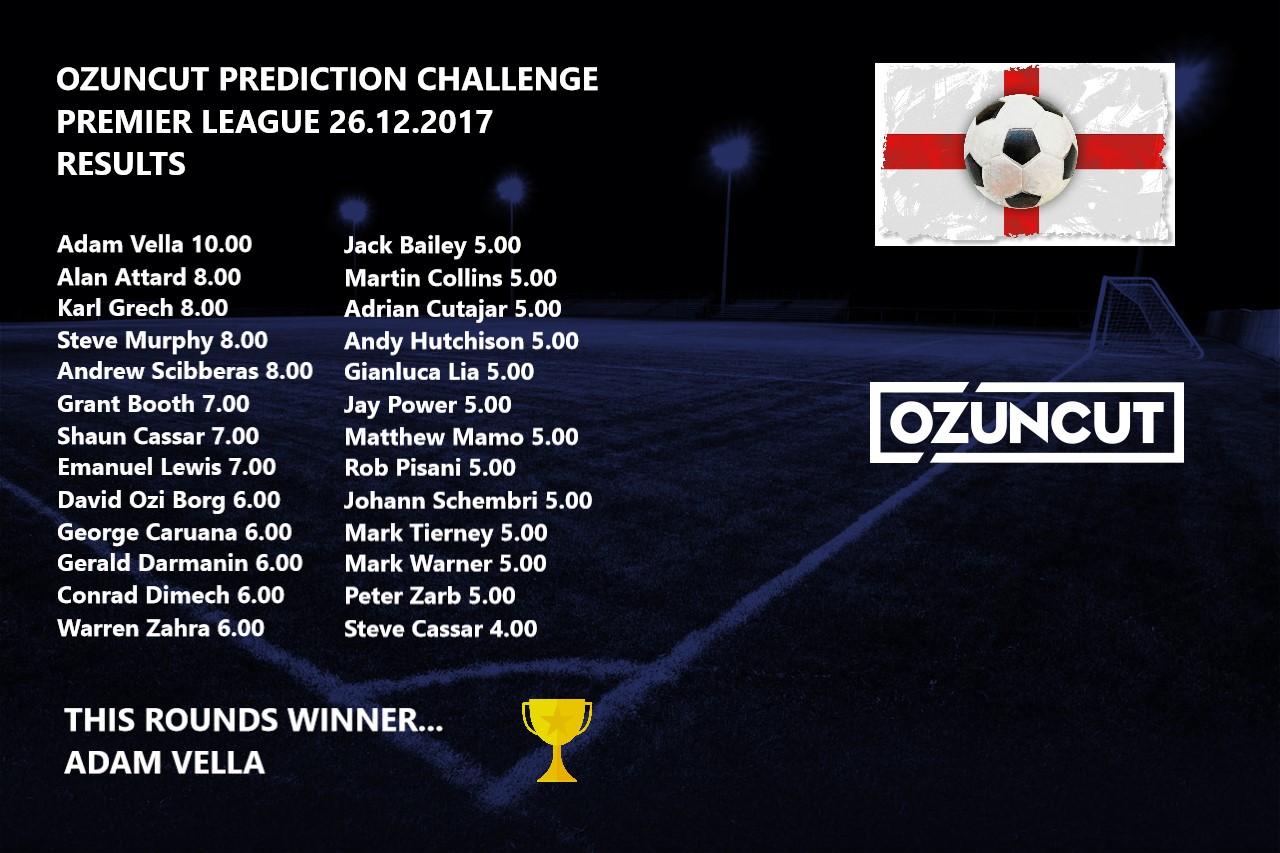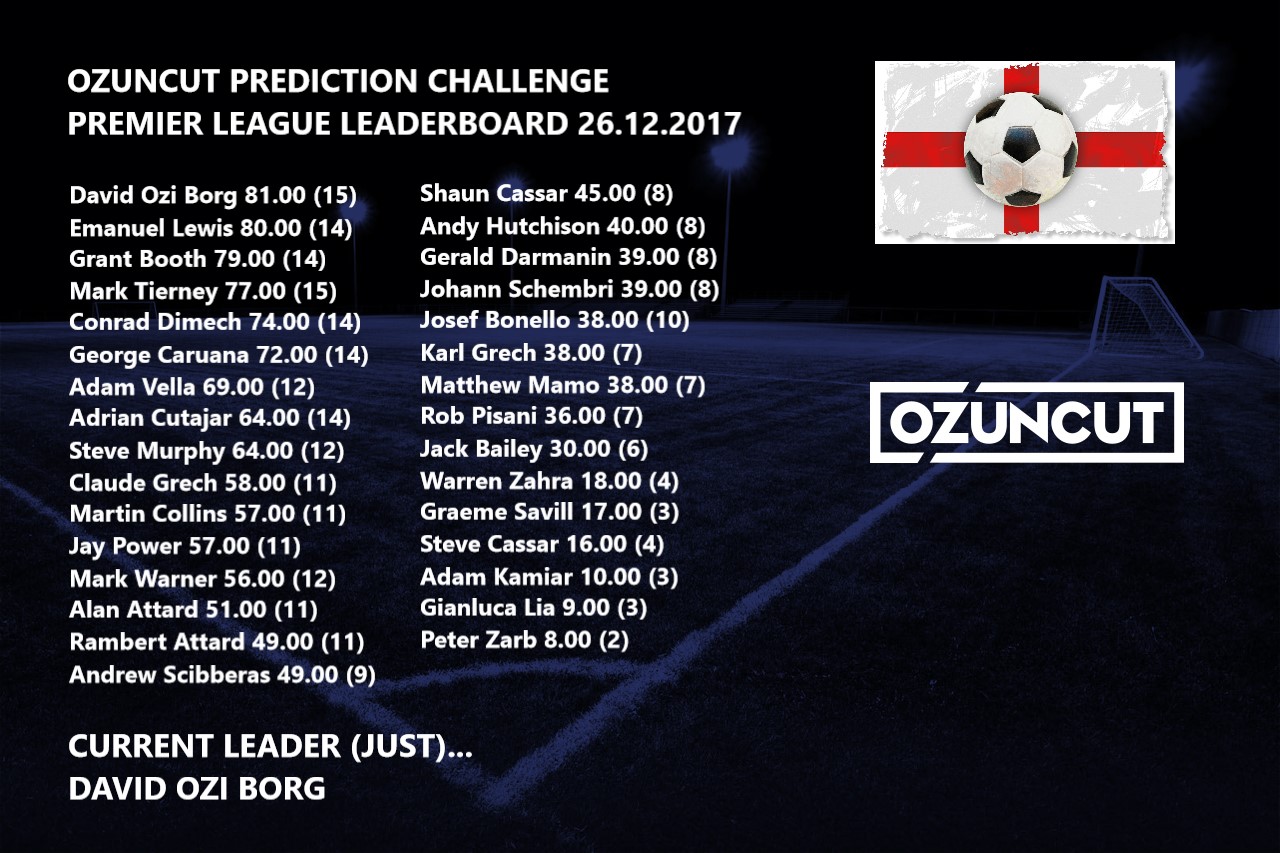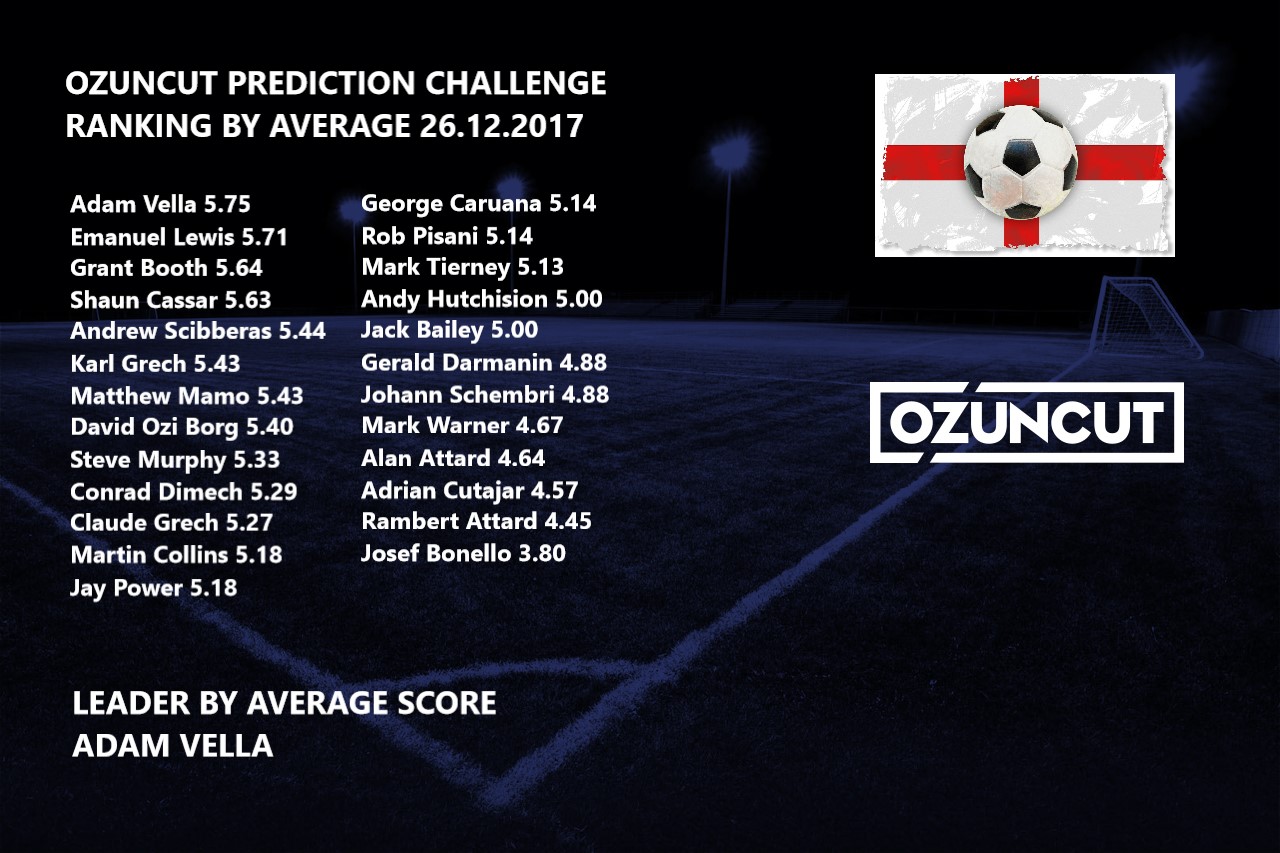 Massive, super stupendous well done to Adam Vella. A PERFECT SCORE. 10/10 is something to behold and Adam nailed it. In fact he is only the second person in our Premier League Challenge to get a perfect score. And only the third across the board. Well done champ. Extremely impressive. It was a decent round for most, with the exception of Steve Cassar who gets the wooden spoon with 4/10. Sorry mate, had to give it a mention. 🙂
As for the leaderboard, well I am hanging onto that one by the skin of my teeth as they say. Just one point ahead and by virtue of having competed more rounds. So it could very well be we will have a change at the top in the very near future. As for the average score rankings, we have had a change. Adam's very impressive round see's him jump above previous leader Emanuel Lewis. An average score of 5.75 is pretty good if you ask me in what is a very unpredictable Premier League.
Well it's now up to the rest of us to keep grinding, keep predicting and keep improving. Don't forget to tell your mates…. We will have a new round of games coming out in the next couple of hours…… No rest for the wicked.
Peace, out.