OH YEAH! The weekend is back baby. I have to be completely honest, I kind of missed "proper" footy this week. Just a few relatively low key FA Cup replays is all we had to chew on since Sunday. But don't despair football junkies, a full round of fixtures in both the Premier League and Serie A await our Prediction Challenge and your prediction skills.
I am not sure if its just me, but the Prediction Challenge has been really tough of late. Whilst occasionally frustrating, isn't that really why love watching football? It's unpredictability? That is certainly why I love it. And believe you me, there are some pretty tricky games to pick this coming weekend. So, let's get to it. I have put my very large, dandruff ridden predicting hat on and have given it my best shot.
PREMIER LEAGUE – Round 19
Let's start with Chelsea. They are on a terrible run of form at the moment. Five draws in a row and they can't seem to score a goal to save their lives. Morata has dramatically gone off the boil. He has missed several one on one chances and looks horrendously short of confidence. Having said that, I just get the feeling they will get back to winning ways this week. Most of the star players were rested for the midweek FA Cup win, so they should be fresh and firing on all cylinders. Brighton have done well considering, but I think Chelsea will be too strong.
Arsenal are another of the big teams to be going through a mini, or not so mini, crisis. You can officially say that the Gunners are now in a transition period, with lots of players leaving or set to leave the club. That uncertainty has shown itself on the pitch too. With some very average performances to say the least. Their loss to Bournemouth last weekend was particularly poor. With all that is going on I can see them continuing to struggle. Especially away from home. Crystal Palace have really seen an upturn in results since the appointment of Roy Hodgson as manager.
I have to be honest, when they announced the appointment, I just couldn't see it as a positive move. But "Woy" is making me eat my word nearly every week. And he has got the Eagles playing some decent football. Wilfred Zaha has been in particularly hot form. I can see a score draw in this one.
Moving to a bit of a north western derby, Burnley by their standards have been having a great season. Well done Sean Dyche. Hell of a manager. Unfortunately for them, even though they have been super difficult to beat all season, I just don't see them getting anything out of this game. Man United, flying slightly under the radar have still continuously been picking up points. And have been in pretty good form of late. So I expect they will get the win. And it looks like they will also have another world class player added to the squad with Alexis Sanchez supposedly on the verge of joining. Look out the rest of the PL.
As for the rest, I think both Liverpool and City should pick up wins without too much stress. And my not so sure, risk of the week is on the Spurs game. I have gone for Southampton to grind out a draw against Tottenham. I am pretty sure not many will jump on that band wagon with me, so you can call that my wild card.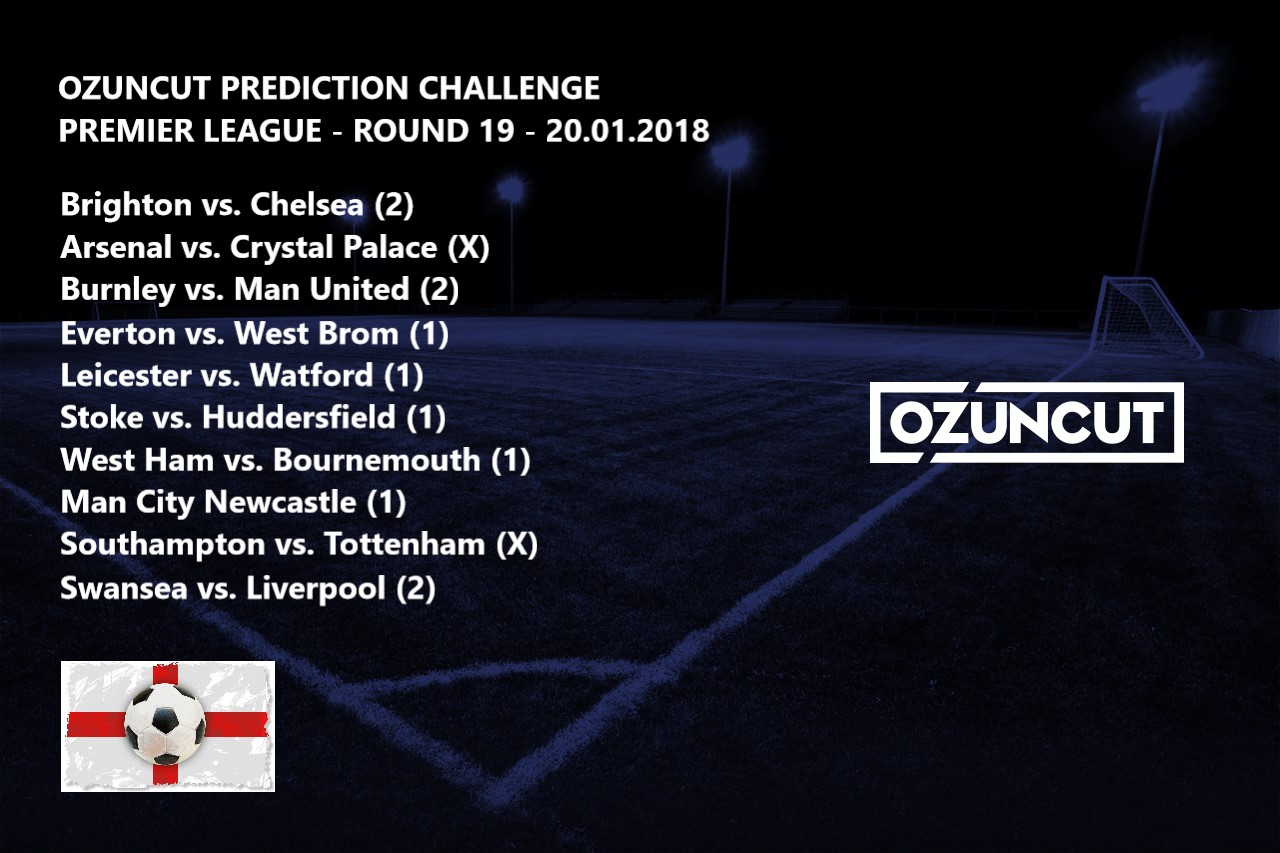 SERIE A – Round 16
It's great to have the Serie A back. I kind of missed it. But it was worth the wait, especially considering they played through Christmas for the first time. And there is a couple of tasty matches to predict. Napoli travel to Atalanta still topping the Serie A. But the pressure is on with Juve hot on their heels and looking extremely strong. No room for mistakes for Napoli. Atalanta have been in pretty good form this season so far so wont make it easy, but I am still of the opinion that Napoli should have enough to get the win.
In my opinion the Inter vs. Roma game is the match of the round. Both teams have struggled of late, especially Inter after such a strong start. Its surprising really considering there are high expectations of both. Spaletti will want to prove something facing his old club, but Roma have a very good team. I can see a cagey affair here and I have got it nailed down for a draw. It wouldn't even surprise me if it is a goalless draw.
I expect easy wins for Lazio and Juventus. But I really wasn't sure about the Cagliari vs. AC Milan game. You would think that Milan have what it takes to get the result, but they have really struggled of late. In fact for most of this season. They have scraped a few results and have also had a couple of surprising losses. So its difficult to say what will happen. In light of that I am predicting a Milan win, but to be fair anything could happen.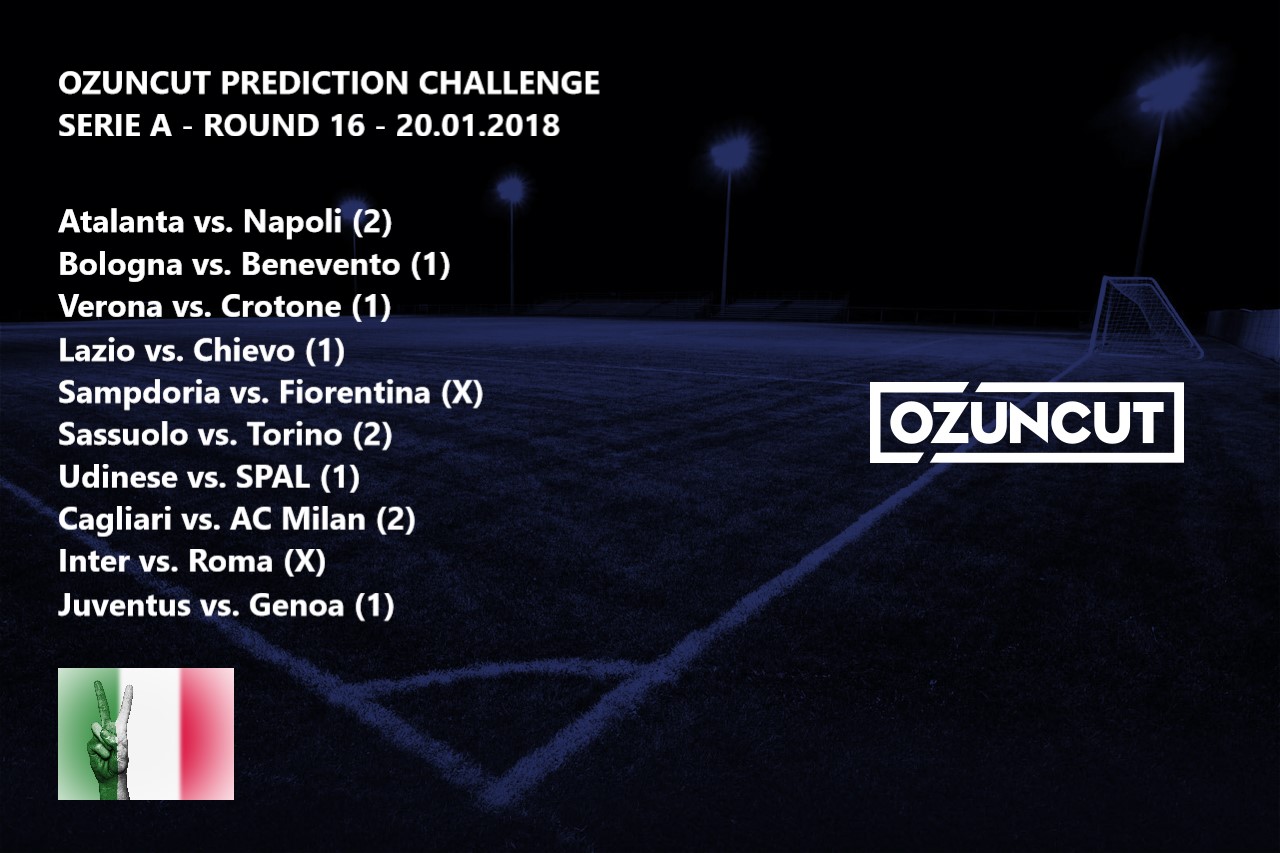 First game kicks off in the Premier League Saturday at lunchtime, while the Serie A round starts Sunday so don't forget to get your predictions in. And don't be frikkin lazy or forgetful either. I swear sometimes you lot remind me of my children. 🙂
For any newcomers the rules are pretty simple, see below.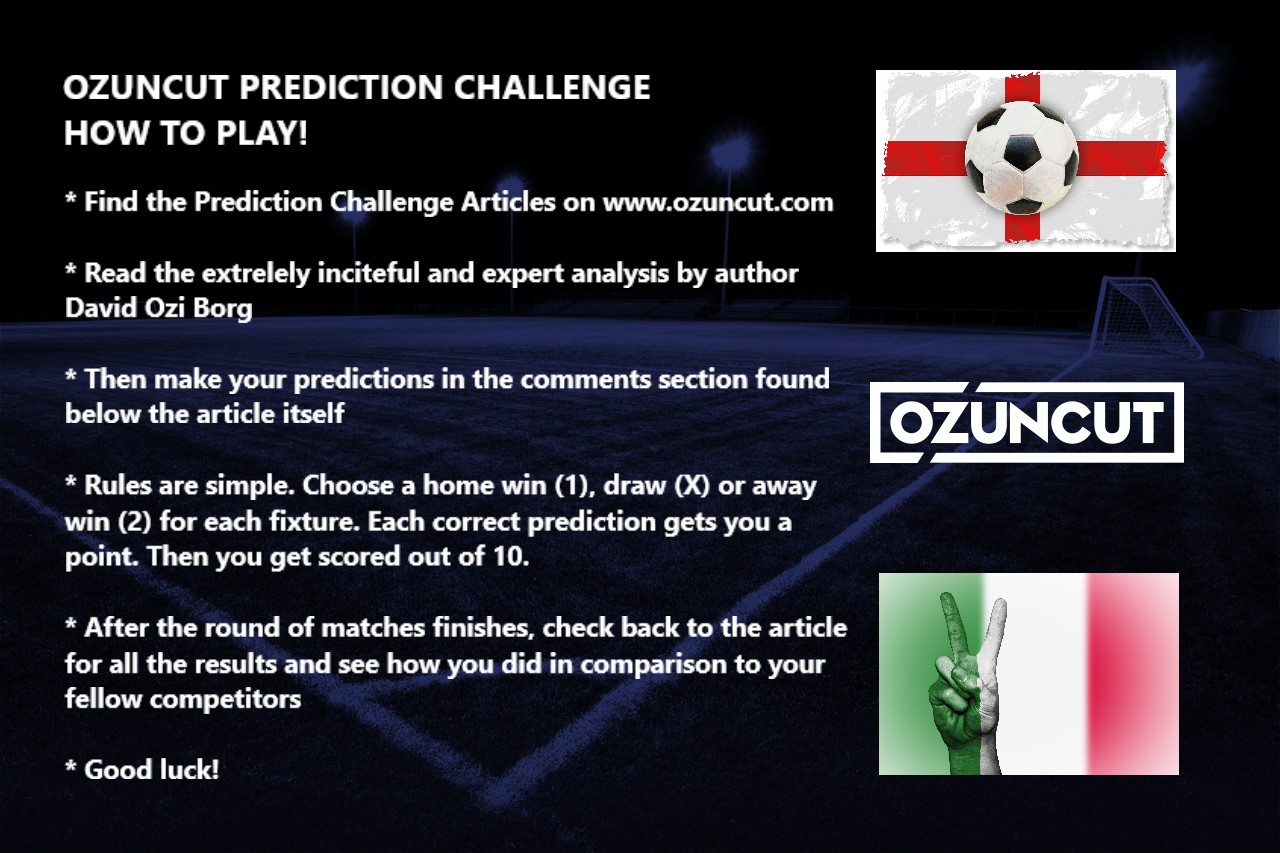 Good luck to all and have a great weekend…
UPDATE 23.01.2018
OZUNCUT PREDICTION CHALLENGE – 20.01.2018 – RESULTS
Hey gang. The results are in. No time for any rhetoric today. Busy, busy busy. So straight to the results.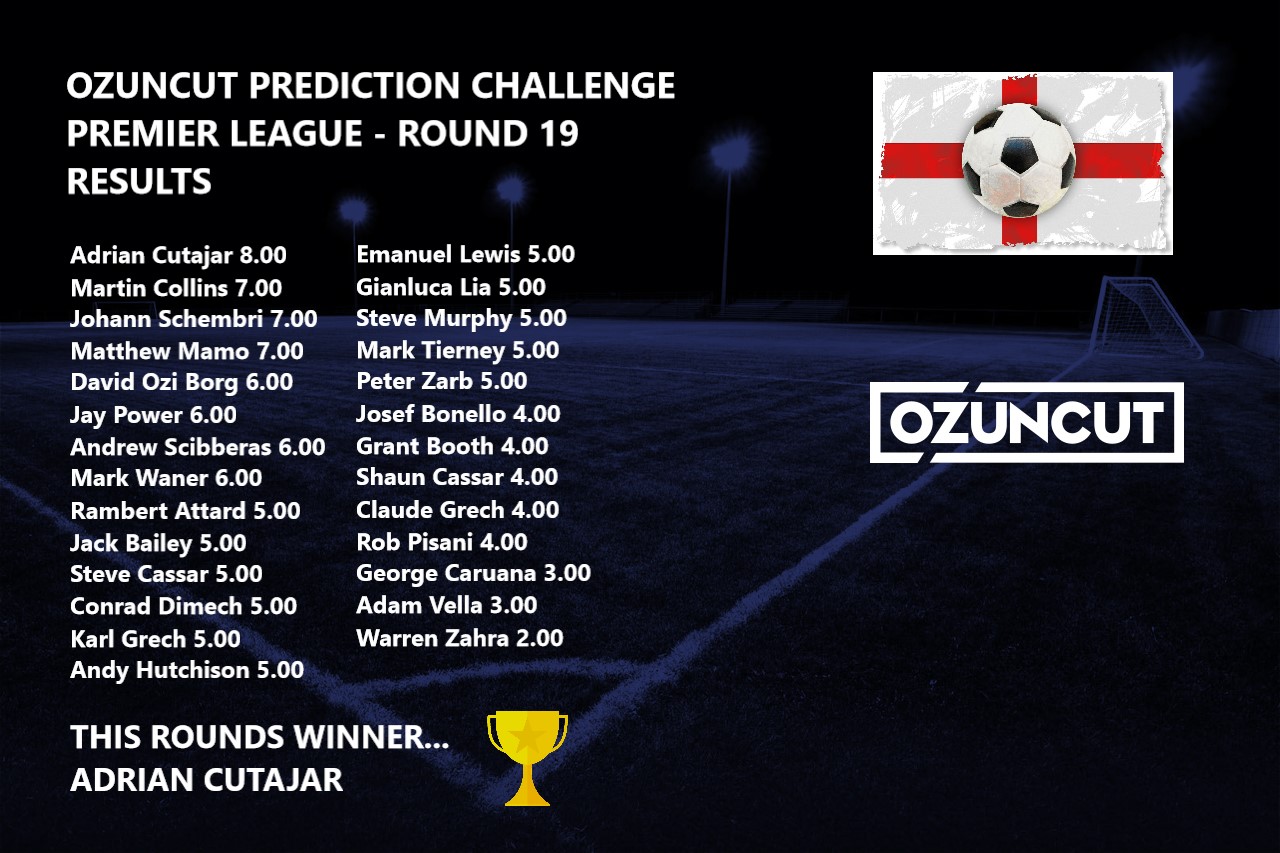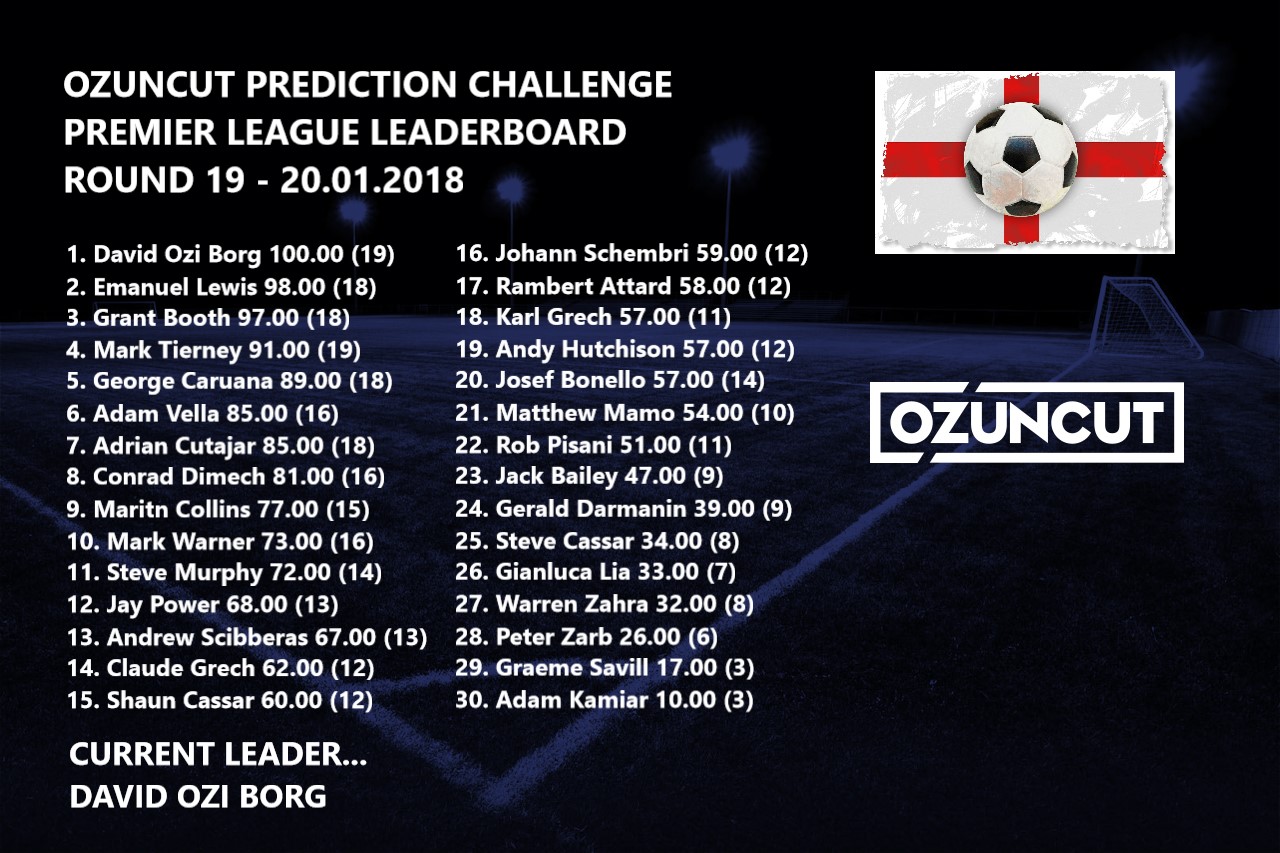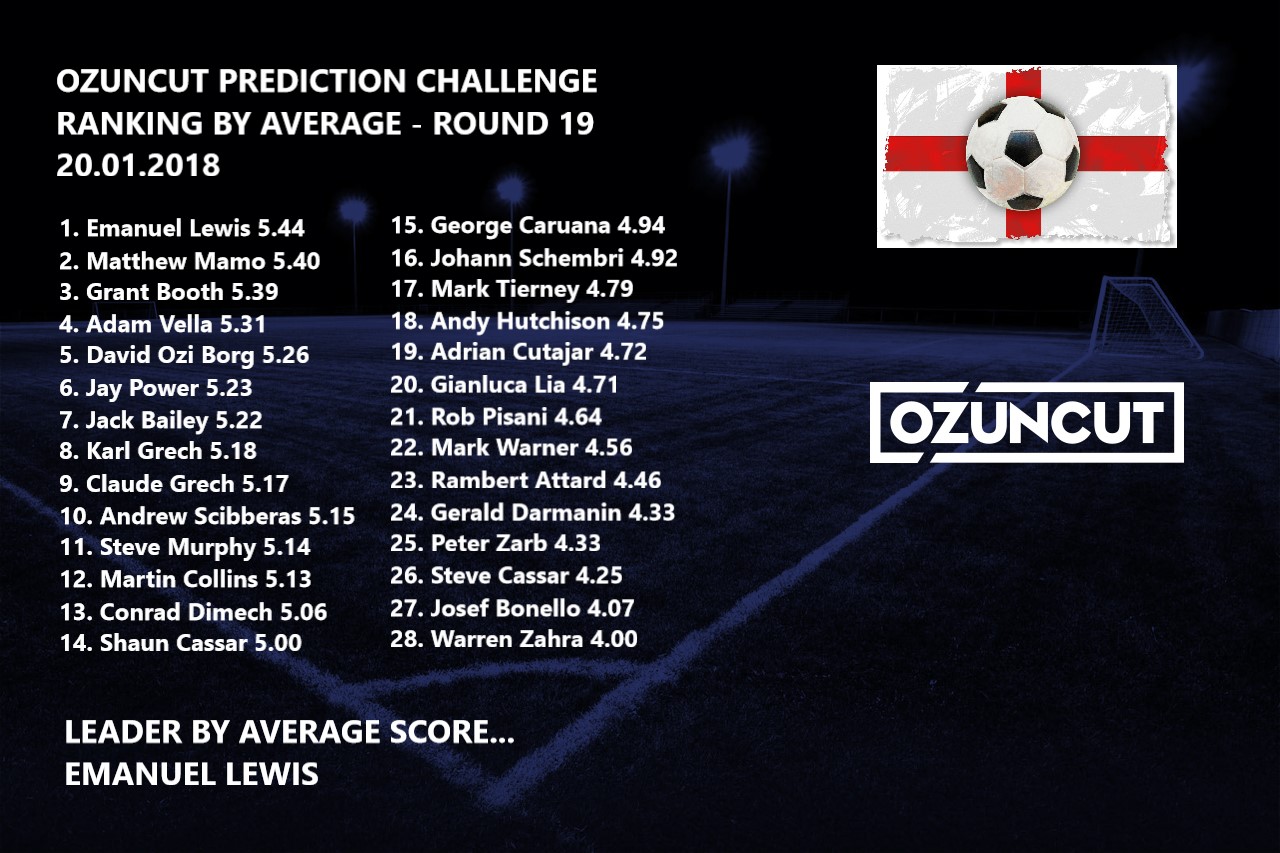 Big well done to Adrian Cutajar who gets the solo win this week with a pretty decent 7/10. Good job my good man. Average score for this round was 5.04/10. I am somehow still holding on at the top of the leaderboard, while Emanuel Lewis has now taken sole lead of the rankings by average on 5.44. Well done to all.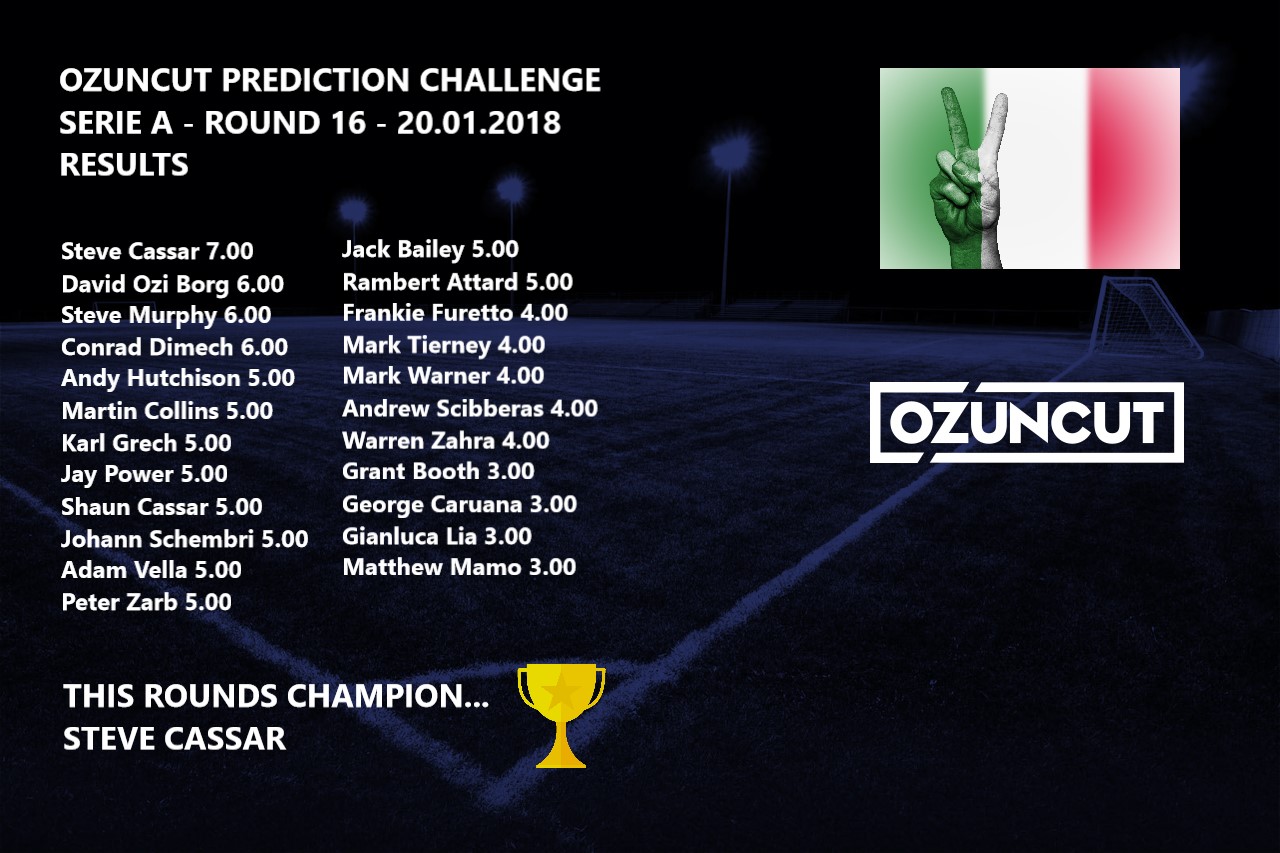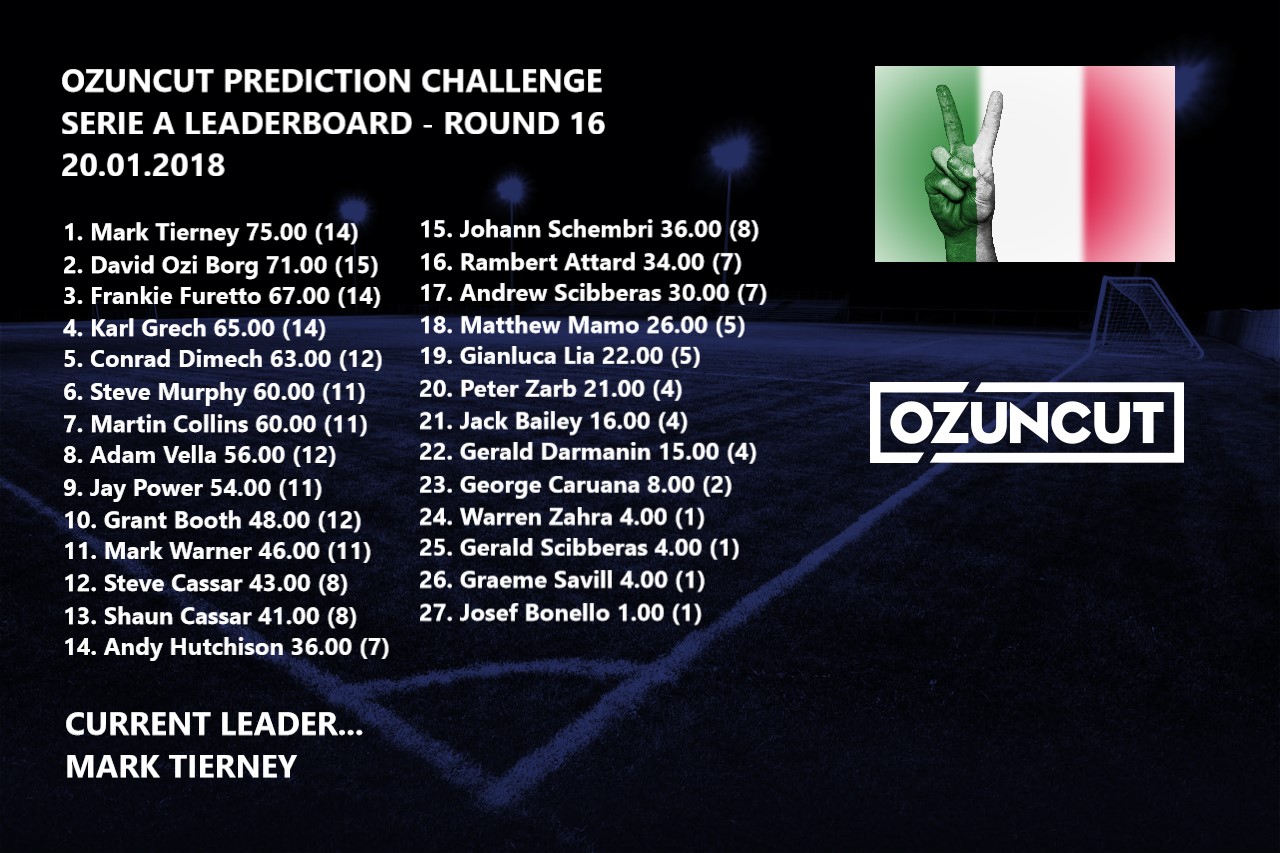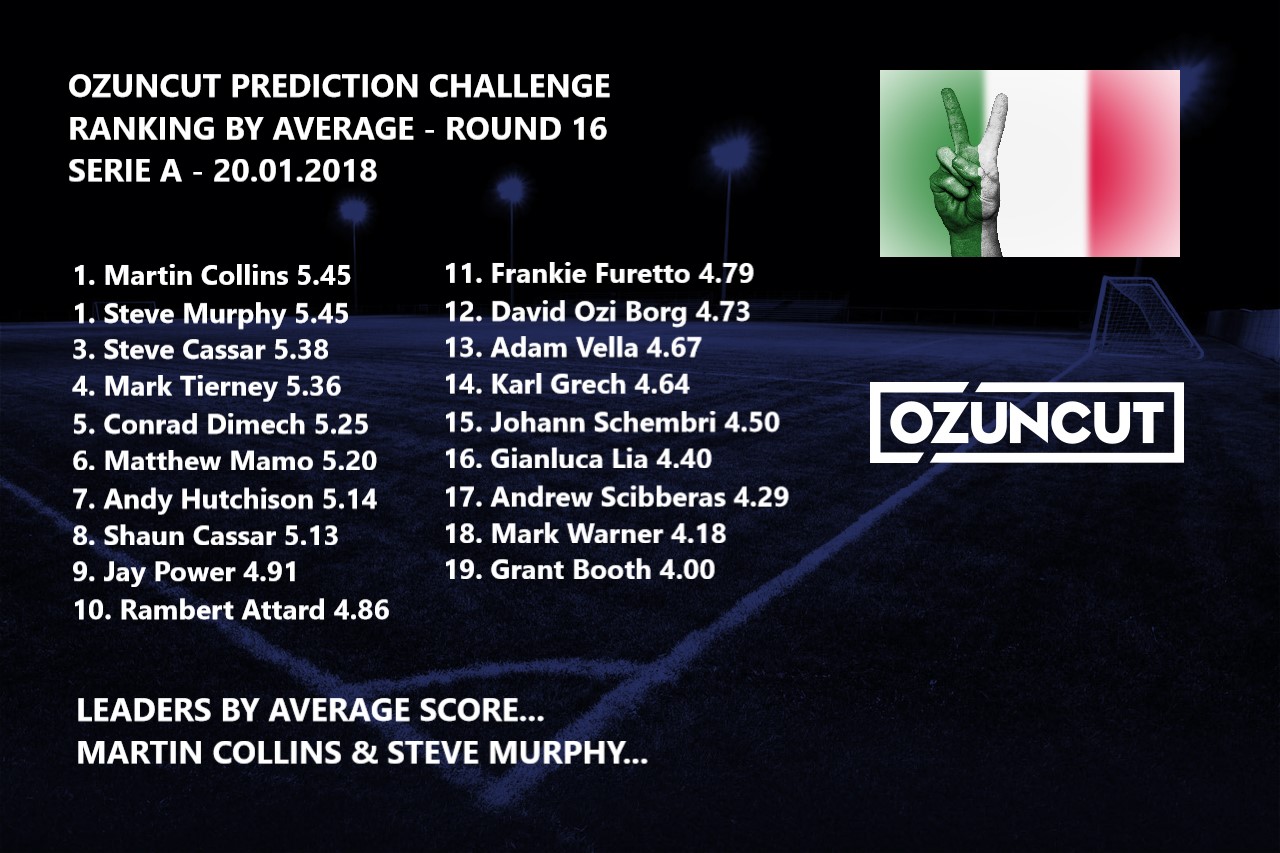 Well done to Steve Cassar, another solo winner this week with 7/10. The average this week was down at 4.65/10. Mark Tierney still has a decent lead on the leaderboard, he will take some catching. Whilst two BRITS lead the rankings by average for the SERIE A. Well done Martin Collins and Steve Murphy, topping the rankings with 5.45.
That's it for this round. Sorry for the lack of insightful bullshit, :-), people to see and money to make. Look out for our next round later in the week. Until then….