Don't you just love Friday. I tell you, I do. It's not just because it's the last day of what is for most people is a gruelling work week. But also because the weekend beckons, bringing with it two things. A bucket full of great football and the OzUncut Prediction Challenge. I know I am the creator, but is it wrong of me to say how much I look forward to the challenge every weekend? Hopefully a lot of you will fully agree with me and feel the same.
So now to this weeks Prediction Challenge and a lot of tasty games of football across both the Premier League and Serie A. In case you forgot the results of the last rounds in either, or just want to have a quick look where you stand click on the links below to refresh your memory.
Right, now onto this weeks challenge. In case this is your first time the rules are pretty simple. All you need to do is predict a home win, draw or away win for every game in this weeks rounds. You can choose to participate in only the Premier League, the Serie A or both. Just head down to the discussion box below this article, put in your details and predictions and bingo, you're in. In case you are not sure, follow the lead of our other predictors. Here is a full lay out of the rules.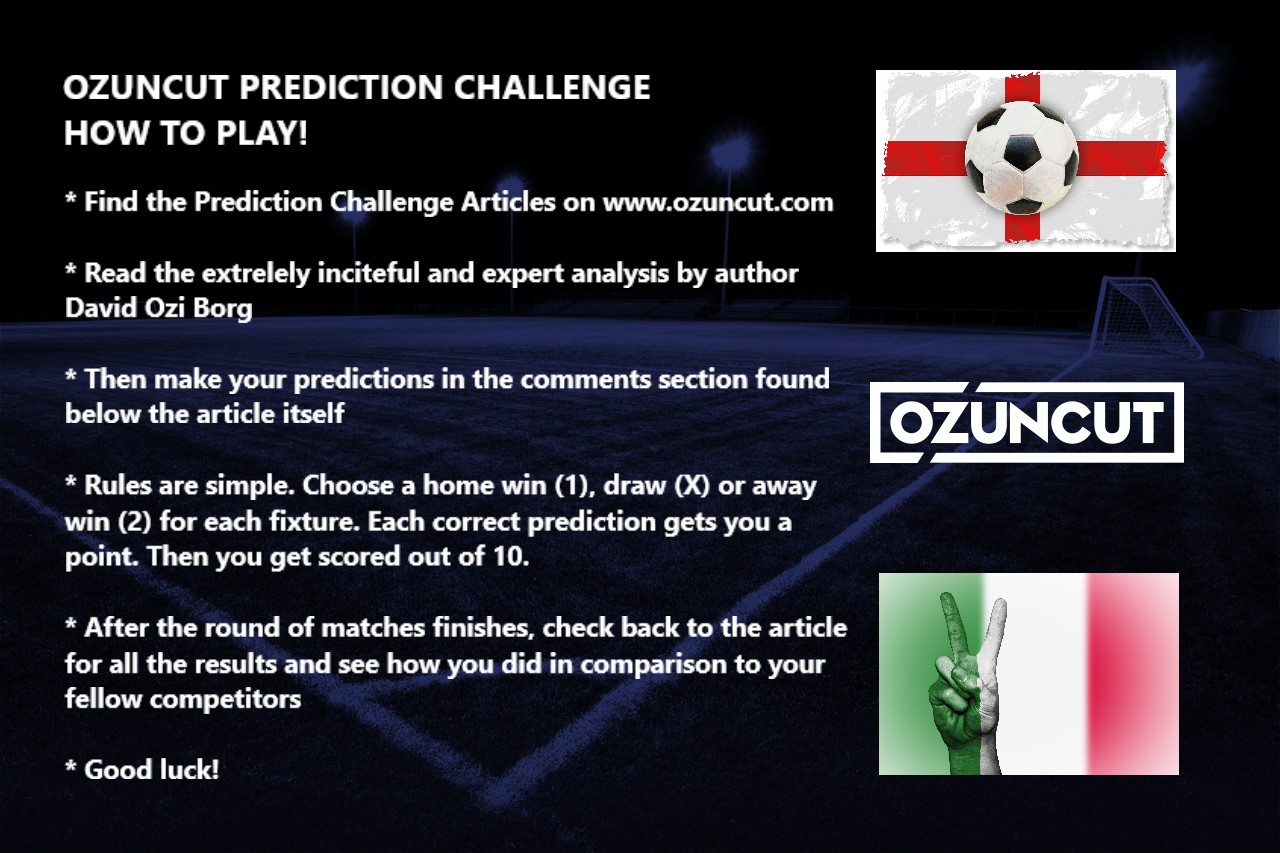 Make sure to get involved and good luck with your predictions.
So let's get down to the details of this weeks challenge and round of games.
PREMIER LEAGUE
I think most would agree that the big game of the round in the Premier League takes place on Sunday at Anfield. Tottenham are the visitors, and both they and Liverpool will be desperate for three points to keep their charge for the top 4 on course. Liverpool were in good form, but then went off the boil for a couple of weeks. Spurs have also been up and down, but have fallen into some form of late. Both teams play great football, so it should be an exciting spectacle.
I am going for a Liverpool win in this fixture, for two reasons. At Anfield, Liverpool (ex West Brom) have been fantastic, especially defensively. The have only conceded 7 goals in 12 matches in the league at home and remain unbeaten. If you add that to their recent record against the other big clubs, for me, they should be up for it and should win. But let's not be stooooopid here. Spurs are a fantastic team and if Kane and Erikson are on form anything could happen. Either way, should be a cracker.
Another game that really intrigues me is Arsenal vs. Everton. Theo Walcott finally left Arsenal for a new challenge and has gotten off to a flying start. In his first two games he has 2 goals and one assist and he surely will feel he has something to prove going back to the Emirates. BUT, Arsenal by all accounts had a decent transfer window. Aubemeyang is a fantastic player who knows how to score goals and will be a great addition to the team. Henrikh Mkhitaryan had a torrid time at United, but is a very good player and has every chance to regain form with a run of games at Arsenal. Add to that Ozil signing on for another few years and there should be a pretty decent atmosphere in the dressing room. Defensively they are still unconvincing, but should have enough creativity and flair to get past a resolute Everton. FYI, Aubemeyang has picked up a stomach bug, and there are doubts whether he will feature tomorrow. That makes predicting Arsenal a bit of a risk, but one I have to take.
I am going for wins for the usual suspects, City, United and Chelsea. See my full list of predictions below.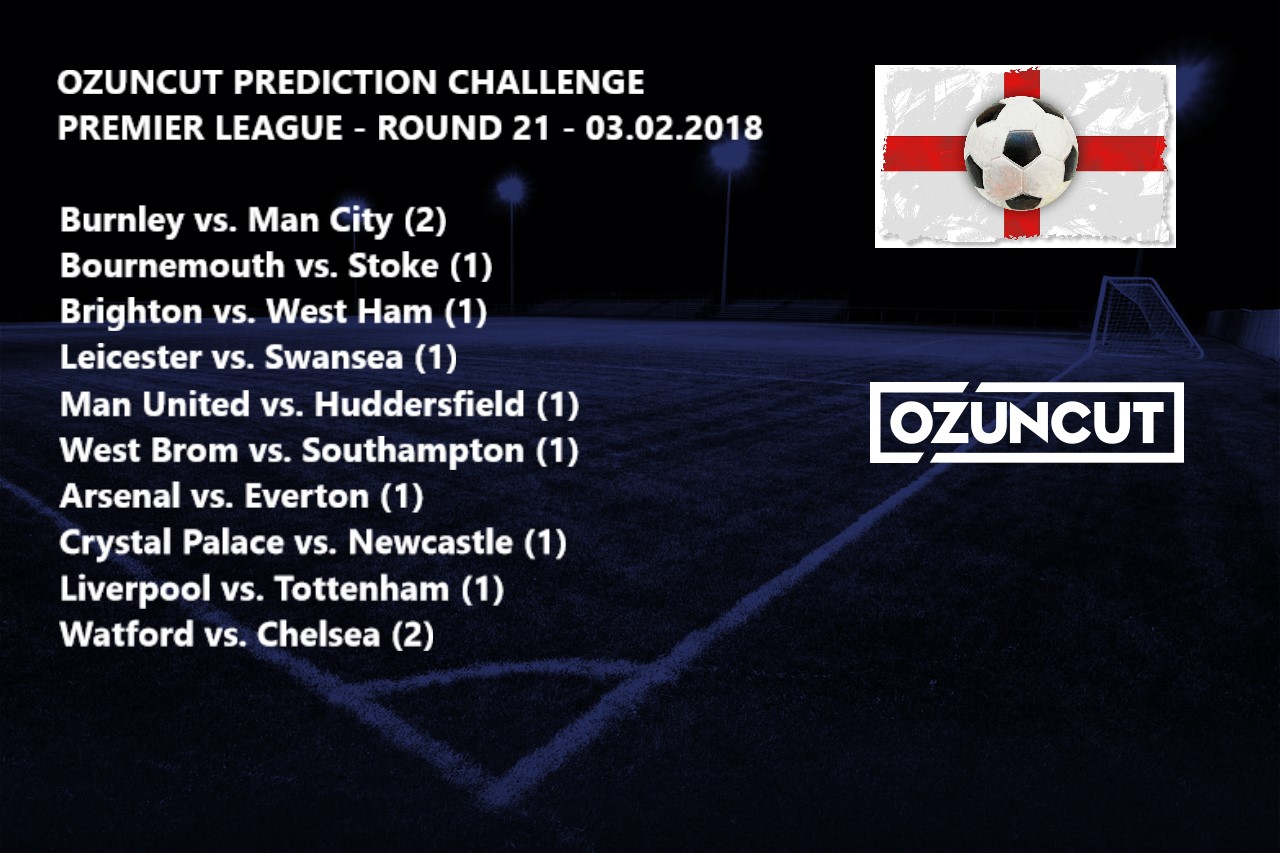 SERIE A
Unfortunately, there are not what you would call any "massive games" in the Italian Serie A this weekend. So not that much to talk about. Sampdoria vs. Torino should be an interesting match. Both teams, especially Samp, are having very good seasons and are only separated by 5 points in the league. That is why Torino will be highly motivated to try to get the win. However, Sampdoria have an excellent record at home this season, winning 8 of their 11 matches. In saying that Torino have kind of been "draw specialists" on their travels, and for that reason I am predicting a draw.
I have also gone for a draw in the Udinese vs. AC Milan game. This one should also be a tasty encounter with both teams only separated in the table by two points. So their is position to play for. For Milan, it seems things may finally be starting to click under new coach Gattuso and they seem more difficult to beat. I think this game has draw written all over it, so that is what I will stick with.
I think Inter, Roma, Juve, Napoli and Lazio should all have little trouble getting wins this weekend. You can see my full list of predictions for the Serie A below: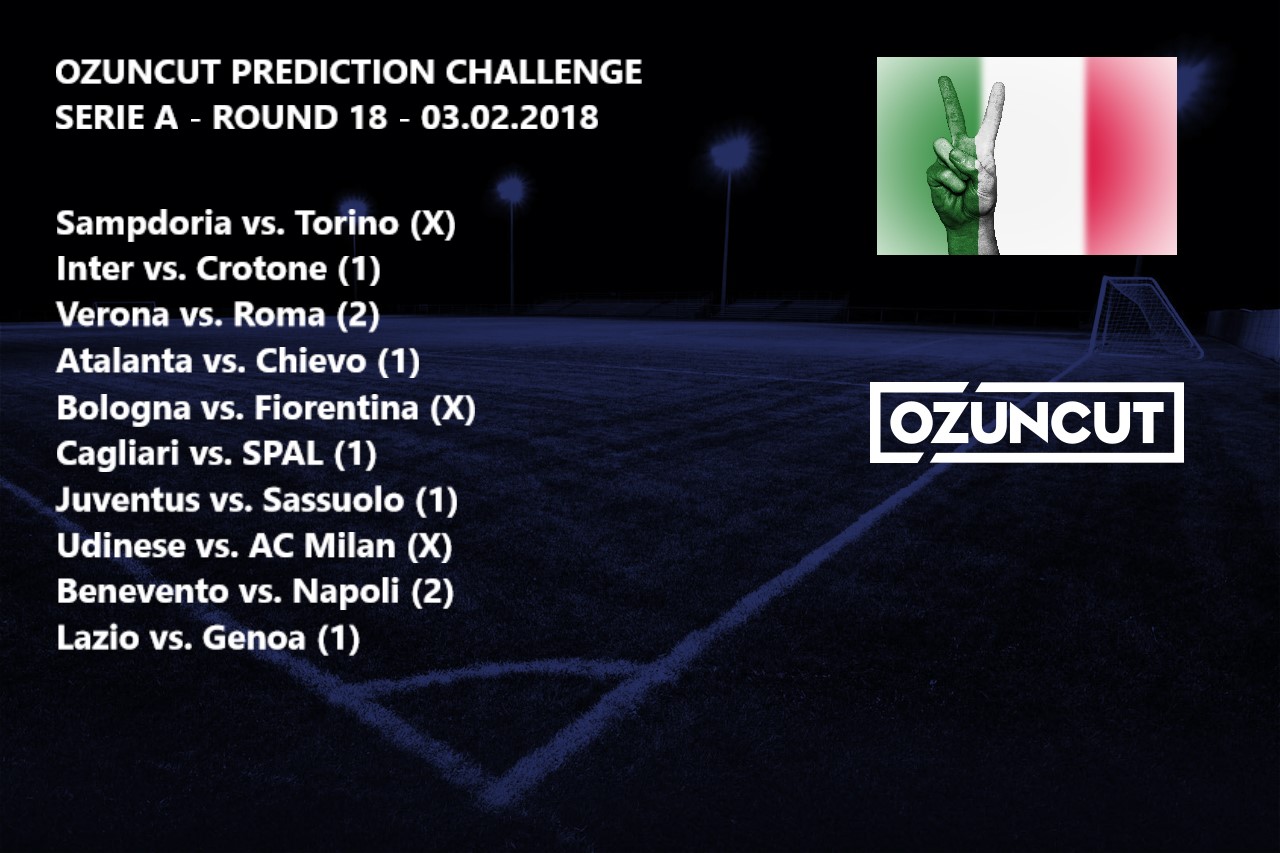 Don't forget people that kick offs in the Premier League and Serie A are at 13.30 CET and 18.00 CET respectively. So make sure to get in all your predictions by those times. I wish you all a fabulous weekend and happy predicting.
Oz…. out.
UPDATE 06.02.2018
OZUNCUT PREDICTION CHALLENGE – 03.02.2018 – RESULTS
Good afternoon all. Results are in, slightly late admittedly, but I am a busy man haven't you heard? 😉 Any way, just a bit of commentary to lead us in. Things have been really heating up in the competition and we now have a solid base of serious competitors. I love it. Also the private chat group is discussing some interesting topics, so well done to all for creating such a great fan environment.
Now to the results and we will start with a look at the Premier League. And the winner is…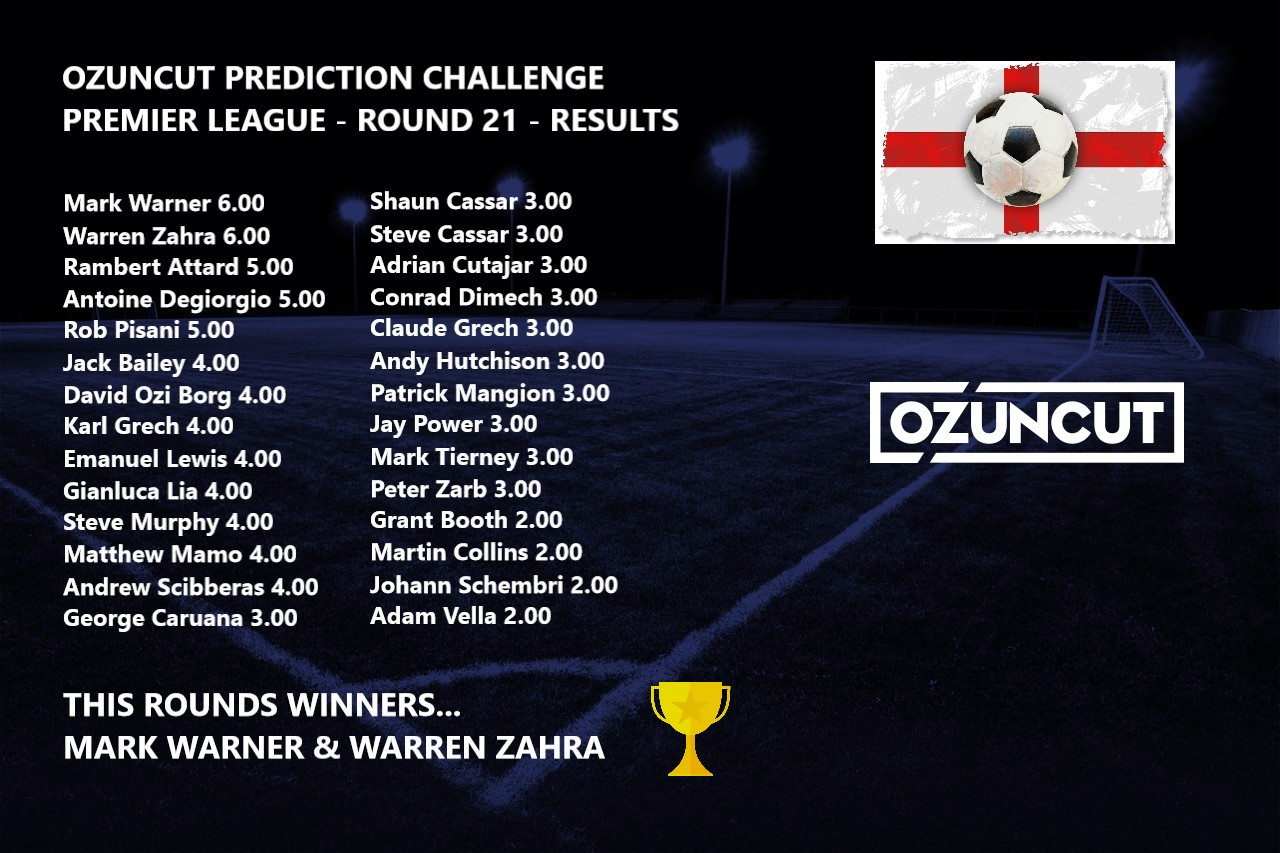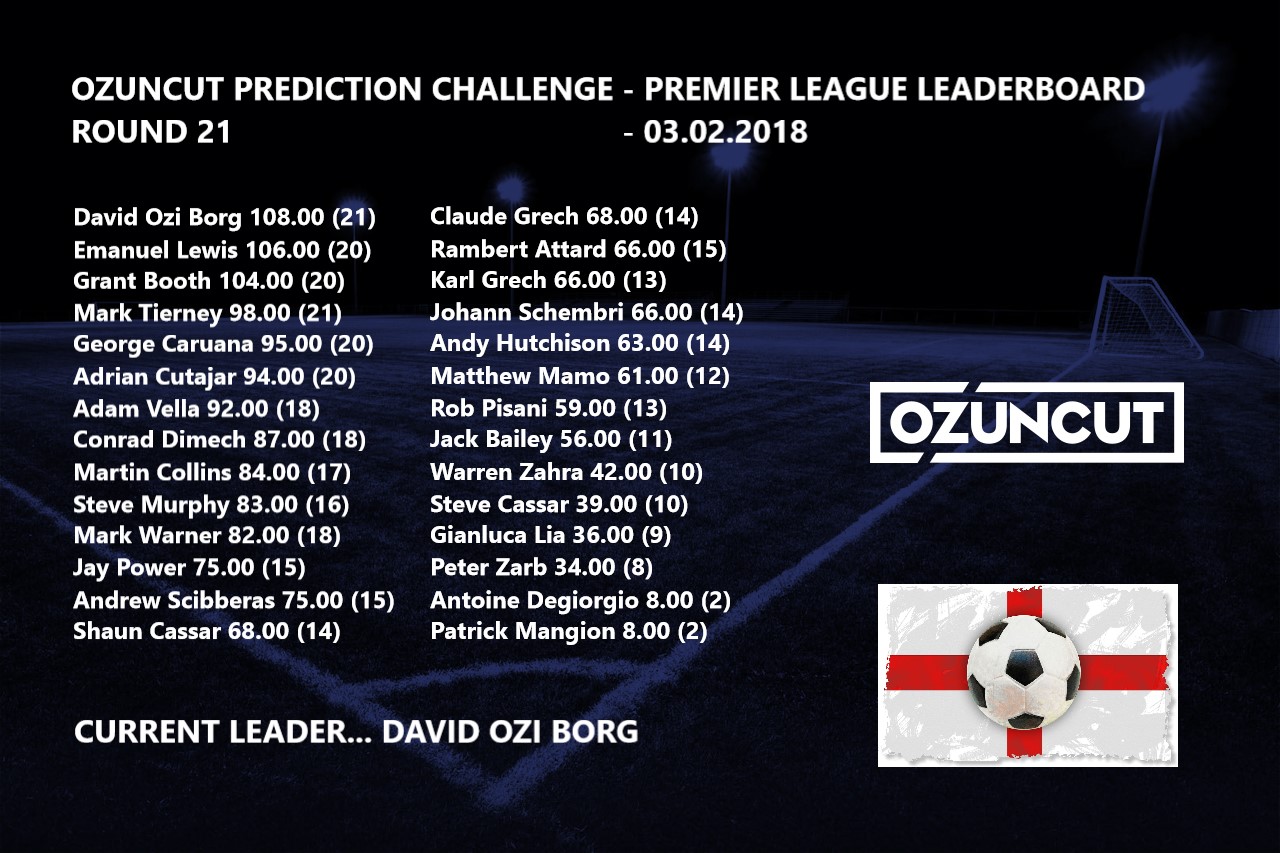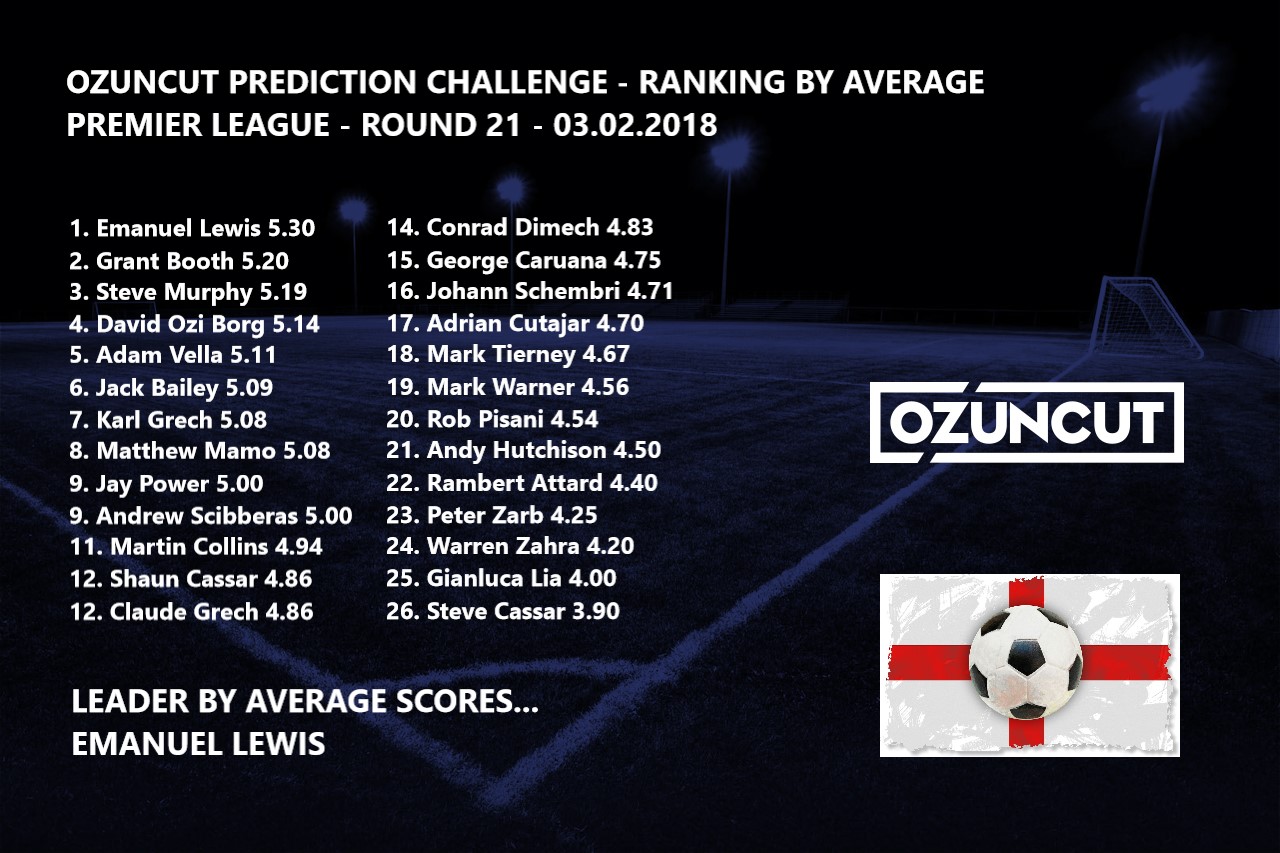 Congratulations Mark Warner and Warren Zahra. It actually was a really difficult week prediction wise with an average score of only 3.57/10. So a score of 6/10 is actually a really good achievement. Well done to the both of you and I hate you. Sorry that was my ultra competative alter ego speaking. Seriously though good job lads. For those of you who scored a measly 2/10 all I can tell you is to think of the sound of a bell ringing and me and the rest of the lads shouting "SHAME". Enough said.
Somehow I am still managing to hold the top of the leaderboard, not sure how. I am also happy to have climbed a spot to 4th in the Average rankings where Emanuel Lewis now holds the solo lead. Grant Booth's poor week saw him slide not so comfortably into 2nd. As for the rest of you how are you all doing? Happy or disappointed in your performances? Don't forget to share your comments and experiences. 🙂
Now we can take a look at this weeks Serie A results. Actually, collectively a pretty good week for all with the average up at 5.61/10 which is extremely good. Here are all the results…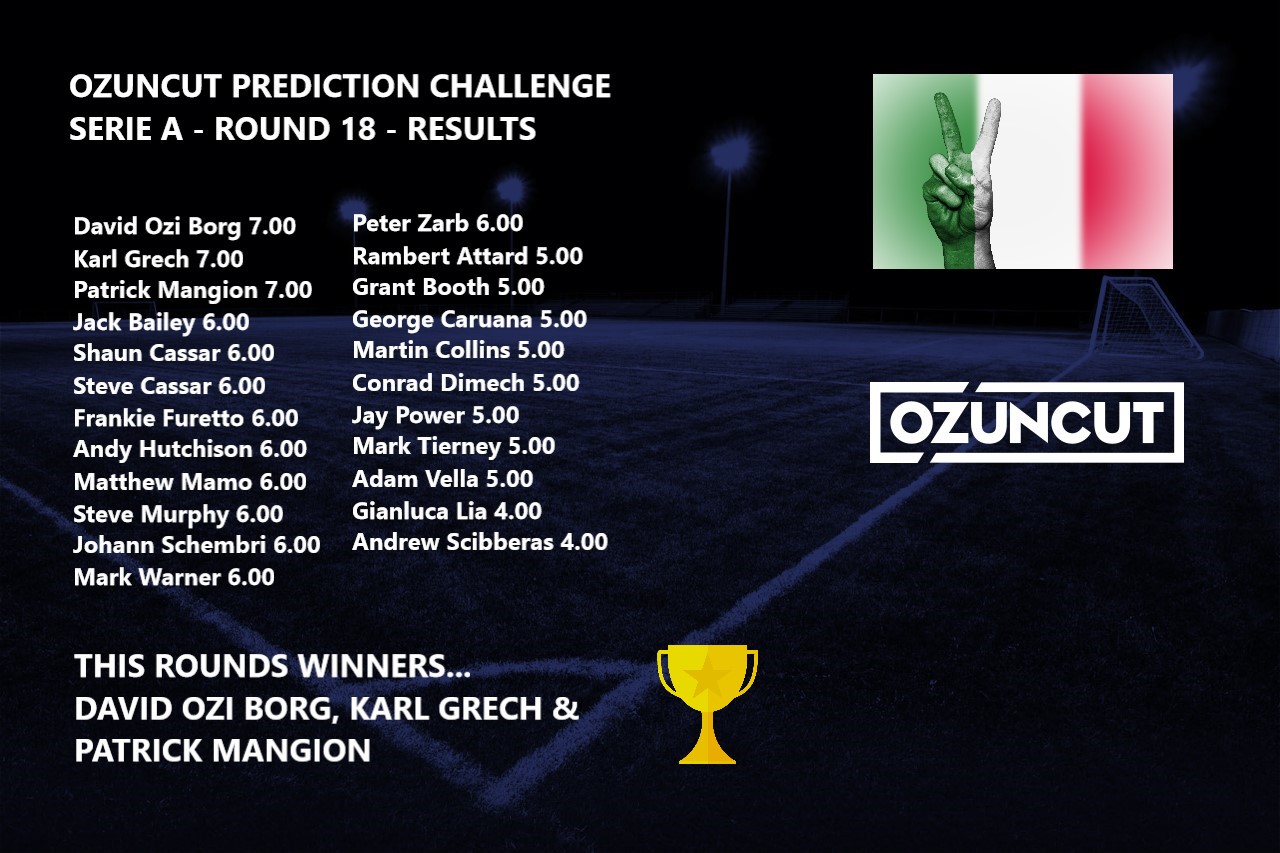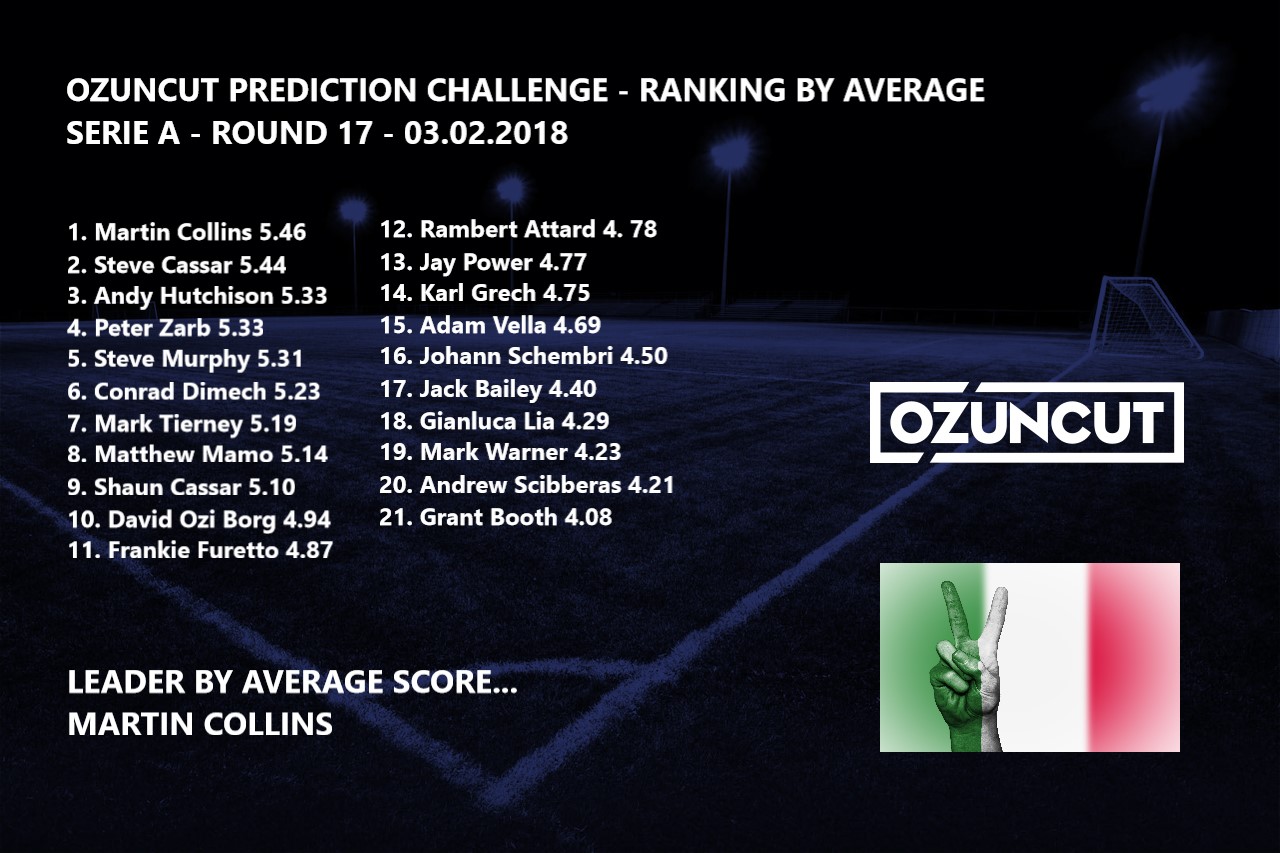 I am delighted to say that three of us scored 7/10 this week and share the spoils. Myself, Karl Grech and newcomer Patrick Mangion (especially impressive) doing enough to enjoy bragging rights. But it was a pretty close round. A lot of 6's and 5's, so it was small margins that made the difference. I will take the win though as I am sure Karl and Patrick will do.
It's now where I expect shouts of a conspiracy to begin to pick up steam especially from a certain Mr. Mark Tierney. That is right I have now claimed top spot in the leaderboard. Let me clarify, there is a bit of a typo in the results chart which says I am on 87.00 points. Not the case. In fact I am on 84.00 which happens to be just above Mr. Tierney. Man it feels good. I just want to warn you all, I expect the bitter Scot to wage some kind of slander campaign against me. He is after all very competative and excessively cynical. But don't believe a word he says gents. I am about as ANGELIC as they come, a straight shooter. You can all trust me. BWAHAHAHAHAHAHA.
Another Scot, not so bitter as the aforementioned is on top of the Average Score rankings. Good job Martin Collins. It's close up there though, so I wouldn't be resting on my laurels if I was you..
So another weekend has gone and another round of predictions done and dusted. We are back again this coming weekend for another huge prediction challenge. Until we next meet…