Well after a hectic period for our Prediction Challenge over the holidays, we have been fortunate to have it kind of easy the past few weeks. And again this week it's going to be relatively relaxed. In England, it's cup weekend so no league action, just FA Cup. Which for us means we get to focus our attention on matters of the Italian kind. The Serie A has a full round of league games for us to focus our obsessions on.
So let's have a quick look at where things stand in our Serie A prediction challenge. Steve Cassar took the plaudits in the last round with a 7/10 score. I believe it was his first round win. Great stuff. When it comes to the leaderboard, Mark Tierney still has a pretty healthy lead, but I haven't given up hope of catching him. And of course the most relevant and accurate table of performance and ranking is our rankings by average table. Martin Collins and Steve Murphy lead that table, but it's pretty tight at the top. It only takes a few good rounds to shoot you to the top.
So let us get to this weekends matches. It all starts off Saturday evening when Sassuolo take on Atalanta. Sassuolo had a bit of a good spell over the Christmas period with a couple of consecutive victories. However since the turn of the year they have struggled once more. Sassuolo are really struggling to score goals and have the second lowest goals scored in the entire league. On the other hand, Atalanta are really having a decent season and know how to score a goal or two. So I have to go with an away win here.
Also on Saturday, Juventus travel to Chievo and I can't see anything but another away win. Juve are in fantastic form, and while they are not blowing teams away, they still look almost unbeatable. I still think they must be favourites for the title although I am hoping with all my being that it won't be the case again. COME ON NAPOLI.
Speaking of Napoli, they take on Bologna in Naples on Sunday. Not going to be an easy game. Bologna have managed to get some results away from home. Still I would expect Napoli to have too much quality. At least I hope so. Inter travel to SPAL hoping to turn around a pretty poor run of results. No wins in 5 for the Milan club no where near good enough especially considering the great start to the season. BUT, surely they can't screw it up against lowly SPAL can they? Too risky to go against, going with an Inter win. For me the most difficult game to predict was AC Milan vs. Lazio, but I have gone for an away win. Lazio have again been on good run the past few games and after a short blip seem to be back on track.
Here we go… see all my EXPERT predictions below. 🙂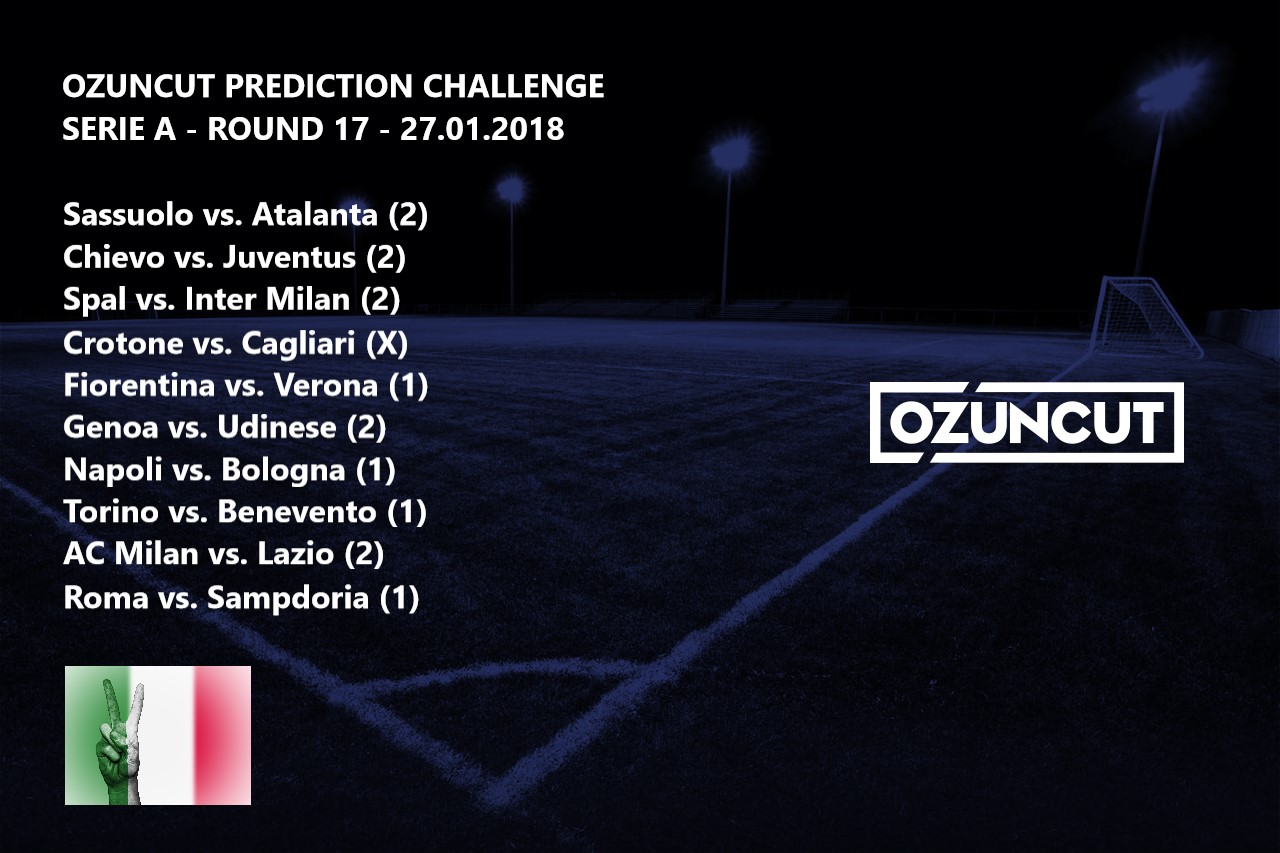 Just in case you are new to our challenge, firstly welcome. And secondly the rules of the game are really simple. Have a go, take the challenge and see how you do. Here are the rules.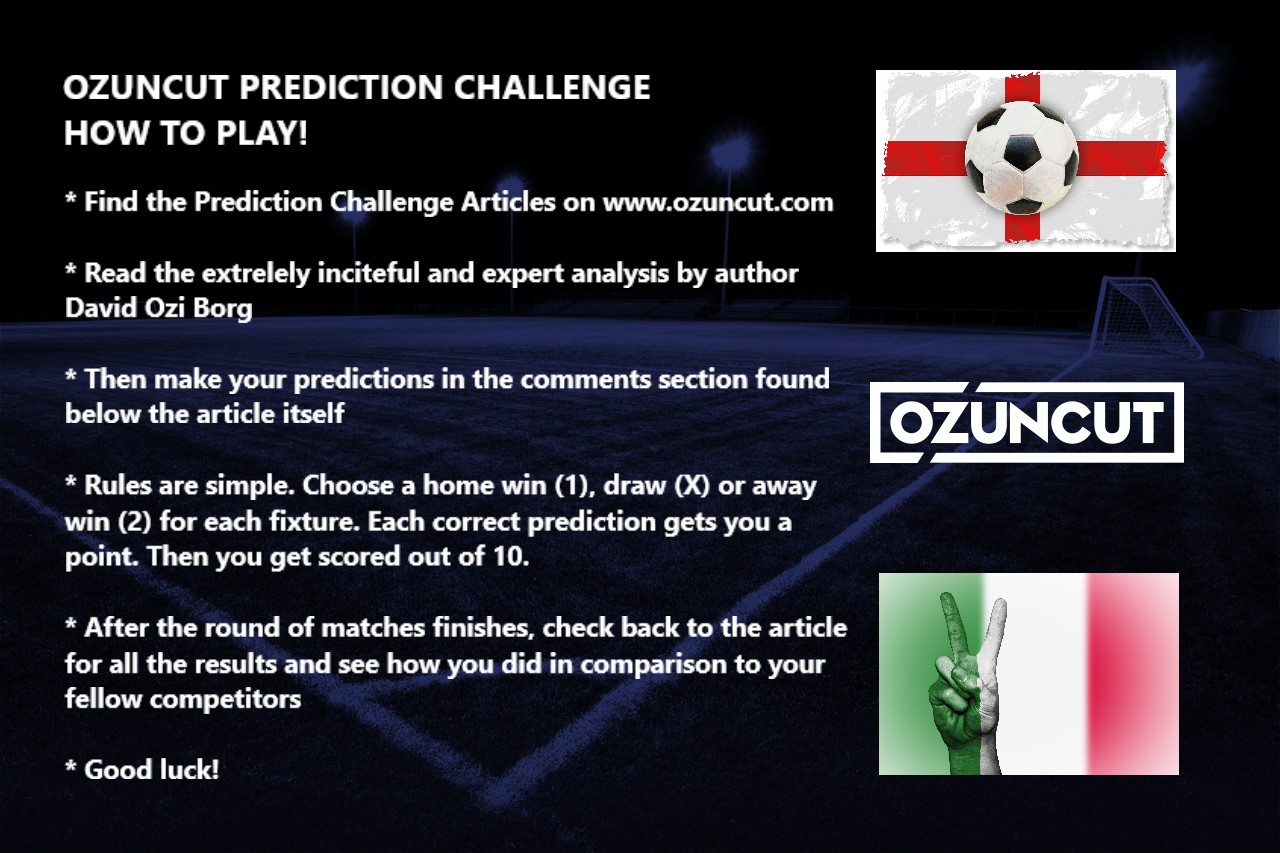 Competitors, please make sure to have your predictions in before Saturday 18.00 CET. And good luck.
UPDATE 29.01.2018
OZUNCUT PREDICTION CHALLENGE – 27.01.2018 – RESULTS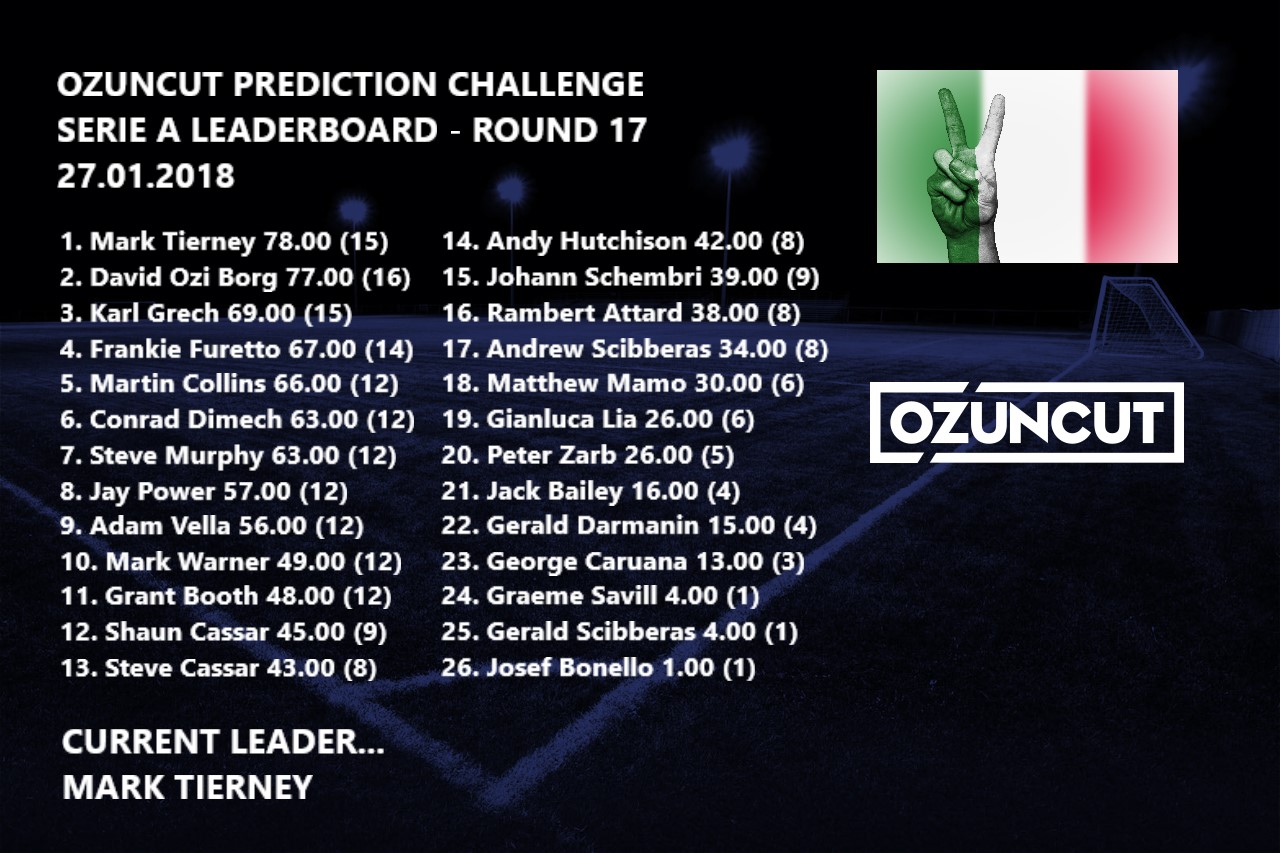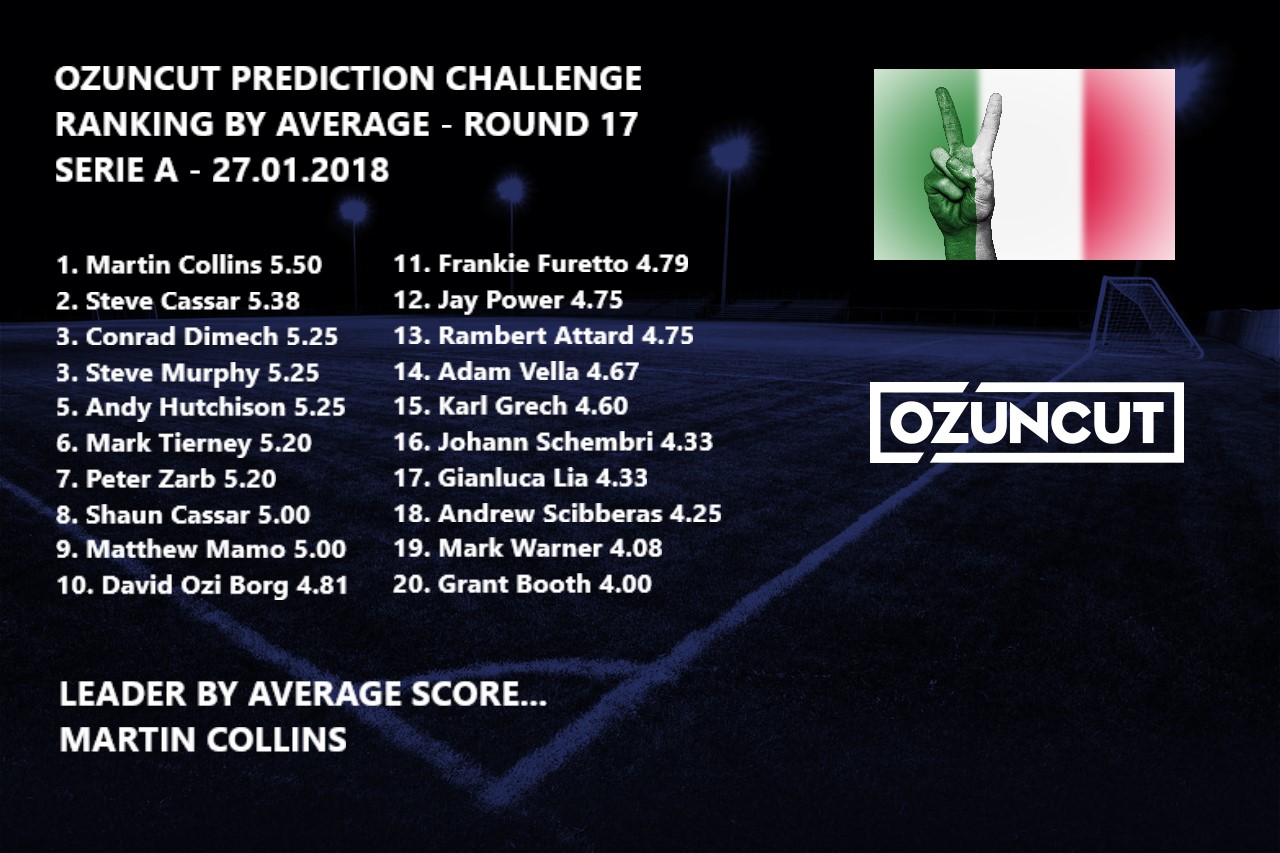 Not too much time for jibber jabber today so I will get hit you with the fine points. Well done to ME, Martin Collins & Andy Hutchison who were the only competitors to have a decent round. We all managed an okish 6/10. The average score for the round was 4.19.
In terms of the Leaderboard, well Mark Tierney still holds on to that. BUT i have managed to bridge the gap significantly and now find myself just 1 point behind him. I am coming to get you Tierney, beware. And finally for our Ranking by Average. Martin Collins the leader of the pack with a pretty decent 5.50/10. It's pretty tight at the top though, so Martin you have to stay on your game if you want to keep top spot. 🙂
Well done to all, it was a fun round with mixed results.
As a final point, I have noticed that some people are getting a bit lazy and forgetting their predictions. I know it's just a bit of fun at this stage, but it's a shame to see people putting in effort and then because of a couple of weeks dropping off the pace or losing interest. Try and give your self a reminder if you can and look out for my emails. I always send you one before each round.
Next round again starts tomorrow for PL competitors so expect another post by the end of the day. Cheers all…