Hello my fellow football fans. After what has been a fairly relaxed week football wise, we are back for yet another round of the OzUncut Prediction Challenge. If you are busy and stressed, don't fret. The Serie A is on winter break, so all we have to focus on this week is the hustle and bustle of The Premier League. And boy is there a massive weekend of Premier League football coming up.
But before we get to that, I have noticed over the holiday period the numbers dropped a little. I can understand it at that time of year because a lot of people like to switch off. But just remember the competative side of things. If you miss rounds, you miss points and others go ahead of you. I try my best to provide you with as many reminders as possible, so do your best to not drop the ball. 🙂
Now to the weekends football. Undoubtedly the GIGANTIC game of the round takes place at Anfield on Sunday when high flying Man City take on Liverpool. I have to be honest with you, as a Liverpool fan this game scares the s**t out of me. In the reverse fixture, City hammered us 5-0, but in fairness the game was pretty close until Sadio Mane got sent off. Plus this game will take place at Anfield which has become a fortress once more. But one thing concerns me greatly with this fixture. The difference in quality in midfield. While Man City have De Bruyne, David Silva, Toure & Bernardo Silva, Liverpool have Henderson, Can, Wijnaldum, Milner and Lallana. To me there is a massive difference there. Especially when one talks creativity.
In my opinion, Liverpool have the best attack in the league, and defensively both teams have had ups and downs. But I think it is in the midfield that this game will be decided. I have gone for a draw. I will admit to you all that I originally went with a City win. However at Anfield, I think Liverpool might be able to get something from the game. Of course I will be hoping with all my ample being that Liverpool can tame the mighty beast and get the win. But whatever the case it will no doubt be a cracking game. I can't wait.
Other games of note, Chelsea take on Leicester. For some reason the rumours of Conte leaving at the end of the season just won't go away. And to me that is absolute madness. He won the title in his first season. Is a fantastic tactician, and shows the sort of pride and passion that fans really embrace. But this is Chelsea who have had 13 managers in 14 years. RIDICULOUS. As for Leicester, after a good start under new manager Puel, it's a little bit of a mixed bag. So difficult to say which Leicester will turn up. At the end of the day, whatever team turns up you would still fancy a home win, and I do.
Spurs vs. Everton could also be an interesting match. You would expect a Sam Allardyce Everton to defend deep and choke the midfield. So this game will come down to whether Spurs will be able to break them down or not. I think they will. Surely Harry Kane will get one opportunity and the boy doesn't miss to often. Spurs to win for me. United should also win at Old Trafford, whilst I have gone for a rather dire Arsenal to only manage a draw away to Bournemouth. See all my predictions below.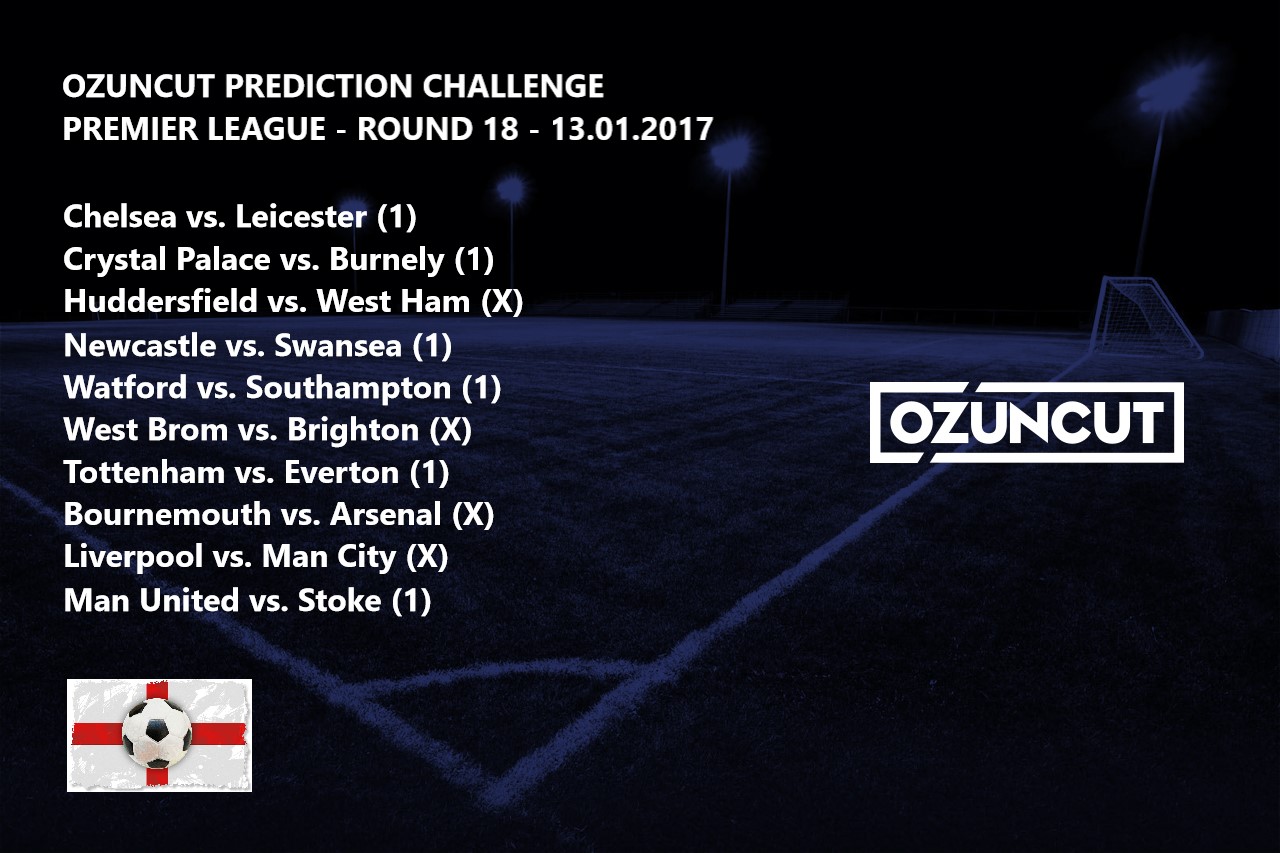 You have plenty of time to get your predictions in so don't panic. First game of the weekend is 16.00 CET on Saturday. So take your time and predict wisely. As always please continue to spread the word. The more the merrier. Soon we should be switching over to a much easier automated system. I will give you the details as soon as I have everything confirmed and set up.
Good luck people and happy predicting.
UPDATE 16.01.2018
OZUNCUT PREDICTION CHALLENGE – ROUND 18 – 13.01.2018 – RESULTS
Well it was another relatively easy week for the Prediction Challenge football fan with only Premier League action to focus on. You know those Italians, after playing through the Christmas period, they needed to visit MAMA. 🙂 On a more serious note, it was a really tough prediction week with quite a few surprise results. Which reflects with the relatively poor average score of 3.63.
Chelsea only managed another goalless draw, their third on the bounce. Arsenal lost to Bournemouth leaving them 8 points off 4th place and Man City finally lost, away to Liverpool in the game of the season so far. It seems the Crystal Palace win was a shock to most also with only 4 challengers predicting that one. So where does that all leave us? Without further ado, see all this week results and tables below.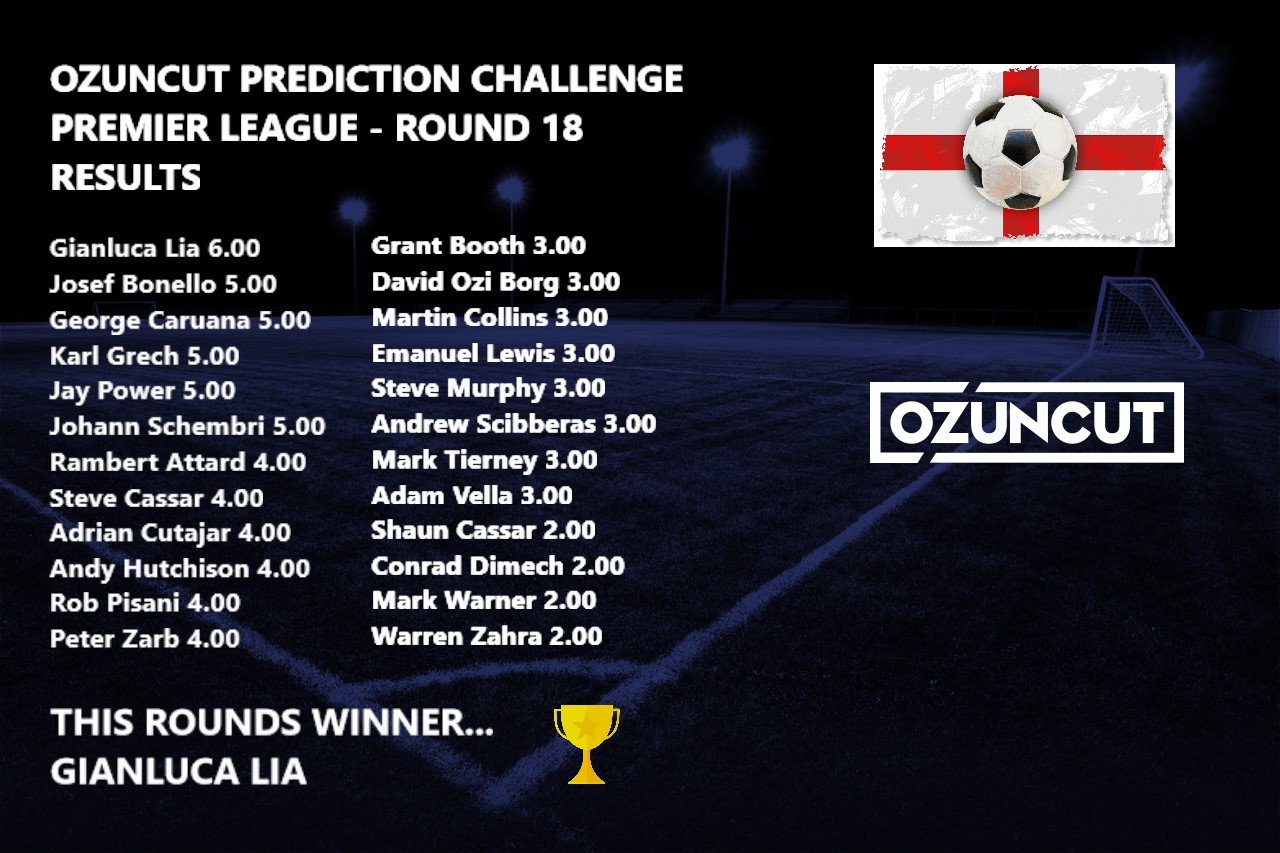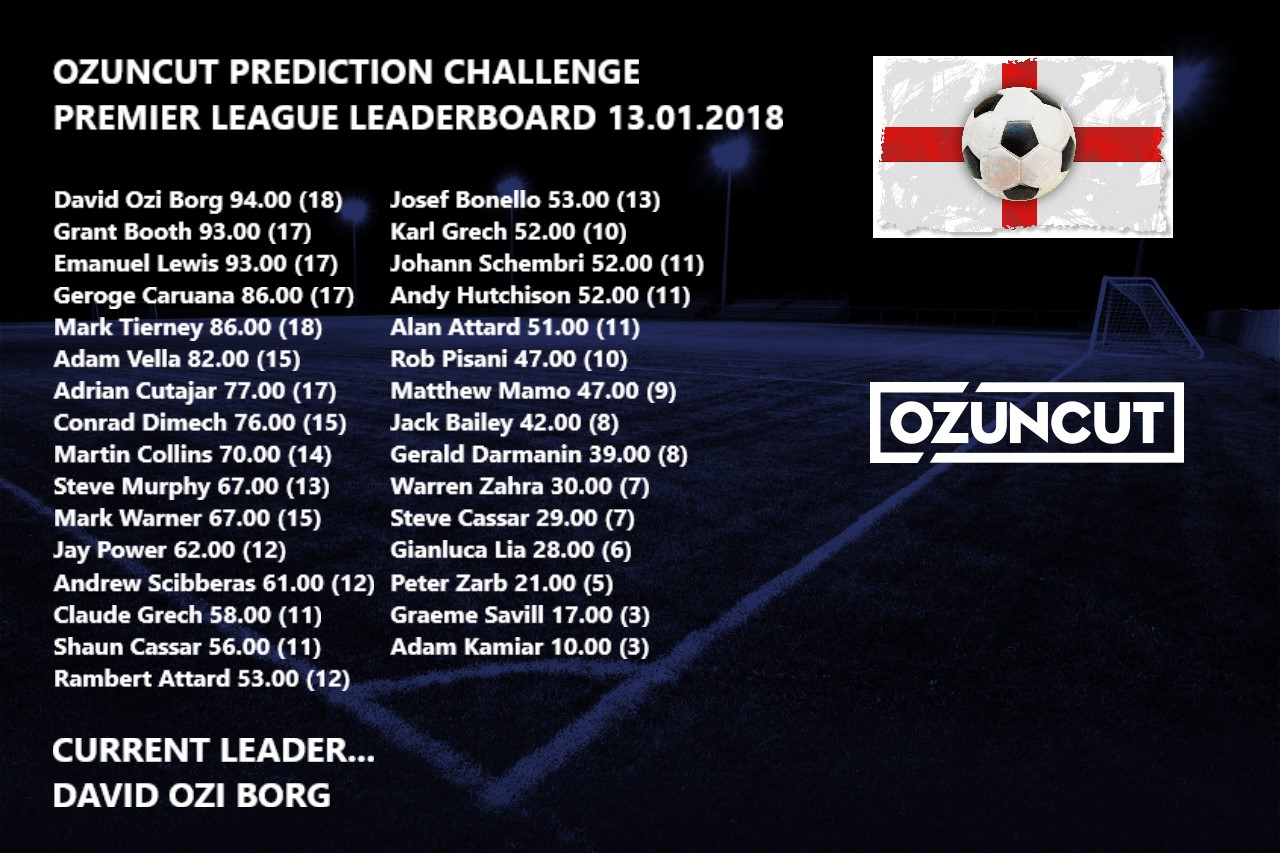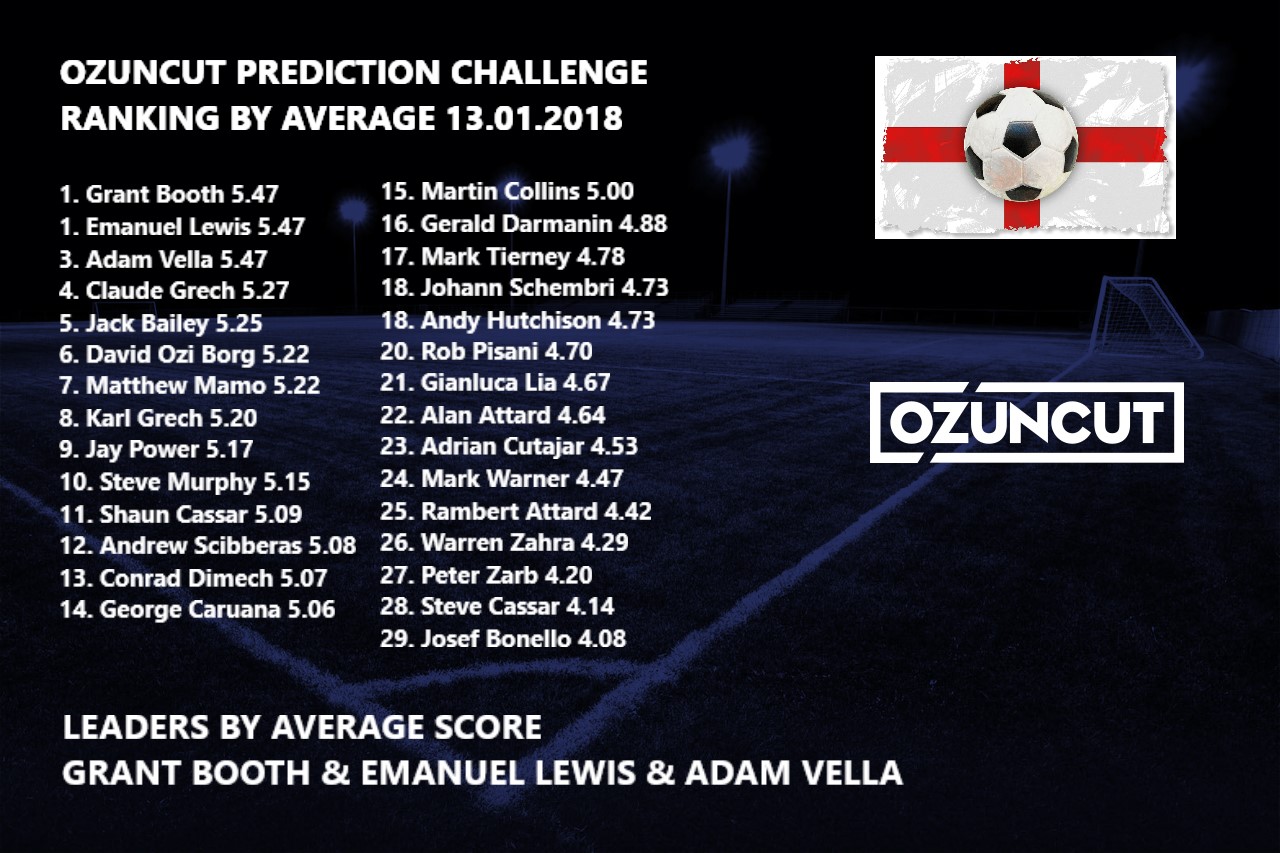 A really big well done to Gianluca Lia who took the round with a very impressive 6/10. Normally not such a great score, but this week it turned out to be enough for victory. Well done mate. In all honesty, since you joined the challenge you have either great or rubbish. Well mostly rubbish, but occasionally brilliant. We call that the "risk taker" strategy. Keep it up. The rest ranged from 5/10 to 2/10, so as usual a bit of a mixed bag. But again, it was a pretty challenging week so don't beat yourselves up. (Well unless you enjoy that kind of thing).
In terms of our leaderboard I am still surprised that no one has managed to knock me off top spot yet. It seems like I've been hanging on by my foreskin for the longest time now, but somehow I still remain top. It just goes to show what a tight competition it is. Which is a credit to all. Keep on fighting people, keep on fighting.
We have a three way tie at the top of the Rankings by Average this week. Firstly I must apologise to Adam Vella. A bit of a typo puts you in third no our tables, but I can assure you currently share first place with Grant Booth and Emanuel Vella. Unfortunately it would have wasted too much time for me to go back and correct that, so please forgive me. Well done to the three of you, 5.47/10 is a pretty darn good average. For the rest of us we must continue to keep predicting and hope for an upturn in fortune.
This coming weekend its back to business with a full round in both the Premier League and Serie A. Look out on Thursday for the next challenge and don't forget, get some more people involved. I noticed recently that things have slowed down in that area. Your help is required. If you can all perhaps convince one more person to join this week we can increase the numbers. Otherwise I am still working on the platform to make it more user friendly and prizes. Patience is a virtue they say and good things come to those who wait…