A HAPPY NEW YEAR TO ALL. I hope you all had a fantastic holiday season and had the opportunity to overdose on the excessive amount of football. No rest for the wicked as they say as the games continue to come thick and fast. We only have the Serie A to concentrate on this week for a change as it is Cup weekend in England. So let's get to it. It's round 14 of the OzUncut Prediction Challenge for Serie A.
So some interesting games this weekend in Italy which will make the Prediction Challenge as difficult as always. Let us start with the simple stuff. I would expect Juventus to get an easy away win against Cagliari and Napoli to get a pretty easy home win against Verona. AC Milan are having a terrible season so far. A change of manager and that hasn't seemed to solve anything so far. They have struggled. The only shining light, progression to the semi finals in the Coppa Italia. All the while getting one over their bitter local rivals. I fancy AC Milan to get the win this weekend, especially considering Crotone have been so poor away from home.
I have gone for a Udinese win also. They are Serie A's in form side with 5 wins on the trot. In saying that this weekend, now that I have gone for them, they will probably f**k it up and lose. In seriousness though they should win, but it could be a close match. I have cautiously gone for an Inter away win also here. I am not sure why, just a gut feeling. Inter, who started the season on fire, have crashed down to reality in the past few weeks and have kind of hit a wall. I am just going by the fact that player for player they should have enough to beat Fiorentina. But I am not confident about this one at all.
I also believe that the Roma vs. Atalanta game will be a close one, but as you can see below I have gone for a home win. My full round of predictions can be seen below.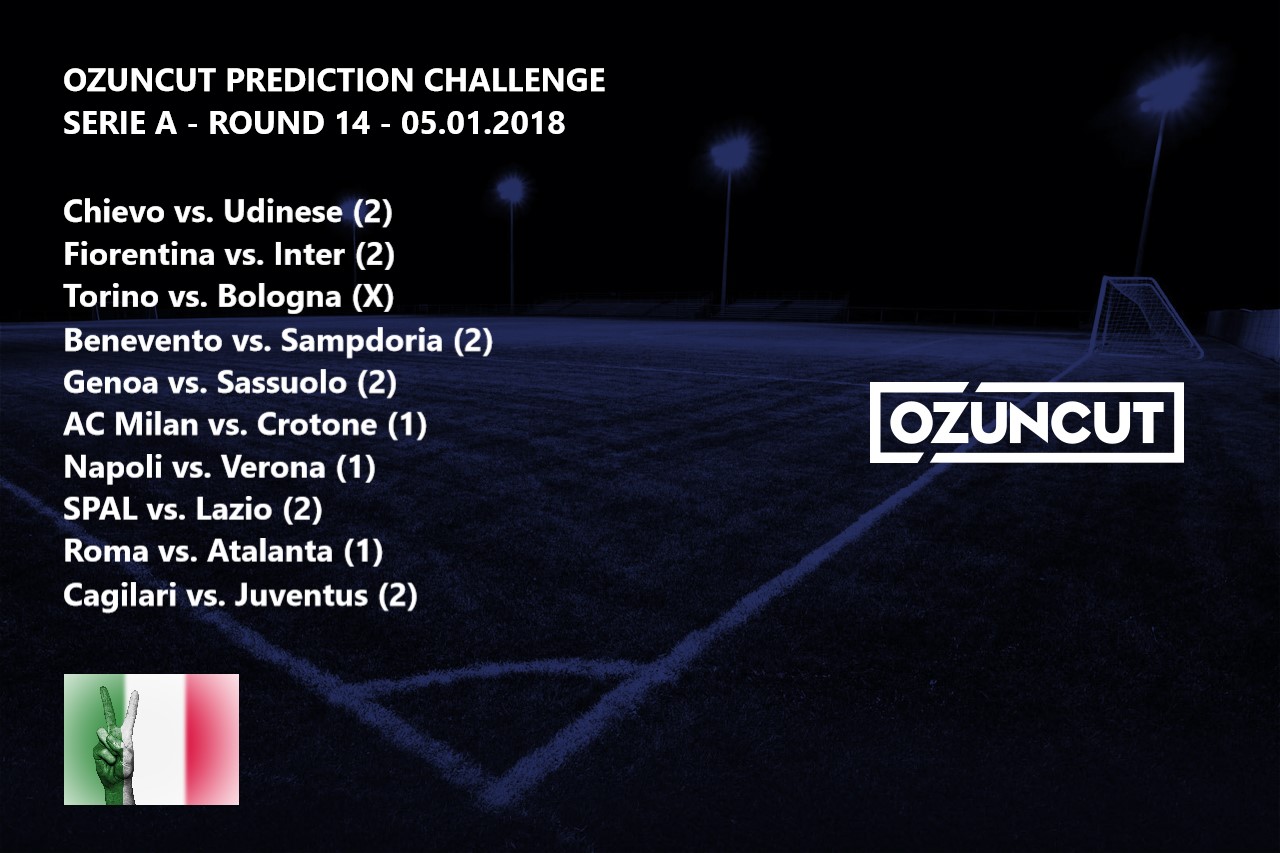 Just a reminder gentlemen that the first game in Serie A kicks off this evening at 18.00 CET so make sure to at least get's tonight's predictions in by then. And please, continue to get your mates involved. Even though I am not pushing hard on this at the moment as I am in the process of making positive changes, but still I would like to keep growing the competition and your help as always is necessary.
Cheers to all and good luck this week. (I don't really mean that last part, I actually truly hope you all fail miserably and I get 10/10).
UPDATE 07.01.2018
OZUNCUT PREDICTION CHALLENGE 05.01.2018 – RESULTS
Well competitors. Its nice to be able to sit here, chilled, on a Sunday morning and be able to give you the last results from our prediction challenge. Thankfully for some reason the Serie A has no Sunday games this week, which is fine by me. 🙂
So we are into Round 14 in the Serie A, let's quickly reflect back to Round 13. Big Martin Collins took the round with an okish 6/10. It was a good win for the Scot which I am sure he celebrated with about 6-10 pints. I am jealous. The average score in Round 13 was 4.24/10. In terms of the Leaderboard, Mark Tierney impressively reigns supreme as well as leading the average rankings. It was up to the rest of us to try and take a round win and knock Mr. Tierney off his perch. So how did we do?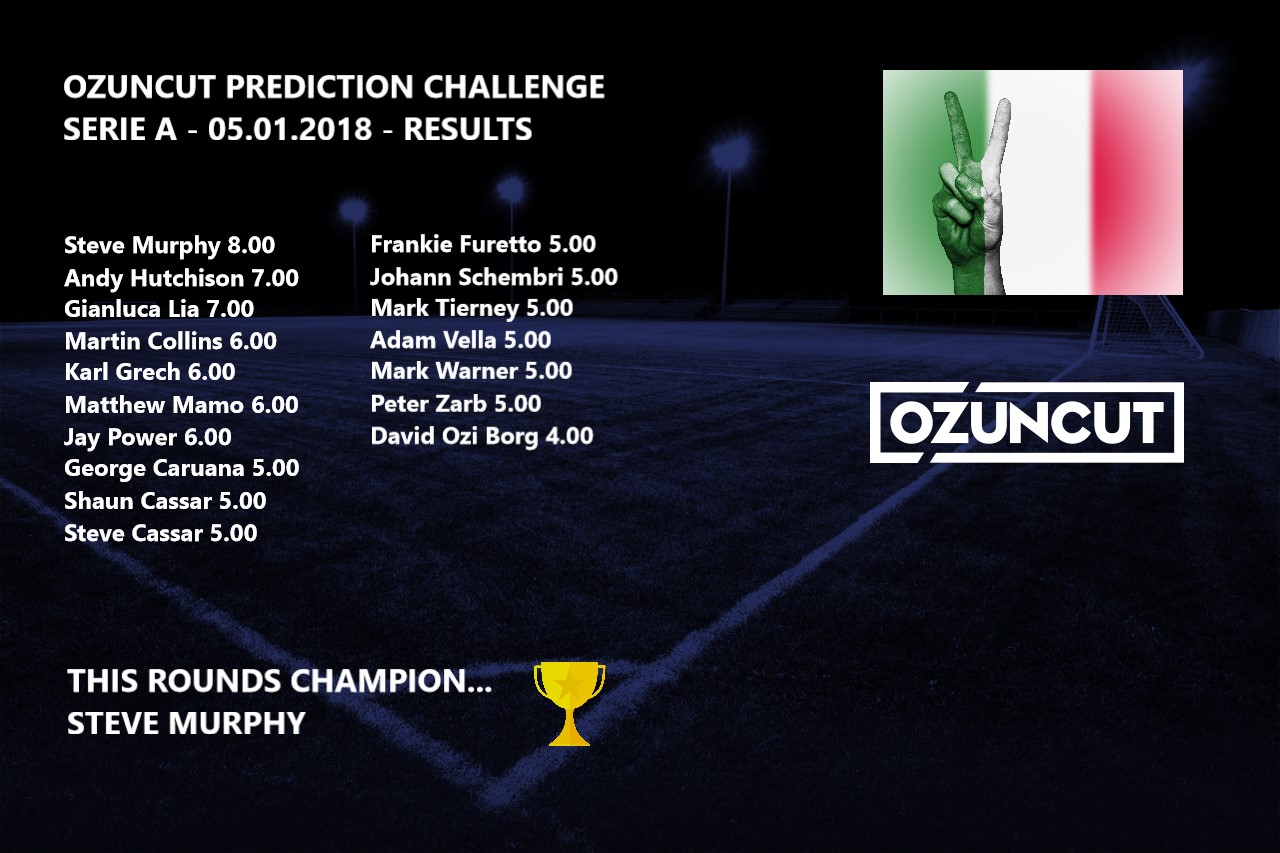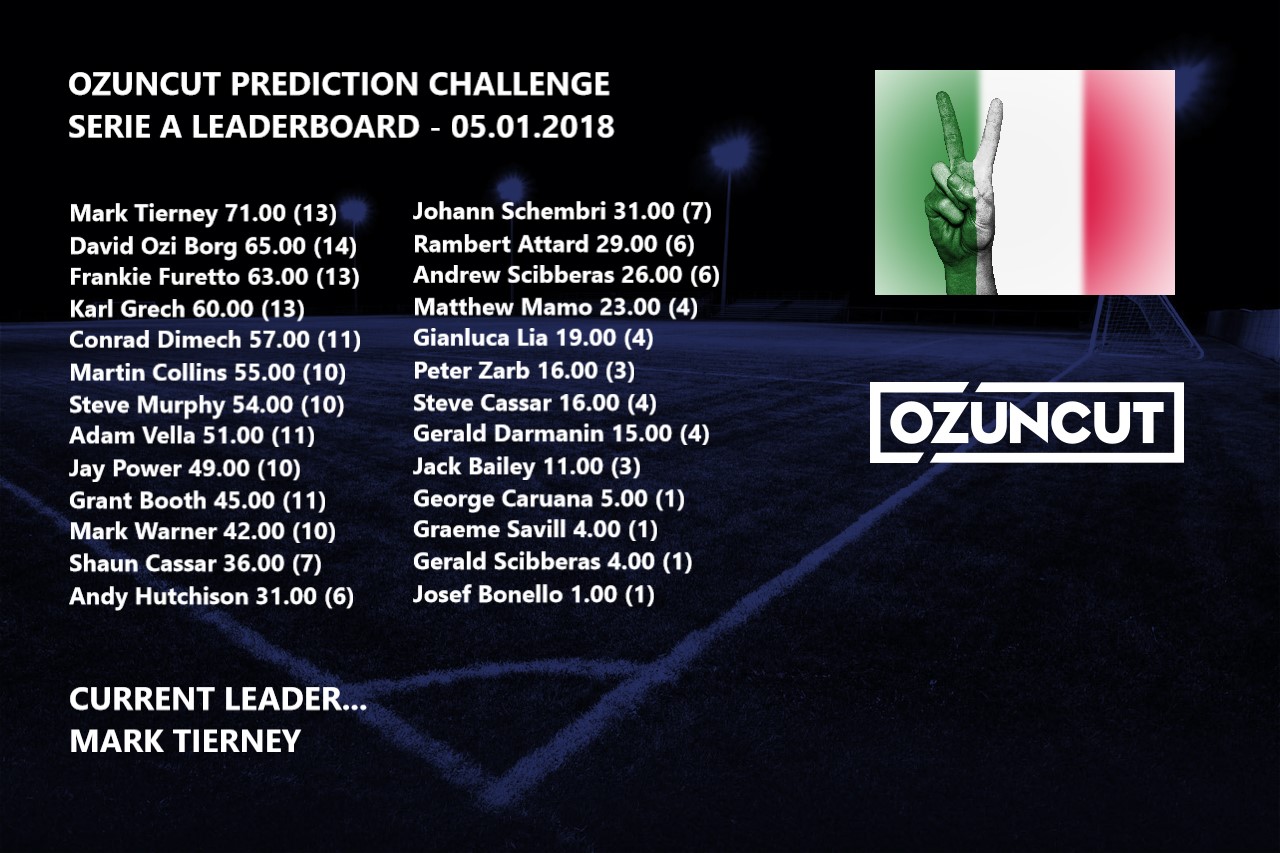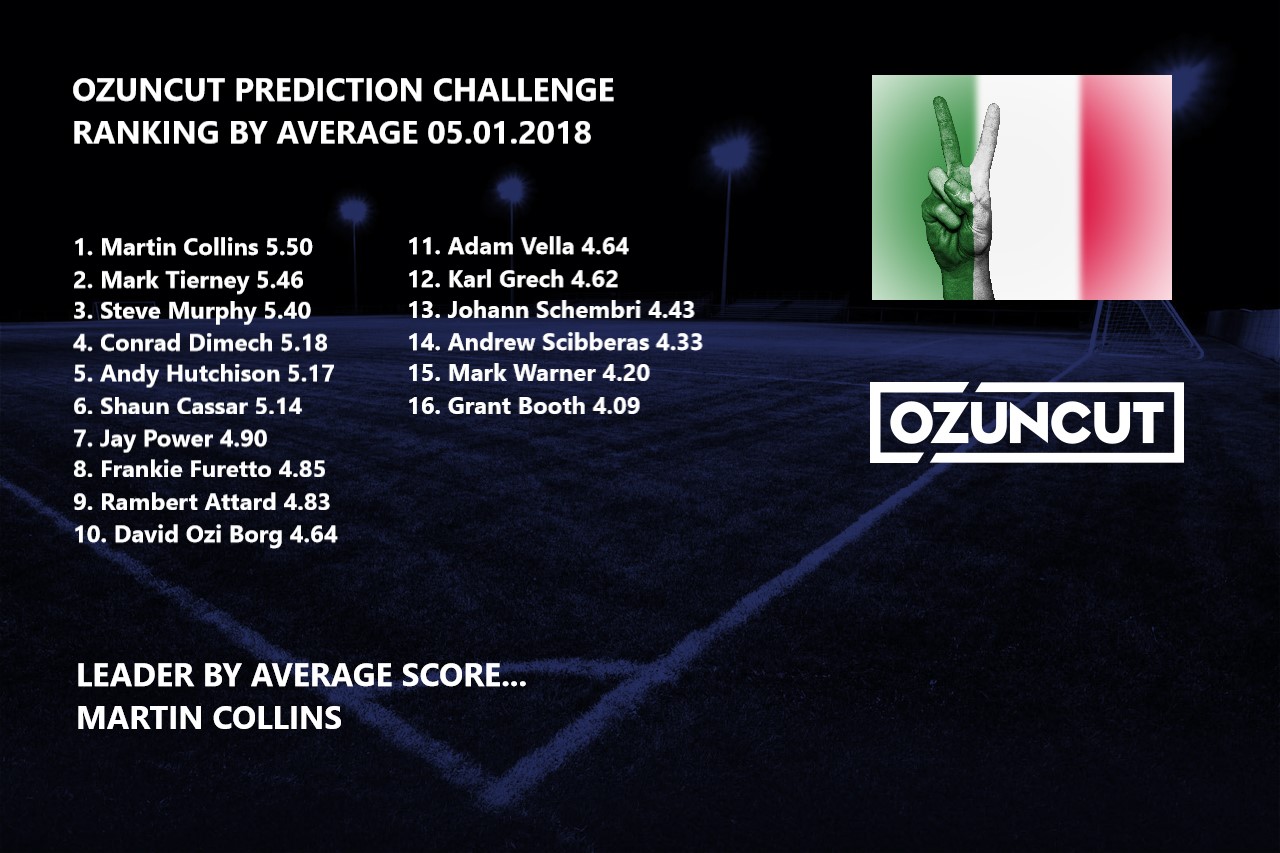 A huge well done to Steve Murphy who is this rounds CHAMPION. Its his second Serie A round victory, but his first solo win. A score of 8/10 is normally worthy of the trophy so well done to you matey. As for the rest of us a mixed bag really. The average score across the board was 5.59/10. I think I deserve a special mention for my absolutely pathetic score of 4/10. Time to put these testicles in a vice again and give myself the treatment.
As for the leaderboard, well Mark Tierney is all on his own at the top their. A clear 6 points ahead of second place. BUT, Mr. Tierney has been knocked off the top of the Ranking by Average charts. A slightly better round from Martin Collins sees him leap frog to the top with a 5.50 average. For the rest of you, all your scores and rankings are above.
I am happy to say we all have a few days off. PHEW. It has been a pretty intense holiday period. The next round of games starts on January 13th, so I will make sure to get out the next round of fixtures by Thursday. That way all you busy/lazy bastards or bitches will have enough time to get your predictions in.
Peace and a great week to all.