Hello there boys. Guess what? It's FRIIIIDAY. Absolutely love it. If you are a Malta dweller, then you will be looking forward to a nice, sunny, long weekend with Monday being a public holiday. If you happen to reside elsewhere, well too bad. Chit chat aside, Friday also means, especially on this site, a return to the OzUncut Prediction Challenge. With a bit of a twist this week. Due to the FA Cup quarter finals, only 4 games in the Premier League for you to predict.
But there will be a full round of Italian Serie A games in our Prediction Challenge, before we break for a two week, boring, useless international break. How I hate them. But it is what it is. Just to let you know, a couple of weeks ago there was a game in the Serie A postponed due to snow. It was Juve vs. Atalanta  which was replayed this past Wednesday. All of our Serie A predictors went for a home win and they were all correct. So you will notice when we release the results after the weekend that you will all have one extra point.
Regarding this weeks games in the Premier League, we will split the round into two. Those games that will be played this weekend, and then those that will be played at a later date. They will be known as Round 26 Part 1 and Part 2. That way we can release the scores and points updates after each part. It should solve any potential confusion. Feel free to drop any questions on our messenger chat.
Ok, moving on, before I give you my sometimes expert armchair analysis let's get down to the rules of the game. Just in case your a new comer and have never done this before. It couldn't be any easier really, follow the below guidelines and you will be right as rain. And should you have any problems just drop me a message at [email protected].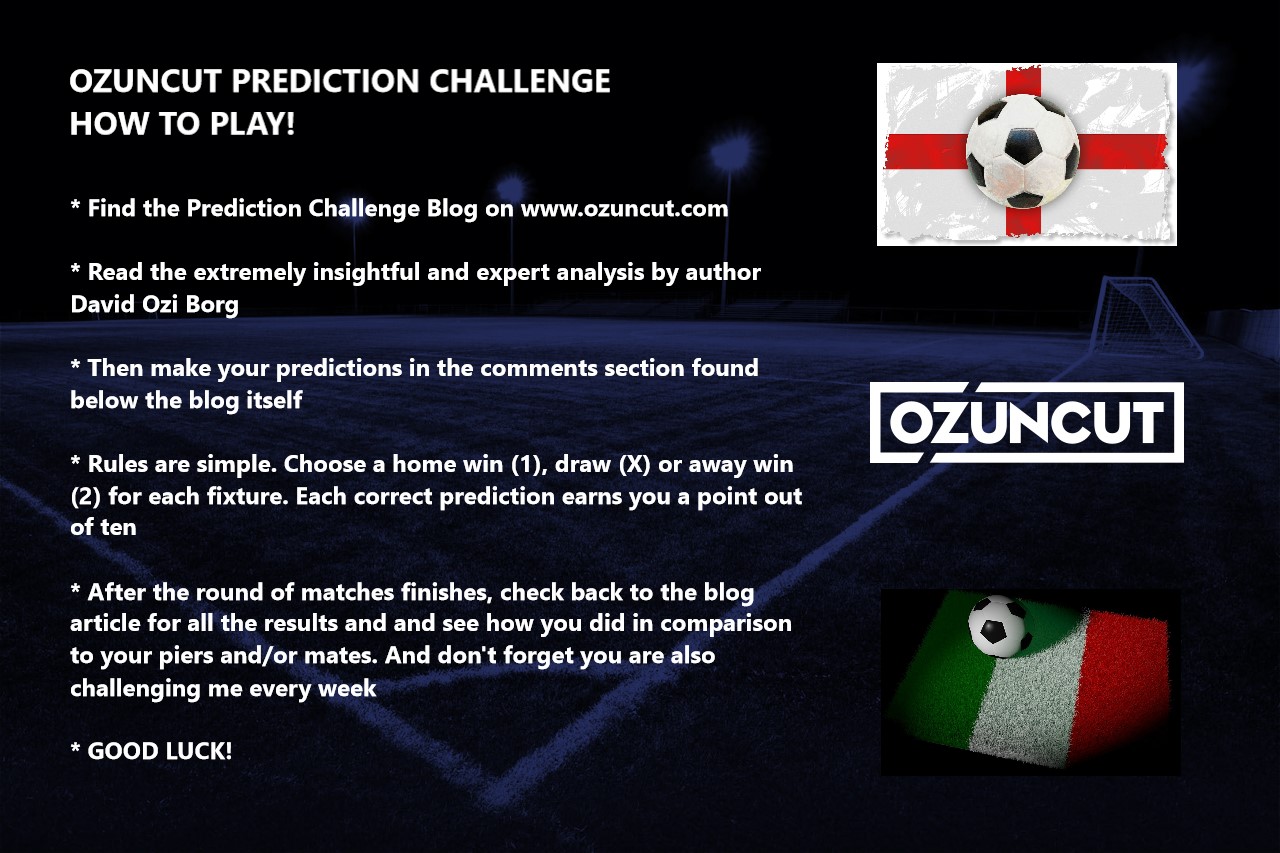 THE PREMIER LEAGUE
Well not an awful lot to talk about due to the lack of tasty fixtures. West Brom, Palace and Stoke all fighting heavily for survival. Of all three this weekend, I only fancy Palace to get the three points. They have some injured players coming back such as Wilfred Saha and Mama Sakho. Two players who will be critical to the Eagles chance of survival. I fancy Crystal Palace to get the win this weekend.
West Brom are pretty much doomed, and there is no miracle recovery in sight. Whilst Stoke have become stubborn defensively. So there game with Everton will be two defensively tight teams. Everton have looked better of late, but I think the draw is a good shout.
Finally Liverpool have a home match up with Watford on Saturday. This game has goals written all over it. Watford have had a pretty good season, but they like to play open football which will suit Liverpool perfectly. Also Watford have shipped 24 goals on their travels while Liverpool have scored 33 at home. I reckon +3.5 goals is a good bet for punters. I am going for a high scoring Liverpool win. You can see all my predictions below.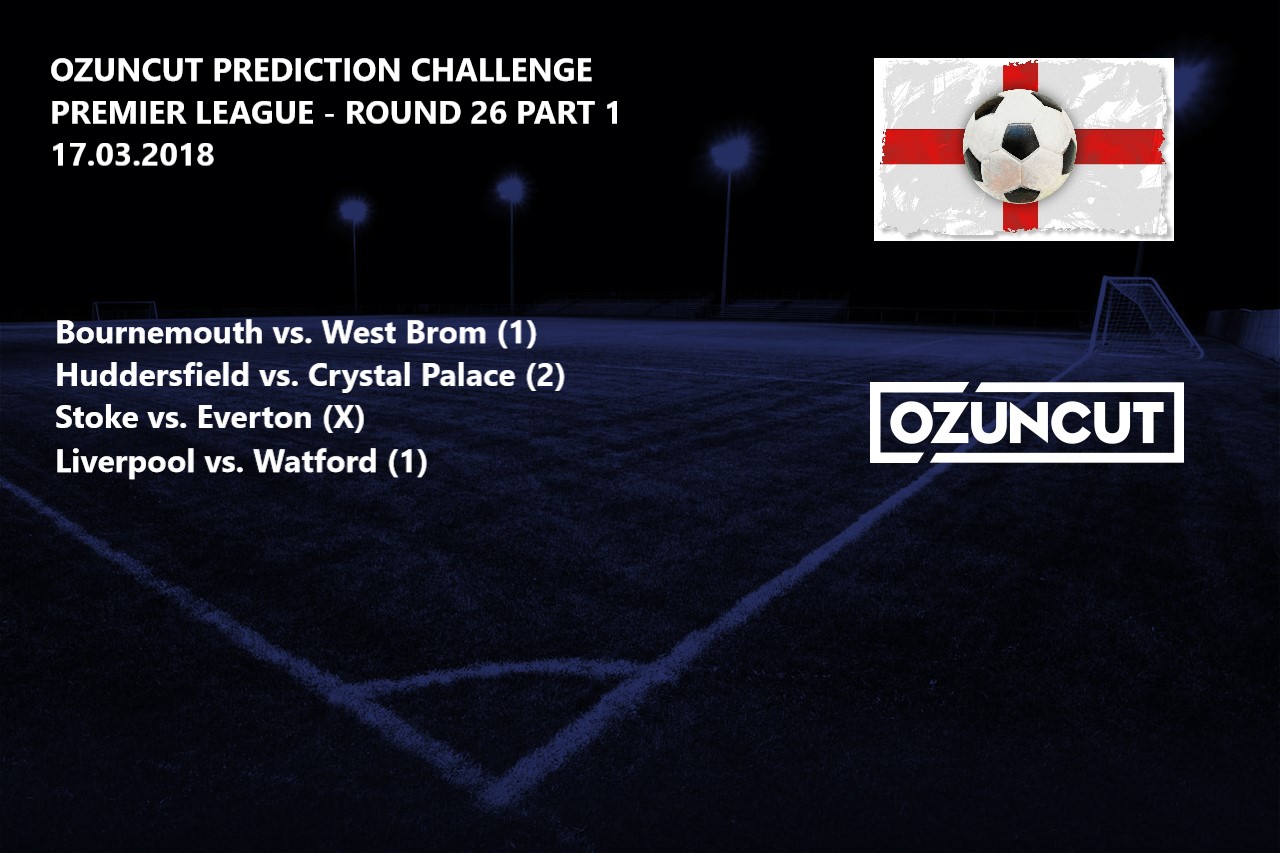 THE SERIE A
Honestly, it's difficult for me to hide my disappointment at what has happened the past couple of weeks in Italy. It just would have been great for football in general had someone other than Juventus won the league this season. However as it currently stands, a minor blip from Napoli has opened the door and Juve trotted through. They know have a 4 point lead with 10 games to go. We can still retain a slight hope, as they still have to play both Milan clubs as well as Roma and Sampdoria. But with there squad I expect them to pragmatically work their way to a 7th straight title.
Honestly, it has taken the shine off a little for me, but in all honesty, it has been a pretty entertaining season in Italy. Much improved. So I am thankful for that. Juve will win this weekend against SPAL. Napoli (who below should be a home win, instead of a 12), I expect to have a pretty easy afternoon against Genoa.
Wins for Lazio, AC Milan and Roma are expected. But there are a couple of other interesting ties also. Sampdoria at home against Inter is one of them. Sampdoria have an excellent home record this season. While I believe Inter are in slightly better form of the two of them. I am going for a draw in this one. It could be cautious and cagey. I do not expect a lot of goals.
The full line up of predictions can be see below.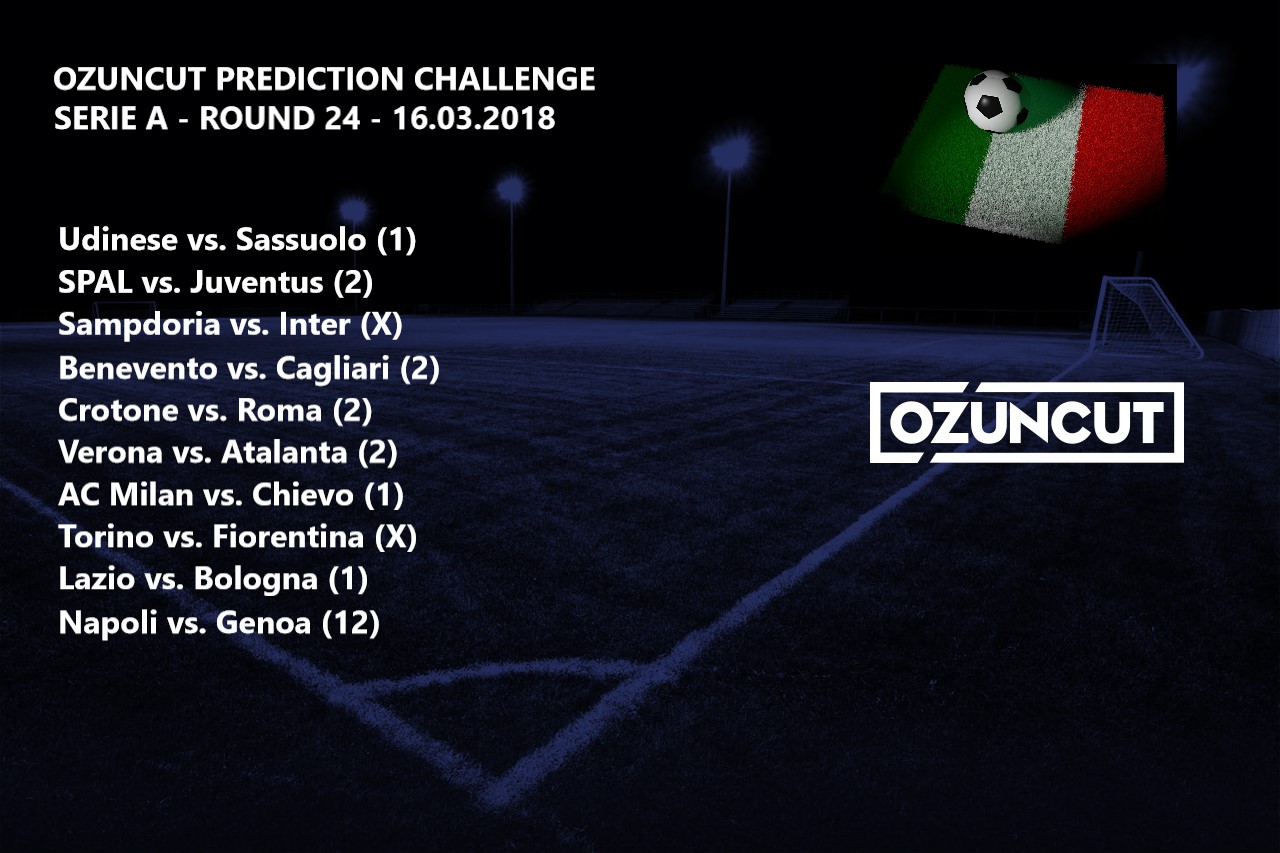 Well that's it gang. Serie A kicks off at Lunchtime on Saturday, while the Premier League gets under way at 16.00 CET. All you need to do is get your predictions in by then. Wishing you all a great weekend.
Peace out.
UPDATE 13.03.2018
OZUNCUT PREDICTION CHALLENGE – 17.03.2018 – RESULTS
First of all its been a while, but I am happy to welcome a new competitor. Kevin Galea took his first crack at the prediction challenge this part weekend. Great to have you on board and hope you enjoy the ride. I also noticed a few people forgot their predictions this round. Tsk Tsk. Unfortunately I was unable to send out the usual last minute reminders as I was in transit at the time. Come on peeps. Don't get lazy now, only 8 rounds left to go.
PREMIER LEAGUE RESULTS:
So, it was only a half round in the Premier League this weekend due to FA Cup action. This means we are only giving out the results of the games so far for those who competed. It does not make sense to update the leaderboard and average score rankings until the round of games is complete. There is no set date yet for the re arranged fixtures but I will keep you all updated well in advance. For those of you who did not get your predictions in for these 4 games, you can still do so for the rescheduled 6 when they take place.
In the meantime the results are as follows: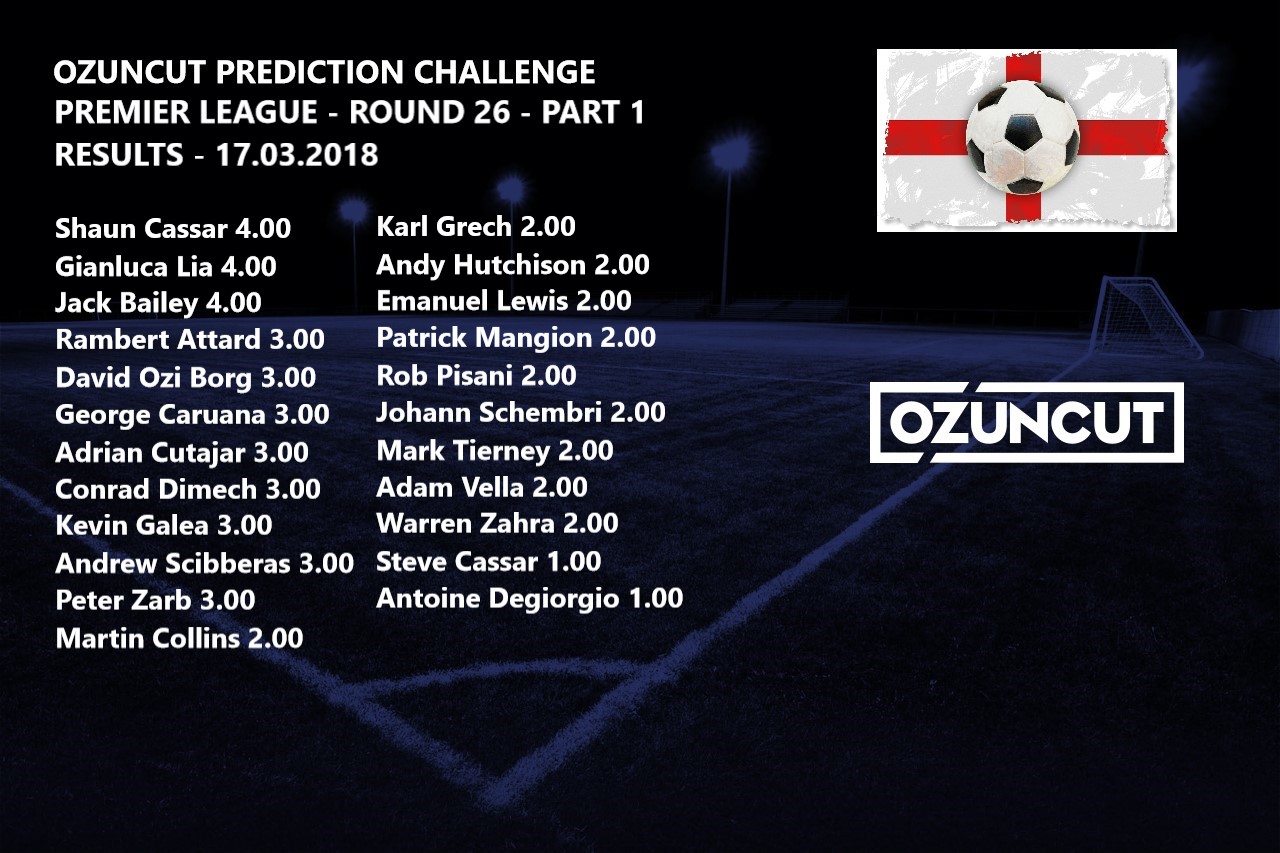 No winners or losers this week in the Premier League. Just results. However a quick well done to Shaun Cassar, Gianluca Lia and Jack Bailey who all got 4/4.
SERIE A RESULTS
Thankfully we had a full round of games in the Serie A to keep us occupied. And thankfully Juventus dropped the ball a little only managing a point away to a SPAL team who parked the titanic in front of goal. Considering the size of the club you can understand the tactics and it worked. With Napoli scraping a win, it keeps the Scudetto wide open.
So lets get to the official results and updated tables for round 24 of the Serie A: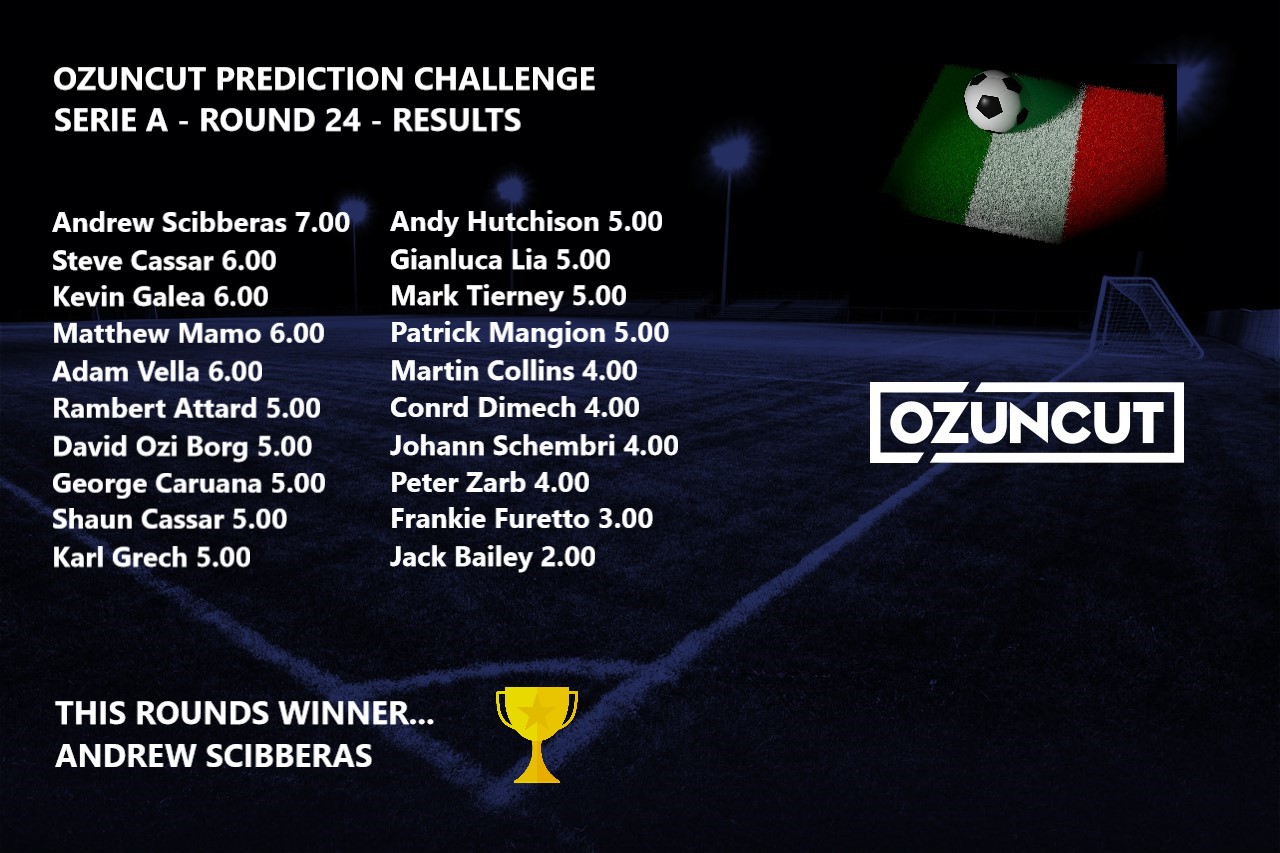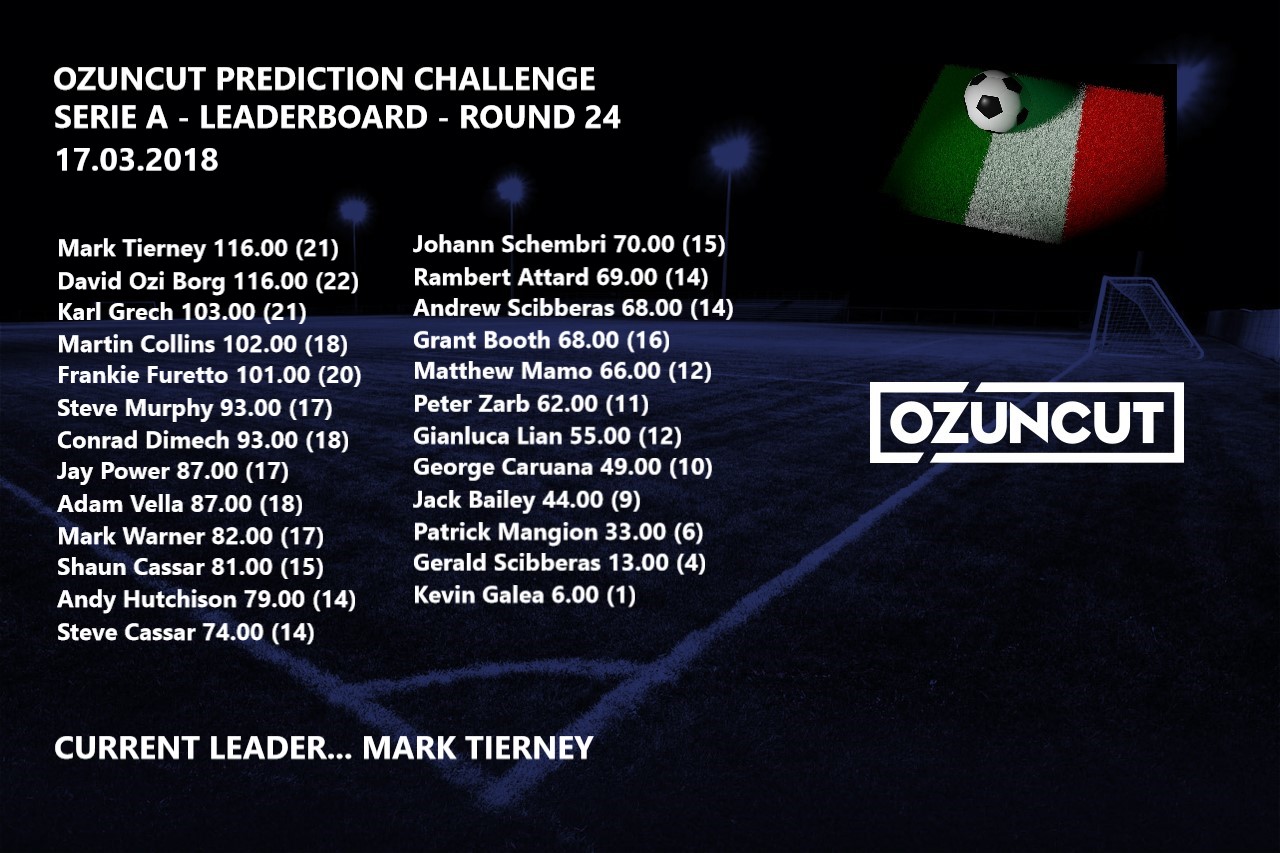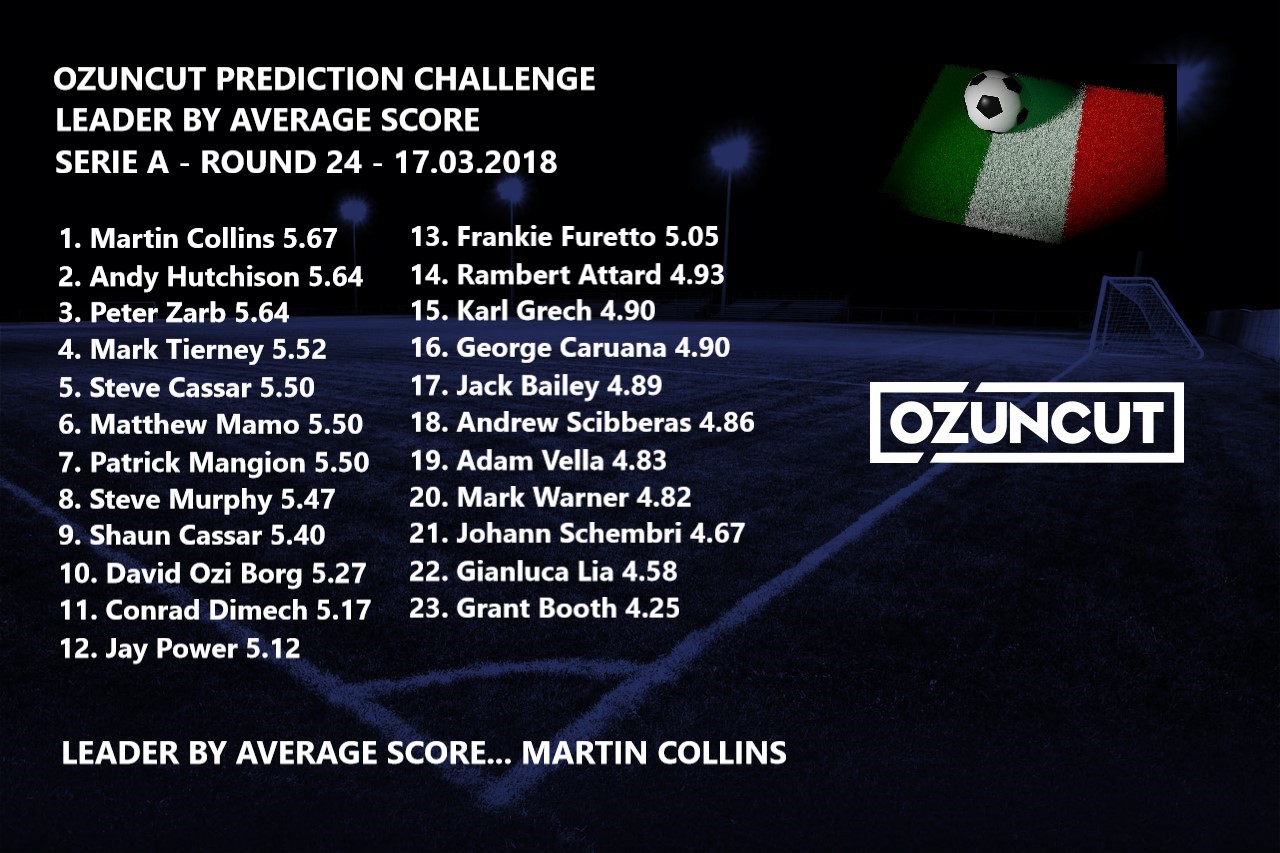 Well done to Andrew Scibberas who took the round victory with a very decent 7/10 score. Great effort mate. A few 6's and a bunch of 5's made the average score this round 4.85. Of course we do like to occasionally trample on the less fortunate of the round, and Jack Bailey this time it's you. A relatively pathetic 2/10 score is worthy of a mention. Better luck next time pal.
As for the leaderboard, no real change from the previous week with Mark Tierney leading the way. And the same goes for the leader by average score. Martin Collins still leads the way with 5.67, but there is very little between the top 8 so anything could still happen in the closing stages of the season.
Unfortunately now we must take a two week break to endure the mind numbing, farcical international friendlies. Man how I hate them. We return to full league action on the 31st March, so look out for the next OzUncut Prediction Challenge blog in the day or two prior to the restart. Until then, I will miss you all…. a little.
🙂