This is it guys. Crunch time. Just three weeks left in total until both leagues are done and we know who our winners are. Premier League has two weeks and 3 rounds, while the Serie A has 3 weeks and 3 rounds. Its competitors last opportunity to rush to glory in the OzUncut Prediction Challenge.
So far, Emanuel Lewis is the guy in the Premier League. But the leaderboard is not secure yet and its pretty tight at the top. He must keep performing or one of myself, Mark Tierney, Adrian Cutajar or even Adam Vella could slip in and win. The Average score rankings are very, very tight. It looks like it could be a 4 way battle between Vella, Lewis, Collins and Scibberas. But anything could happen in our in the last few rounds to change everything.
With regards to the Serie A, would you believe it, two Scots lead the way. Tierney in the Leaderboard pursuit and Collins in the Average Score Rankings. Collins has a pretty big lead, not sure anyone can catch him now, but I will not give up and neither should any of you. In case you wish to familiarise yourselves with how things are standing just click on this link.
Now, let's get down to business.
PREMIER LEAGUE ROUND 33
Man City are home and hosed for the title, so its really now about the battle for the top 4 and relegation. In that battle for the top 4 there is a critical game. Liverpool travel to Stamford Bridge to take on Chelsea. The blues need to win. Anything but three points and they can pretty much give up hope on a top 4 finish.
It could go two ways with Liverpool. They will either be pumped and on a high from the journey to the Champions League, OR, they will be mentally and physically shattered from their midweek exertions. I get the feeling it will be the later. Having said that Chelsea need to win, so you think they would go for it, hopefully leaving much counter attacking space for Liverpool to exploit. We shall see. I have conservatively gone for a draw in this one.
Tottenham head to bottom of the table West Brom needing to keep ahead in the top 4 race. Whilst West Brom are holding on to their final slim hope of survival. You would think this is going to be quite a battle. However, West Brom up until the past 2-3 weeks have been bloody awful, and I just cannot see them getting a result against Spurs. I will be hoping for it, but I cant see it. So I am going for an away win.
United should cement 2nd place tonight as they travel to Brighton while City will no doubt smash Huddersfield and continue to break records. I hope Arsenal give Wenger a win on his final Arsenal game against Burnley. But nothing is certain. They will be tired, and mentally low after being knocked out of the Europa League. And they lost their best defender in Koscielny. This will be a tough game and I wouldn't be surprised if Burnely get a result. But my heart says Arsenal for the Arsene Wenger swansong.
Here are my predictions in full.
PREMIER LEAGUE ROUND 34
Yes gentlemen, we have one of those rather annoying and complicated midweek rounds coming up. Wait, that is probably just annoying for me due to the complicated calculations to be made. Forget I said anything. 🙂 Yes midweek games, and I thought that in the interest of getting it done that I would include them in this blog.
Important games in teh relegation battle with Swansea taking on Southampton. That will be a critical game. While Tottenham and Chelsea have home games to keep up their push for top 4. Here are all my predictions for round 34.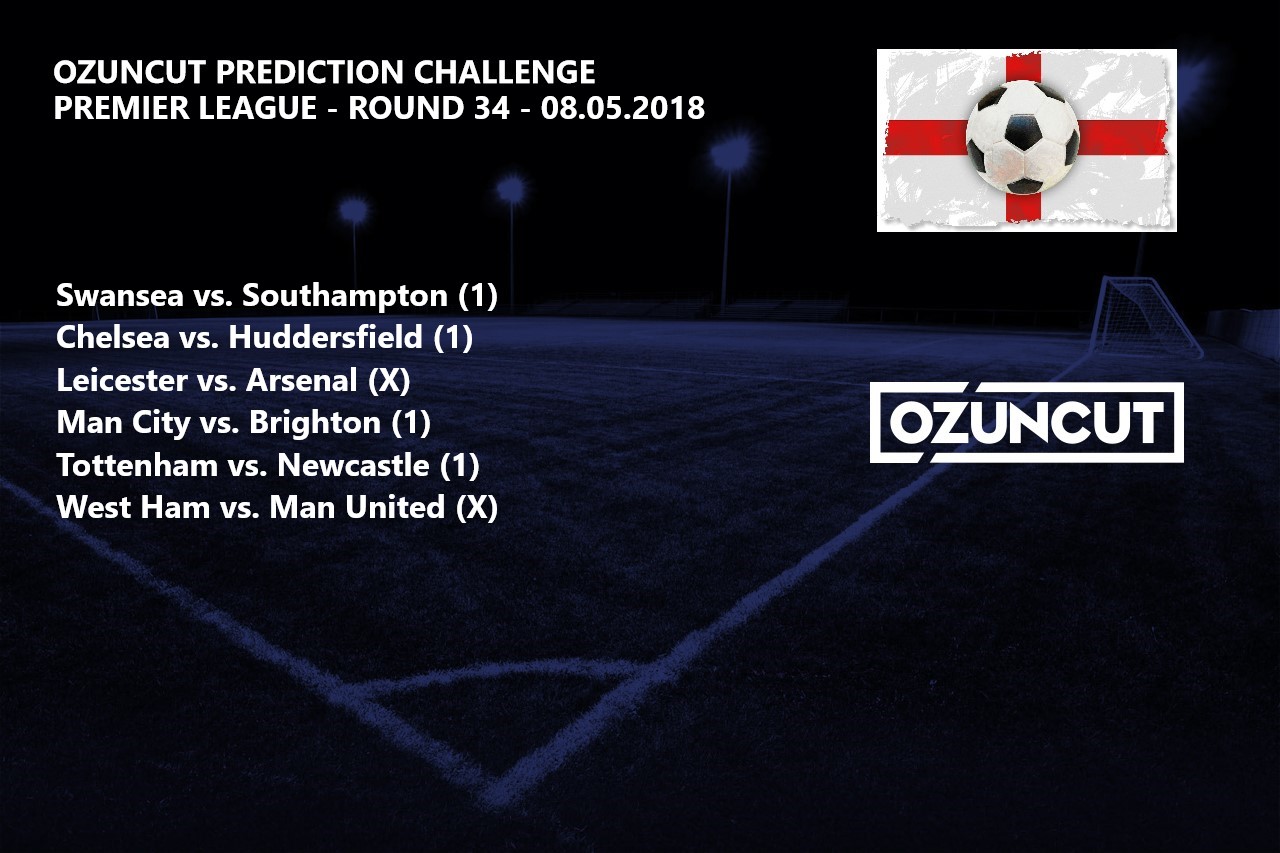 SERIE A ROUND 31
Unfortunately (sorry Juve fans), it looks like Juventus are heading for their 7th consecutive Serie A title. God that bugs me. Sorry, but I just don't think its good for the league overall. But it is what it is. Napoli had several chances to stay in the running and when the pressure was on, they fluffed it. So when it comes to consistency, Juve remain kings.
I don't think the balance will be upset this weekend because I just cannot see Juve losing at home to Bologna. I can see Napoli beating Torino at home also, but that will leave a 4 point gape with two games to go. Safe to say Juve fans can start celebrating. Be interesting to see if Inter can get a result this weekend as they travel to Udinese. They absolutely have to win to have any chance of finishing top 4. I think they will win this weekend, but I also see both Lazio and Roma picking up full points. But there could still be some twists and turns as Roma still have to play Juve and Lazio play Inter on the last day of the season.
On the relegation side, Benevento and Verona are basically doomed. Which leaves one more to drop from Chievo, SPAL, Cagliari, Crotone and Bologna. Difficult to say who will drop at this stage. We could know a lot more after this round. I get a feeling that Chievo will beat Crotone this weekend and SPAL will beat Benevento, which should help both of their causes. Predictions in full below.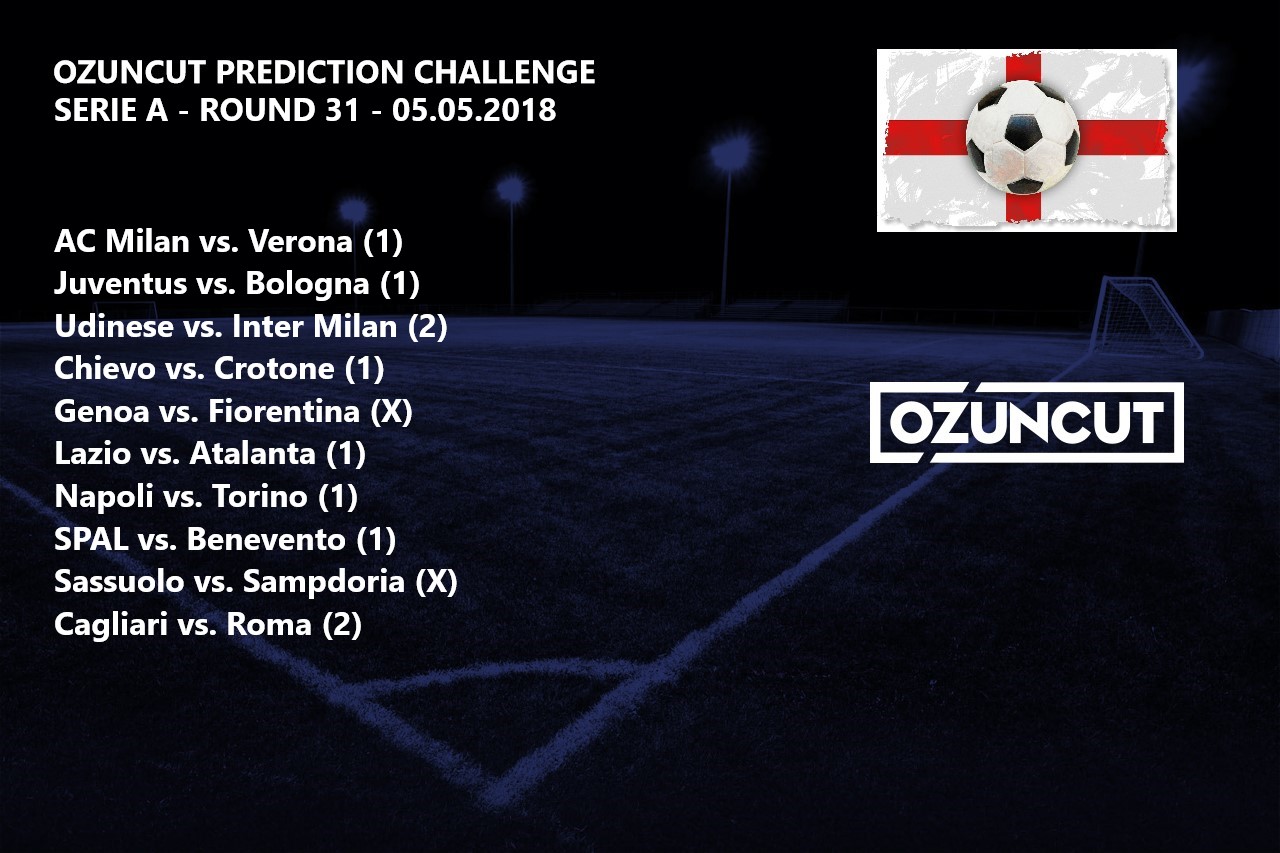 Right, that is it for now fellas. Don't be silly and not get your predictions in. After a full season of making the effort, you would be foolish to throw away all that hard work and effort. Good luck to all and have a great weekend.
UPDATE 07.05.2018 – RESULTS
PREMIER LEAGUE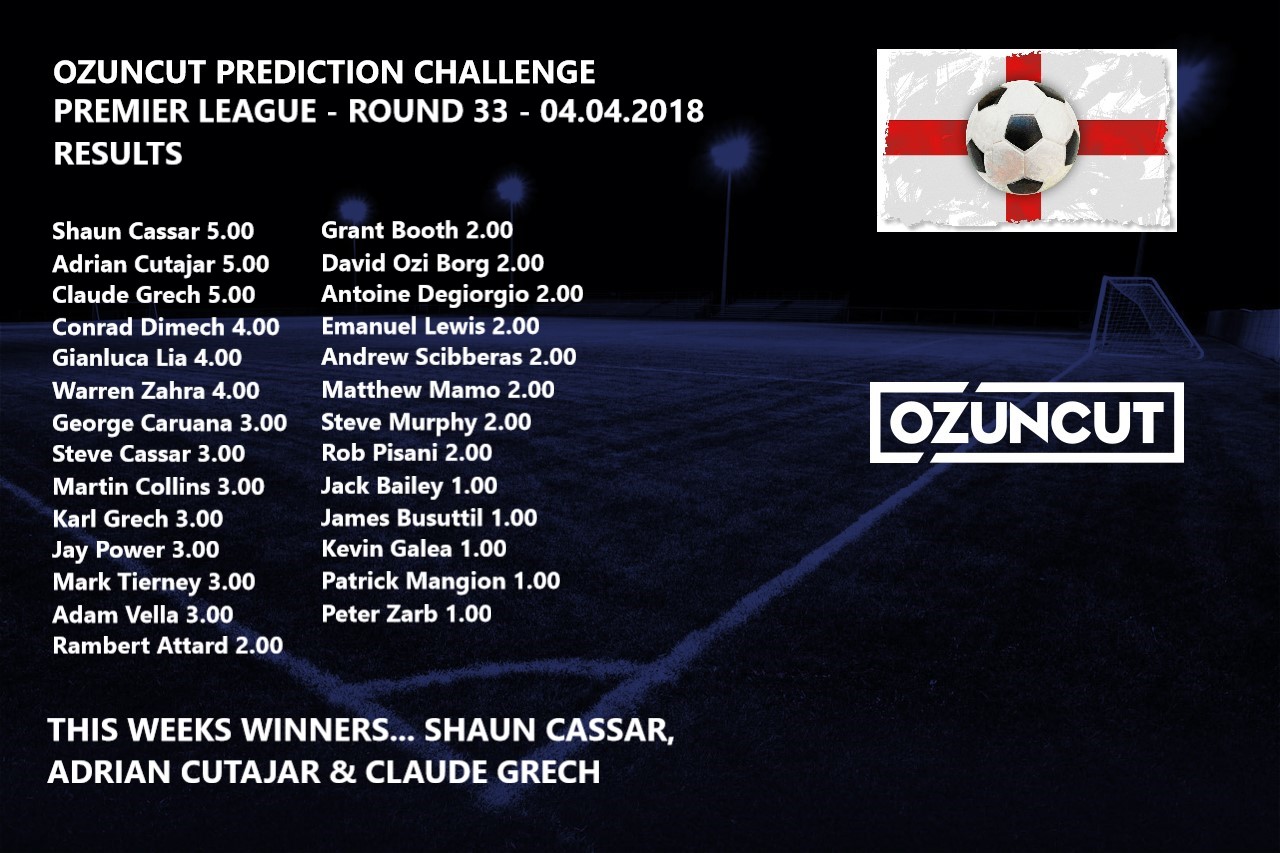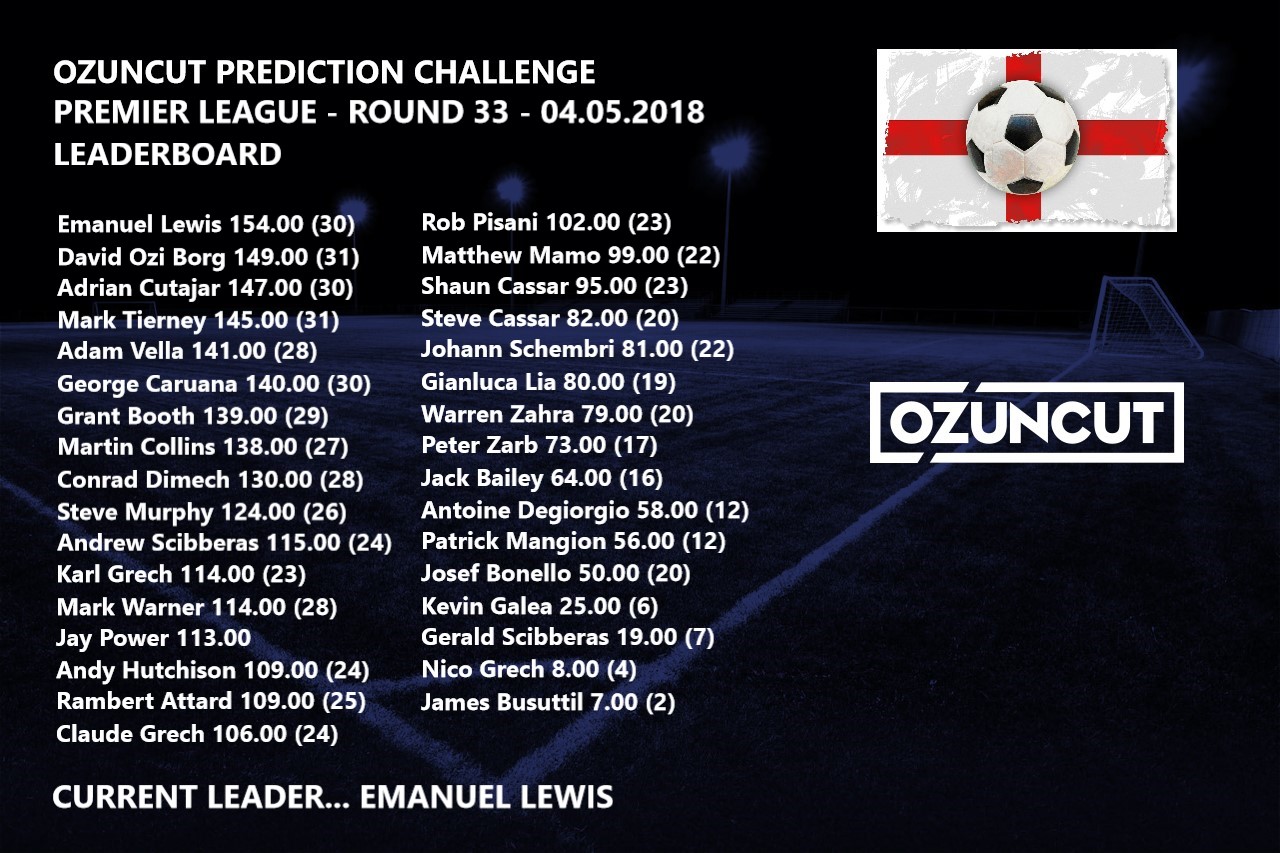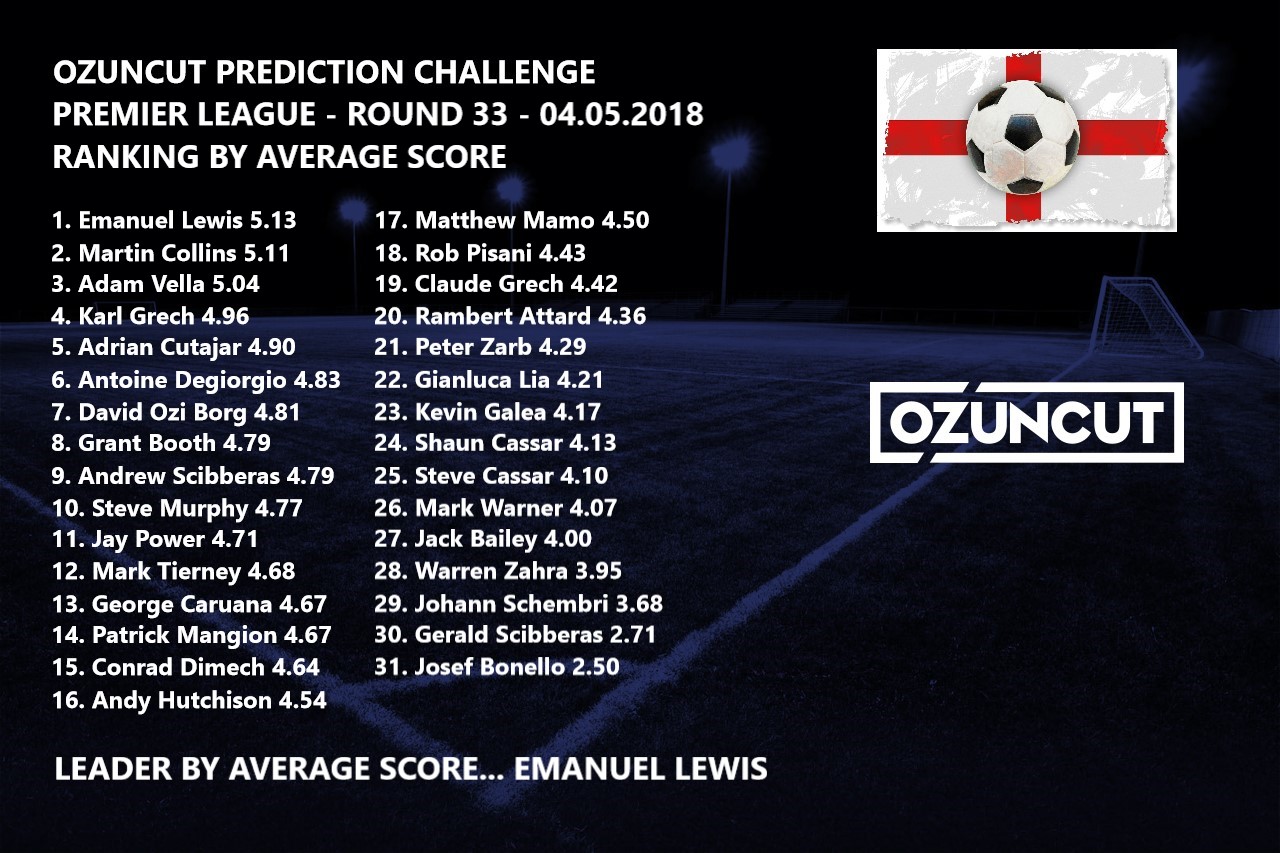 SERIE A RESULTS: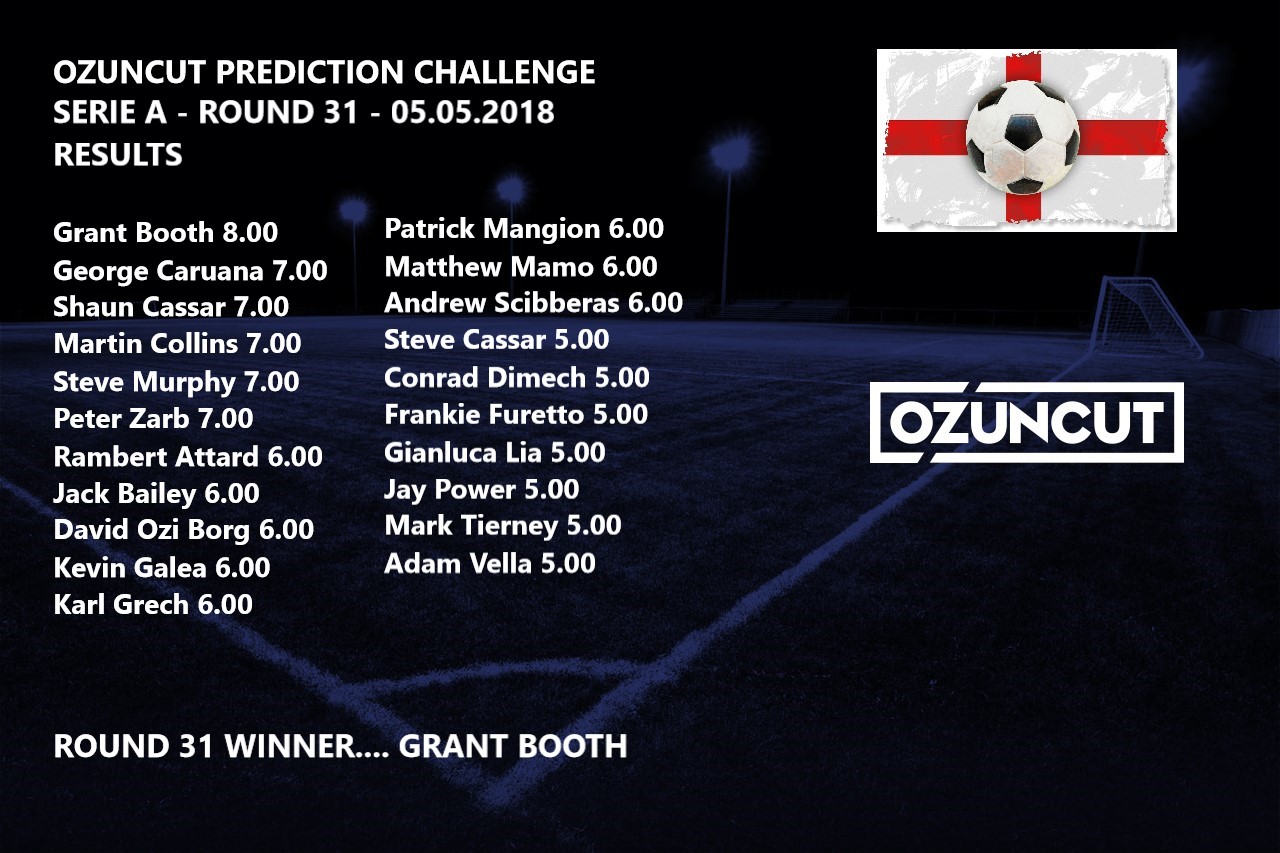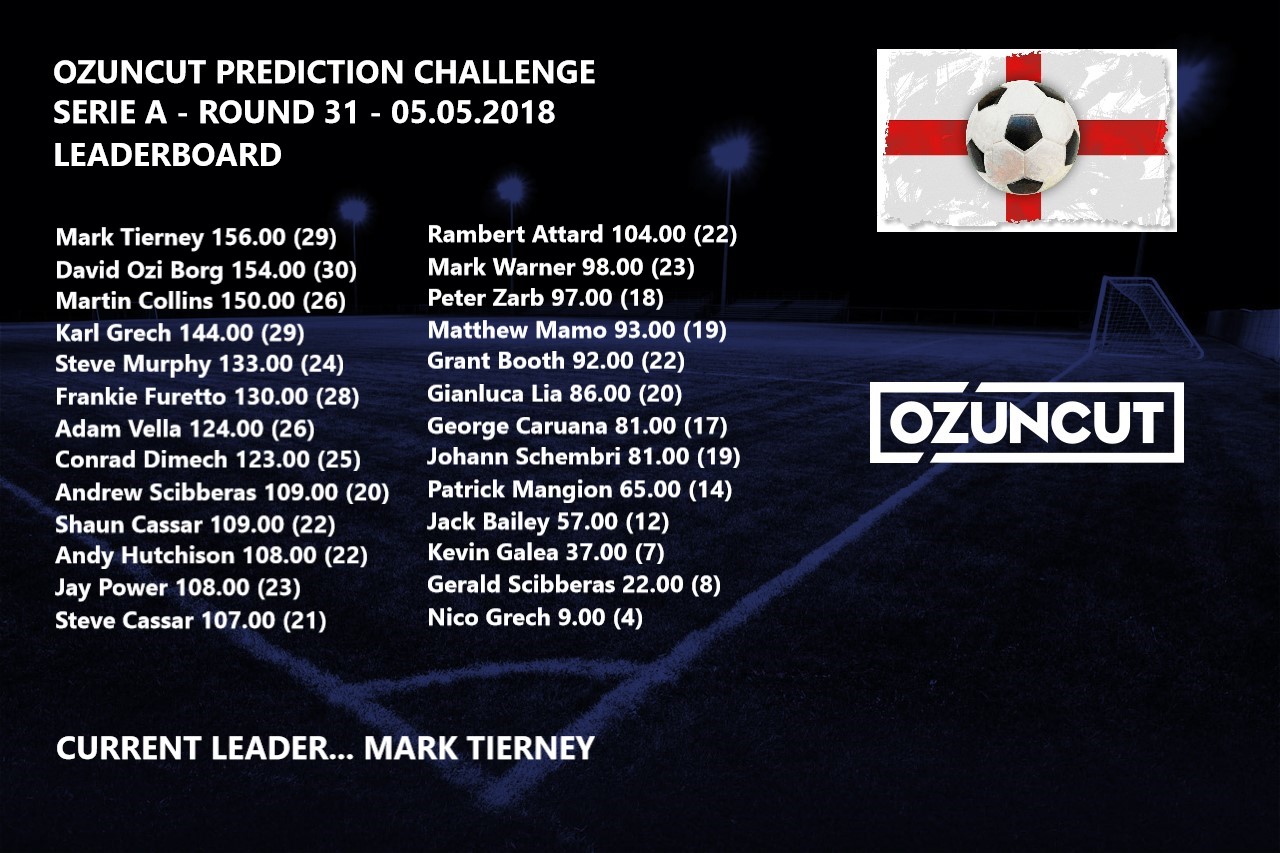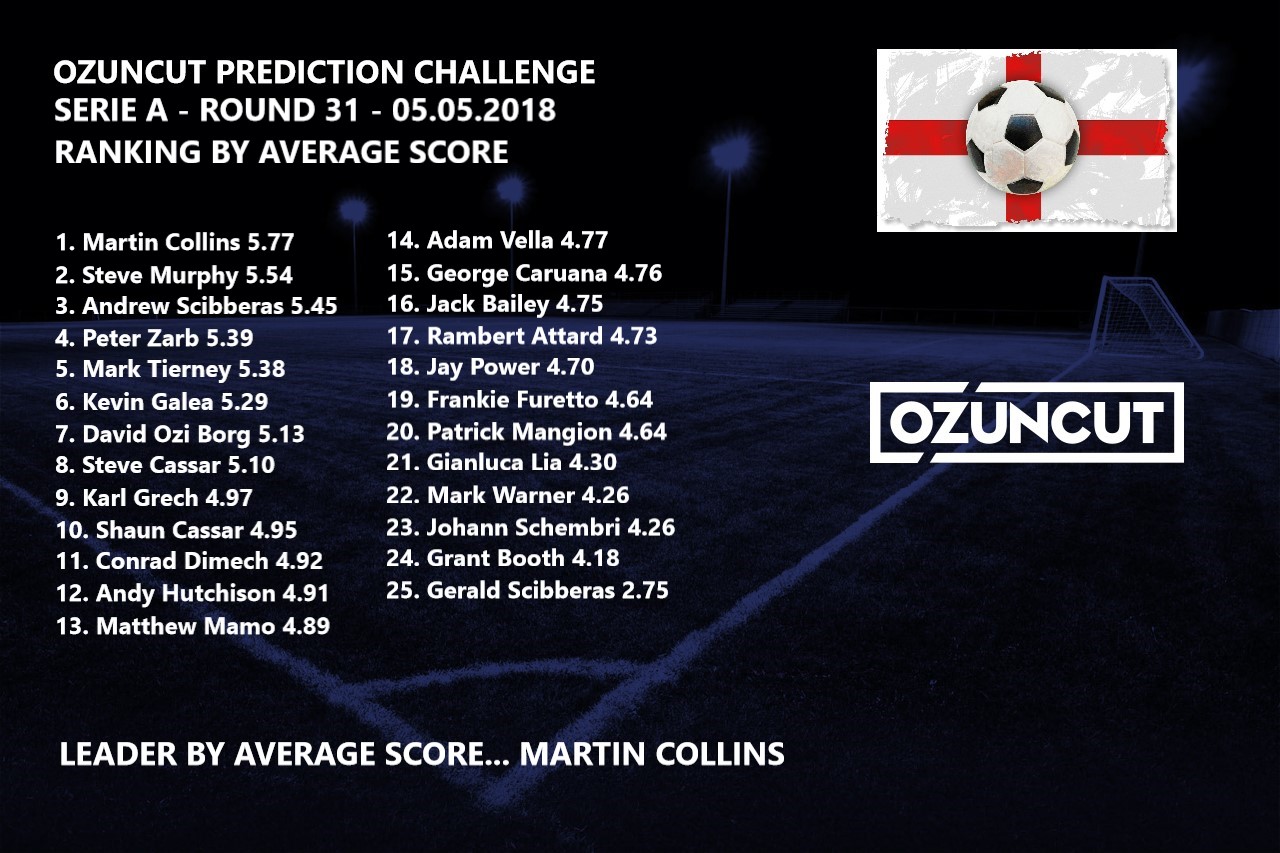 PREMIER LEAGUE CORRECTION
Sorry lads. Had a bit of a problem with miscalculation as there was an issue with the document saving on the cloud. So I had to go backwards and arrange a couple of things. Hopefully everything is in place now. I believe only the Premier League rankings were affected. I could not re do all the graphics, however you can check all your weeks rankings etc below… Sorry for the inconvenience.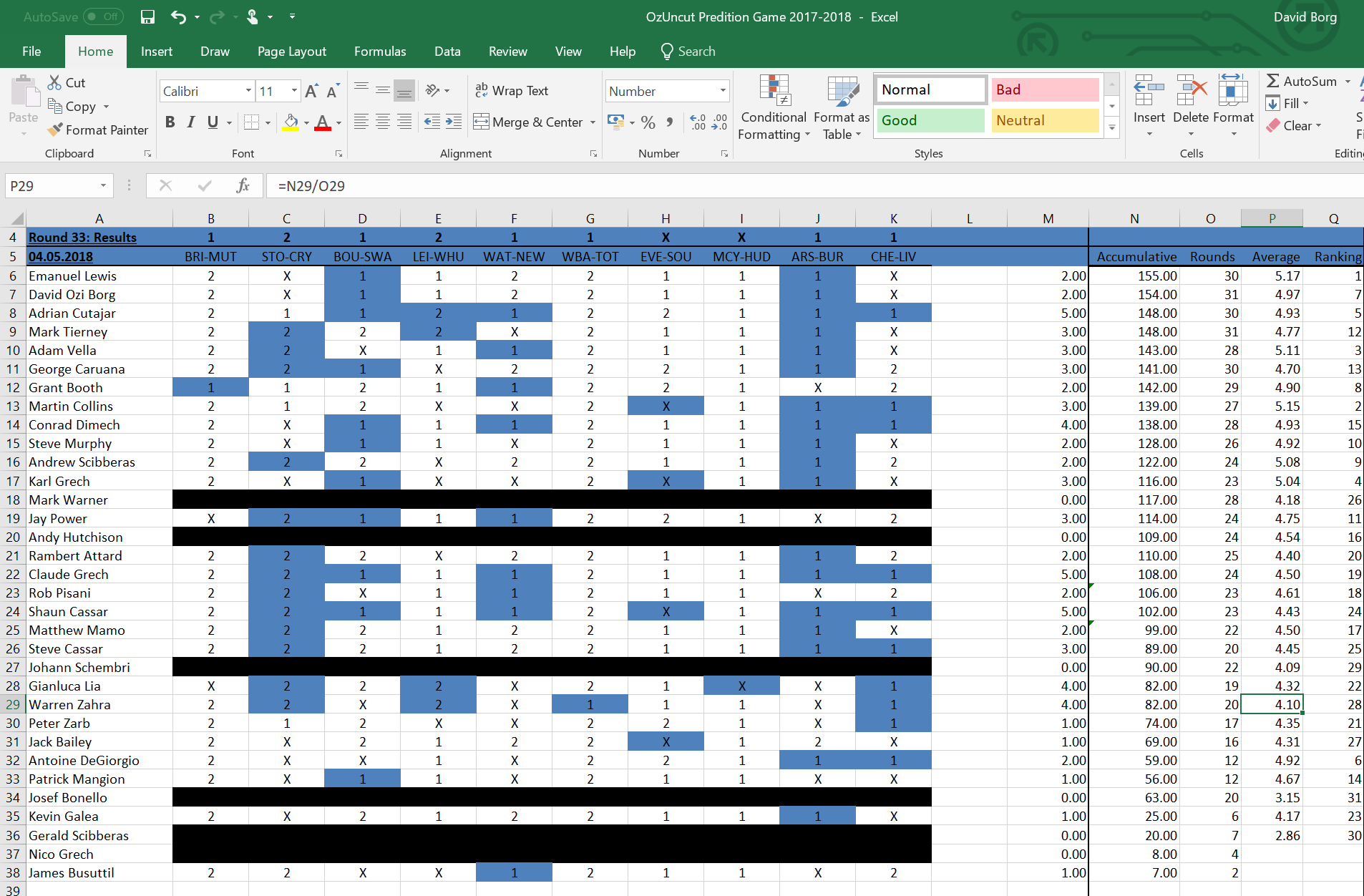 UPDATE 11.05.2018 – RESULTS
PREMIER LEAGUE – ROUND 34 (Midweek)
Hey all. Below please find the results from round 34 of the Prediction Challenge. The penultimate round. To keep it interesting I am holding back on calculating the updated tables and rankings. Seeing as we only have the one round left, I will produce all the final results after round 35 and of course announce all the winners. It was a short, half round in midweek and here are all the results.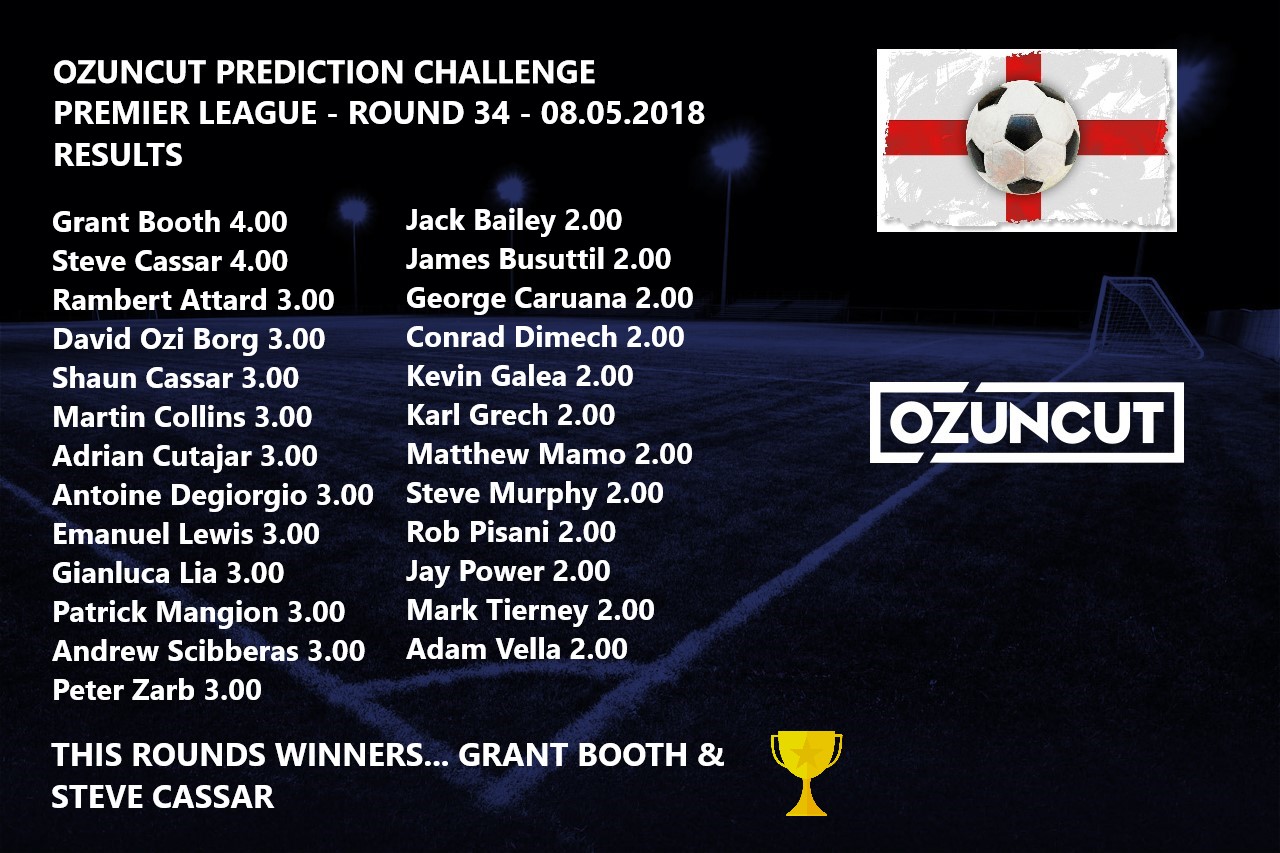 Well done to Grant Booth and Steve Cassar who take the plaudits for a very reasonable prediction score of 4/6. Well done lads. As for the rest of us, one more round to get the best possible score, highest leaderboard place and improve your average score. Look out for this weeks blog in the next couple of hours and I wish you all the best of luck.