Well this is it lads. I can't believe it. THE FINAL ROUND of our Premier League prediction challenge. It has been a long hard slog. And super competitive all the way. A truly enjoyable experience. But, this final round will be about who will ultimately take the glory in our two main categories. The overall Leaderboard and the average score rankings.
Emanuel Lewis is leading both categories. But its the margins are so fine that it could still fall out of his hands in both. A two way battle at the top of the leaderboard and a three way battle at the top of the average score rankings. This weeks prediction challenge is going to be super interesting. Looking over your shoulder much Mr. Lewis? There are many permutations that could change things. I wish a good luck to all our competitors this week.
Also we mustn't forget its also the penultimate round of our Serie A prediction challenge. A three way battle at the top of the leaderboard with two rounds to play. Which way will it go. As for average score rankings, in the Serie A, it seems only if Martin Collins bottles it big time will anyone have a chance to sneak in. Anything can happen. So lets get to it.
PREMIER LEAGUE
In terms of the excitement factor, most of it has already gone. The title was sewn up long ago. Three of the four Champions League places are booked. And the relegation spots are all but decided. Shame. We always like to see a little stress and controversy on the last game of the season.
So this weekend it all seems to be about that 4th Champions League qualifying spot. Liverpool are in pole position. A single point at home to Brighton enough to guarantee them 4th spot. I just can't see them screwing this up, even though we are Liverpool. Brighton have secured their spot in the Premier League for next season and, well, Liverpool are at home. Where they have not lost in the league all season. So Liverpool must be heavy favourites to get the three points. It would be good to see them hit some form again. They last couple of weeks have been average at best, and a good win will put them in a good frame of mind prior to the Champions League final.
At the same time, Chelsea do not have an easy task travelling way up North to take on Newcastle. Let's be clear, a Rafa Benitez side is never easy to beat. This Sunday will be no different. And to be honest I can actually see Newcastle getting something from the game in their final home match of the season. The crowd will be up for it, celebrating what has been a decent return to the Premier League.
As for the rest, well pretty boring really. I don't see Southampton getting in the way of Manchester City's record breaking season. A win for the Sky Blues getting them to 100 points. A truly amazing feat, for a truly amazing side in a truly amazing season. One can only revere their achievements this season. United should pick up three points at home to Watford. And sentiment tells me that Arsenal with give Arsene Wenger one final send of as they travel to Huddersfield who are now safe. As for the rest, full predictions below.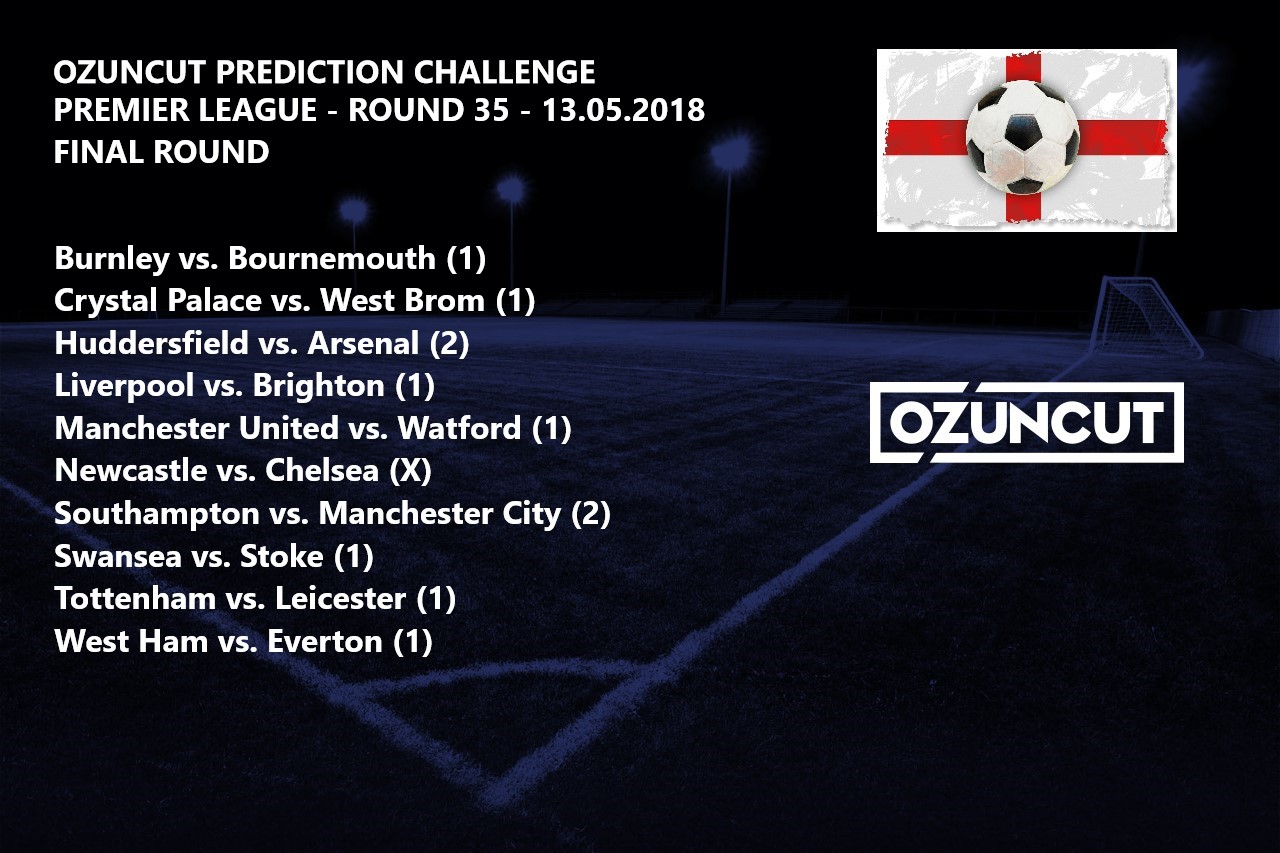 SERIE A
You have got to think this is the week when Juventus pick up their 7th straight Italian Serie A title. Whether it be them picking up the point they need away to Roma, or Napoli failing to beat Sampdoria and their very impressive home record. Either way, I get the feeling this is the week for Juve. They will be riding high from picking up the Coppa Italia rather impressively mid-week and I can see them keeping it tight and snatching a draw or tight win in Rome. In true Juve style.
The race for the top 4 is still pretty hot as well. Two points between Roma in third and Lazio in fourth. With Inter a further two points a drift, it is still all to play for. With the games remaining, it really could go any particular way. Which is great for fans. I've gone for a Roma draw with Juve this week and can see both Lazio and Inter winning their games comfortably.
As for the bottom of the table, one more to drop out. Benevento and Verona are gone. So now its down to Cagliari, Udinese, Crotone, Chievo and SPAL to fight tooth and nail to stay in the league. This round of games could prove decisive. You can see all my predictions below.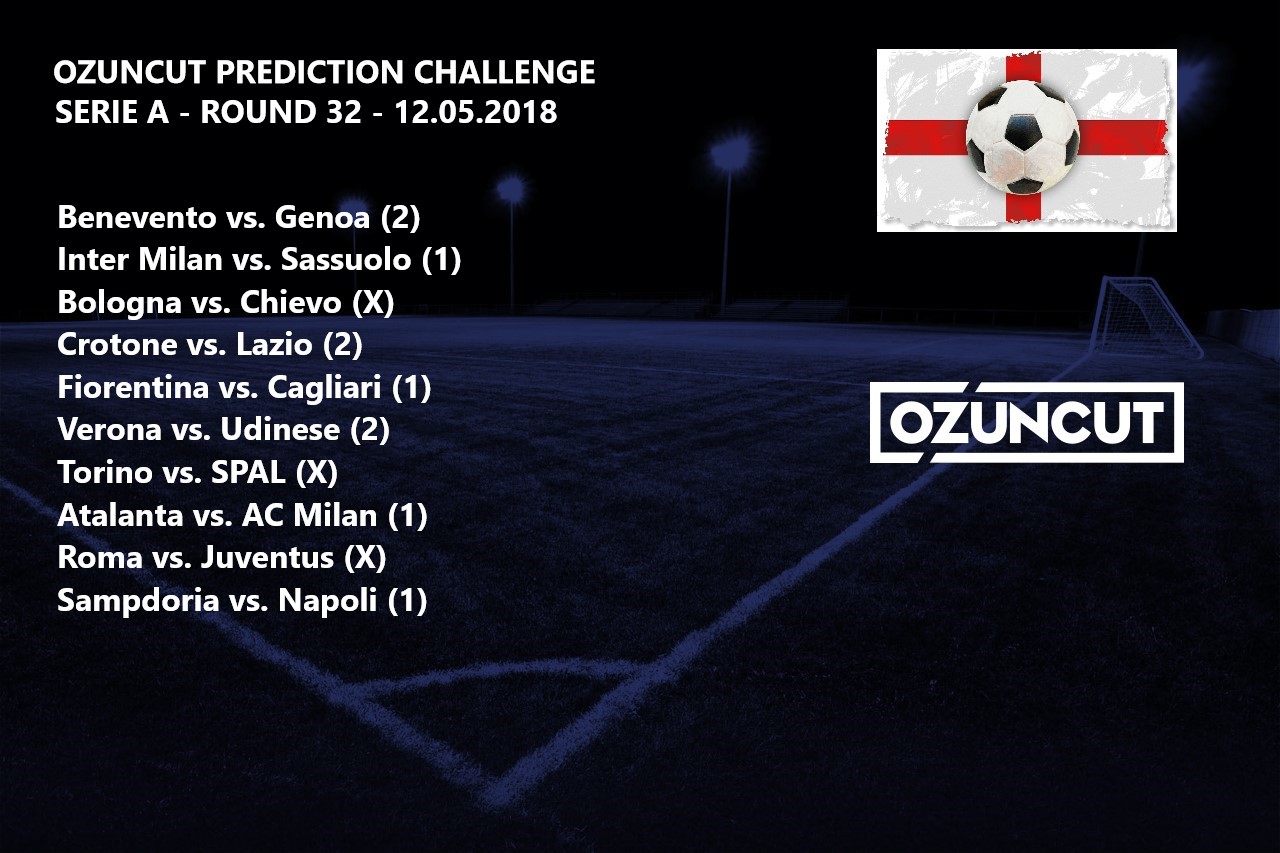 Just for you guys to know, Serie A matches kick of on Saturday at 1800 hours while the Premier League games are all on Sunday at 1600 hours. I wish you all the best of luck as we approach seasons end.
Except if you are ahead of me in anyway in any of the rankings. :-p
Have a great weekend.
——————————————————————————————————————————————————-
UPDATE 14.05.2018 – PREMIER LEAGUE FINAL RESULTS 
Well gentlemen, it is finally over. Yep the Premier League season has finished, and what a season it was. Manchester City CHAMPIONS, breaking nearly every record along the way. Manchester United solid if not overwhelming taking second place, with Tottenham and Liverpool leaving it late to confirm their Champions League spot for next season.
As for the relegation battle, well Swansea, Stoke and West Brom say goodbye to the Premier League and hello to the Championship. So how did we all do in the final round of predictions? Let's take a look.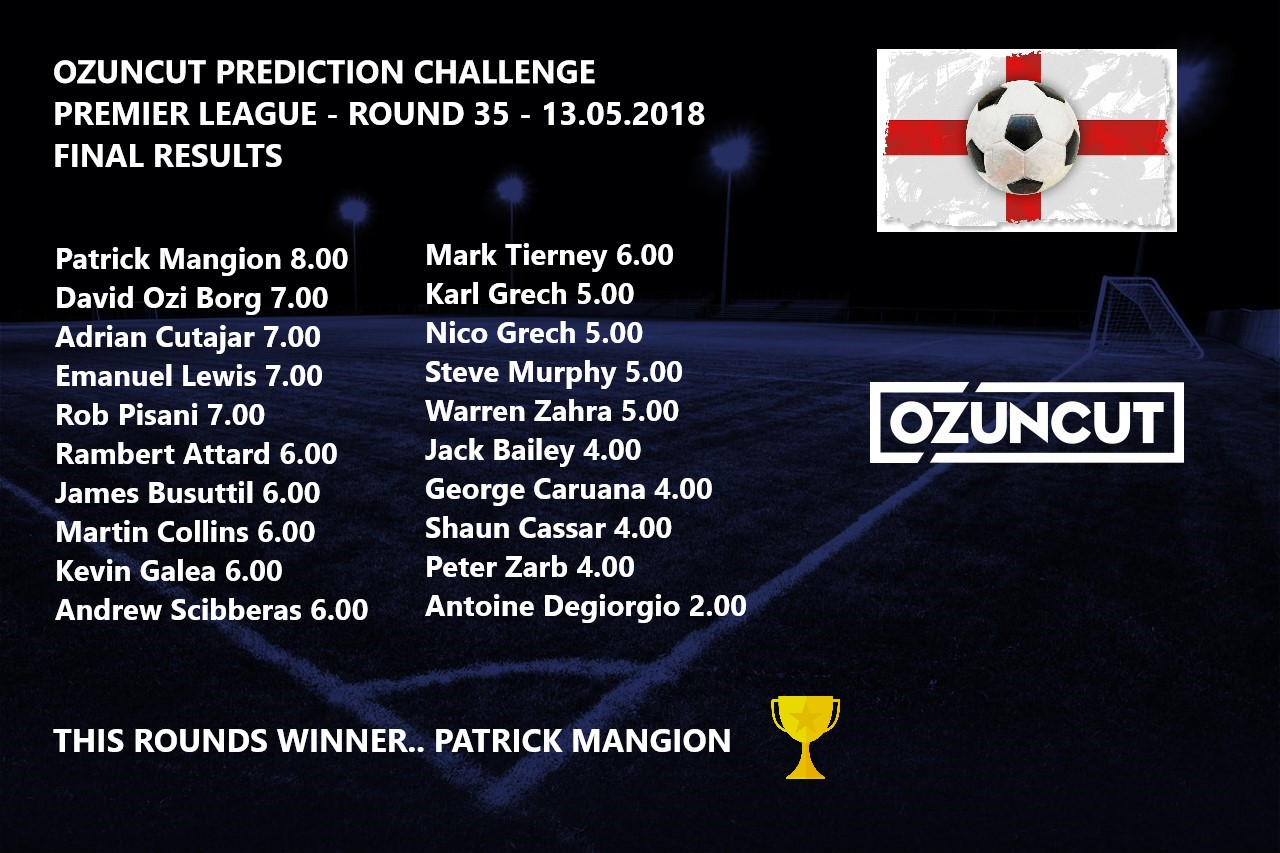 Very well done Patrick Mangion grabbing himself a round victory with a very impressive score of 8/10. Myself, Emanuel Lewis and Adrian Cutajar, fighting for the titles all had a very good round of 7/10. As did Rob Pisani. Not fighting for anything, but ending off with some respect. A final mention for Antoine Degiorgio. See what happens when you bet against Liverpool, 2/10. We all love you Twanny.
So, now the moment of truth. The final tables. The glory has been decided, and goes to…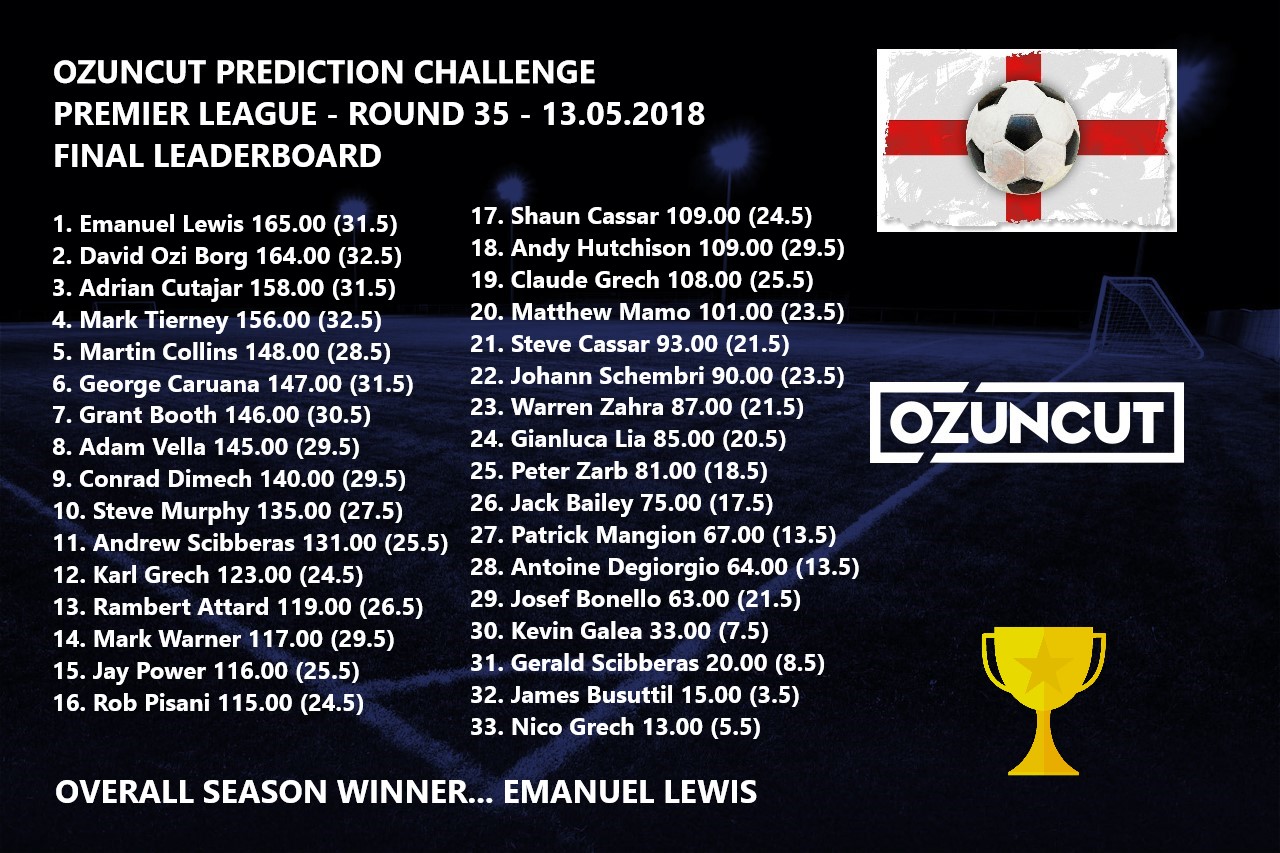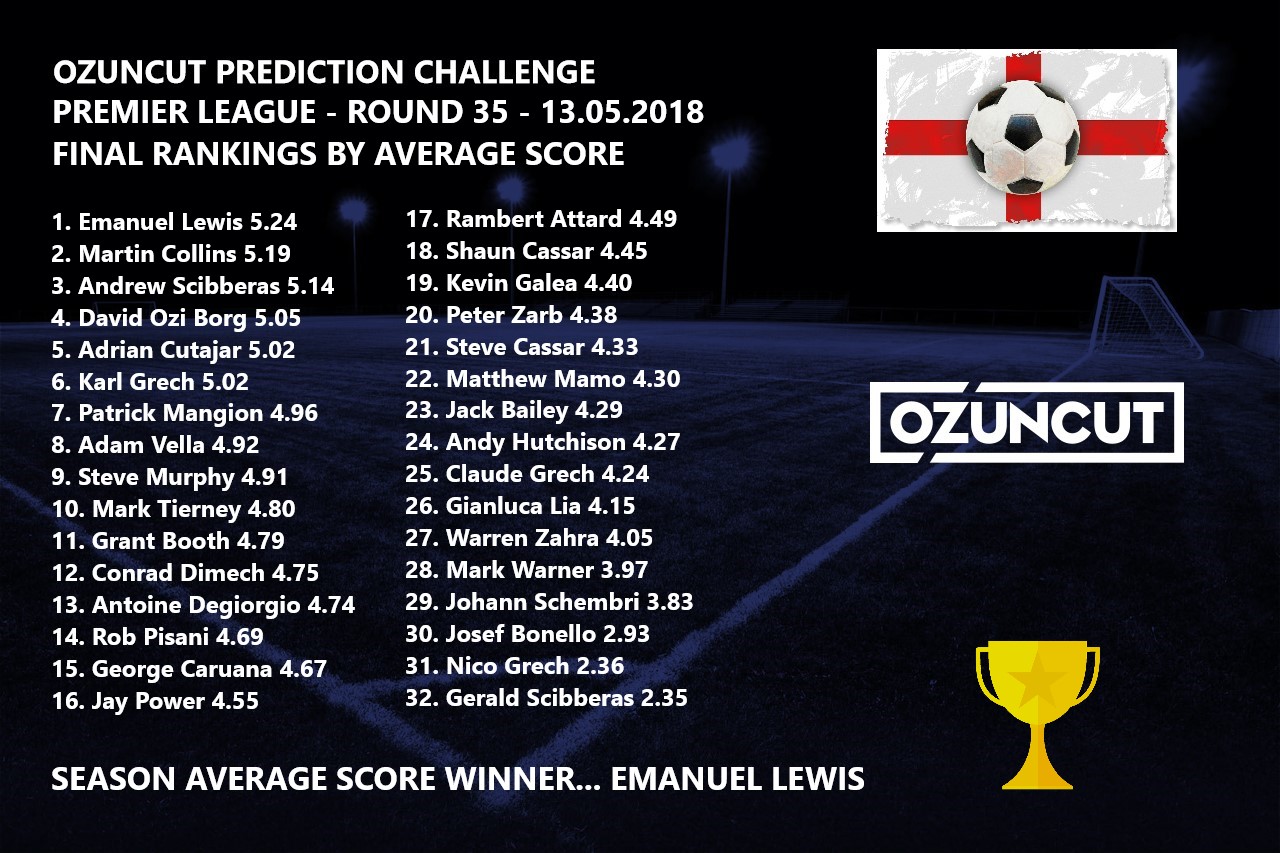 EMANUEL LEWIS…. CONGRATULATIONS… Season winner for both our Leaderboard and Average Score rankings. A tough competitor, super aggressive and on occasions, like his beloved Manchester United, was tactical and parked the bus. But if I look back overall at the Premier League prediction challenge, I am humble enough to say the best guy won. Congratulations from all of us. (Well from me at least, other competitors may be cursing your blood line).
In the final leaderboard, it was myself who came in second after a neck and neck battle with Adrian Cutajar, Mark Tierney and Martin Collins making up the top 5. When it came to the Average Score Rankings, Martin Collins almost got there, but takes a very impressive 2nd place. While Andrew Scibberas, myself and Adrian Cutajar make up the top 5.
I would like to say firstly, well done to all for efforts and I hope you had fun. Thanks for the support and it has been a pleasure being your "master of ceremonies" during the season. I can assure you, by the beginning of next season, everything will be automated so you can just log into the site yourself and keep up to date with everything that way. Oh and it will be a little more challenging too as you will be guessing scores as well. But more on that through out the summer.
UPDATE 14.05.2018 – SERIE A RESULTS
Well it was the weekend that most of us dreaded in the Serie A. Juventus confirmed champions for 34th time, 7th in succession. Oh and there is the little matter of 4 doubles in 4 years. YUK. Sorry Juve fans, but I seriously craved a bit of a change this year. However, I will congratulate you on another fantastic season. And who knows, if it wasn't for Michael Oliver, you may even be losing the Champions League final. (Too soon?)
Lol. Sorry. Couldn't resist. Well there is still one more round of games coming this weekend. And I can now reveal all the results and updated tables from Round 32 of the Serie A Prediction Challenge.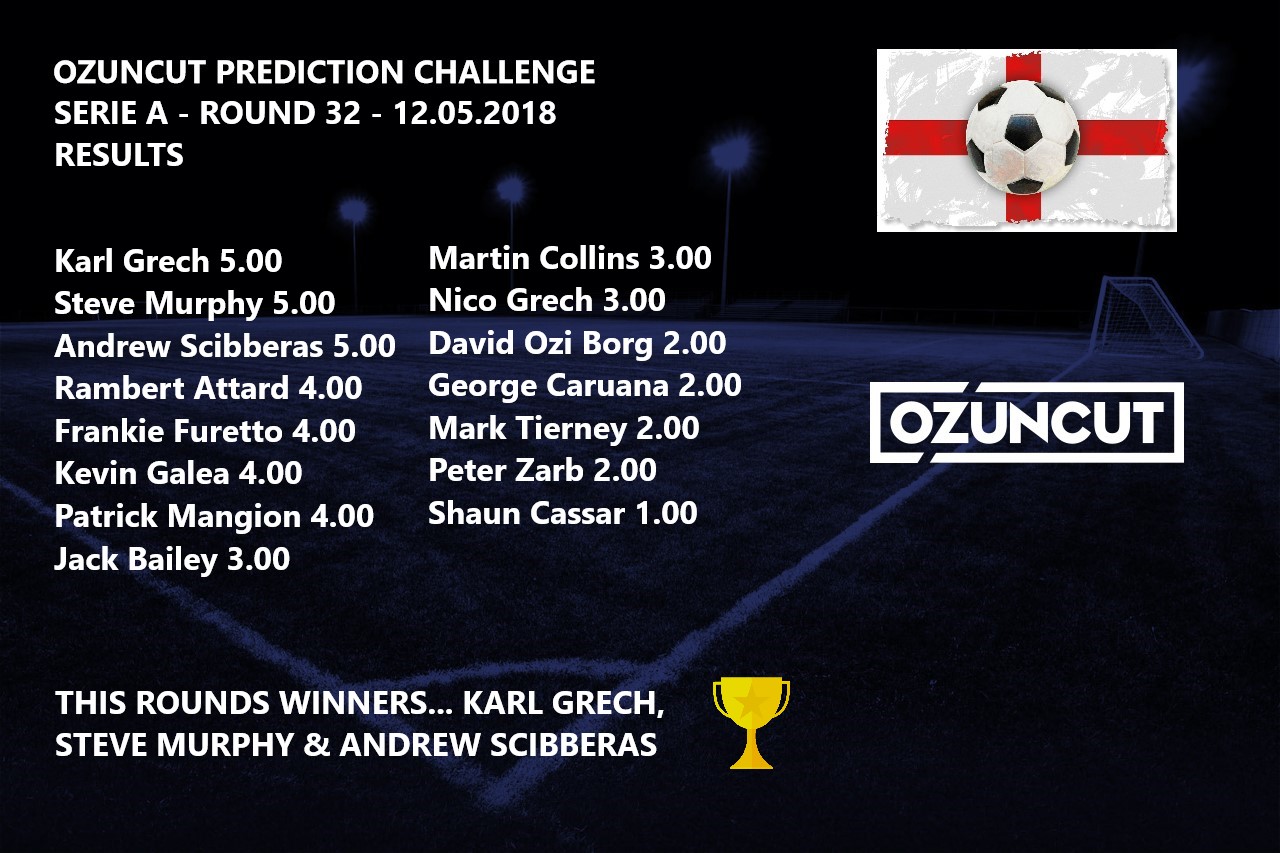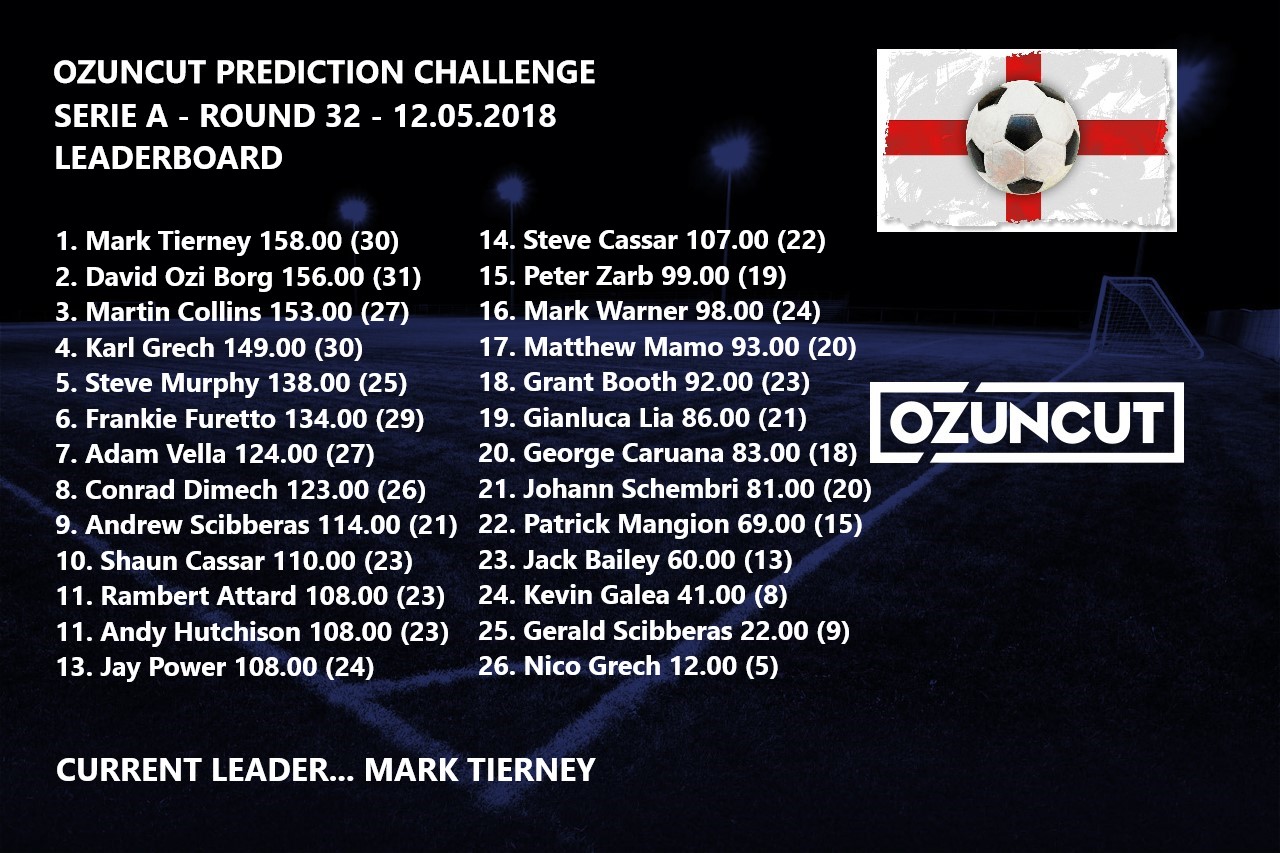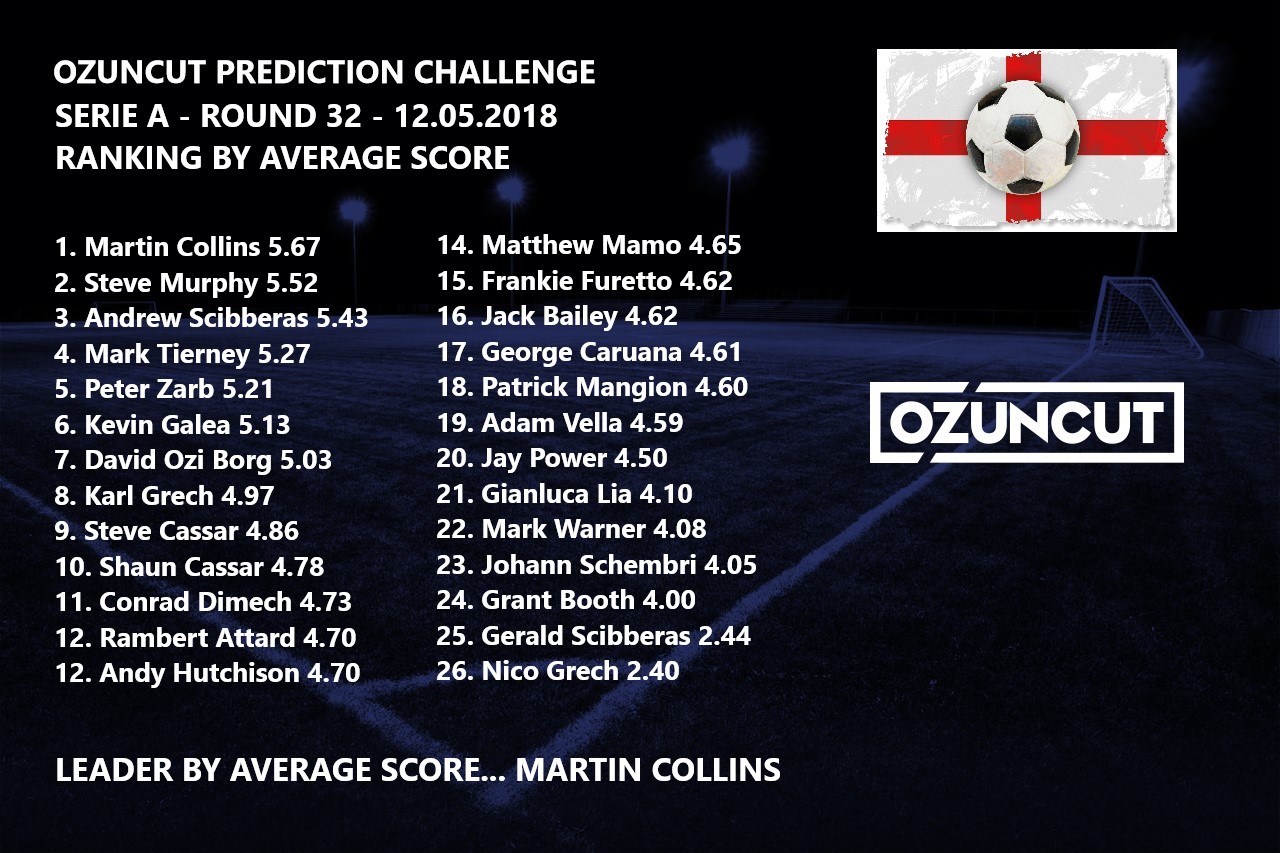 A three way tie for the round, well done Karl Grech, Steve Murphy and Andrew Scibberas. Good effort lads in what was a very, very difficult prediction week in Italy. With our leaderboard, still all to play for. Mark Tierney still ahead, myself in the mix, and even Martin Collins in with a shout if he manages a HUGE week.
But, will Mr. Collins choke instead and surrender his Average Score top place with the title almost in his hands? Will Steve Murphy pull off a big round and snatch it at the death? Well we will know the answers to all these questions in exactly one week from today. In the meantime I would like to wish you the best of luck for the final round.
Have a good week all.