Considering I have previously had the tendency to get carried away, I thought a shorter more concise Premier League round up would be a good idea.
This weeks Premier league games started with a really good game at newly promoted Huddersfield Town. Now I say really good, because Tottenham were really good. The quality of football they played in the first half was downright spectacular. Harry Kane is an absolute beast. He makes intelligent runs, and can score goals with the right, left and his head. He is also quicker than you might think. I remember when I first saw him a few years back he looked a bit slow, but that is no longer the case. He looks sharp and intelligent and is on course to become one of the best players in the world. The other front two of Alli and Erikson are also very impressive. Add that to probably the best defence in the league and if they can keep injury free Spurs will have a great season.
As for Huddersfield, they caused themselves problems with some erratic defending, but were just beat on the day by a far superior team. Easy 4-0 win for Spurs.
It was a similar story at Old Trafford where Manchester United won 4-0, oh how it pains me so. One side clearly better than the other. United continued their great start to the season (Oh how it pains me so). They were not spectacular, but very good and cruised to victory. Fellaindinho helped himself to a brace and is finally starting to get the praise his efforts deserve. Now if only he could get rid of that dead sheep on his head.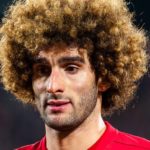 Every week Romelu Lukaku is making me choke on my own words. Even though once more he had a pretty quiet game, he popped up with another goal. That's now 7 in 7. Look out for an OzUncut Romelu Lukaku retraction/apology in the very near future, I feel it coming. As for Palace, well they were just f***ing awful. The club is being run into the ground from the top down. Not even a third of the season gone and its almost certain they will be relegated, bar a Roy Hodgson miracle. Hahahahahahahaha. My advice to Palace fans, do yourself a favor and stop watching football for about 2 years. Then one day in 2019 switch the telly on and see where the club is at. That might save you either an ulcer, irritable bowel syndrome of something far worse.
In the big game of the round Manchester City showed again they will be hard to beat in the title race with a 1-0 win away to Chelsea. The home side were not helped by Morata being taken off before half time with a muscle strain, but it was clear that City were the better side. More dominant and deserving of the win. Kevin De Bruyne was phenomenal and Gabriel Jesus a constant threat. In the battle of the "sugar daddy clubs" of the Premier League the northerners came out on top. 
Arsenal cruised to a 2-0 win over Brighton. It was a pretty easy afternoon for the Gunners. They should have really won by a bigger margin but on many occasions lacked quality in the final third. On the other hand as usual Alexis Sanchez was pure class. No wonder they did not want to let him go in the summer. He is there best player by a mile and they will miss him hugely next season. Because Yes Arsenal dreamers as much as you try and retain hope that he will stay, I can guarantee you he will not. As for Brighton, well their season will be a tough one. I would like to see them stay in the Premier League but at this moment I think they will be one of the relegated teams.
Liverpool did another Liverpool at St. James Park against Newcastle. To be openly honest it was a match that lacked any real quality. It was scrappy, and in this case everything that can sometimes make English football the "ugly" game. As always Liverpool had the lion share of possession but did very little with it. Newcastle to give them credit put in a good shift. They defended deeply and passionately and deserved a point out of the game. As for Liverpool, if they have any aspirations of finishing in the top four again this season they will need to do a lot lot better.
Rounding off the other games, Bournemouth were better but couldn't score at home against a boring Leicester. There was an exciting but poor quality game at The Brittania which Stoke scrappily won 2-1 over Southampton. West Brom hung on by the skin of their man bits to claim a hard earned draw against Watford. Two late substitutes may have saved Slaven Bilic from the hangman. Sakho scored in the 90th minute to give West Ham a 1-0 win over Swansea in another pretty awful game. And finally Everton are rubbish. Do I need to say more?
"Don't forget to keep an eye out for the OzUncut weekly predictions game, its just a bit of fun but a good challenge".
https://ozuncut.com/index.php/2017/09/29/football-prediction-challenge-30-07-2017/