What is it they say, the new year brings with it new beginnings, new opportunities and the potential for a new me? It's a little cliche I know. A part of me cringes just thinking about me going public with this. But the simple fact of the matter is, at this stage, I have no choice. I need to grasp at anything that will help me with what needs to be a life altering challenge. If that needs to be in the form of a New Years resolution, then so be it.
You may be wondering what the hell I am on about. Either that or it comes as painfully obvious. I need to lose a dramatic amount of weight, and I need to do it now. I am 46 years old and on the health scale I am considered as morbidly obese. As much as I would like to use the fact that I am big framed as an excuse, I just don't think I can do it anymore. I weighed myself on Monday morning and I am going to be completely honest with you, it read 165.4kg. This is the heaviest I have ever been in my life.
Once more, in the spirit of being completely transparent, the issue of my weight and my body shape has been like a eternal weight of shame hanging around my neck, choking the joy out of my life. I could blame my mental health issues, comfort eating or Nigel Farage for never having been able to correct the issue, but in reality that would just be more excuses, more lies. To both myself and those around me. The simple fact of the matter is that I haven't lost the weight because it was too hard. It was way too much effort and I didn't have the courage to see it through. In the year 2020 this must change once and for all.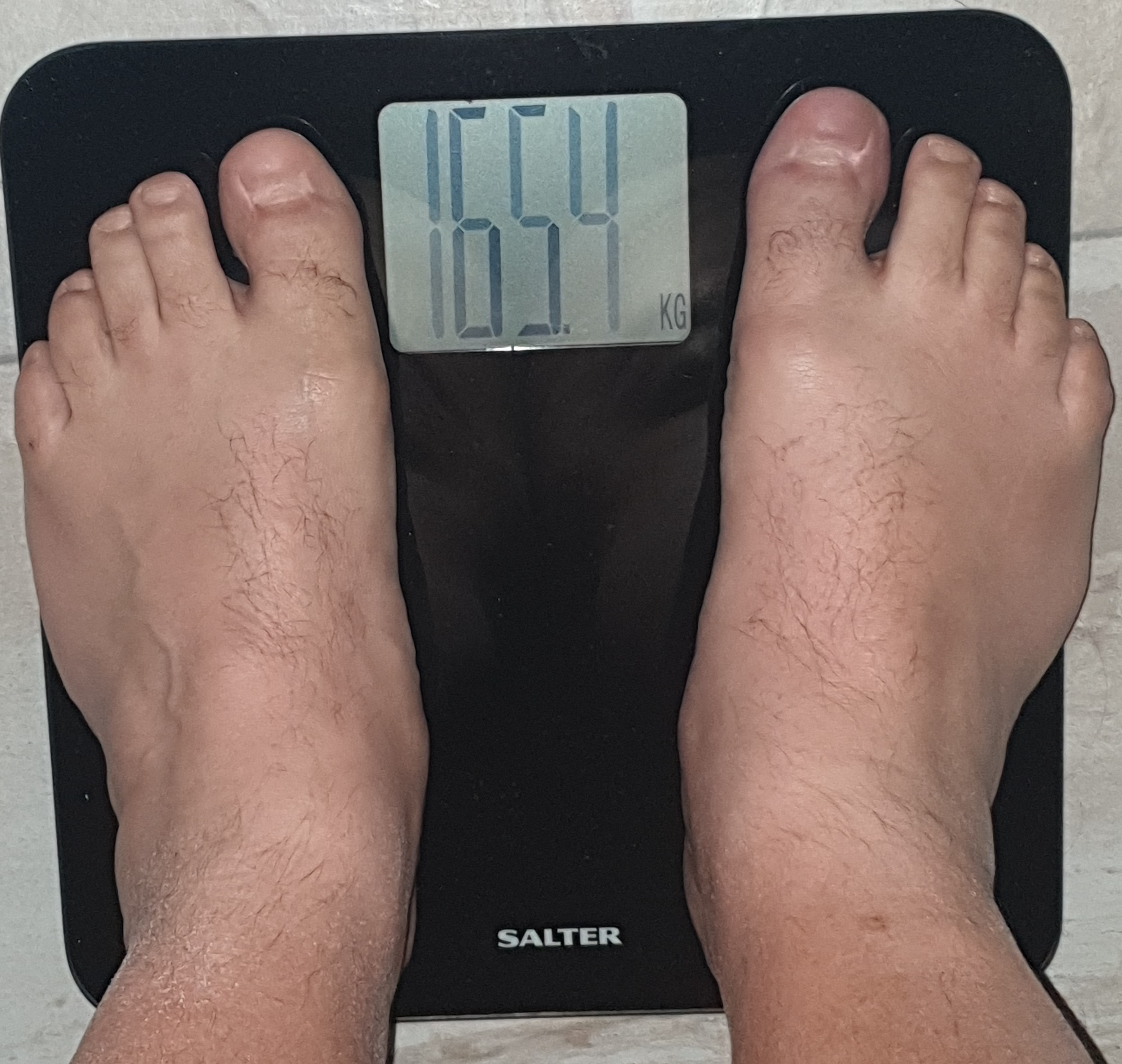 So what are the reasons, why now? There is a simple two fold answer to that. First and foremost I believe it is the main reason that I fail to really find joy in my life. How sad is that. Really, with all the great things that surround me in my life, I am unable to feel genuine joy. No longer do I wish to spend my days like this. I want to feel joy and I want my family to witness me experiencing joy. For far too long they have seen me struggle and felt the pain.
The second reason is obvious. I want to live a long life. Let me ask you a question. How many morbidly obese 80 year old people do you know or see? Here's another question. How many morbidly obese 70 year old people do you know or see? Or 60 year old people for that matter? The answer? Hardly any. It's very rare. The stats are seriously in favour of me dying young if I continue down my current path. And as hard as it has been for me to lose the weight, I am scared of dying young. Scared of leaving my wife without a husband. Scared of leaving my children without a father. Just plain scared.
So that is why it has to be now. This year. 2020. No more excuses. Time to think positively and just get it done. This is why I have set this challenge. It is not going to be easy, but I think it is realistically possible. The challenge is to lose 50kg in 50 weeks. I know which formula works, I have done it once before (several years ago I had lost about 25-30kg in 7 months). Its a hard target, but I honestly feel it is attainable.
I want to write my thoughts and struggles throughout this challenge and share my experience with others. I think the support will be of great value along the way in helping me to achieve this goal. Whilst at the same time I will be hoping to serve as an example for others who may find themselves at the same cross roads. So week by week, month by month, I will be writing this journal and sharing this journey with you all.
I had it in mind that with this first blog post I would start by posting a photo of my almost naked body to show you where the starting point has been. The photo has been taken. But, if I am completely honest with you, I am so ashamed of it, I just can't bring myself to share it. I'm sorry. Hopefully at some point, later on in the journey I will gain the confidence to show you where it all started, and how I looked in the beginning.
In conclusion, please join me on this journey. It doesn't just have to be about weight loss either. Most of us have something that for the longest time we have wanted to change in our lives but never managed to do so. Let's take our journey's together and support each other. For what was it that Thomas Paine once said, "it is not in numbers but in unity that our great strength lies"
I HAVE TRIED AND FAILED MANY TIMES BEFORE, THIS TIME I JUST CANNOT.
Feel free to comment or message me anytime, you can do so in the comments box below this article on the website, or by contacting me on social media or [email protected]. May all your 2020 journeys be successful ones.