Here we go, here we go, here we go… Imagine the bunch of us in full verse, sitting in our Prediction Challenge virtual grandstand. Anxiously waiting for the weekends football to begin. I just love it. Time flies, and we are back already for another round of enthralling football encounters in both the Serie A and Premier League. My favourite part of every week.
Of course it all means we must once again crunch the numbers, do our analysis or mostly likely blindly guess another weekend in the OzUncut prediction challenge. In case you are like me, and bordering on the edge of senile, take a look back and see how you did last week and how things currently stand.
So, before we get to this weeks Prediction Challenge, let's get to the rules. Pretty simple, if you are a newcomer all you have to do is read through this brilliant article, digest my cutting edge analysis and then make your own predictions. Easy peasy. Head down to the discussion box below the article and post your predictions. In case you are unsure, follow the lead of some of our seasoned veterans here whom you will see make their predictions below. Just in case, the rule sheet.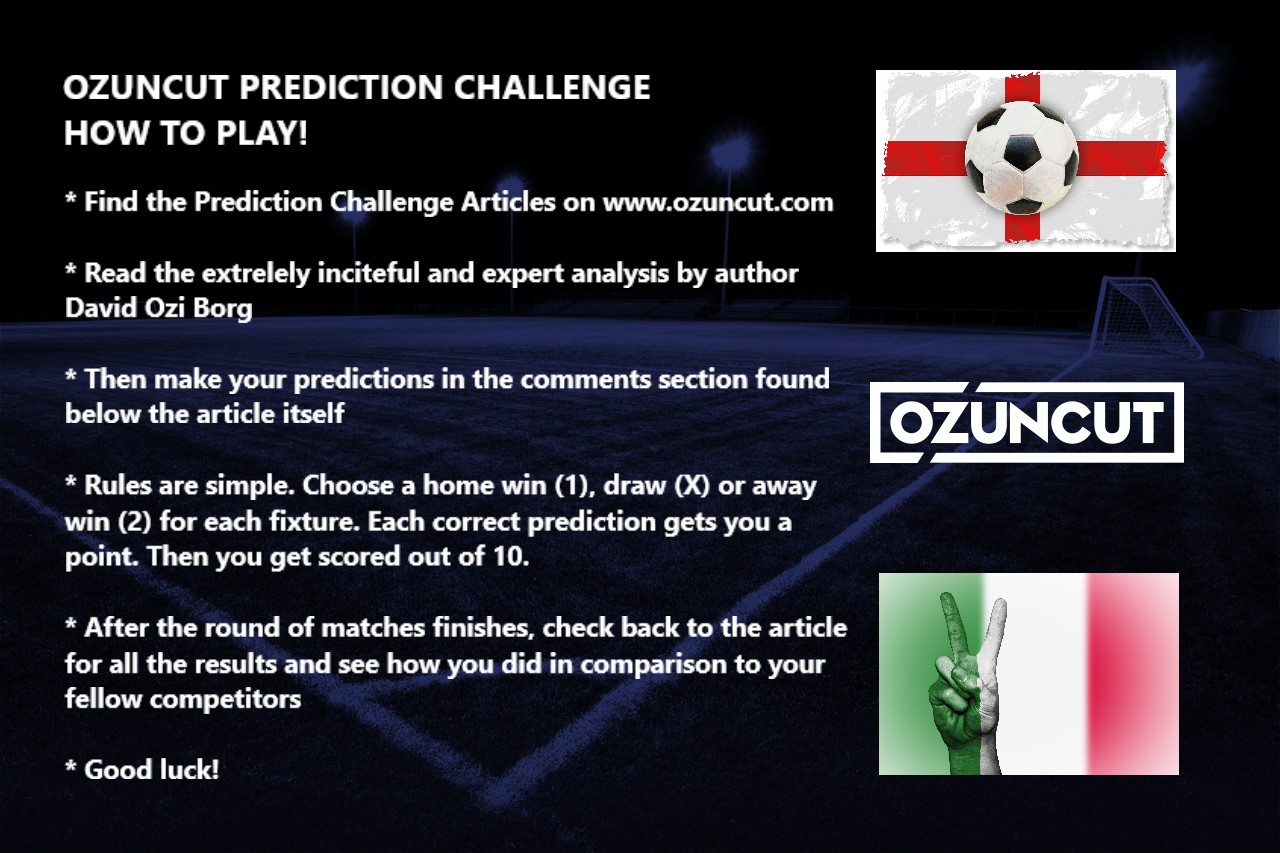 Get yourself involved, show us how good you are and get competitive. I assure you we all are. 🙂 So let's get too it. Another round of games and I will start by assessing what is happening in England.
PREMIER LEAGUE – ROUND 22
Whilst a lot of games are difficult to predict, there seems to be one game per round that does your head in. For me that game this weekend in the Premier League is the North London derby between Tottenham and Arsenal. Let me start off with confessing I am going for an Arsenal win. But it was not an easy decision at all. Spurs are at home, Wembley, where they have enjoyed a lot of success this season. But for me, the signings of Mkhitaryan and Aubemeyang are huge for Arsenal. Two very high quality players who if you add to Ozil form a seriously potent attack. Should Jack Wilshere play, and be on form I really fancy a gunners win. The only concern that I have is how many penalties Tottenham will cheat to win? :-p
Everton vs. Crystal Palace is an interesting one. Normally, based on Everton's recent dire form I would have hands down gone with a Palace win. However, the Eagles most important player by a mile, Wilfred Zaha is out with an injury for a month and will take no part. With out him Palace are nothing like the same team. Because of this I can see a very cagey affair with Everton most likely to be very defensive. I reckon a draw.
Do I really need to talk about Man City? Do I? Really? Quick one then. I see City cruising to the title, most likely to win 80% of their games between now and the end of the season. Their squad is just too bloody strong. And while De Bruyne still has two legs, they will continue winning. Enough said. I fancy away wins for both United and Liverpool and actually expect Chelsea to bounce back with a big win against West Brom. Chelsea been absolute elephant turd this past month, but they are still a quality team with quality players. Now that Conte is confirmed to stay until the end of the season (we think), things should settle. I think they will get their top 4 race back on track this weekend.
For my full set of results please see below.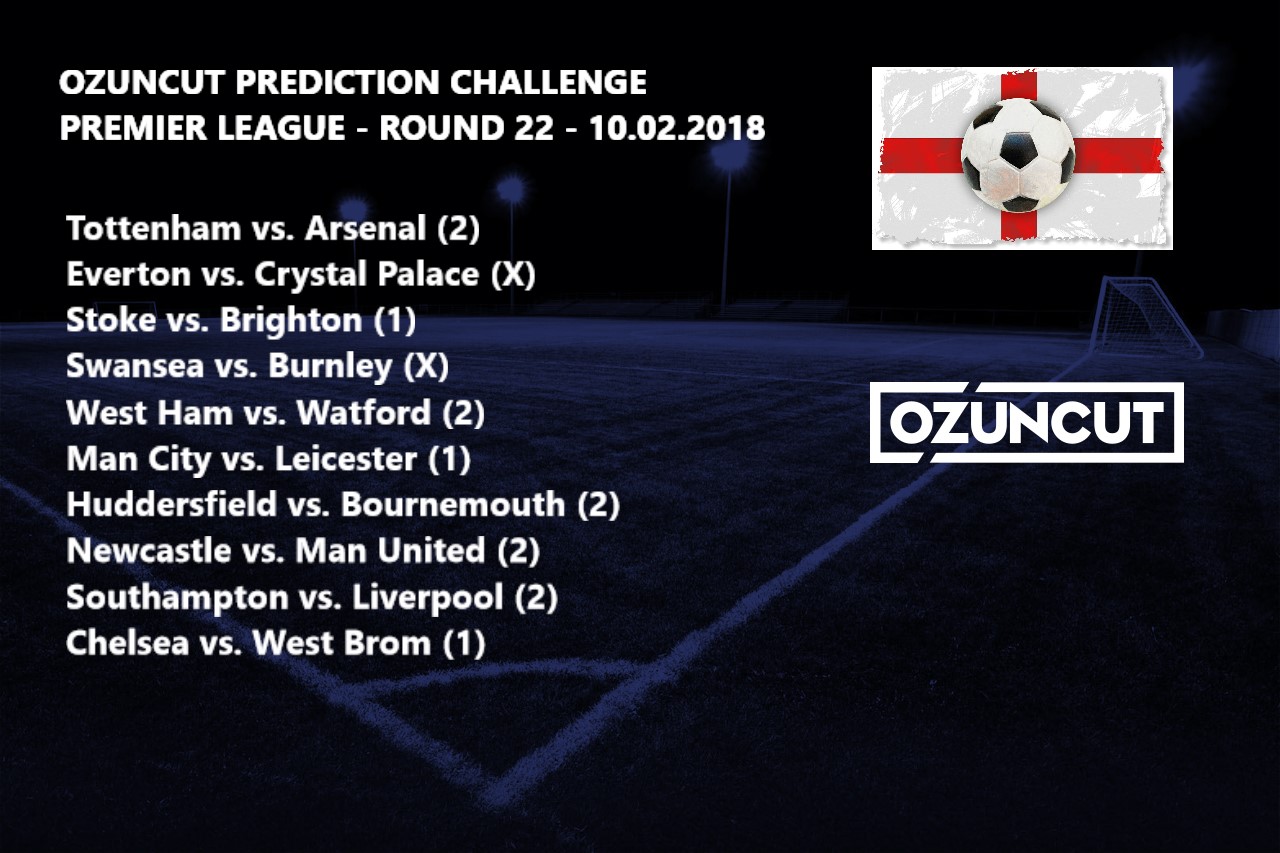 SERIE A
For me, this could be the most crucial weekend left for the Serie A. The title, believe it or not could be settled here. Two critical games which could turn things on their head. Firstly, tonight, Juventus travel to Fiorentina hoping for a big win. Juventus should win, and they will go in favourites. Fiorentina have had a very average season so far by their standards. And their home form has not been impressive. You never know in football of course, everyone wants to do well when Juve come to town. But I just cannot see anything but an away win in this one. As much as it pains me.
Even more critical is the game Saturday between Napoli and Lazio. This one could be key and it is going to be a super tough game. Lazio have a great away record, only losing two games away from home and scoring 29 goals in the process. Napoli have been good at home, but not unbeatable. A lot will ride upon the performances of Immobile and Alberto for Lazio. If those two have a great game Napoli could be in trouble. Should they have an off week, Napoli should win. It was really difficult to predict, so I have sat on the fence and gone with a draw. Even though I hope with all my being that Napoli win, because I cannot fathom seeing Juve win another title. Sorry Juve fans, but even you have to admit things have gotten rather boring.
As for the other games, Will Inter win? Form probably says no, but I say yes. Roma should have way to much for Benevento and I fancy AC Milan to get the three points in a scrappy game away to SPAL. For the rest of my Serie A predictions, well see below.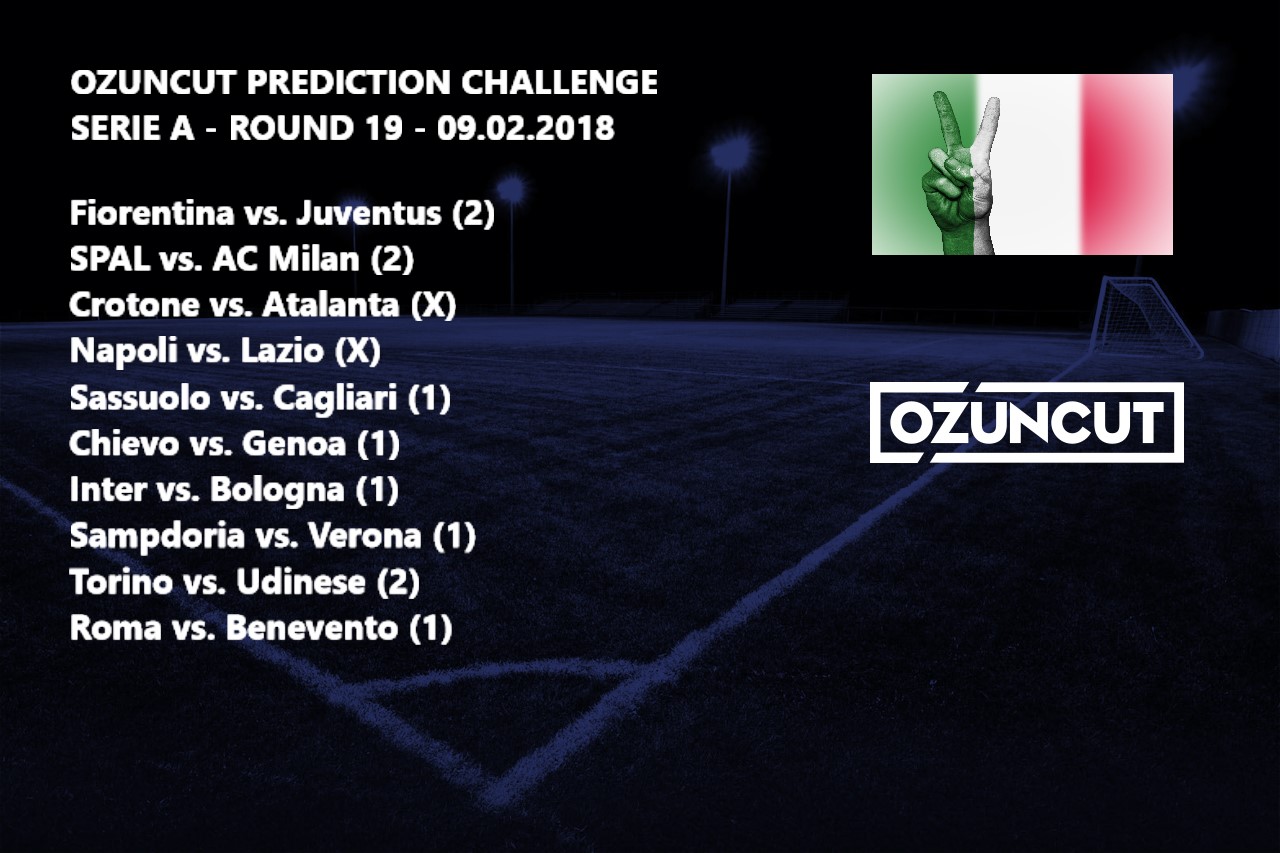 Right, that's all folks. Reminder that kick of in Italy is this evening, FRIDAY at 20.45 CET. So best if you get all your predictions in by then. Good luck to you all and have a great frikkin weekend.
Oz OUT.
UPDATE 12.02.2018
OZUNCUT PREDICTION CHALLENGE – 09.02.2018 – SERIE A RESULTS
I thought it a good idea to get out the Italian Serie A Prediction Challenge results seeing as the round is over. That way tomorrow we can release the Premier League results. So, what happened in our Serie A prediction challenge this week? Let's have a look at the results.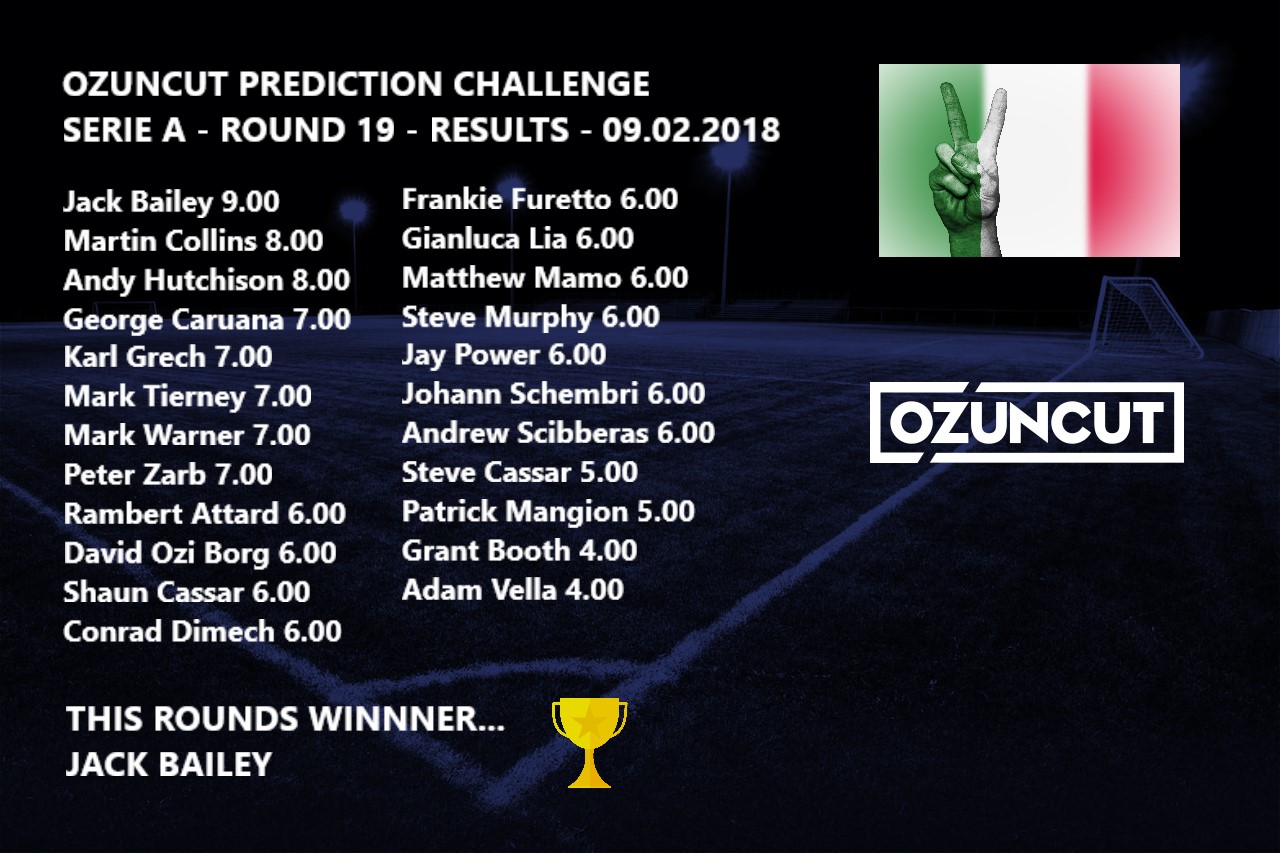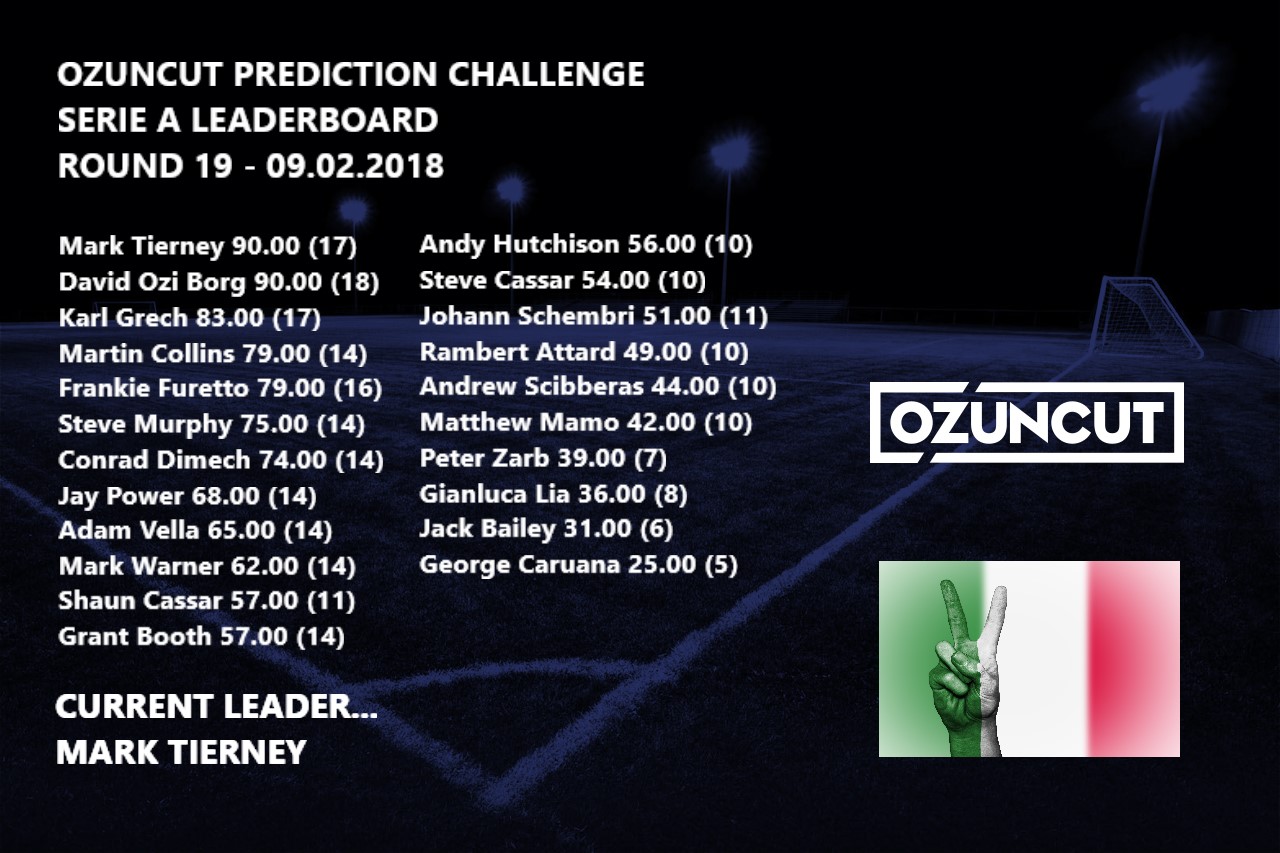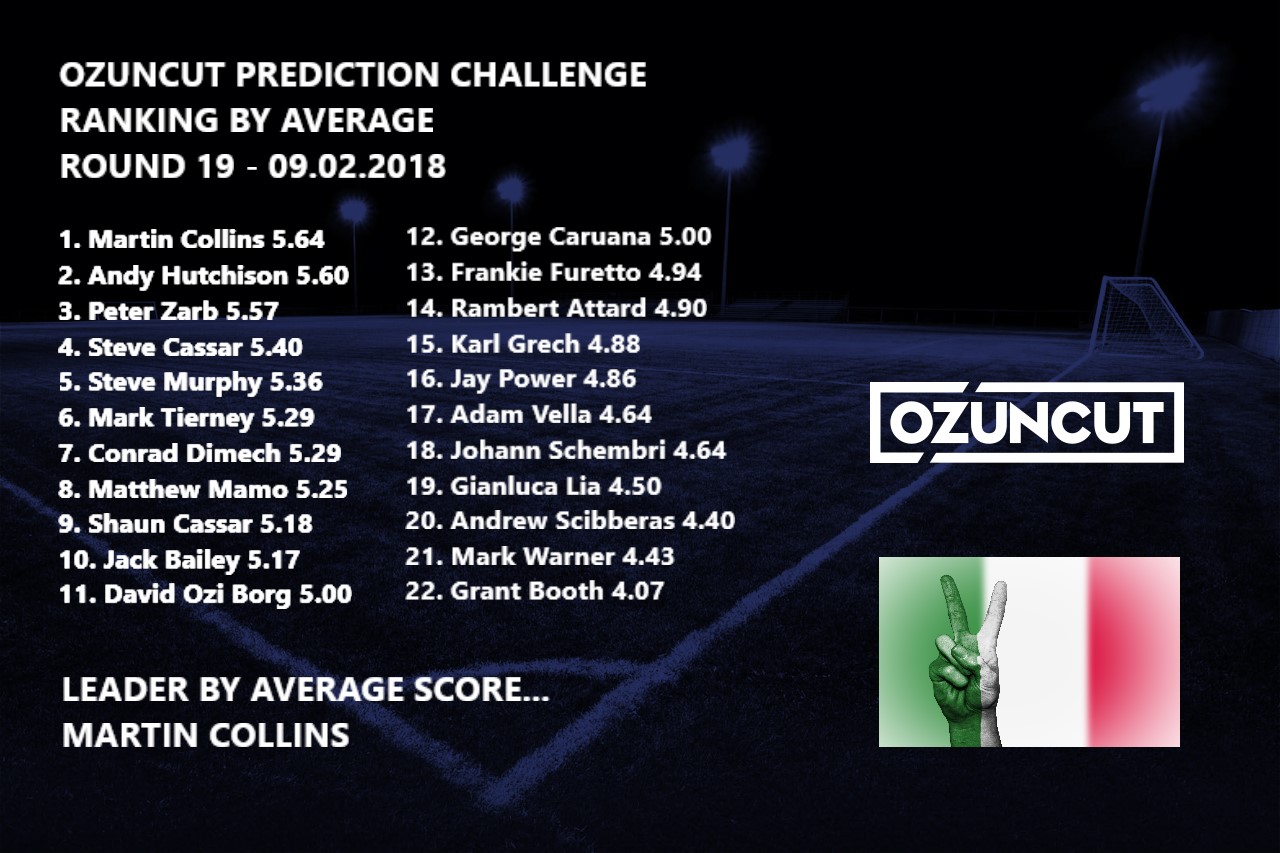 Well, Jack Bailey kind of hit a home run. Great 9/10 week just about enough to nudge out a couple of very close competitors. Well done Jack. I guess if we have to we can give a quick mention to Martin Collins and Andy Hutchison who both had very good weeks with 8/10. The average score for this round in the Serie A was a rather high 6.26/10. Good job all.
With regards to our leaderboard, well finally Mark Tierney's wettest of dreams has come true. Whilst on the same points, due to his having competed one round less he tops the leaderboard. Knocking off myself who has been there for the longest time. Don't get settled at the top Tierney, I will be back at you next week.
And finally, probably the most accurate judge of overall performance is our Ranking by Average Score. Martin Collins remains on top and even stretched his lead ever so slightly. But, the pretty consistent Andy Hutchison is on the march, his up one place and on your coat tails, or kilt tails. Hang on in their Collins.
Right. That's it for now. Look out tomorrow for the release of our Premier League prediction results.
UPDATE 13.02.2018
OZUNCUT PREDICTION CHALLENGE – 09.02.2018 – PREMIER LEAGUE RESULTS
Well, it was a good week in the Premier League Prediction for some. For the record myself and Emanuel Lewis were not included in the "some". Man, we were both terrible. But that is the way it goes sometimes in this competition. You can have a great week followed very quickly by a shocker. That is what makes it such a challenge. So let's get straight to it now, wrapping up last weekends challenge, here are the Premier League results.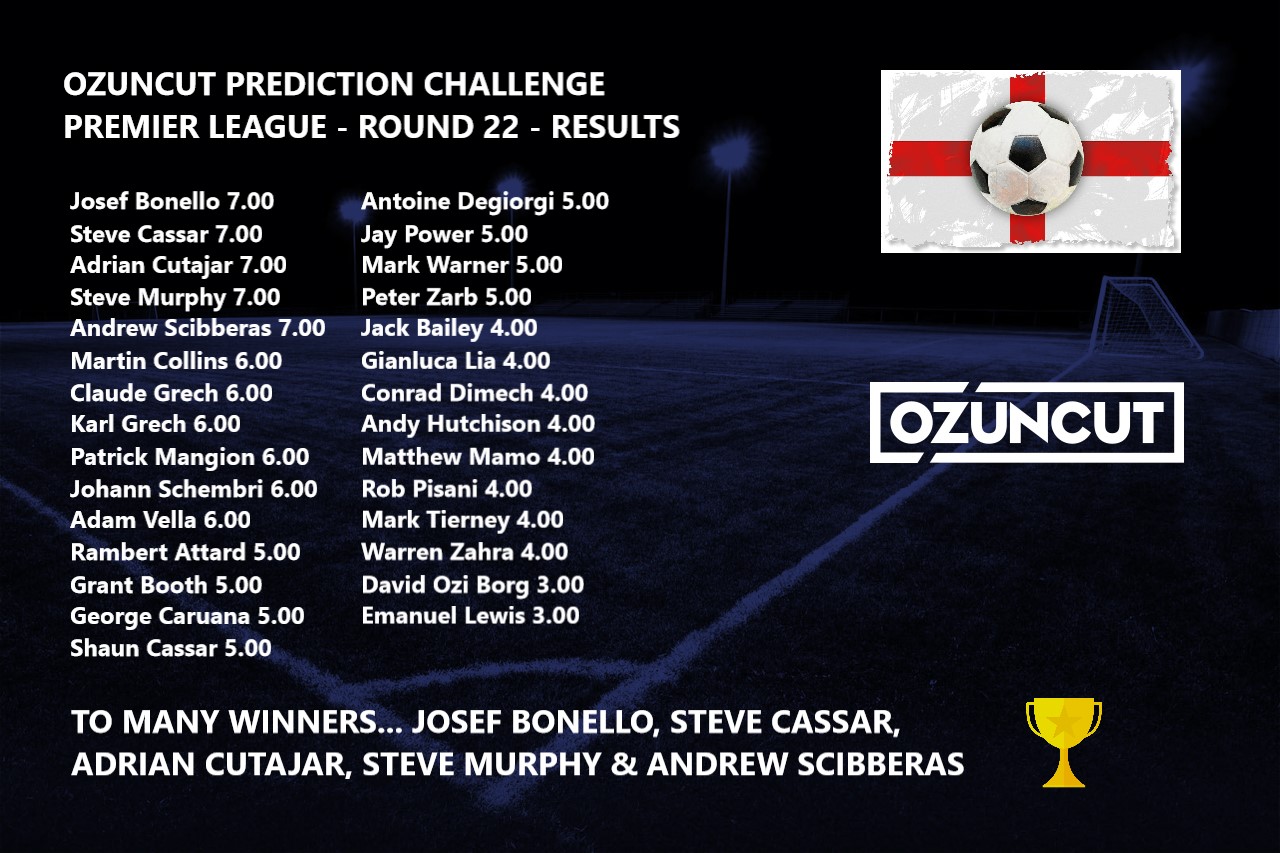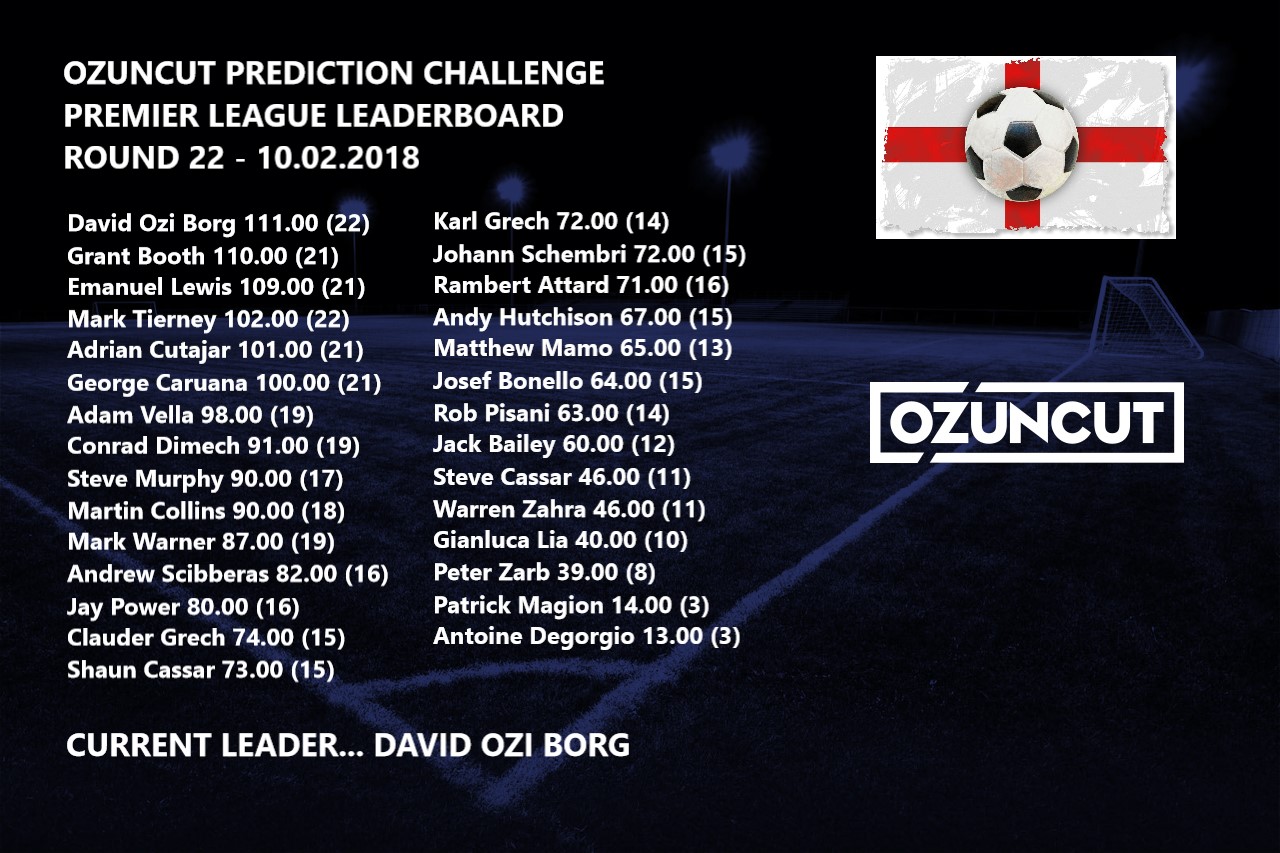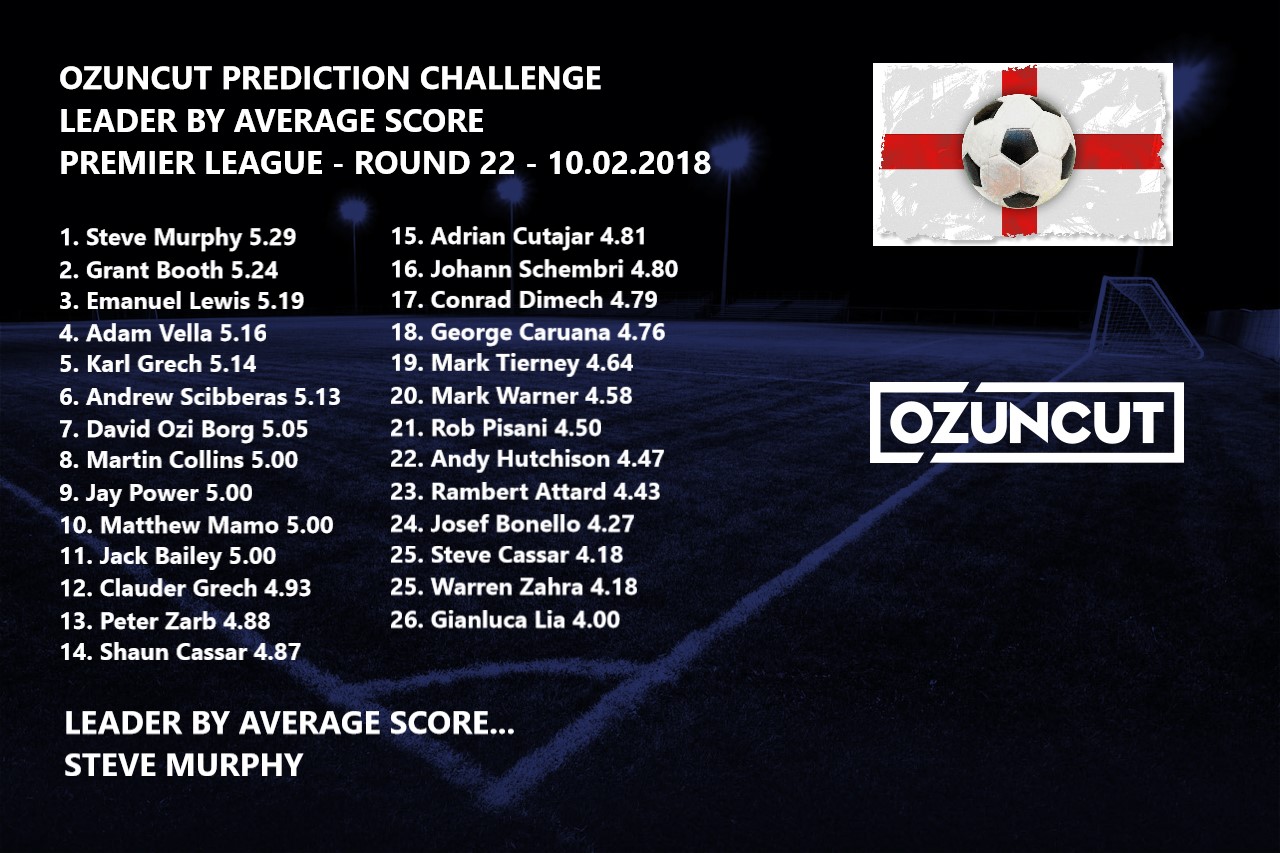 Well too many suspects to stay mentioning all. You can call yourselves winners if you like, but I am kind of really sour after my own performance, so will just say this. Well done the group of you who got 7/10. I will admit it's a very solid effort. The average score this week was 5.14/10.
In terms of the leaderboard, things are pretty tight at the top. At least, even though I had a shocker, I managed to stay on top, JUST. And we have had a change at the top of the Average Score rankings. Steve Murphy jumping up two places to snatch top spot with Grant Booth and Emanuel Lewis dropping down. Well done Murph. Great effort. Will there be more changes in the next round? We will just have to wait and see.
There will be another round in the Serie A in the coming weekend. As for the Premier League, you've got a week off. As the league breaks for FA Cup action… Enjoy your week all…