Hello all and welcome to another weekend of our Prediction Challenge. Big rounds of football in both the Premier League and Serie A for us to dig in to. And whilst some of us have been doing very well, others, myself included, certainly need to up our game. So take your time and give it some thought this weekend.
In case you are taking our prediction challenge for the first time, welcome first of all. The rules are about as simple as you can get. Follow the below instructions and your good to go. In case of any doubts, head to the discussion box below the article here and follow the lead of some of our regular competitors. Good luck.
PREMIER LEAGUE
Right, I am still down with the old sinus issues so I am going to keep it brief. In fact I am going to try and give you a one paragraph review for each league. In the PL i cant see a pretty poor Stoke getting anything out of their trip to Leicester. Liverpool should have too much for West Ham at Anfield. Everton are in miserable form and I think that will continue away to Watford. AND, in the game of the round, I am expecting a miserable, boring match. My best guess would be a 0-0 or 1-1 final score. Two sides who air on the side of caution, don't expect an end to end goal-fest. My full PL predictions below.
(* Please note there are only nine fixtures this week due to the EFL Cup final.)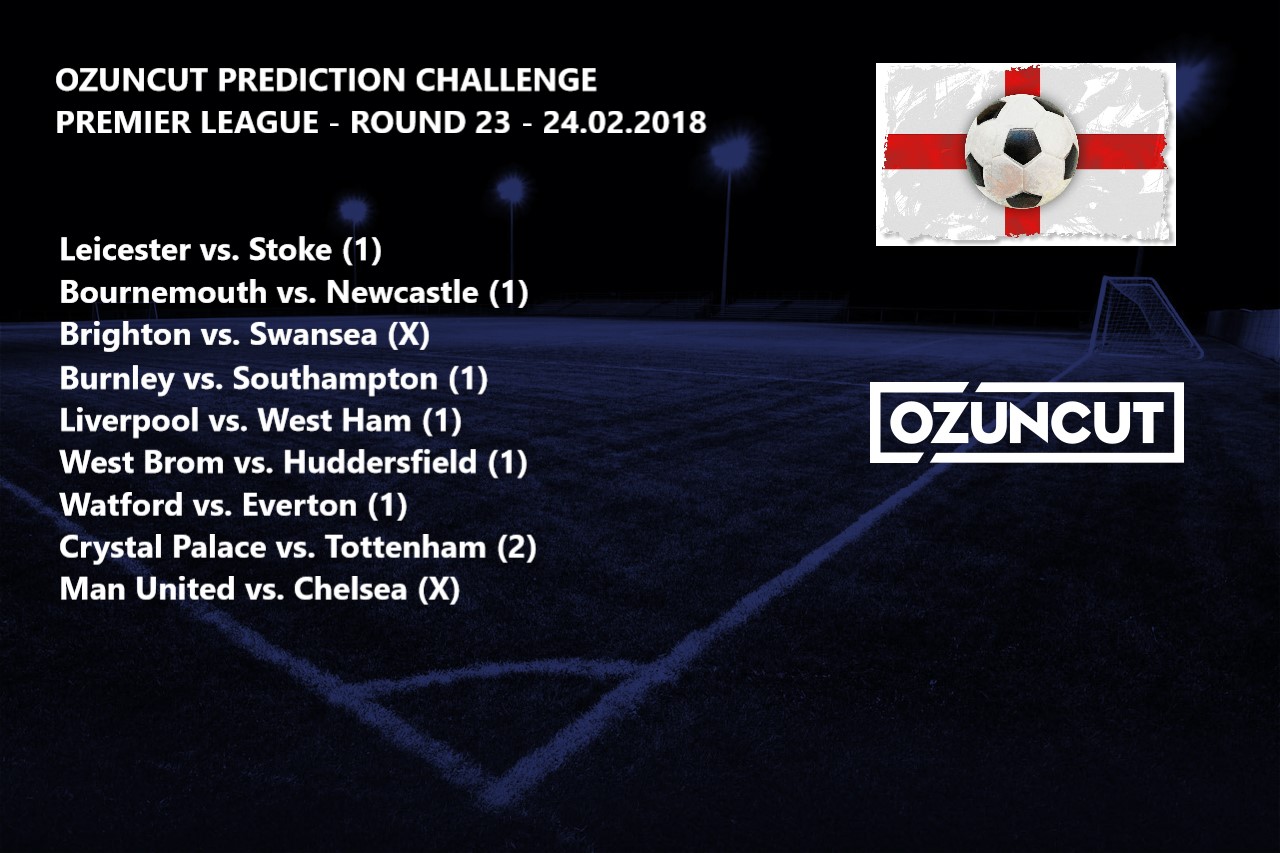 SERIE A
If Inter don't win this week I will take to my own nads with a welding iron. Can they really screw this up against Benevento? I can't see it. Then again, I haven't been seeing a lot when it comes to Inter lately. I think Fiorentina and Sampdoria both pick up wins this weekend, as will Juve. As much as I want Juve to slip, I just don't see it. Napoli are still playing great footy. Long may it continue. Even though they had Europa League action Thursday, hopefully they will have enough in the tank to get past Cagliari.
And finally Roma vs. AC Milan. Tough one to predict. Milan finally finding some form and more importantly BALLS under Gattuso. Roma have been in great form of late though in the league. I am going with a draw for this one. See all my Serie A predictions below.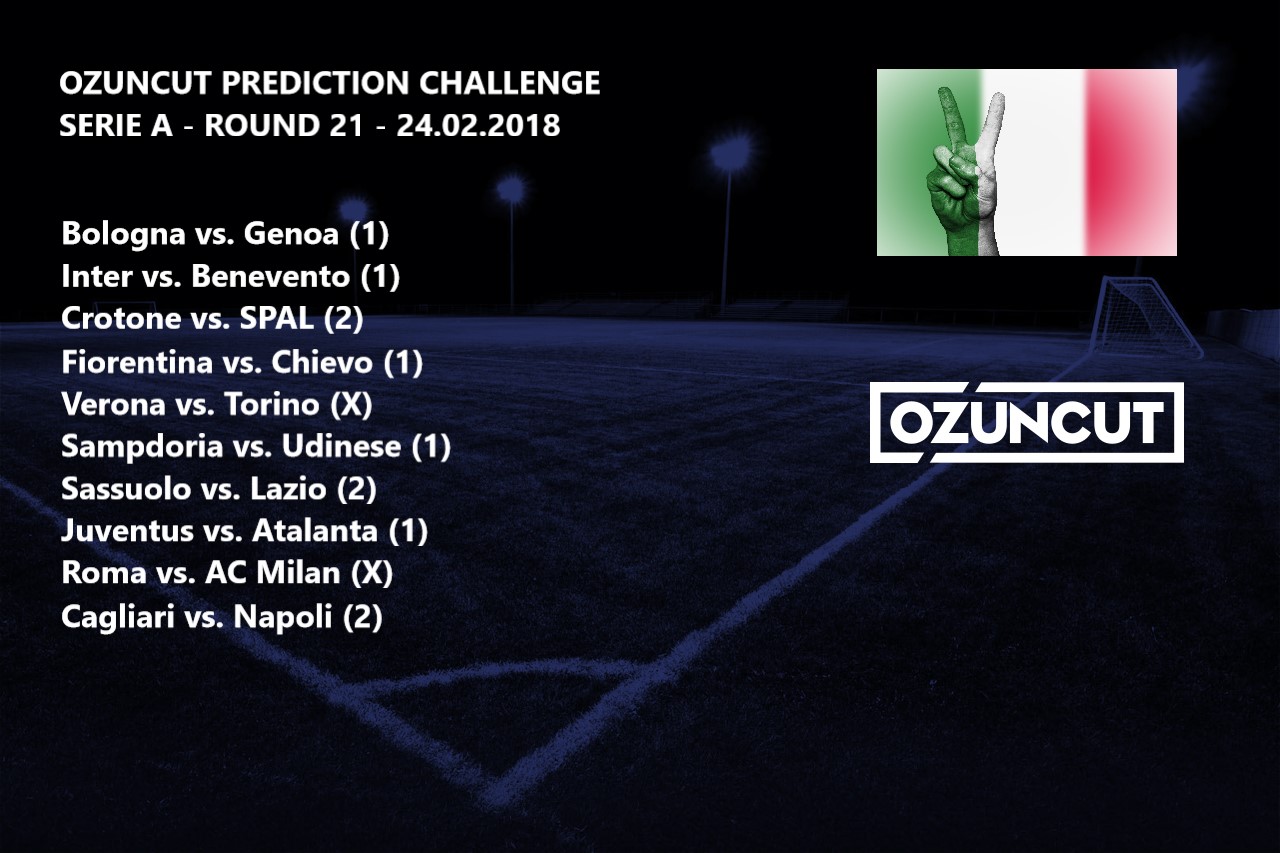 Right, short and sweet this weekend. Just a reminder, the Premier League kicks of Saturday at 13.30 CET. Whilst the Serie A gets under way Saturday also at 18.00 CET. Normally I would wish you all the best of luck, but today I don't feel like it because I WANT TO WIN.
Have a good weekend all. 🙂
UPDATE 27.02.2018
OZUNCUT PREDICTION CHALLENGE – 24.02.2018 – RESULTS
Welcome back folks. So another weekend has passed and another round of the OzUncut Prediction Challenge is done. Just a couple of things to keep in mind. There were only 9 games in both leagues this weekend. In the Premier League because of the League Cup final, and in Italy because the Juve game was cancelled due to snow. The rearranged PL fixture will be included in the next round of games. As for the Serie A game, a new date has not been confirmed. As soon as it has we will keep you updated.
Also regarding the ranking by average scores, for any of you newcomers who wonder why you don't see your name there, you only become eligible for that table once you have completed five rounds. Makes sense when you think about it right? LOL. So let us get to this weeks results.
PREMIER LEAGUE: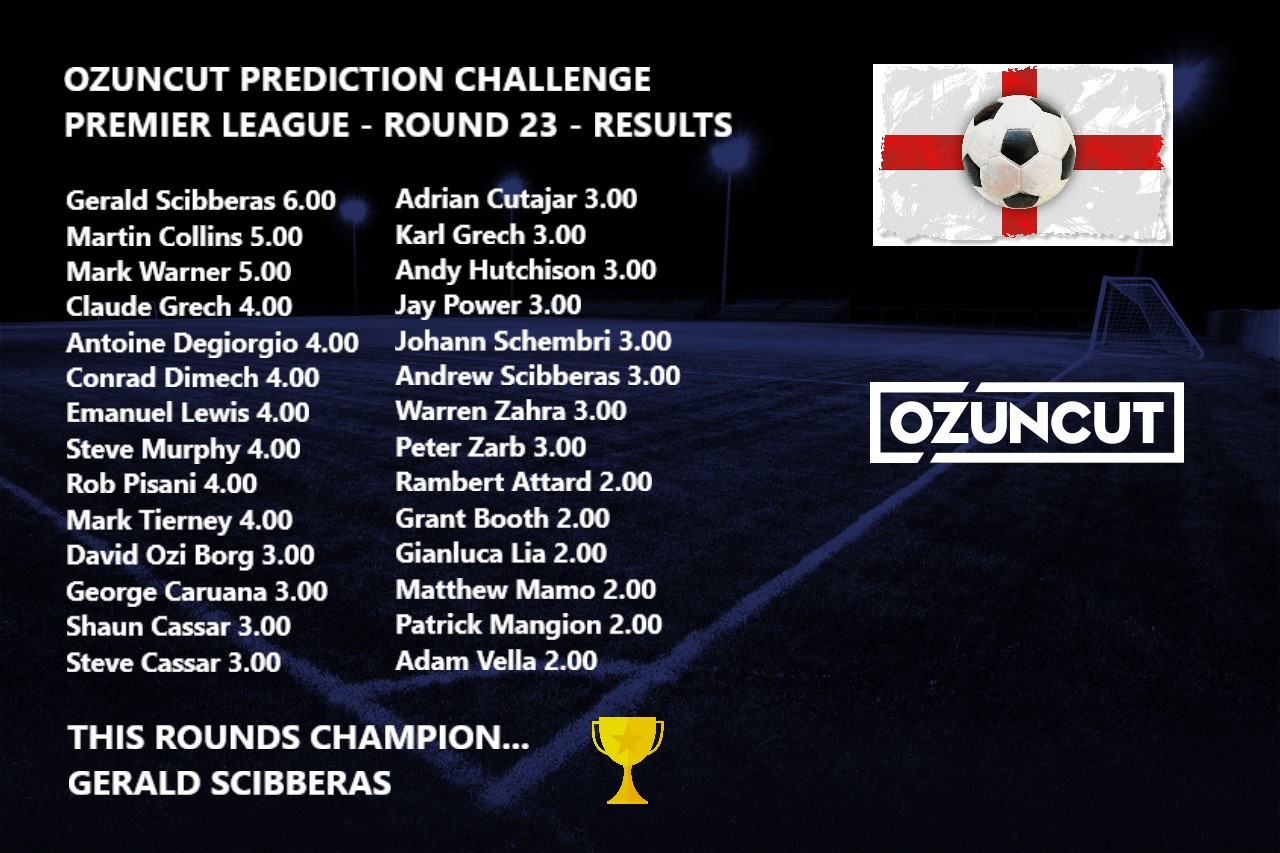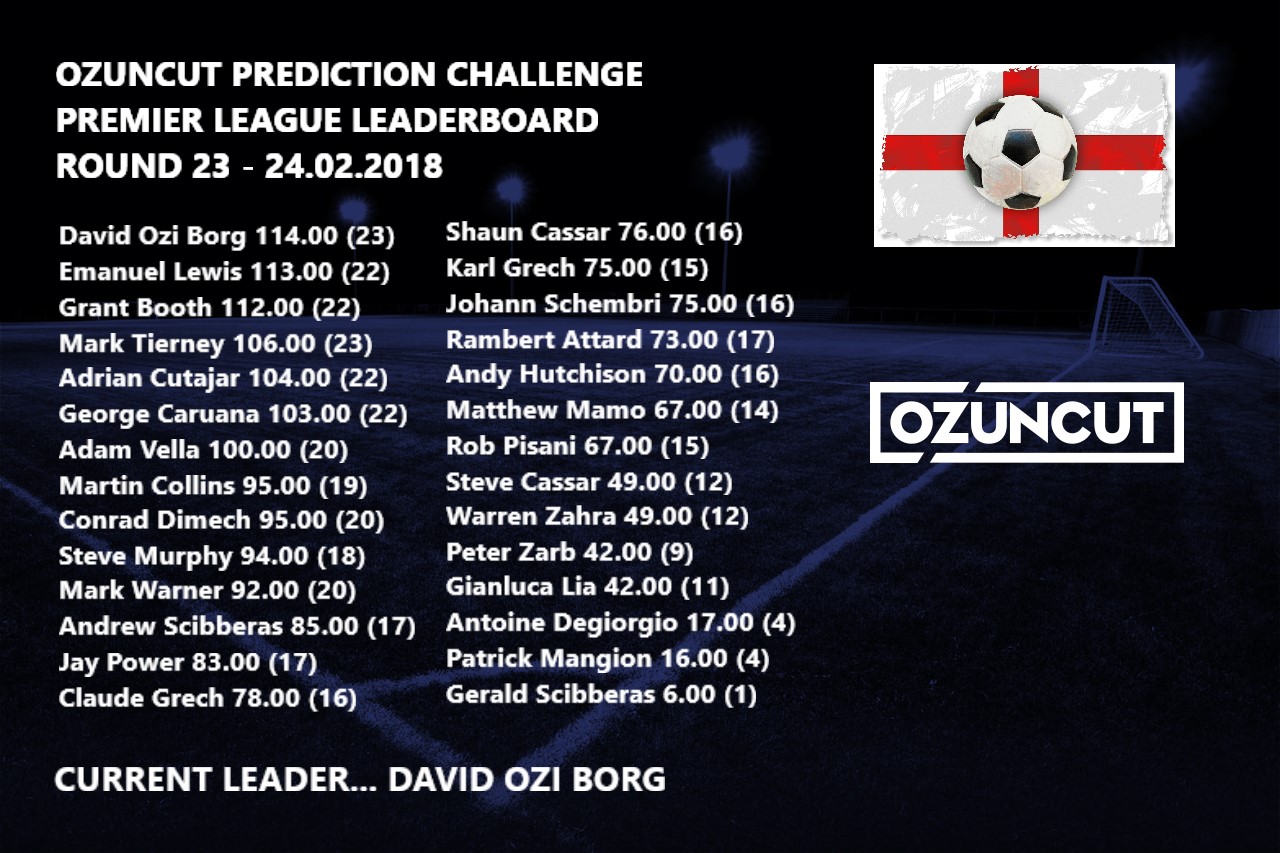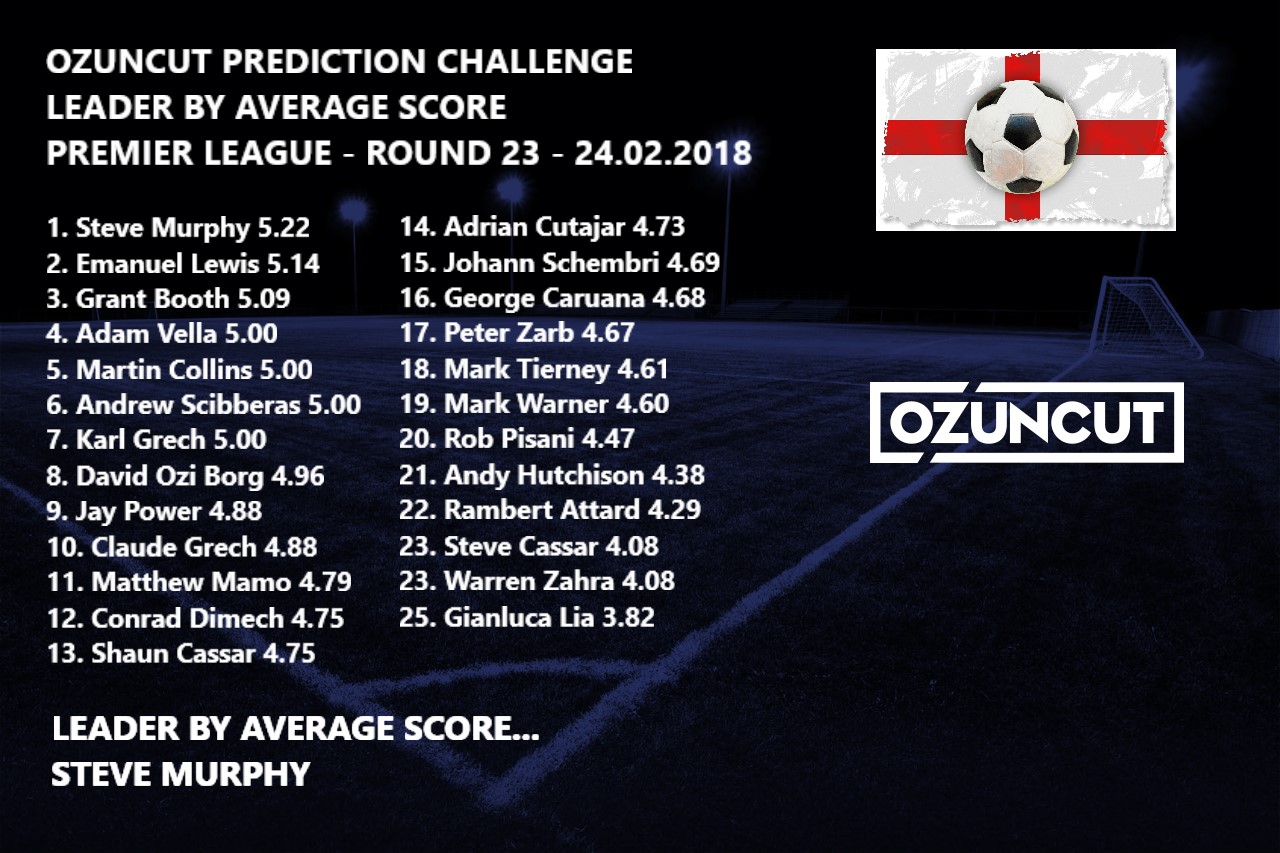 A huge, massive well done to Gerald Scibberas. Actually the first time he has competed in the Premier League challenge, and he comes out a solo round winner with a score of 6/9. Well done mate. As for the rest of us, well it was pretty average to say the least with a load of 4's, 3's and 2's. In fact the average for this round was pretty pathetic 3.29. Admittedly it was not that easy a round, but still personally I am very disappointed in my performance. I will leave it to the rest of you to judge yourselves.
In terms of the leaderboard, still no change as I barely hold on to top spot. But Lewis and Booth have the bit between their teeth and are out to get me. There could be a change again any time now. Finally, and most importantly is our Ranking by Average score. Steve Murphy is out on top with an average score of 5.22, but he is not that far ahead. So one or two slips could see him tumble down the rabbit hole. As for now Murph, good job pal.
SERIE A: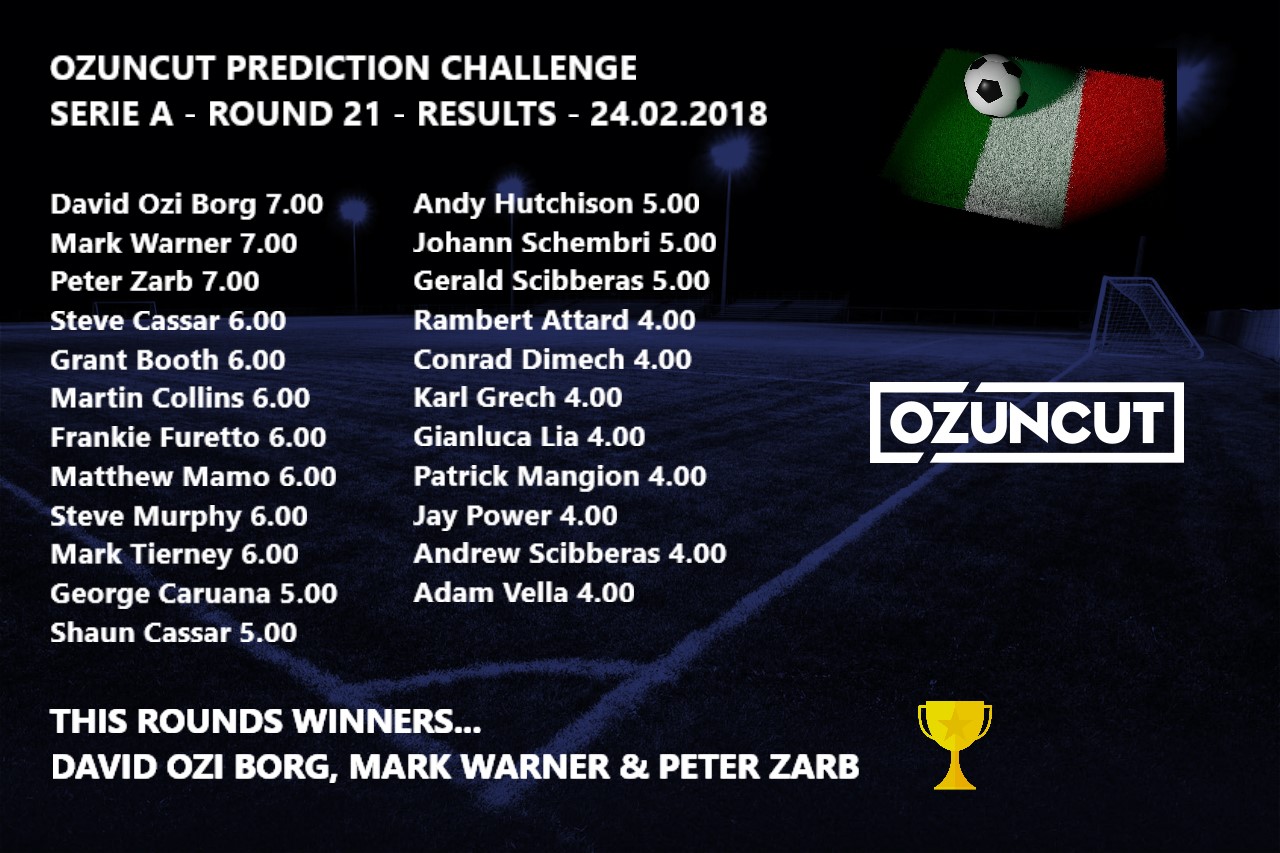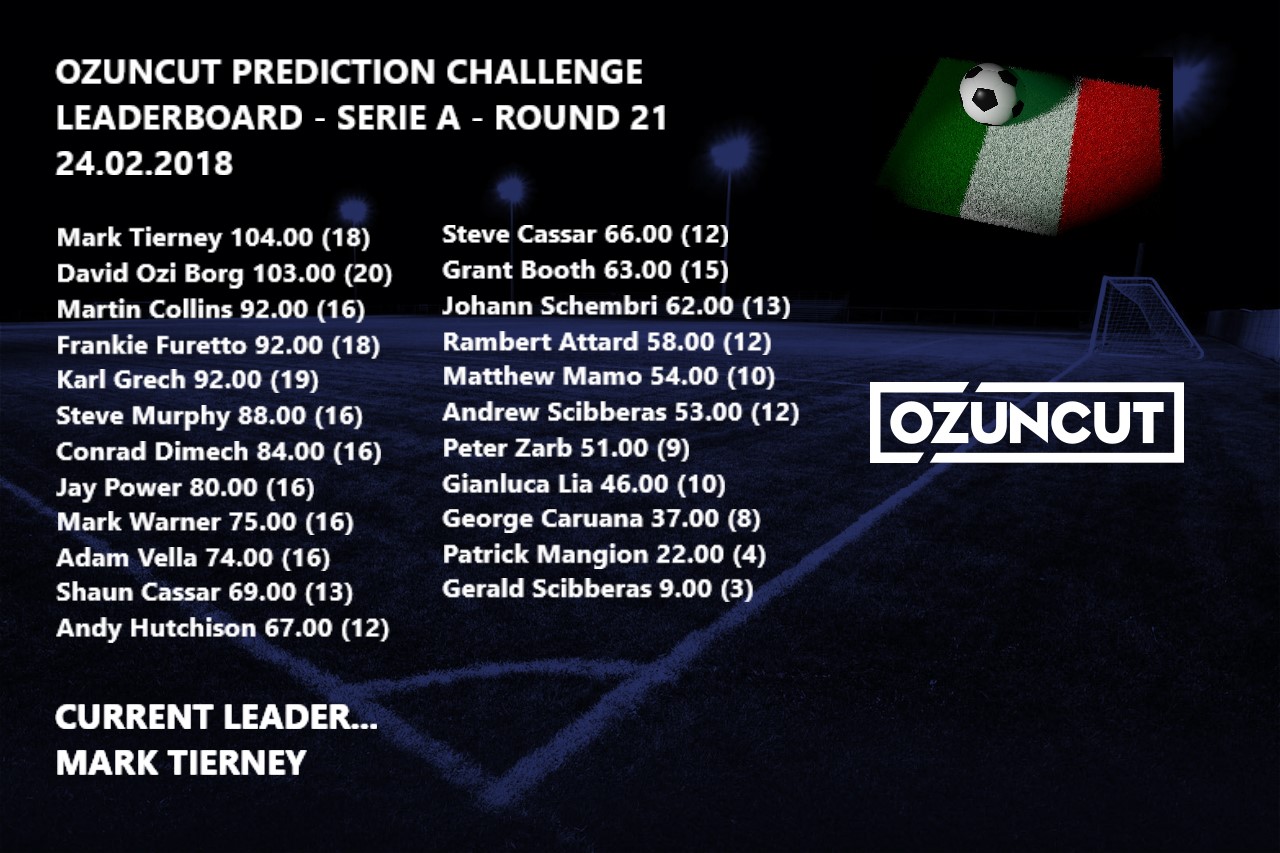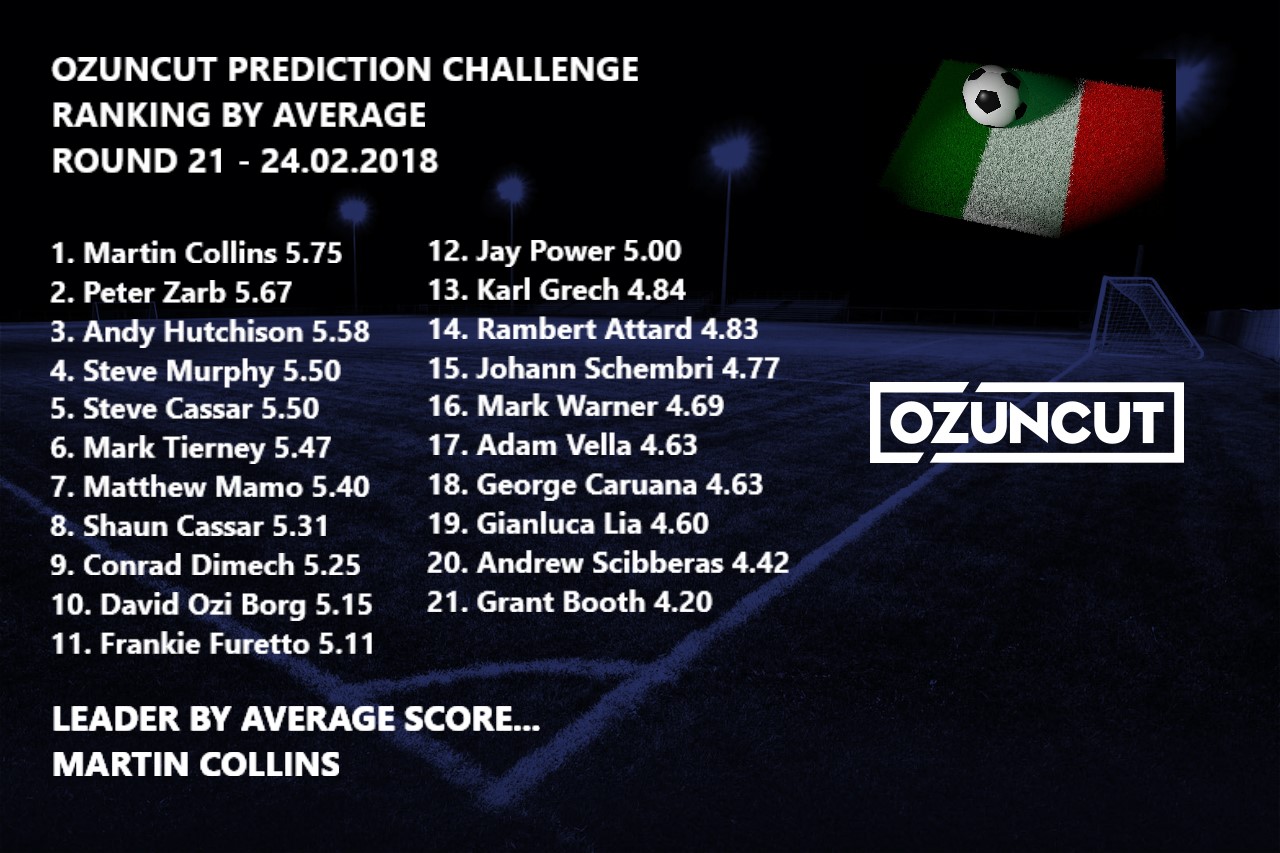 Finally I have had a week I can brag about. Myself, Mark Warner and Peter Zarb all had excellent rounds with 7/9 scores. Well done to us. It's been a while so I am going to enjoy this one. The average score this week was actually pretty good at 5.22.
As for the leaderboard, Mark Tierney is still holding off my resurgence with a one point lead at the top. But in the all important Rankings by Average Martin Collins still reigns supreme. A weekly average score of 5.75 is pretty frikkin impressive actually, so you have to say a well deserved lead. But don't get cocky my friend, cause messers Zarb and Hutchison are not too far behind. Never time to drop your standards in this challenge I am afraid.
Ok. That does it for this round. We will have the new fixtures out Thursday morning for our next rounds in both the Premier League and Serie A. Until then, you lot behave….
🙂