It was yet another exciting weekend of football in both the Premier League and Serie A. There were some key battles that took place and some movement in the respective tables. Arsenal vs. Manchester United was an enthralling match in which the Gunners committed football suicide. While Man City keep grinding out results and maintaining their dominance. In Italy a close contest Friday night saw Juventus pick up a critical three points away to Napoli. Whilst Inter keep on winning and went to the top of the table. Both leagues are super exciting this season. What is also exciting is our Prediction challenge and this past weekend saw another very interesting round.
Before we give you this rounds winners and losers, let's take a look back at the last round. In a Premier League mid week challenge Conrad Dimech reigned supreme with an impressive 8/10 score. Whilst in the Serie A we need to go back a week for the last round. Relative newcomer Shaun Cassar picked up his first round win with a score of 7/10 enough to fend off the chasing pack. Two gentlemen hoping to keep hold of the title in our prediction challenge. The question is did they manage to do so? Let us find out.
PREMIER LEAGUE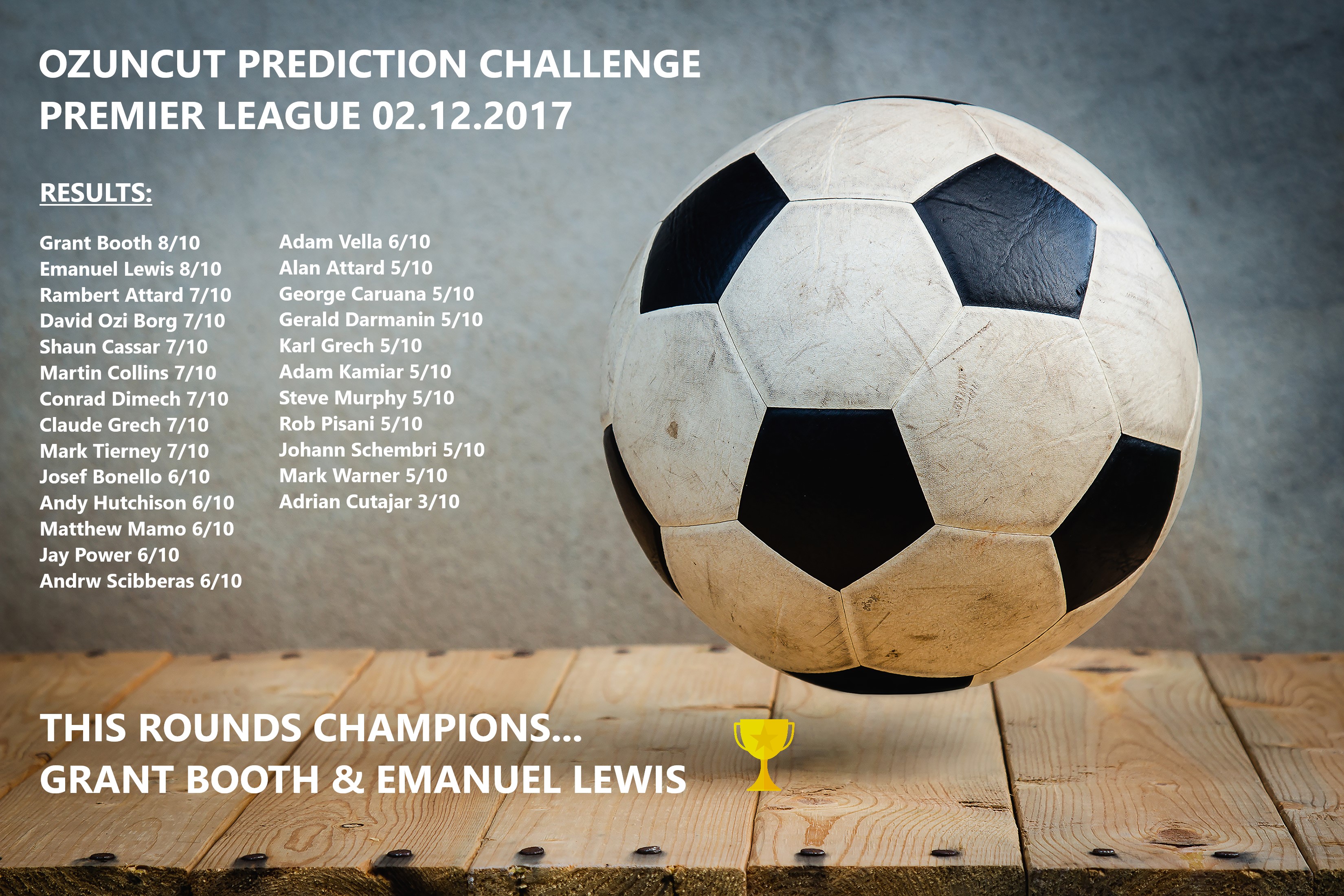 Well the answer is no. We have a new winners in the challenge this round and they will have to share the spoils. Congratulations to both Grant Booth and Emanuel Lewis for both managing a very decent 8/10. It was close and went down to the wire. But ultimately it was the Bournemouth vs. Southampton draw that edged it for both of you. Well predicted and well done. I hate you both.
Bunch of guys trailing close behind with 7/10 scores. Good effort to Shaun, Martin, Conrad, Claude and Mark Tierney. As for the rest of you, it was average to poor. And although a very nice chap, Adrian Cutajar was the pits. A score of 3/10 the lowest of the round by far. Time for a change of strategy perhaps good sir? The average score for the group this round was 5.73/10.
So where does this leave our leaderboard? Below you will see our traditional leaderboard showing accumulative score and rounds competed. As well as that we have a new addition. For those of you who have completed five rounds or more, you have now also been ranked by your overall average weekly score. Just another way to rate yourselves against your friends and fellow competitors.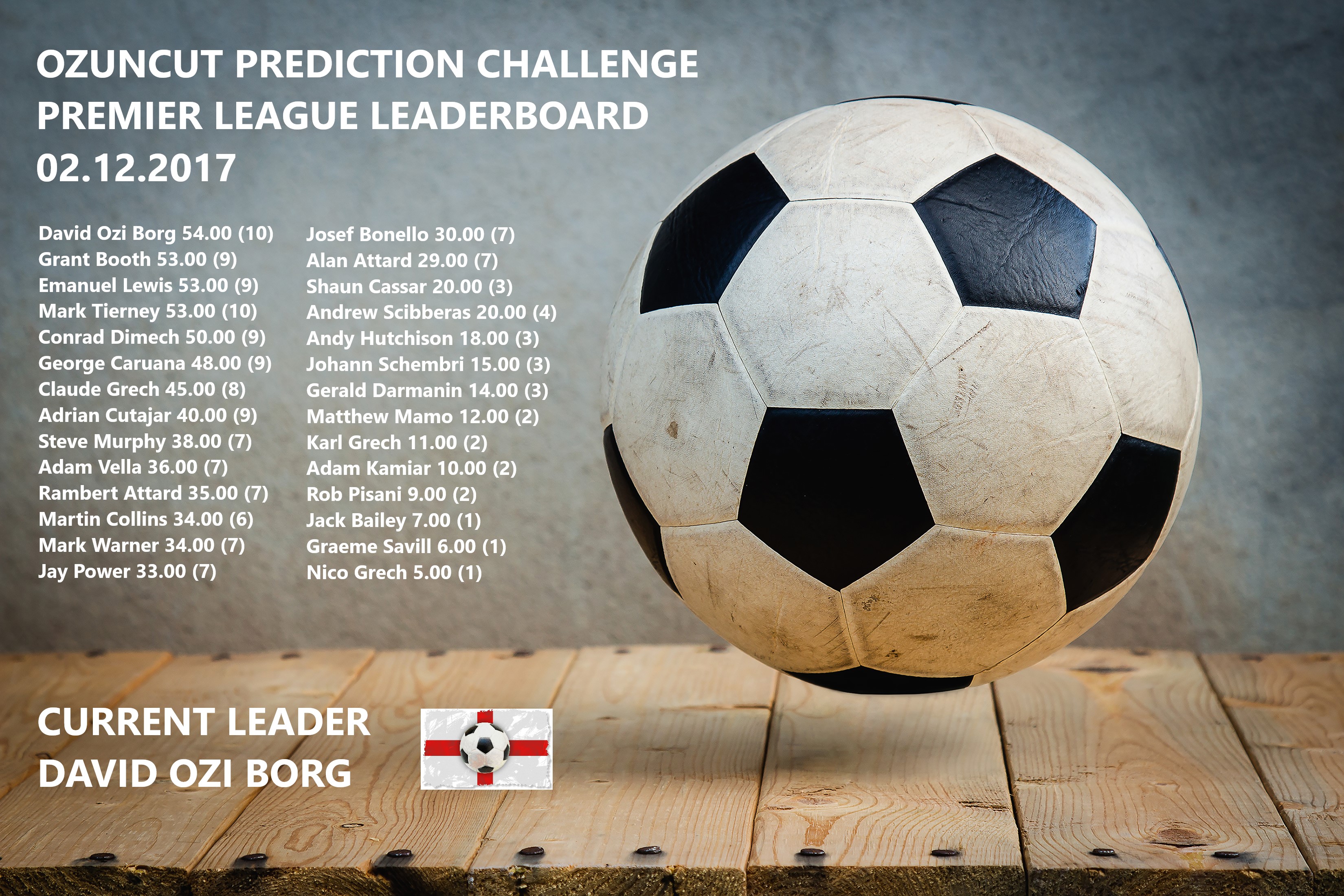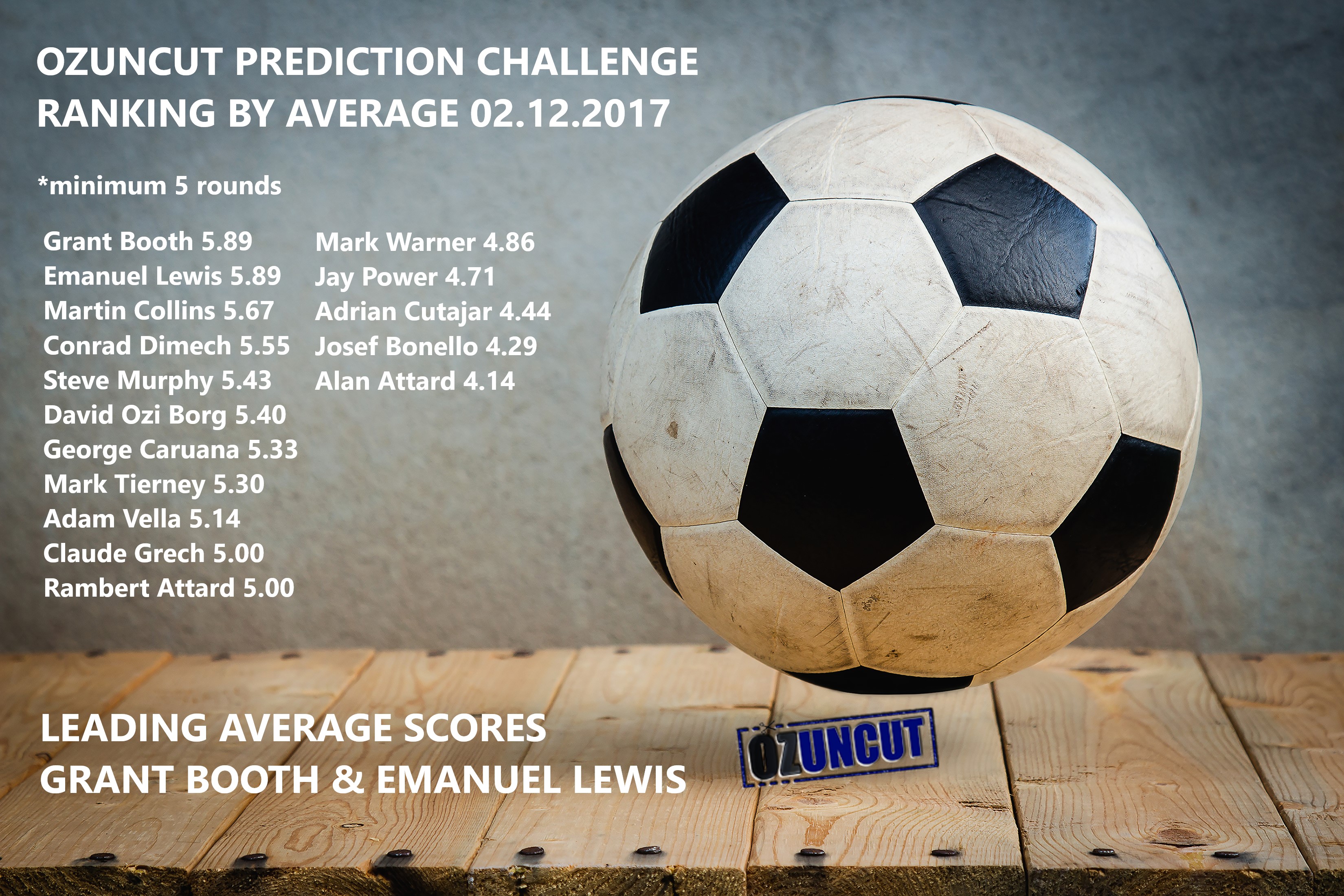 Happy to say that I still marginally hold the overall leadership if only for the fact that I have competed the most rounds. But I will take the credit all the same. In terms of Ranking by average weekly score, Grant Booth and Emanuel Lewis both lead with and average score of 5.89. Not a bad effort fellas. For those of you who have not reached five rounds yet, do not fret. As soon as you have you will be added to the average score rankings. Its all pretty close at the moment, but with a lot of football still to come I am curious to see if anyone will start to forge ahead. Time will tell.
SERIE A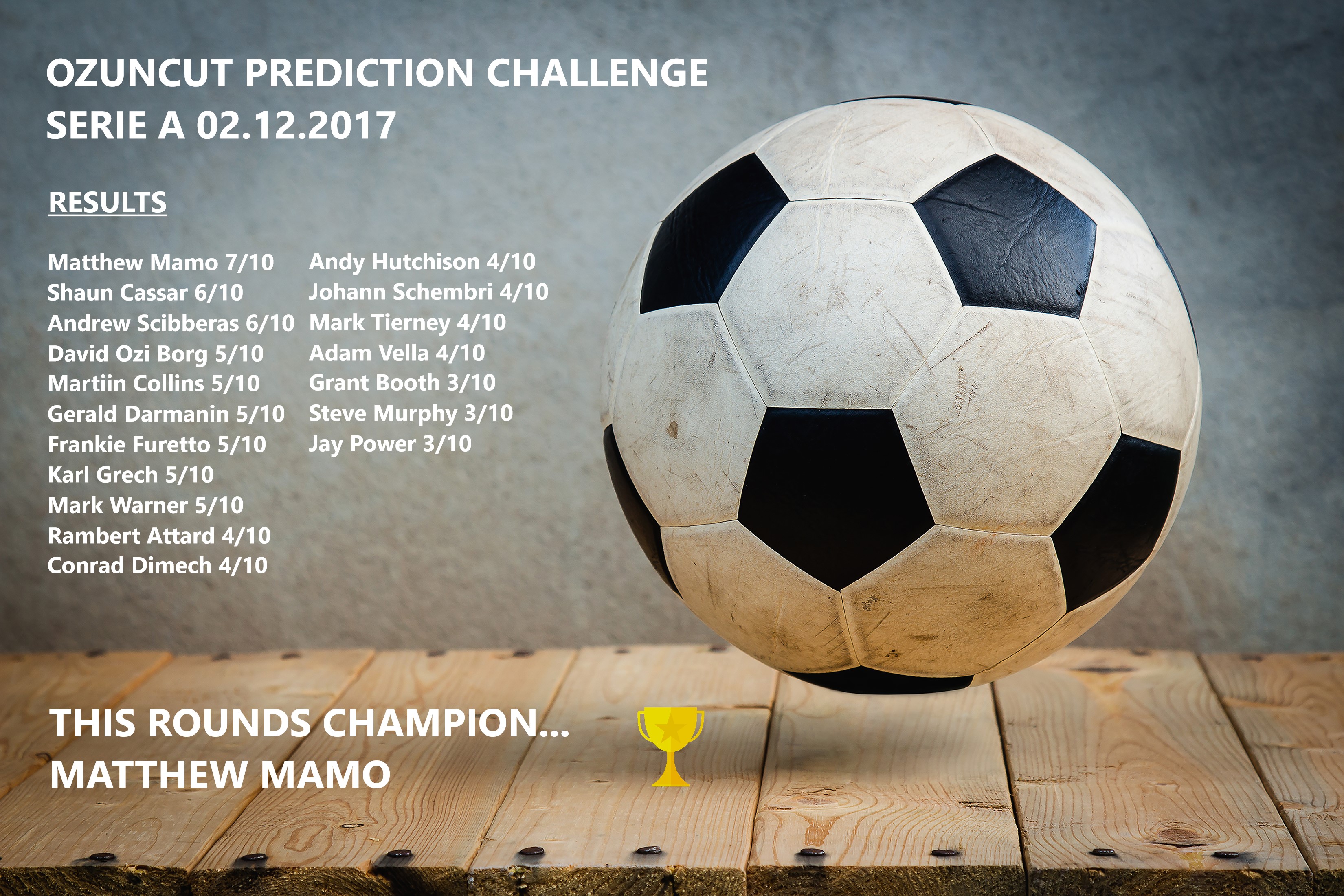 Another newcomer picks up his first trophy. Well done MATTHEW MAMO. In your first couple of weeks in the competition you have been doing super well. Long may it NOT continue. Seriously though. Well done sir. A very respectable 7/10 just about enough to get you the win. Now you can shove that in all your mates faces. As for Grant, Steve and Jay, what the f*** happened. Getting too cocky? Starting to take risks? Sort yourself out fellas. Average score for this round was a pretty poor 4.56/10.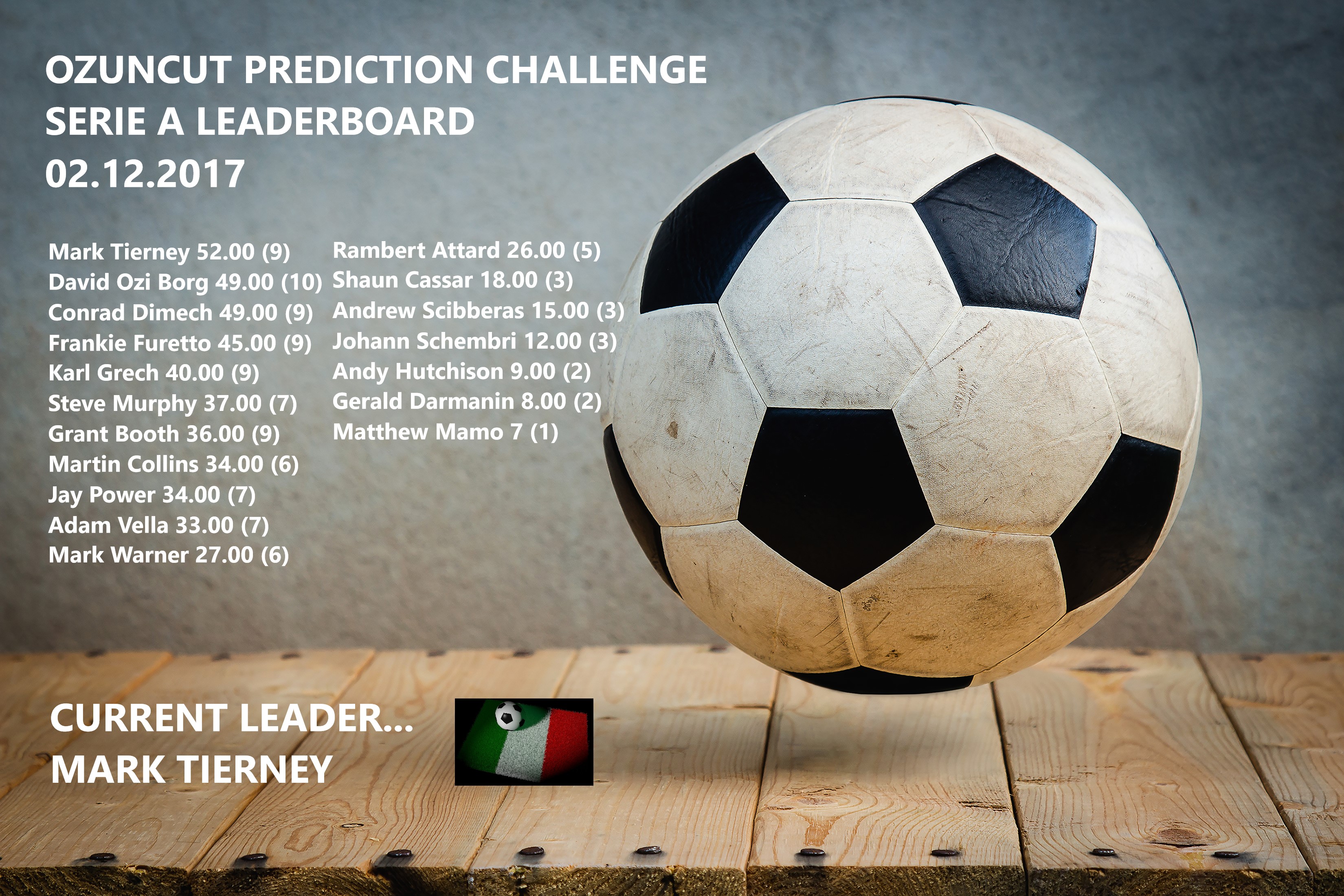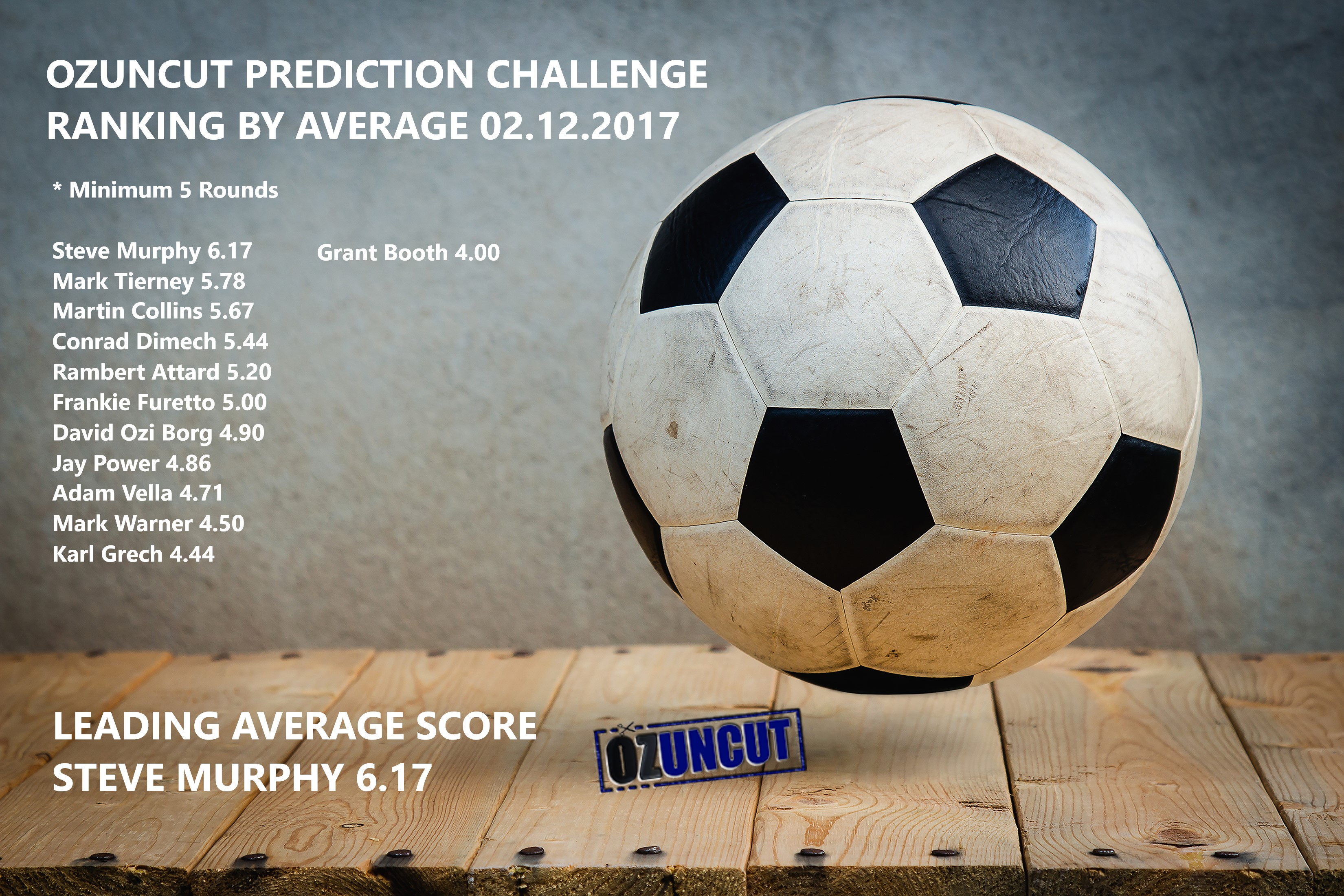 Mark Tierney leads the way in the rankings for the Serie A prediction challenge. He has been pretty consistent over nine rounds so far, so thoroughly deserved. In our new Ranking by Average, Steve Murphy leads the way. He is actually the only competitor across the board who averages over 6 in our challenge. Good stuff Murph. I would say keep it up, but in truth I am secretly hoping for you to fail miserably. Sorry. I can't help it. I want to win. 🙂
THE OZUNCUT ACCUMULATOR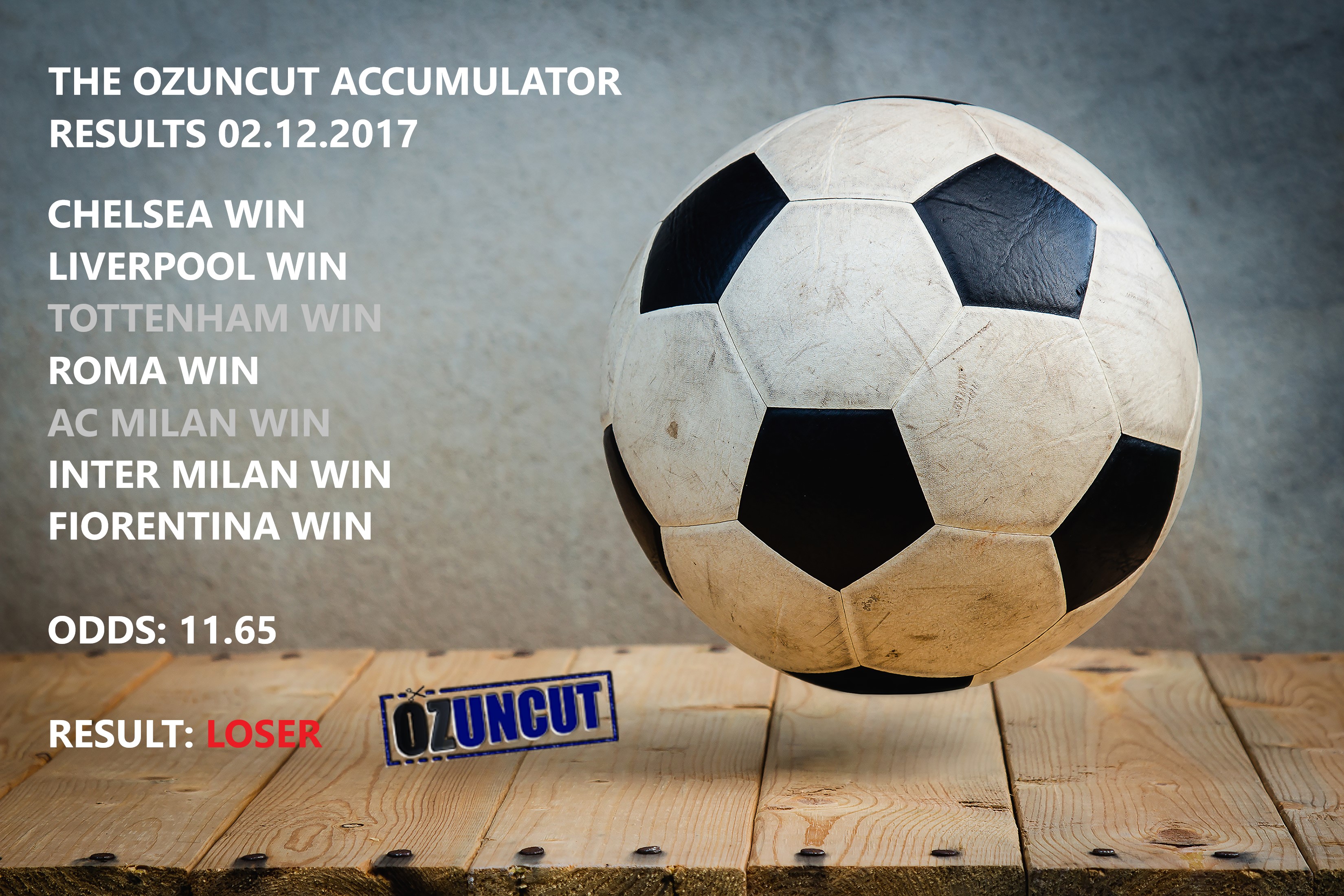 All I really have to say is F*** Tottenham and F*** AC Milan. In fairness it is the reason why I like doing accumulators. The fact that it is such a difficult challenge and all it takes is one last minute goal to shaft you in the rear. It was close again for me this week, but no cigar. My record so far this season is abysmal, but I am never one to give up. That big win is just around the corner. Maybe it's time I start taking advice from you lot…
Right, time to wrap it up. Champions League midweek should keep us all entertained until our next prediction challenge come Saturday. May I please once more ask yo all to spread the word so we can keep growing this sucker. We had a few come in and a few drop out. Hopefully they will be back. In the meantime tag your friends, hassle them, challenge them and get them involved. Only a matter of time before we get some decent prizes in.
Have yourself a good week footy fans.